Ignacio Palacios is best known internationally for his travel and landscape work. He has been continuously traveling around the world since 1998 but since he came to Australia in 2008, he has focused on photographing landscapes and using digital imaging techniques to produce more creative and fine art work.
His images have been published in international photographic magazines and books all over the world including National Geographic, Australian Geographic and Lonely Planet Guides.
To see more of his work, follow him on 500px, visit his website, or check him out on Facebook. This article was originally published on Luminous Landscapes, and is being republished here with express permission.
---
The American West
I love American landscapes. Their uniqueness and diversity offer fun, adventure and plenty of photo opportunities. And the American West is a photographer's paradise. Full stop. I had been living in Australia for nearly 6 years and although Australia is well equipped with amazing landscapes too, I could not wait to go back to the USA and photograph something a little bit different.
The opportunity came when a friend invited me to his wedding in Calgary. It did not take me long to convince my very adventurous wife to visit Hawaii, Alaska, Yellowstone, Utah and Arizona along with our two young kids (4 and nearly 2). And that meant stroller, travel cot, nappies, books, toys etc etc. Together with my photography gear, we were definitely not traveling light!
There are 58 national parks in the United States, and most of them are full of majestic beauty. This was my second trip to both Hawaii and Utah/Arizona but I had never been to Alaska and Yellowstone/Grand Teton.
The first time I went to Hawaii and the American Wild West in 2007 I had not done any research into locations. Actually my rough plan was that after visiting Hawaii and landing in San Francisco I would go on the popular US Hwy 101 following the coast to LA but once I arrived in SF I changed my mind and I went to Yosemite and Kings Canyon National Parks. From there I started to follow the suggestions of photographers who I met on the way and pointed me in other directions such as Death Valley, Las Vegas and the Valley of Fire State Park.
When I was shooting in the Valley of Fire another photographer told me about Bryce and other National Parks in Utah and Arizona and I decided to head in that direction. I had never seen Bryce. I had never heard of it. Neither had I heard of Canyonlands or Arches; I had no expectations.
When I arrived in Bryce in the middle of the night, I parked my motorhome near one of the lookouts. The next morning, I woke up for sunrise and the experience of colour and landforms I had was indescribable. I thought I had never seen anything as beautiful as that. And I also got to photograph it with snow. I could not ask for more.
I absolutely fell in love with those landscapes. I spent most of my time in these two states and after Bryce, I spent a few days in Zion, Capitol Reef, Arches, Canyonlands, Monument Valley and the Grand Canyon. The more National Parks I discovered the more I was falling in love with the American West.
I did all of that in about 4 weeks but I was on my own and so I had time to visit and photograph quite a few places. However when I finished that trip I knew that I had to come back again to Utah and Arizona and photograph it properly with more photographic experience and better gear. I also told myself that I had to come back and visit Yellowstone and Alaska.
A Different Trip – Planning
The first time I travelled around these locations in March 2007, I was on my own; this time, I was taking my wife Lucy and two very young kids, so I had to plan this trip a little bit differently so that we could all have fun as well as having the opportunity to shoot in some incredible locations.
We had quite a bit of time. Two and a half months. But they disappeared pretty fast. The route we followed was Hawaii, Calgary and the Rocky Mountains (Canada), Alaska, Vancouver, Seattle, Portland, Yellowstone, Utah, Arizona, Las Vegas, and we ended up in Disneyland and LA, from where we took a plane to Spain.
Where to shoot and what to shoot
The areas where we went covered nearly all types of landscapes and weather conditions: tropical, volcanic, temperate rainforest, alpine landscapes and deserts. That would give me a great opportunity to test my new equipment in different conditions and hopefully take some great shots.
Although I had already travelled to some of these areas in the past, others were completely new and those are the areas where I put in most of my time and research.
Hawaii (Kauai, the Big Island and Maui)
In Hawaii, I visited four islands: Oahu, Kauai, The Big Island and Maui. I had been in Oahu and the Big Island before so this time I concentrated my research on Maui and Kauai. I spent a couple of nights in Honolulu relaxing and getting over the jetlag with my family but it is not an island that I find particularly interesting in terms of photography. And I am not a surfer. I tried in Sydney really hard but I wasn't born there and clearly I wasn't a natural.
When I go to a place where I have not been before, I normally go to google and I do an image search and I write down the locations where the images that I like were captured. I also do an image search in Getty Images and Alamy and I do further research in the internet looking at "top places to visit in XXX" or in other photography sites.
I have hundreds of Lonely Planet Guides. Some are pretty old but I always read them to find out which places are worth visiting/photographing and when to go. You always find good tips in these guides.
Once I was in Kauai, I discovered a few photo galleries and I met some local photographers who gave me invaluable tips on what to photograph and at what time of the day. In Kauai, we were staying in a resort on the east coast so I had to set my alarm clock at 2 or 3 am to be able to reach Waimea canyon, Kalalau lookout and Kilauea Lighthouse at sunrise.
In Kauai I really enjoyed the helicopter ride around the island. That was probably one of the most scenic helicopter flights I have ever taken. I did it with a company called Jack Harter that allowed me to remove the doors.
I was so impressed with the Na Pali coast I saw from the helicopter than the next day I booked my family in a catamaran and we sailed along the coast again. It reminded me a lot of Moorea (in Tahiti), not only because of its landscape and peaks but also because of the wildlife around it. We found lots of dolphins and turtles and at the right time of the year it is full of humpback whales.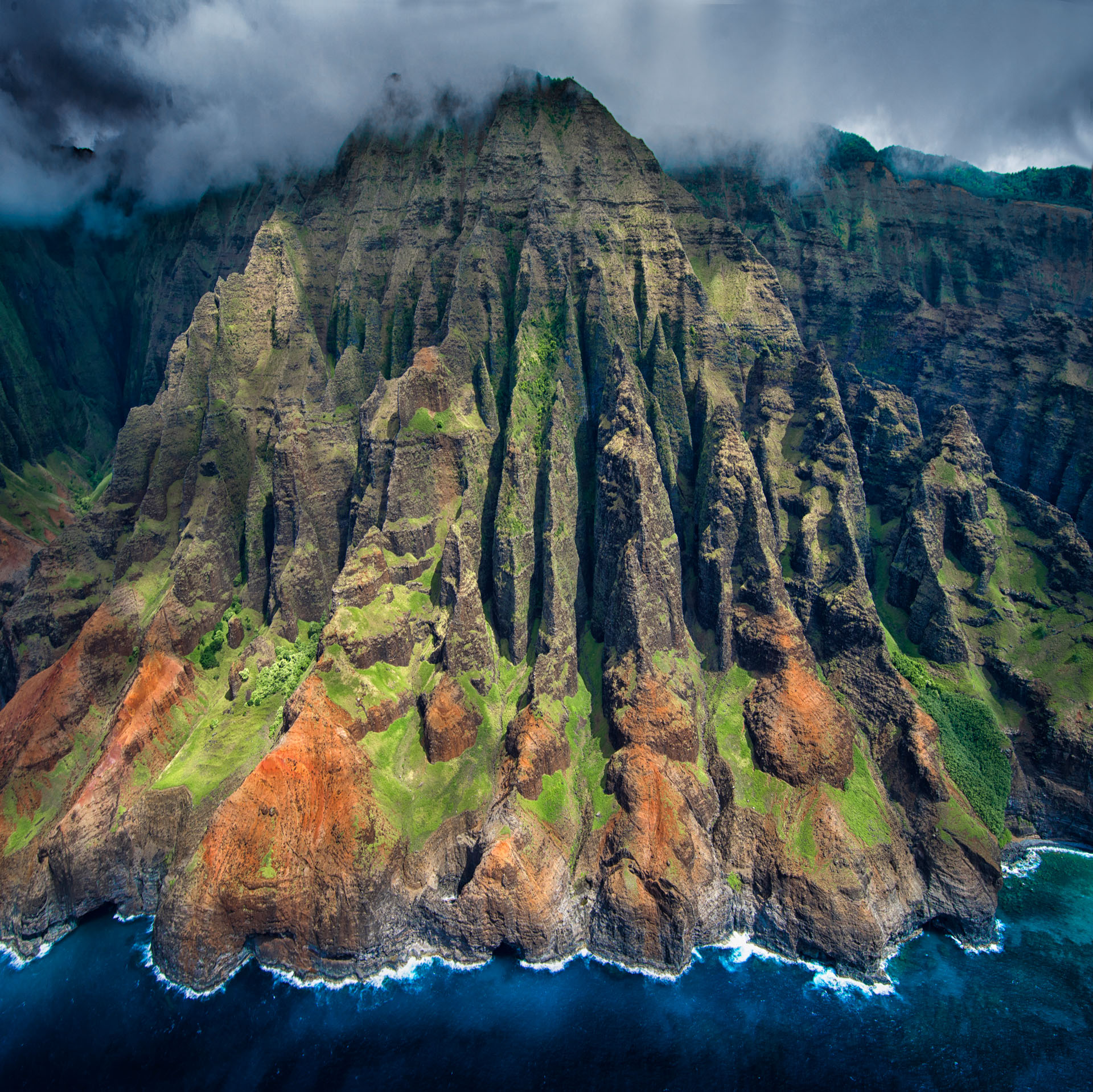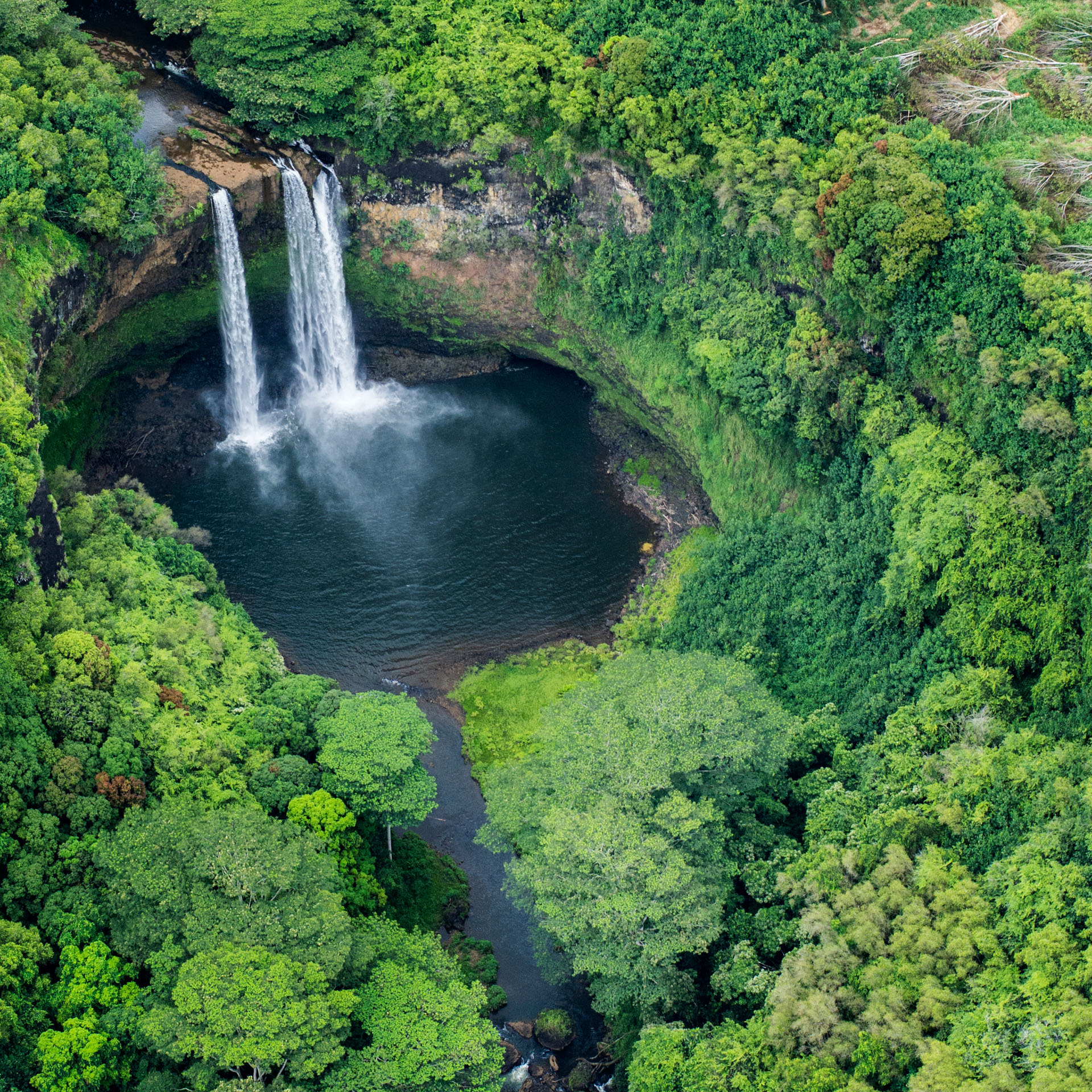 From Kauai, we went to the Big Island and we stayed in a cottage near Kalapana. Kalapana is a nice and relaxed location on the island. It used to be the place from where you could once see lava falling in the ocean but in October 2013 the lava flow changed its course and it is not falling in the sea anymore. The only option to photograph the lava flows were from the air or by doing a long trek.
Traveling with the family, the day walk wasn't an option so I had to take another helicopter but the weather conditions when we were in the air where a bit harsh and so we had to cancel and return to Hilo airport. The company I used to fly was Paradise helicopters, which I think is the only one that offers open doors.
Kalapana is a really nice place to stay. The road that follows the coast (137) is amazing and I just wanted to stop all the time to photograph. Sometimes when you drive you feel as if you were driving through a tunnel of tropical trees. In some places it clears up and you can swim on black sand beaches, snorkel with beautiful fish and relax in the few hot springs. It is not too far from the Volcano House in Hawai'i volcanoes national park, where we had dinner one night and I had the chance to experience and photograph again the Kilauea caldera at night.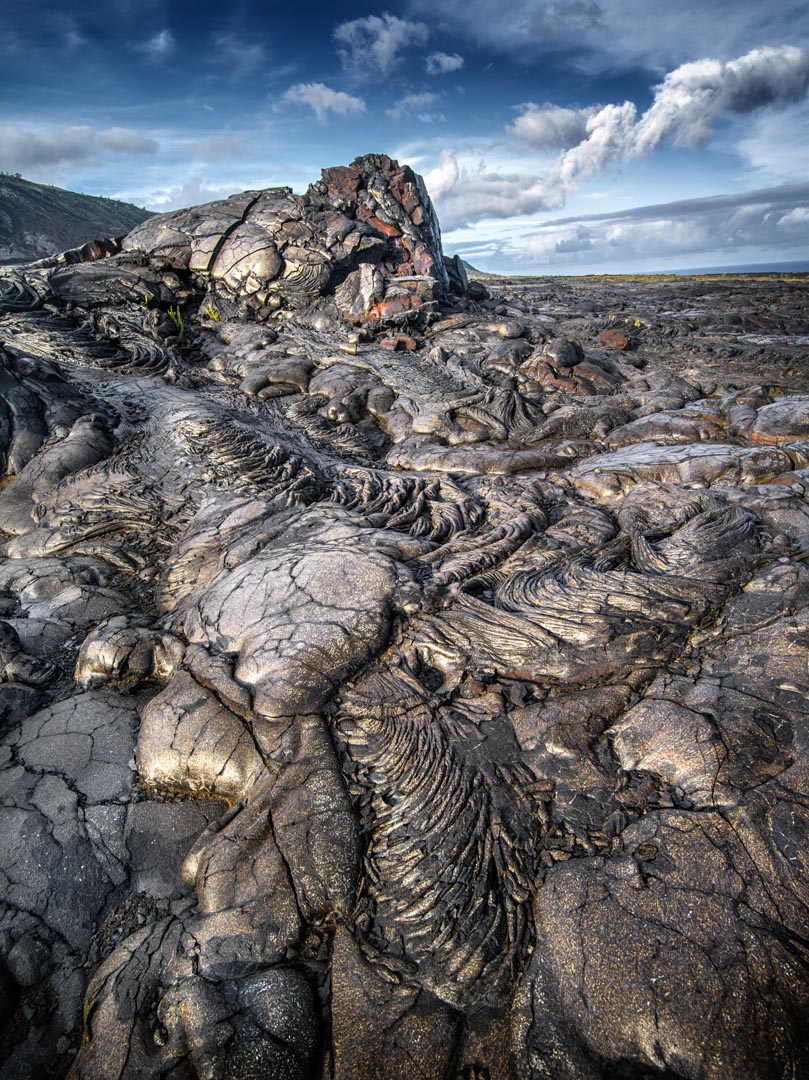 From the Big Island it is possible to fly to Maui without going through Honolulu so in just 30 minutes we were there. Maui is a bit crowded and touristy compared to the Big Island but we loved the beaches and the atmosphere.
To be able to reach the Haleakala lookout, I had to wake up pretty early and I just made it on time because there were many more people to see the sunrise. I was not expecting to find hundreds of people at the top of that massive volcano at 5 am!
In any case, I am not sure if sunrise is the best time of the day to go for a photograph as when the sun comes up from the clouds the light is already pretty strong and so I had to take quite a few exposures and merge them in Photoshop to be able to get a decent picture. I did not have the time to visit again during the day or at sunset so I can't really say what is the best time of the day to photograph the caldera.
This photograph was taken with a 300mm telephoto lens. It was very difficult to see the smaller volcanoes in the crater due to the sunlight and I am sure that many people left that location without actually seeing the best part of it. One day I woke up to shoot the Iao Valley Needle at sunrise but the gate was closed at 7 am so I had to come back home and try again the following day at 9 am (when the rangers open the gates).
To be honest, the landscape was amazing but I did not find it particularly photogenic. Having said that I just photographed the actual Needle as I did not have time to trek on a location which probably offers a lot of potential for great photographs.
We drove all around Maui but with the boys, we thought that going to Hana wasn't a good idea. The road is only 100 kms long but it has 617 hairpin curves and 59 one lane bridges so we decided not to do it … Well, another reason to come back to Maui because we were told that the drive and the area around this last undeveloped tropical paradise of Maui is one of the most scenic drives in the world.
Hawaii was definitely the best part of the trip with the kids. They loved the beach, playing with the turtles in Maui, running on the lava fields of the Big Island. An amazing place that should be in everyone's list of places to visit and photograph.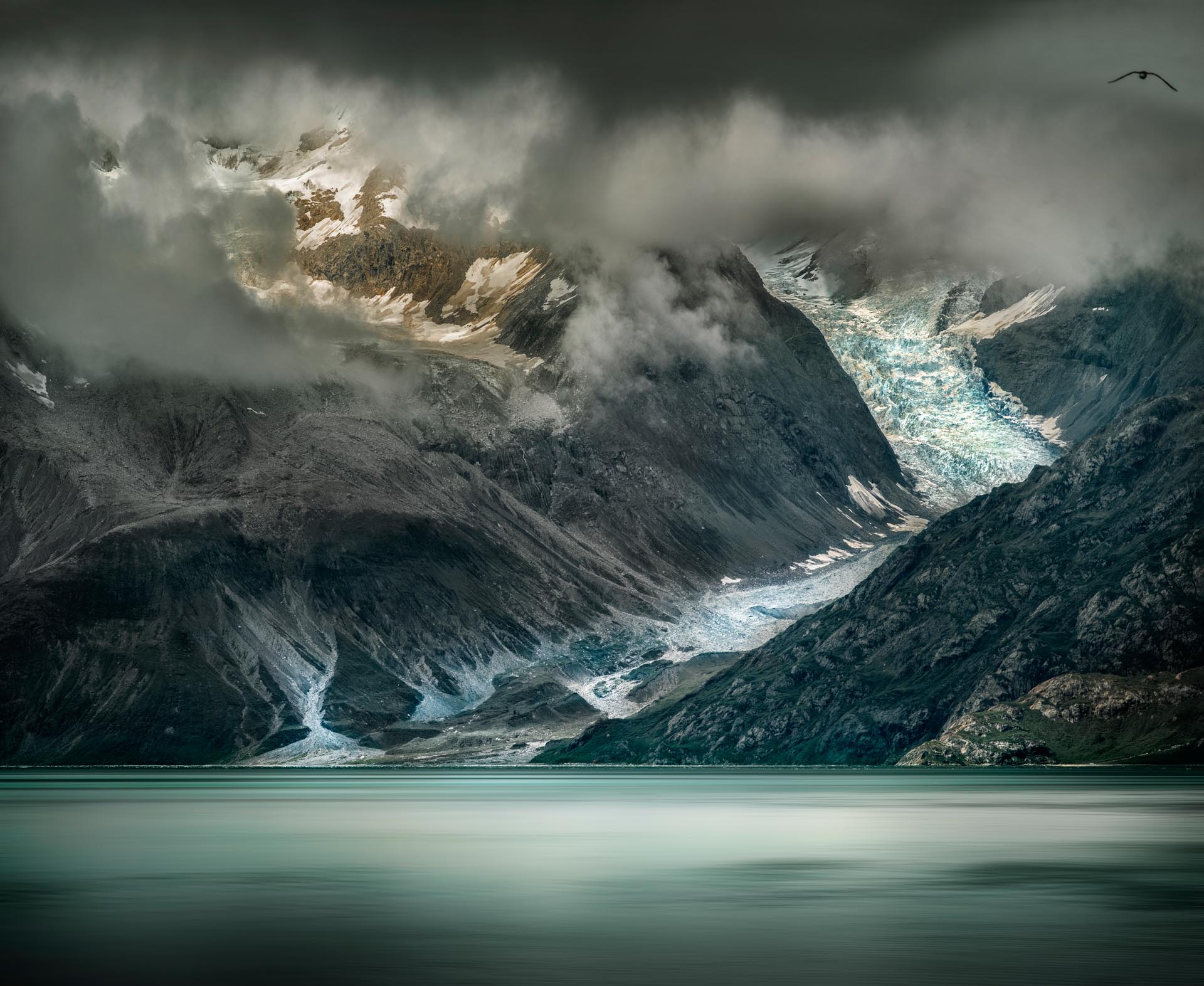 Alaska On a Seven Days Cruise
Since I read Jon Krakauer's book "Into the Wild" and specially after watching the movie I have always wanted to go Alaska. Of course, with kids, I could not be as adventurous as Christopher Johnson McCandless and so I had to think of other possibilities. For a first trip to this huge American state the option of going on a cruise seemed to be an easy one to explore the coastline and get an idea of its climate, wildlife and landscape.
I did a lot of research on the subject of cruises and although most of them do a very similar route we had the option to go northbound, southbound or a round trip. We decided to go on a roundtrip from Vancouver (as we were coming from Calgary) and leave the Alaskan land adventure until when the kids are a bit older. The cruise we chose was the Volendam (Holland America). Perhaps a bit smaller than other cruises so it can get a little bit closer to the glaciers and the coast.
All cruises do the same route along the Inside Passage stopping in Ketchikan, Juneau and Skagway from where you can do different day excursions. For me, the most beautiful places to photograph from the boat where the side trip we did along Tracy Arm Fjords and the day we spent around Glacier Bay National Park.
All cruises offer different side excursions as well as taking sea planes/helicopters etc so it is important to research what you want to do beforehand. The Tracy Arm Fjord excursion was amazing. We saw a few glaciers, whales, seals and incredibly beautiful misty forests along the coast.
Taking a cruise is a very good value option to experience this breathtaking waterway. I hope I can come back to Alaska again and a visit Anchorage, Denali National park and photograph a few grizzly bears on the way.
Yellowstone/Grand Teton National Parks
We decided to take a motorhome for the land part of our trip from Vancouver to Las Vegas. I had taken a motorhome before with Cruise America and I thought it was the best option to travel with young kids and to be able to have the most flexibility. We booked the motorhome eight months in advance and it took me a long time to find one. This is because August is a very popular time to travel around the USA both for Americans and Europeans. For my photography objectives, to travel in a motorhome would also provide the best option to photograph near lookouts and to get close to nature and sleep in the national parks.
The first time I travelled to the west coast, I did not have enough time and I wasn't properly prepared for a visit to Yellowstone (in March it is still very cold). But I have always wanted to go to this national park. Yellowstone is very well known for its wildlife, its many geothermal features and ecosystems. It was established in 1872 and so it was the first National Park in the world.
When you look at the map, it seems to be quite far away from everywhere and it took us two days driving from Portland. We definitely did a lot of kilometres and that was the toughest thing with the kids so we always had to schedule the traveling time so that they spent most of the time sleeping.
After all that driving I really wanted to stay in the park for at least a week but we only ended up staying 5 nights and then we headed south to have a couple of days in Grand Teton National park.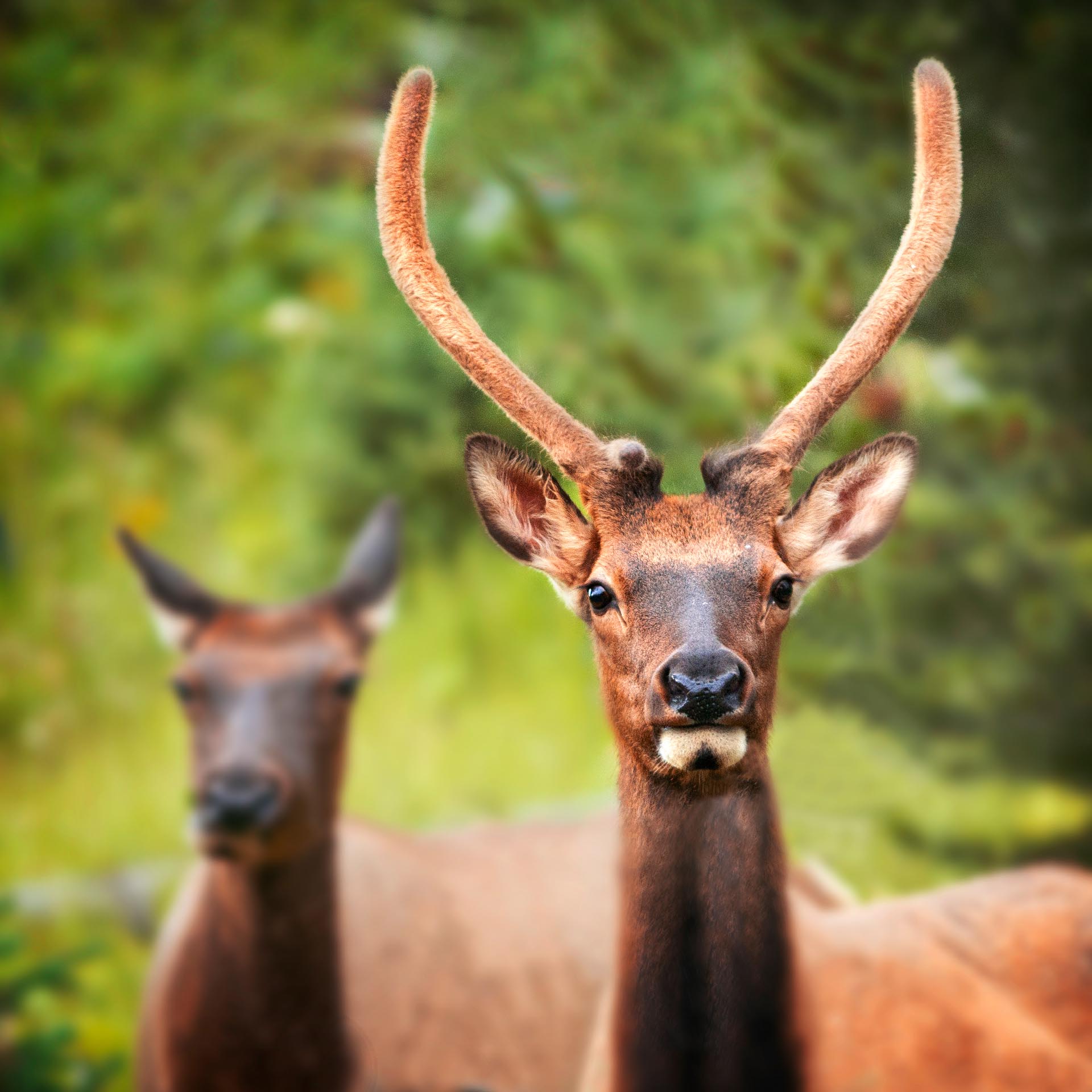 For me the most interesting areas to photograph in Yellowstone were the geothermal features around Old Faithfull and Mid Geyser Basin where the Grand Prismatic Spring is located. The Canyon area and its waterfalls was also another highlight of my visit.
I was strolling around a very popular area called Old Faithfull when the Grand Geyser erupted. I was really lucky to see this because Grand erupts every 7 to 15 hours. It is the tallest predictable geyser known but still, you can be waiting for a long time to see an eruption that lasts for around 10 minutes. Yellowstone is home to some 10,000 thermal features and over 500 hundred of them are geysers. In fact, Yellowstone contains the majority of the geysers in the world!
Yellowstone is probably the most interesting National Park I have ever visited due to its size and number of geothermal and landscape features as well as its wildlife. However, we both found it incredibly crowded and perhaps that was the reason why we decided to leave earlier go south to Grand Teton. After 6 years living in Australia I have grown to appreciate having some space in nature and the crowds there were a bit too much for us.
I also owe Yellowstone another visit, perhaps in winter and without the family and the crowds to be able to photograph its wildlife and landscapes in a more relaxed way.
Grand Prismatic Spring, Midway Geyser Basin, Yellowstone National Park: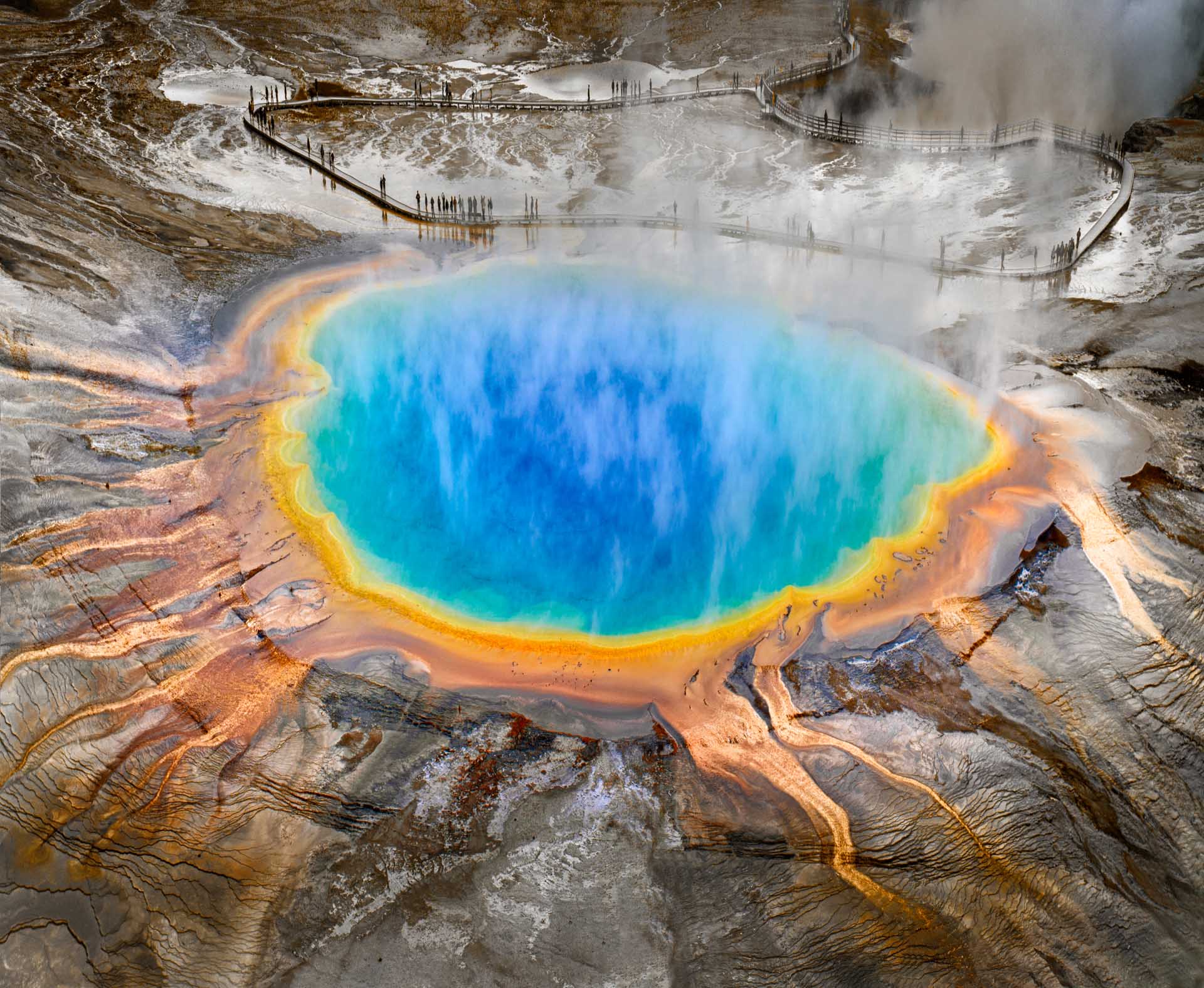 Grand Geyser eruption, near Old Faithful area, Yellowstone National Park: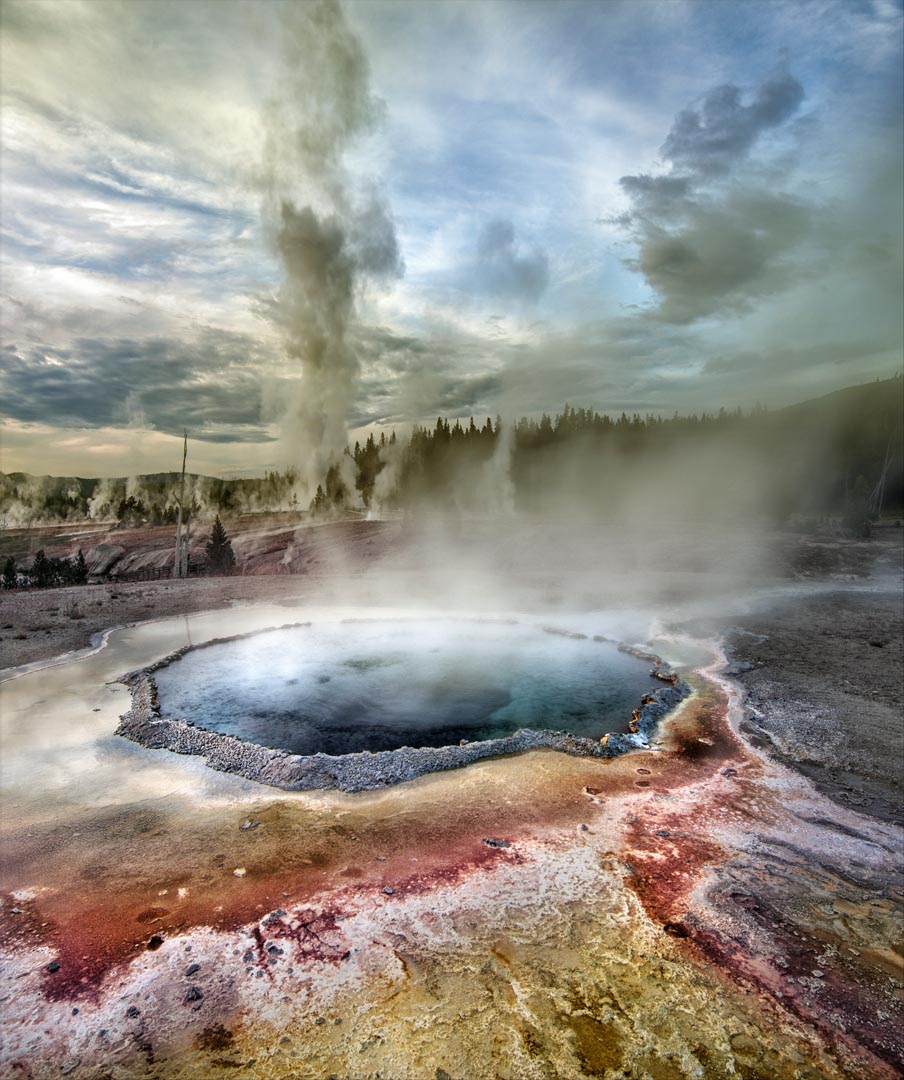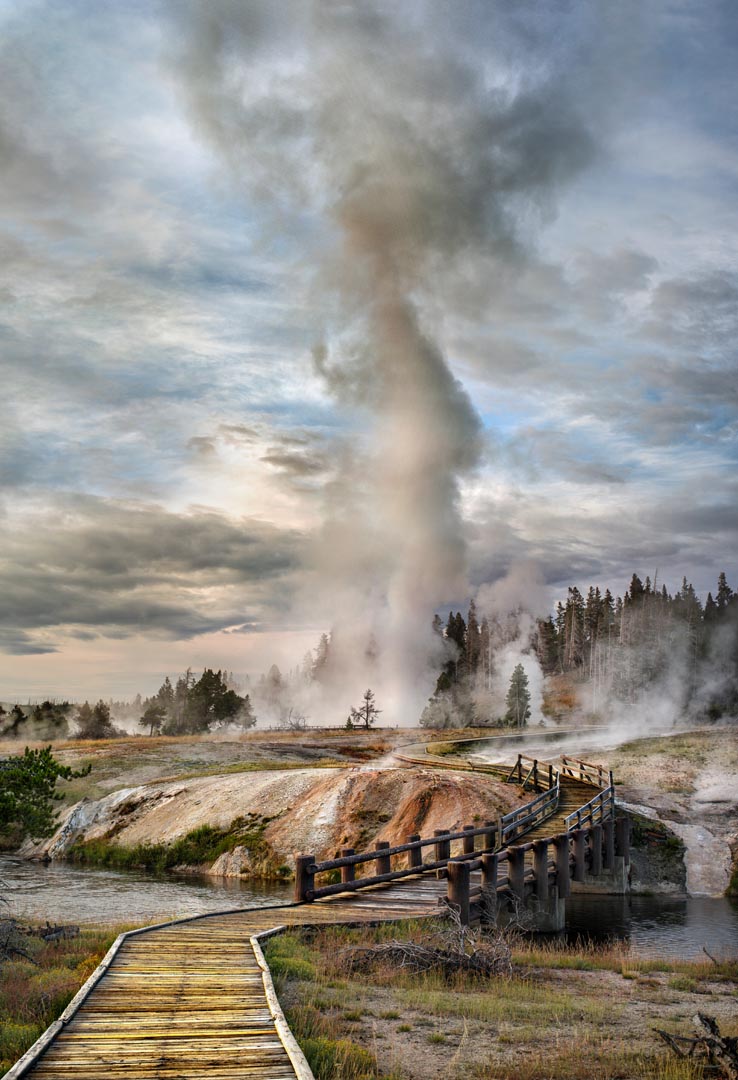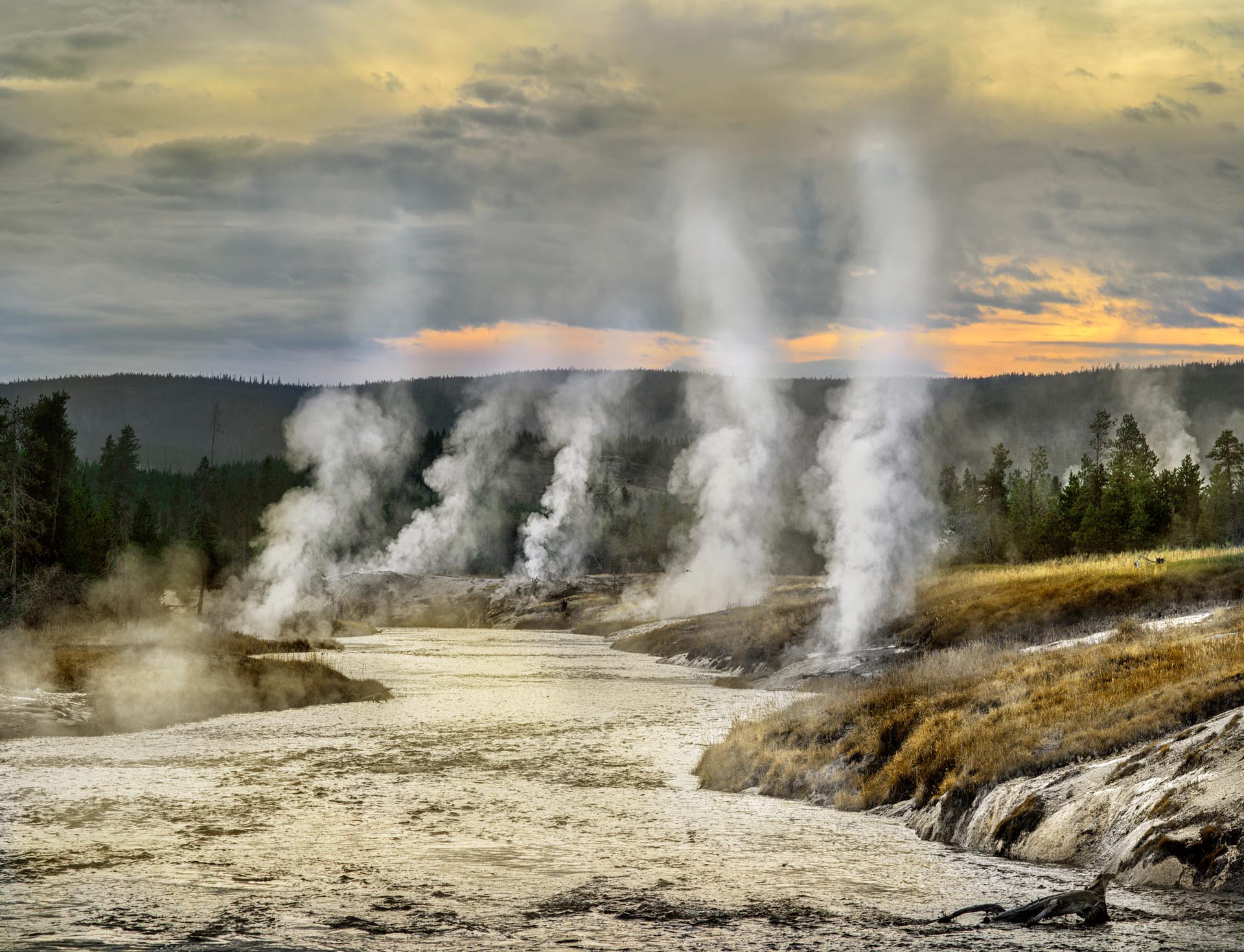 Yellowstone River Grand Canyon, Yellowstone National Park: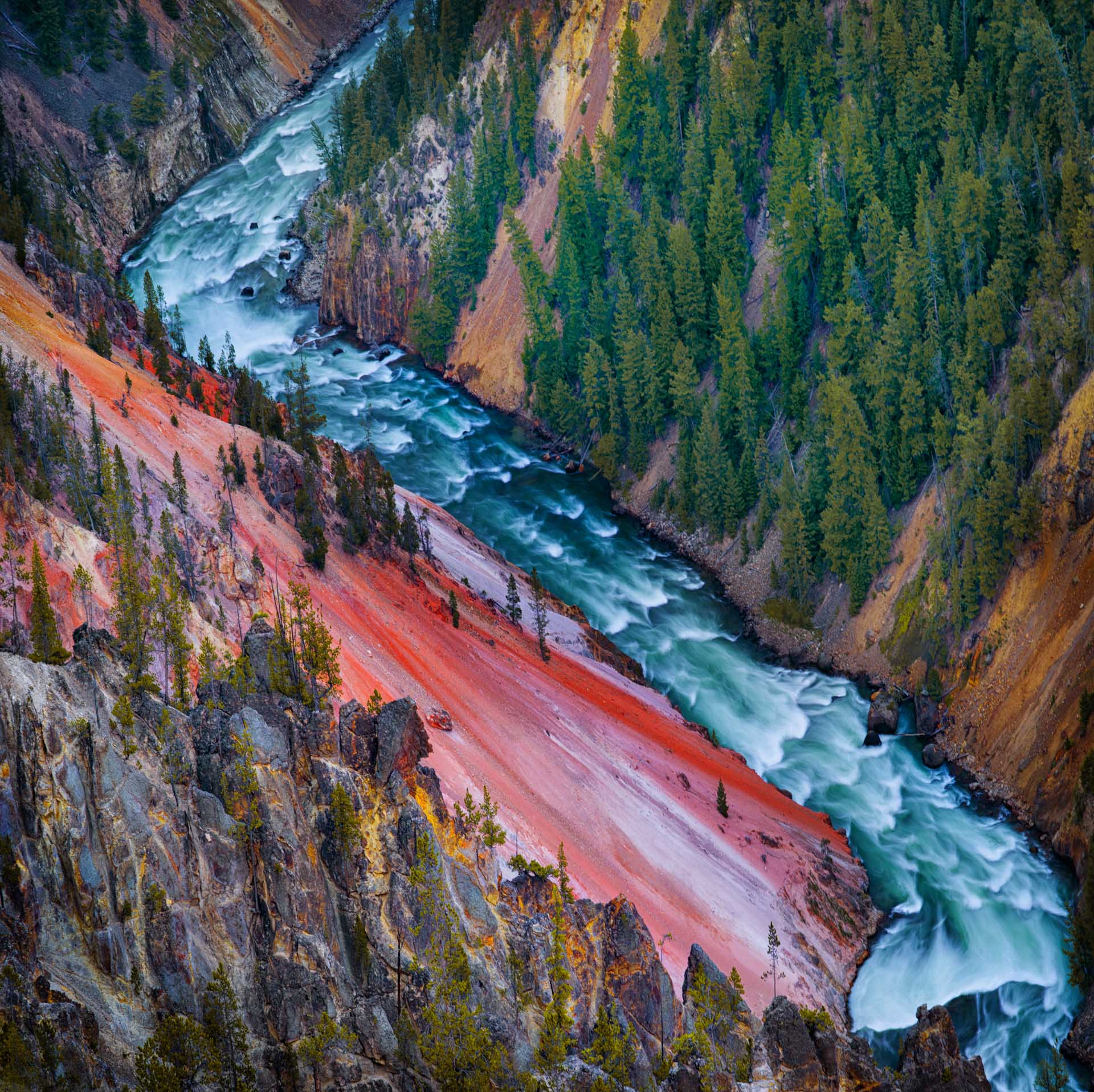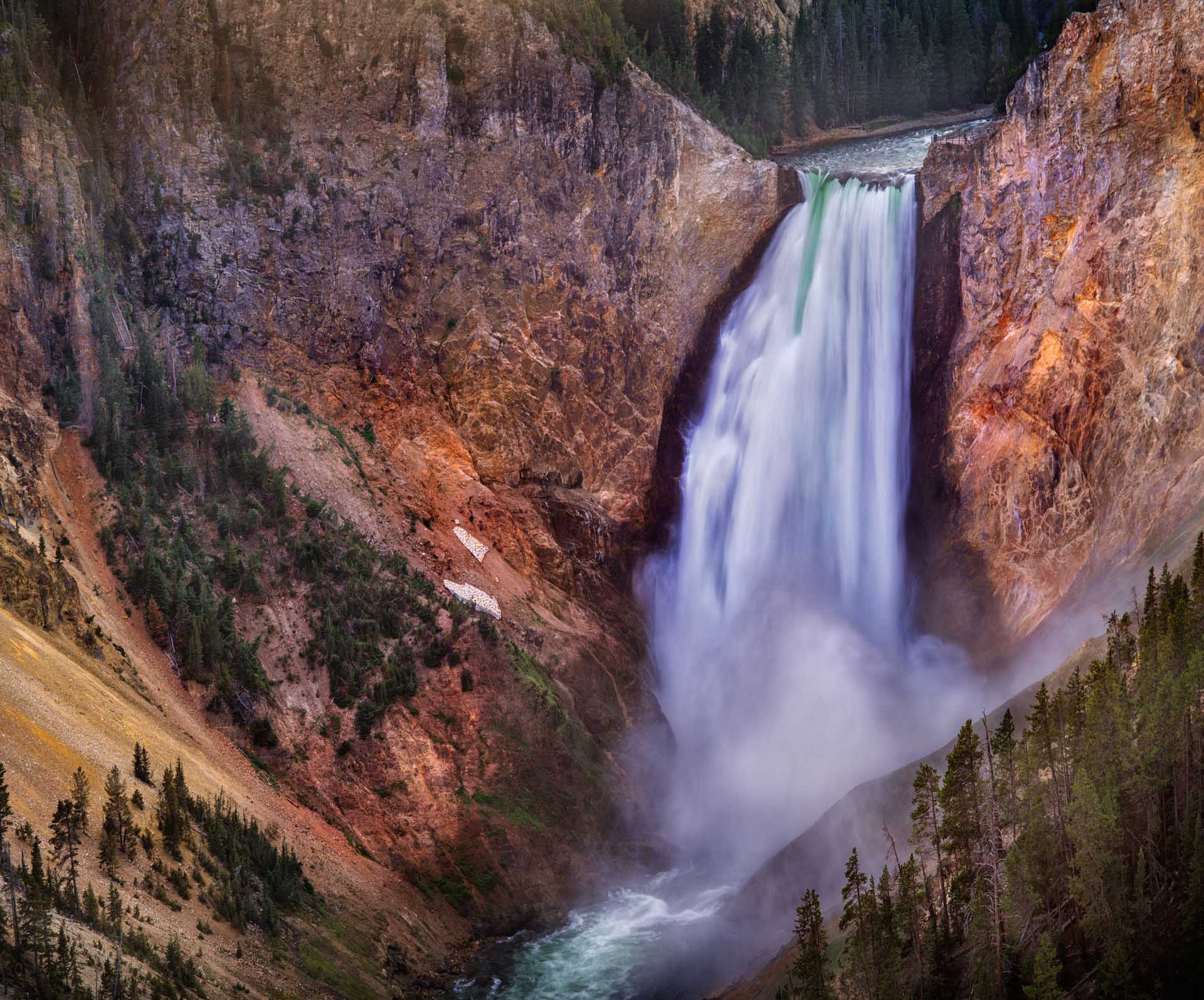 Utah and Arizona
Although I had a lot of fun photographing in Hawaii, Alaska and Yellowstone, I knew that the best part of my trip (photographically speaking) was still to come. I love deserts and I had been in Utah 7 years ago so I knew what I was going to find and I was really excited about coming back.
I wanted to visit again some of the national parks that I visited last time (Canyonlands, Arches and Bryce) but I also wanted to visit and photograph around Page. In particular the Antelope Canyon, Horseshoe bend and Lake Powell. I had seen some amazing photographs of the Antelope Canyon from Alain Briot and other American photographers and I really wanted to capture that by myself.
There wasn't time to go back to Zion or to explore other areas that I had visited before.
I think it would be very difficult for me to come to this part of the world without a motorhome. It gave us so much flexibility and freedom and we actually slept in a few lookouts that would have been difficult to reach at sunrise.
There is a whole article posted in my website blog about my experience in the Antelope Canyon, but to summarize, shooting there wasn't a very pleasant experience. Not the experience I was hoping or expecting anyway. As a travel/landscape photographer, I like to have some kind of connection with the place I photograph. I like to spend a lot of time in a location until I am completely saturated with it and I make sure I have explored all possible compositions and angles… Don't get me wrong, the Canyon is beautiful, but it is absolutely packed with tourists and photographers and that makes it difficult to even walk around it.
Both the Upper and Lower Antelope Canyons are managed by a few tour companies that take you on a two hour tour around them and no tripods are allowed unless you join a "photography tour". You cannot visit them on your own and although I do understand that there have been fatal accidents in the past, I have to say the place was not serene.
I was lucky to get some decent shots because I joined a photography tour, and our guide not only took us to the right spots at the right time to see the light beams but was also key to manage the crowds around the shot.
The photograph below would be impossible unless we had two suns. The light shafts go in different directions and that is simply not possible but I wanted to create something different in a location that has been photographed hundreds of times. This has been done using the light shaft from another shot and it has been added as a layer in Photoshop. It is very simple and I have explained the basic steps in this post.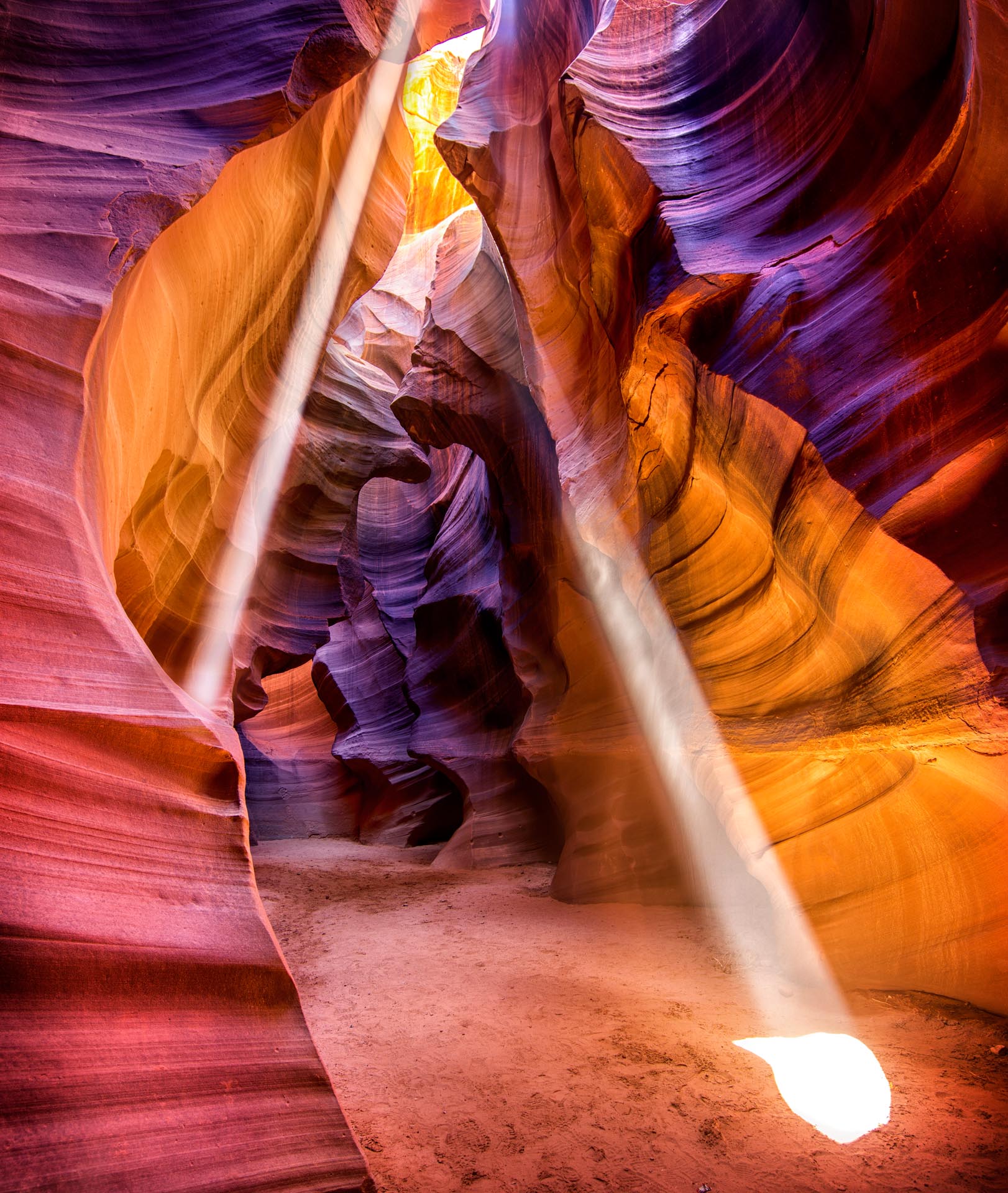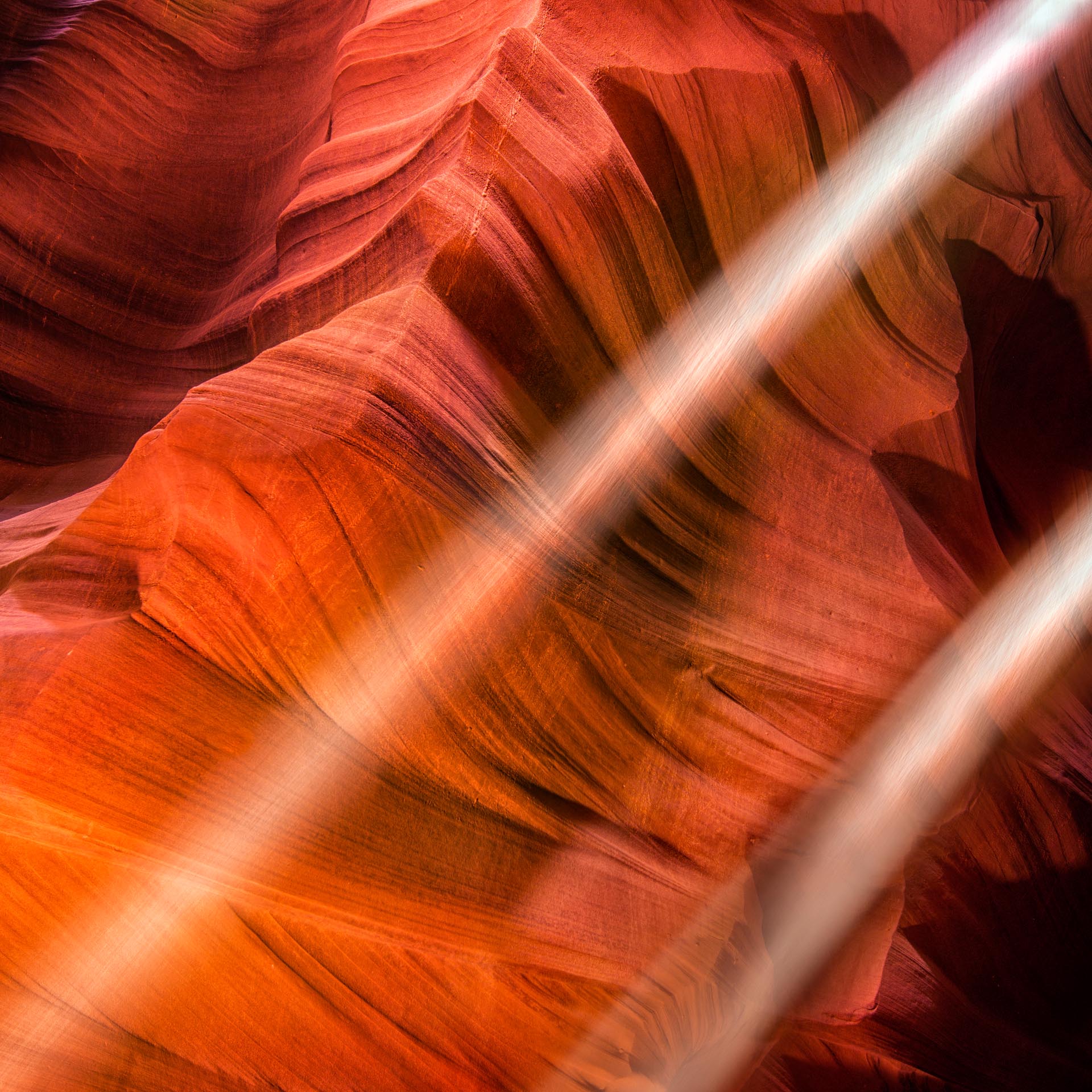 The Horseshoe bend is an amazing lookout but along with Antelope Canyon, it is difficult to create a photograph that hasn't been done before. The challenge there was to keep the children away from the cliff whilst shooting multiple exposures from the border. I suffer a bit of vertigo so that was another challenge for me.
In the end I got a shot I hadn't see before. The photograph was taken at sunset to create a sun star over the horizon. For that purpose I had to close the aperture of one of the captures to f/32 and take the rest at f/11 for maximum sharpness.
Glen Canyon, the Havasu Falls and Capitol Reef National Park are places that I would like to visit on a third visit to these states one day. From Utah we went to Las Vegas and we stayed in Circus Circus hotel (great place for kids) and then on to Disneyland which speaks for itself.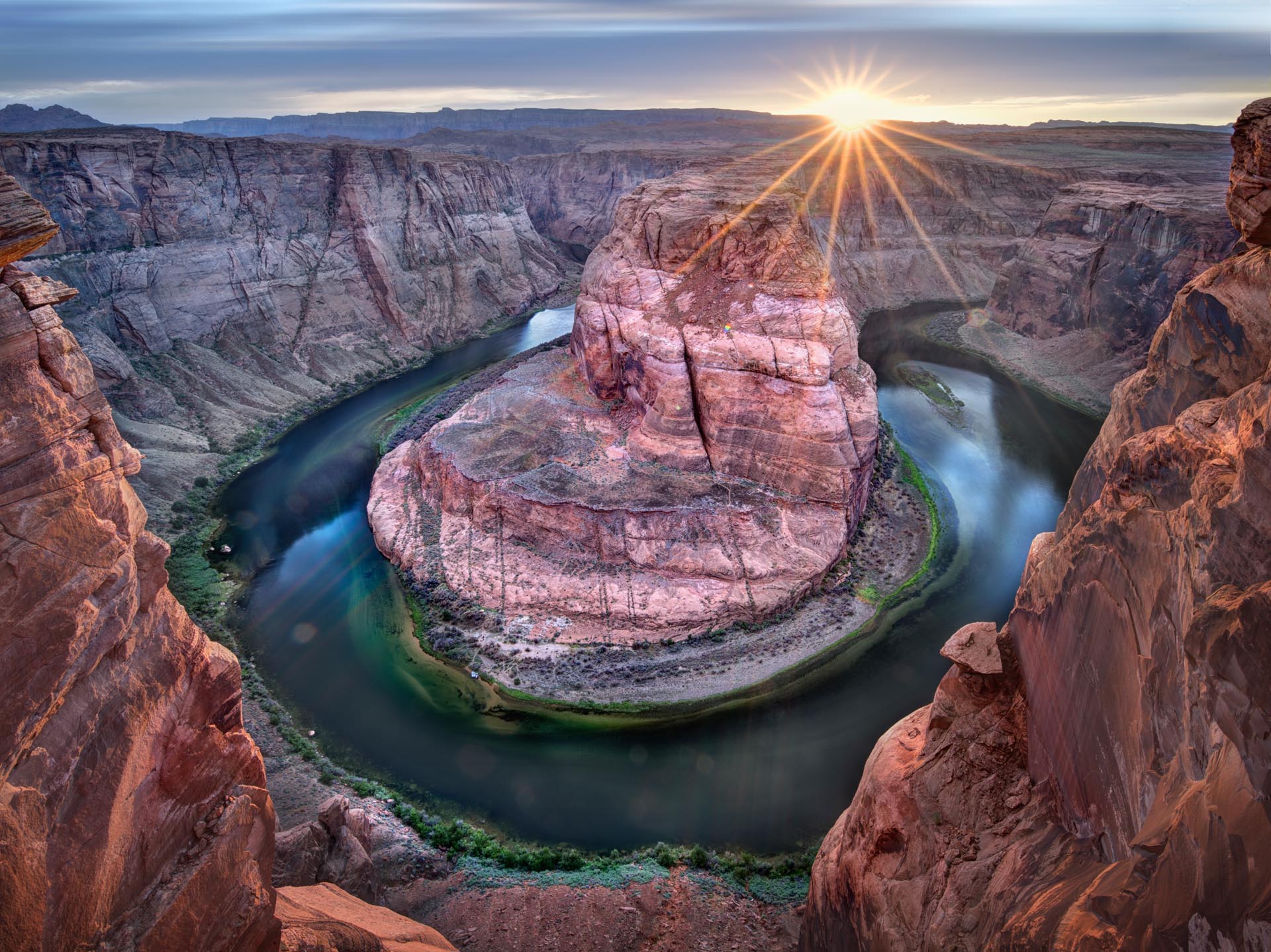 Equipment
I used a Pentax 645D medium format camera exclusively for landscape photography, mainly at sunrise and sunset and a Fuji X-T1 to shoot during the day and for family shots.
Cameras and lenses
– Pentax 645D medium format
– 55 mm f2.8 AL (IF) SDM AW
– 25 mm F4 AL (IF) SDM AW
– 300 mm SMCP-FA FA 645 – designed for film with some fine autofocus tuning works perfectly
– 120 mm FA 645 F4 MACRO
– x1.4 teleconverter that I use with the 300mm when I want to reach very far
– Pentax shutter release cable
– Fuji X-T1 body
– XF 18-55 mm lens f/2.8-4 R LM OIS
– XF 10-24 mm lens f/4 R OIS
– Markins L-Bracket Camera L-Plate (PF-T1 + LF-T1) for Fujifilm X-T1
– Fuji XT-1 flash (comes with the camera)
– Shutter release cable
Tripod and head
– Gitzo GT1541T
– Markins head Q3 Emille Travel
This is the best combination of travel tripod I have found. It is very light and small and it holds my medium format. The photographs are tack sharp. I don't need a bigger tripod when I am travelling for a long period of time. I probably don't need a bigger tripod full stop. Too much hassle and weight
Bags
– f-stop Satori EXP with a small ICU camera pro – This is my check-in luggage and takes the 300mm, the 120mm lenses and the x1.4 teleconverter
– Lowepro Pro Runner 350 AW – will take most of the equipment in this bag – this is my hand luggage. It weighs around 10.5kg. If I have issues, I put a lens and some weight in the f-stop Satori EXP
Conclusion
The USA is a vast country and if you want to photograph it properly, it requires a lot of time and a lot of preparation. There are so many beautiful parks to explore and photograph.
I definitely have to come back to most of the locations that I have visited to shoot in other weather conditions, less tourists or perhaps in other seasons and with different light. Traveling with your family is great but it often limits the places that you can go. There were some locations where I simply couldn't go because it was either too far or it was not a good idea with young kids.
All in all it was a great trip and I would recommend it to any photographer looking to shoot amazing landscapes or to have an adventure. With or without young kids it is great but I can assure you that your experience will be more fun, intense, and challenging if you travel with kids 🙂