Ignacio Palacios is best known internationally for his travel and landscape work. He has been continuously traveling around the world since 1998 but since he came to Australia in 2008, he has focused on photographing landscapes and using digital imaging techniques to produce more creative and fine art work.
His images have been published in international photographic magazines and books all over the world including National Geographic, Australian Geographic and Lonely Planet Guides.
To see more of his work, follow him on 500px, check out his website, or give him a follow on Facebook.
---
Last time I was in Utah and Arizona about seven years ago I missed this place (among a few other incredible places that I continuously discover around this part of the world). I had seen some amazing photographs of the Antelope Canyon from Alain Briot and other American photographers, and so I put it on my list of "places to visit and photograph."
Well, perhaps this is the first time I have ever said something like this about a great landscape photography location, but it wasn't a very pleasant experience. As a travel/landscape photographer, I like to have some kind of connection with the place I photograph. I like to spend a lot of time in a location until I am completely saturated with it and I make sure I have explored all possible compositions and angles…
Don't get me wrong, the Canyon is beautiful, but it is absolutely packed with tourists and photographers, and it is impossible to walk around it. I was told that during the summer months (the only months when you can see this light effect) a few thousand tourists go through this 150m long canyon every day!
Both the Upper and Lower Antelope Canyons are managed by a few tour companies that take you on a two-hour tour around them and no tripods are allowed unless you join a "photography tour." You cannot visit them on your own, and although I do understand that there have been fatal accidents in the past, I have to say the place was not serene.
I was lucky to get some decent shots because I joined a photography tour, and our guide not only took us to the right spots at the right time to see the light beams, but was also key to manage the crowds around the shot.
When I was doing my research, I had read sentences like this in the Internet: "The sandstone canyons lit from the streak of light passing right through the slots makes it one the most serene places in the world".
I was really excited…
"One the most serene places in the world" … This is simply not true.
Something Different
The Antelope Canyon is a "slot canyon" which is different from a typical canyon because the space inside is very narrow. During the winter season the rain flows inside and carves the rocky walls on both sides. Then, during midday in summer, rays of light penetrate inside from the top and create this well-photographed effect.
I had done my homework and I knew that the place would be absolutely packed, so I was not very hopeful for a nice photograph. However, our guide did a great job managing other photographers. Would it be possible to create a unique image of this place?
The tour around the canyon was done in such a rush that I did not enjoy it. Actually, I have never photographed a landscape under such pressure and stress. I had to work fast but sometimes, in situations when you work under pressure, I find that I get more creative ideas and after a few captures, I had the vision of the photograph that you see at the top.
As you can see, the image is not 'real,' because one of the rays of light has been taken from another image and added as a layer in Photoshop. Otherwise, the image would be like any of the other hundreds of pictures I have seen of the canyon but I wanted to do something different. I know that some would disapprove of this practice but as I have said in other posts, what I love is to create the image, not just to capture it and if I like it, it works for me.
If you actually think about the light in this image, both rays should be parallel and one could argue that the image is a cheat, but compositionally it works better if the ray goes in the opposite direction. I have not received comments about this in Facebook so perhaps no one has noticed yet!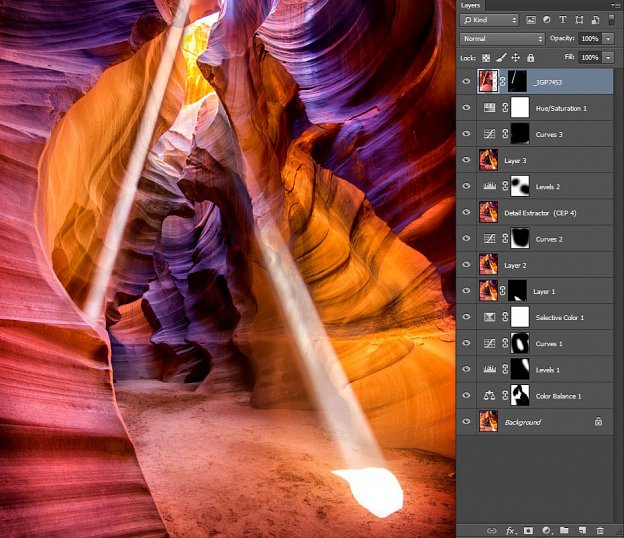 The Creative Process
To get a sharp and well-exposed image I had to use bracketing and take long exposures. For that reason I had to set up my tripod (among 20 other tripods around me).
Focusing can also be tricky as the ray of light effect only appears when your guide throws sands into it. So you need to focus somewhere beforehand and for that purpose I asked my guide to switch on his mobile phone at the position where the ray would appear. Then, I focused at that point and switched my camera into manual focus.
The high presence of dust, sand and people in the canyon led to the decision to use just one wide-angle lens. I have enough dust on my sensor at the moment and a medium format sensor is not that easy to clean! This photograph has been taken with a 25mm lens, which is the equivalent to around 19mm in 35mm format.
My exposures where long because I like to use f/11 to get maximum sharpness. I have tested this lens and I know that f/11 gives me maximum sharpness and if I go beyond it, diffraction starts to kick in and softens the image. I need to make sure I have the perfect capture so I can print big if I need to. Shooting with my medium format means that I can't push the ISO very much, so I was using ISO100.
With some RAW processing and just a few layers in Photoshop, I think I have managed to create something that hasn't been done before in one of the most photographed locations on the planet.
Utah, Arizona and Colorado are a photographer's paradise, and this Canyon is amazing, but after this, I will not go back. I don't want to put anyone off though… you might have a completely different experience.