Ignacio Palacios is best known internationally for his travel and landscape work. He has been continuously traveling around the world since 1998 but since he came to Australia in 2008, he has focused on photographing landscapes and using digital imaging techniques to produce more creative and fine art work.
His images have been published in international photographic magazines and books all over the world including National Geographic, Australian Geographic and Lonely Planet Guides.
To see more of his work, follow him on 500px, check out his website, or give him a follow on Facebook.
---
A few months ago I went on a cruise along the beautiful coastline of Alaska with my family. It was my first time in this part of the world and I absolutely loved it. The photograph seen here was taken in Glacier Bay National Park which is a highlight of Alaska's Inside Passage. Glacier Bay has many lagoons, islands, and channels with rare wildlife and visual treats such as glaciers, temperate rainforest, wild coastlines, fjords and incredible waterfalls and mountains.
This is the largest UNESCO protected biosphere in the world and for a hiker and adventurous travel photographer it was a bit frustrating to be confined to the boat but hey that's the best I can manage with young kids and it was an amazing to experience this with them.
The photograph below was taken from the deck of the Volendam whilst most passengers (including my family) were eating lunch and missing out one of the most incredible views of the Inside Passage. We were just exiting the passage after some breathtaking views of calving ice in various glaciers.
I am glad I missed lunch that day!
Creating the Image
The final image has 27 Photoshop layers on it and, due to the large number of adjustments done, I can't actually show you some of the top layers as they could not fit on the palette at the same time. I have started to use Capture One to process RAW files but this particular image was processed with ACR (Adobe Camera Raw).
The day was overcast with a few breaks sometimes but pretty dull overall. The 645D Pentax gave me a blue cast and a pretty flat image as you can see in the RAW image above. I was actually shooting from the deck but using a tripod to minimize the movement and vibrations on my Pentax 300mm telephoto lens. I normally use f/11 or f/13 to get maximum sharpness but since we were moving, the light was poor and the subject was pretty much in the same focal plane, on this shoot, I used f/9 @ ISO100.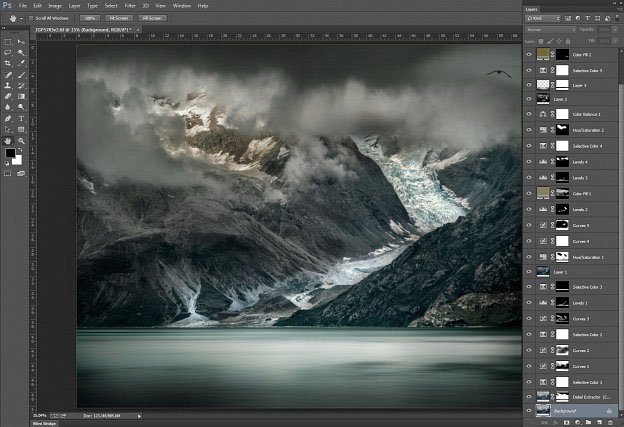 Photoshop Layers
You can get an idea of the process I have followed by looking at the original image and the layers used in Photoshop. I have worked for hours on this image creating different versions and finally ended up with a well-composed image and some colour tones that bring me back to that trip. Perhaps the final image is not that amazing, but with this example I just wanted to demonstrate that you can actually create something good from a pretty average photograph.
I have changed and added some colour to the glacier with a solid colour adjustment layer, moved the position of the bird to create a stronger composition, darkened the clouds to do some natural vignetting/framing. I have also used water from another shot to increase the water portion at the bottom of the image (again to improve the composition) and I have increased its contrast using levels.
For the water at the bottom I have also used a blur movement filter and the usual adjustment layers such as curves, levels, apply image, color balance, selective color, saturation with different blending modes and opacities to create an image that, in my opinion, has improved the original capture. Some post-processing not only improves the original capture but lets me play with my creative desires, which in the end it is all I care about.
Will I send this photograph to Getty images? Yes. Will it be accepted? Yes. Will I sell it? Probably not as travel magazines normally look for blue skies and good weather to attract tourists. But to retouch this image gave me satisfaction.
Photography shows the world the way the photographer wants you to see it and when I look at the world and I look at beautiful landscapes, I look at it to transform it in a photograph. Our camera can be better or worse, with more or less possibilities, but its lens will never be a substitute for vision.
Again, some might not like so much post-processing but for me it is part of the creative process. Perhaps I don't know how to use my camera in the field as well as other more "in-camera" photographers.
For me photography is a passion, perhaps an obsession but the truth is that the camera and Photoshop are great tools to see the world and show it in a way that I had not done before.
Developing an image is an adventure and an experiment. For me, post-processing an image is a very creative, artistic, personal, and fulfilling experience.