Photography—it's all about passion, skill, and commitment. Ever wondered what a day in the life of a pro photographer is like? Every week, we ask a photographer to document and share how they go about a typical day of working and shooting.
This week, we're featuring Abu Dhabi-based aerial and cityscape photographer Beno Saradzic.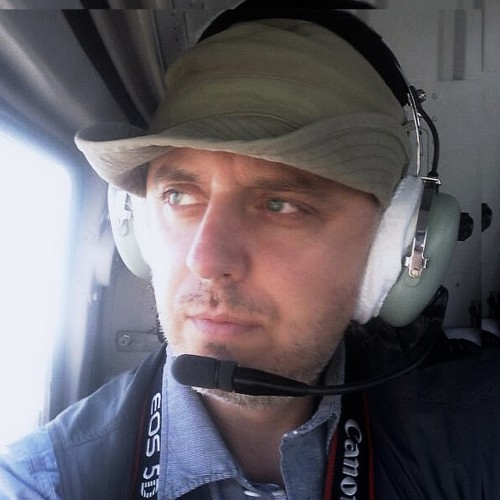 Beautiful and bustling urban landscapes are captured dramatically in Beno Saradzic's award-winning skylines, architectural and aerial view images. He is also a celebrated time-lapse filmmaker, visual artist, and producer.
Let's follow Beno as he goes about his day, from studio prep work to shooting from a helicopter above one of the world's most beautiful cities. Read on!
24 Hours with Beno Saradzic
8 A.M. I'm not much of an early riser, though I can't say it's a genetic trait as everyone in my family gets up at dawn. It's an odd thing, and frankly, I don't understand it. My appreciation for a good night of sleep stems from the fact that 99% of my still and film shoots start before sunrise. Such projects can drain you physically, as they tend to stretch for days, sometimes weeks in a row. These experiences make you appreciate certain things in life, like getting up late when you can.
8:15 A.M. My day starts with a blind stretch of the right arm in the general direction of my iPad, to check my inbox. The clean-up begins. I usually delete about 100 spam emails before I get to see my toothbrush and my breakfast porridge. I also check my social media notifications. I look for piano playing cats—Chihuahua in Superman outfits on skateboards, and tutorials on how to peel and eat a banana. You know, stuff that matters.
8:30 A.M. Routine stretching and exercise ensues—nothing too strenuous. I shower or take a hot bath, if I have the time. There's nothing like 20 minutes of hot water to rejuvenate you. It relaxes me and gives me focus for the rest of the day. My carbon footprint isn't exemplary, although I'm all about the cause.
8:45 A.M. My breakfast menu has evolved over time. Lately, it has gotten quite healthy. It starts with a bowl of oatmeal, a handful of fresh berries, walnuts and almonds, a banana, and one fruit yoghurt. I read my preferred newspaper while I eat and quickly skim through its pages, unless something really grabs my attention. Last time that happened was back in the early 90's.
9 A.M. If I have an aerial shoot in the afternoon, there's tons of work ahead of me. I have to make sure that all permits are in order. That takes tons of emails and phone calls to various ministries and authorities. It can be quite daunting and confusing if you're just starting out; but for me, that's 9 A.M.
10 A.M. I kick off my client meetings. We discuss the shooting brief and locations, so I can start jotting down my flight plan, altitudes, POV, and timing of my waypoints. Once I know what needs to be done, I email the aircraft pilot and civil aviation authorities to see if there are any remarks from their side before I go ahead and confirm the session with the client. The last thing you want is to find yourself in the air without the proper clearance to shoot the subject!
11:30 A.M. I'm back at the studio. I start my careful planning of the aerial shooting session. I study the orientation of my subject with Google Maps to find out how I should approach it, where the optimal point-of-view is, and what locations I should avoid. I also check the sun's position and shadows at the planned shooting session. I use a very cool iPad app called Photographer's Emphemeris, which makes it very easy to determine the optimal place for the aircraft and my camera. I highly recommend this app to all serious architecture, landscape, and aerial photographers. Professional photography is approximately 80% prep (management, planning and administration, finance) and 20% production (shoot and post-processing). You can never be too prepared or too thorough when it comes to client commissioned photography, especially an aerial one that is quite costly.
1 P.M. I confess; I'm not overly punctual unless it's about food. My lunch is usually a three-course, home cooked meal that starts with a soup, followed by either grilled fish, chicken or meat, and a green salad. I like to end my lunch with a plate of fresh fruits. After that, I space out for about 15 minutes. I avoid fast food as much as possible, and I loathe eating in my car. Good food and the time to enjoy it matter to me a lot, so I don't skimp on either of the two.
2 P.M. Camera gear, check. I have several camera kits, tons of lenses, and accessories, but I don't take the whole lot with me when I'm headed for the shoot. I customize the contents of my bag for each specific job so that I bring only what I need, without the unnecessary weight. Gear does nothing but slow you down, and time is a luxury we photographers don't have much of.
My preferred aerial photography kit is made of 2x full frame Canon bodies, 24-70mm zoom on the first camera, and 70-200mm zoom on the second camera. I also carry Canon 8-15mm fisheye zoom lens for dramatic close-ups in dense urban cityscapes. Each lens is fit with Heliopan Circular Polarizer filter, which helps to reduce the haze and glare as well as saturate the colors. I make sure that the camera sensors are clean. If they are not, I use Visible Dust EZ Sensor Cleaning kit to get rid of any water based or oily spots. I also pack my photographer's vest with spare batteries, memory cards, and pre-moistened lens cleaning pads. That's basically it.
3:30 P.M. It's time to pack the gear, get dressed for the occasion, and head to the airport. When I'm shooting, I always wear military trousers, desert warfare edition. They are light, tough, cool and have more pockets than any other trousers I ever wore. They are a perfect choice for a guy who hates to carry camera bags or backpacks. Everything I need is in those pockets—documents, keys, wallet, camera accessories, and the most important item, a small bottle of water. In the UAE, we get crazy heat in the summer. You'd be very unwise to go on the field without the most precious liquid of them all. My hair is rather long, so it tends to get in the way when I'm shooting, mainly by blocking the viewfinder. This is why I always wear another signature garment, my cotton guerrilla hat. It keeps my hair in place while protecting my sight from the glaring Arabian sun.
4:30 P.M. I arrive at the airport. I start by briefing the pilot while the bird is getting towed out of the hangar, fueled, and checked by the aircraft engineers. My favorite helicopters for shorter, less demanding aerial missions are Agusta Westland A109 and Eurocopter AS350b3, aka 'Squirrel'. I have no idea how this high-tech flying marvel got its nickname as I can't see any resemblance with its nut-munching rodent namesake. These two birds are very agile, fast, and relatively economical to rent. They are the helicopters of choice for about 90% of my client-commissioned aerial photography missions. For more demanding, long distance and off-shore aerial shoots, Bell 212 and 412 are still the gold standard. They've got twin-engines so they are reliable in critical missions. Because 212 and 412 are also much larger than the A109 and AS350b3, they perform far better in windy conditions due to their overall stability. Unfortunately, they also cost a lot more to rent.
4:50 P.M. I board the helicopter and secure myself to its airframe with a full-body harness. I'm also strapped to the chair with a belt. You can never be too safe when you're 1000 feet above sea level, shooting through the open door of a helicopter. I use a mic and headset to talk to the pilot in front of me because you can't hear anything once you're in the air. The engine and wind noise are simply deafening. Good communication with the pilot is essential for the success of aerial photography. Think of the helicopter as your tripod and the pilot as your tripod head. If you can't explain to him how you would like to be oriented with respect to the subject, you won't get the shots your client needs! One final check of the gear, safety, communications, and then we take off.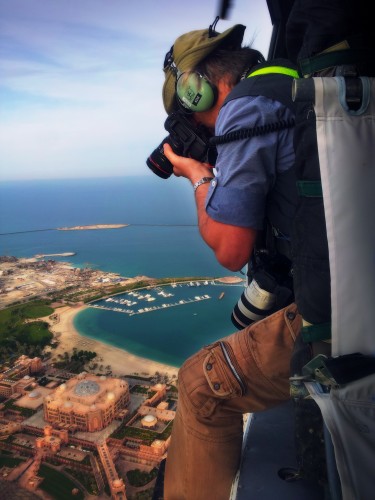 It's an amazing feeling to fly in a helicopter. There's no sense of visceral acceleration and ear popping pressure as with a commercial jet. Helicopter take-offs feel like a state of weightless levitation. It is an incredibly liberating, deeply-satisfying and thrilling experience—all at the same time. As you look down on the world below you gently rolling by, you feel all your worries and troubles disintegrate into the wind. Traveling any other way becomes hard to imagine.
5 P.M. We're gliding several hundred feet above the ground, approaching the subject. The sun is low on the horizon, the light is warm, the shadows cast by the buildings are long, and textures are becoming three-dimensional. My instincts are telling me, "This is it." It's the beginning of the magical golden hour, my favorite time to photograph cityscapes and skyscrapers.
I give my instructions to the pilot: where to approach the subject from, what distance from the centre of rotation he should maintain, and the desired ground speed. Once the aircraft is stable and its speed is steady, I'm ready to set my camera. Since I'm shooting handheld from a moving platform, I need to make sure that my shutter speed is high enough to eliminate potential motion blur as well as vibrations caused by the wind blast. This is why I set my camera to Shutter Priority Mode. I don't want my shutter speed to drop below 1/1000s, unless the aircraft is hovering in place. I start by setting ISO sensitivity at 400. Then once it gets darker, I proceed to increasing it to 800. The camera's light meter takes care of the aperture value, which helps me to focus on taking pictures, rather than on maintaining the right exposure.
6:15 P.M. I've already produced several hundred frames during my aerial shoot. My eyes are glued to the subject. I'm looking for an angle which I haven't seen before, for a glimmer of light and shadow which will surprise and inspire me. I don't find that money shot very easily up there. But when it finally reveals itself to me, I rarely miss the opportunity to capture it. At this point, I have close to 2,000 shots on the memory card. It's time to call it a day, and head back to the airport.
7:30 P.M. At home, finally. I feel ruffled up by excessive shutter clicking action, the helicopter's engine noise, and wind blast. It's time to kick off my shoes and melt into my sofa with some help from Massive Attack and Miles Davis. I'm in the nothing box. It's the reset button of my day.
8 P.M. After a refreshing shower, I grab my dinner. And then, it's time to look at the catch of the day. I copy the contents from my memory cards onto multiple storage drives. You can never be too safe or too redundant when it comes to your precious data. If you're a professional photographer, your photos are your livelihood. I've learned this lesson the hard way, so I'd like to spare you the pain—backup, backup, backup!
8:30 P.M. I import all RAW photos captured during the aerial session into Lightroom. There are thousands of them. Clearly, this takes a while. I grab a fruit while the computer is crunching the data.
8:40 P.M. All the images are in Lightroom's library now, and ready for short listing. This part always gives me a headache because I start by liking too many images, and this forces me into an inevitable second round of short listing. About two hours later and after much self-debate, doubt and self-criticism, I have the best 20 shots of the day. I think. I export them as 16-bit TIFF files.
10:40 P.M. At this point, I may or may not have enough energy left to enter the final phase and my favorite stage of photography: post-processing. On second thought, I don't think I've ever gone to bed before processing at least one or two shots I took during that day! I start by importing the first one into Photoshop. Once it loads, I pause. I'm in no rush. I deconstruct every pixel on the screen. Soon, I figure out which parts of the image work and which ones could be improved. I don't like any clutter or distractions in my photographs. Colors, composition, textures, and light—they all need to come together in perfect harmony. I want the message to be clear and to-the-point. I take my notepad and write down the to-do list, so I don't forget anything when I'm in the re-touching heat.
11 P.M. I've cleaned up my first photograph which is beginning to look the way I envisioned it. At this point, I'm searching for the finishing touch, the cherry on the cake: color correction. I start to jog my brain for inspiration. I'm a movie buff and an avid fan of sci-fi. My memory is like a giant video vault of every film I've ever seen. I often seek inspiration for the look of my work from those visual references. Cold blue hues and haze. Hot, warm, fuzzy backlight. Deep inky blacks and glowing, colorful orbs of light. 'Godrays', layered fog and focused sunbeams. Punchy, sometimes washed-out color palette. I build layers upon layers of subtle light and color gradations. I'm re-shaping the mood and essence of the image by giving them my own signature, look, and feel.
1 A.M. My first image is finally ready. I'm scrutinizing it with my head in a 45-degree tilt to the left, then right. I nod at the monitor with an approval. I feel fulfilled. It's an awesome feeling when your vision materializes in front of you. I can sleep now.
1:30 A.M. I'm lying in my bed, looking at the ceiling. I feel my tensed muscles slowly dissolving into the mattress. I sense the breeze, and hear the subtle whisper of the air conditioning unit. It reminds me of the helicopter's rotor, still echoing at the back of my head. It was a great day, and I'm adrift. Good night.
We hope you picked up some great tips and insights from Beno Saradzic's exciting 24-hour account of his day. We love the sense of adventure he brings to his work, but we also admire how his day is rooted in discipline and highly-effective habits.
Want more inspiration? Scroll down for a collection of images shot by him that will leave you breathless:
Follow Beno Saradzic on 500px to see more of his images. You can also check out his Facebook, Twitter, Vimeo, and Google+ pages for more info on his work.
Got any questions for Beno about his shooting schedule, his process, or his photography? Leave a comment for him below!
Check back next week for a new installment of A Day In The Life featuring another 500px photographer.