Not 24 hours after I put together a collection of Kelly DeLay's most impressive supercell photographs, I got a message from the photographer himself that got my adrenaline flowing.
"I am about to post what I think is my best shot ever," he wrote, asking me what time would be best for top visibility. This, he told me, was the shot of a lifetime. A photograph he had been waiting 6 years to capture. It would be huge, he promised.
Bias aside, it turns out he was absolutely right. This is the photograph—uploaded to 500px just minutes ago—and it's already been picked by BuzzFeed News, Mashable, and The Huffington Post since Kelly sent me that message on Saturday:
What you see here is a massive supercell in Colorado that produced sister tornadoes. Here's how Kelly described it to me when we spoke earlier today:
This was a beautiful storm, very large and powerful obviously. When I chase storms, I like to stay back for the most part so I can see structure. I am interested in the whole picture not just if it produces a tornado.

Because of the road network, I chose to come up from the back side of the storm, which put me into the hail, BUT what a view! There is nickel to golfball-sized hail in every shot I took.

From the moment I was on the storm, the cone tornado was on the ground, I chased up a dirt road that turned to mud. I was on the storm and close for about 30 minutes, then had to turn back because the road was so bad.
Here's a closer crop: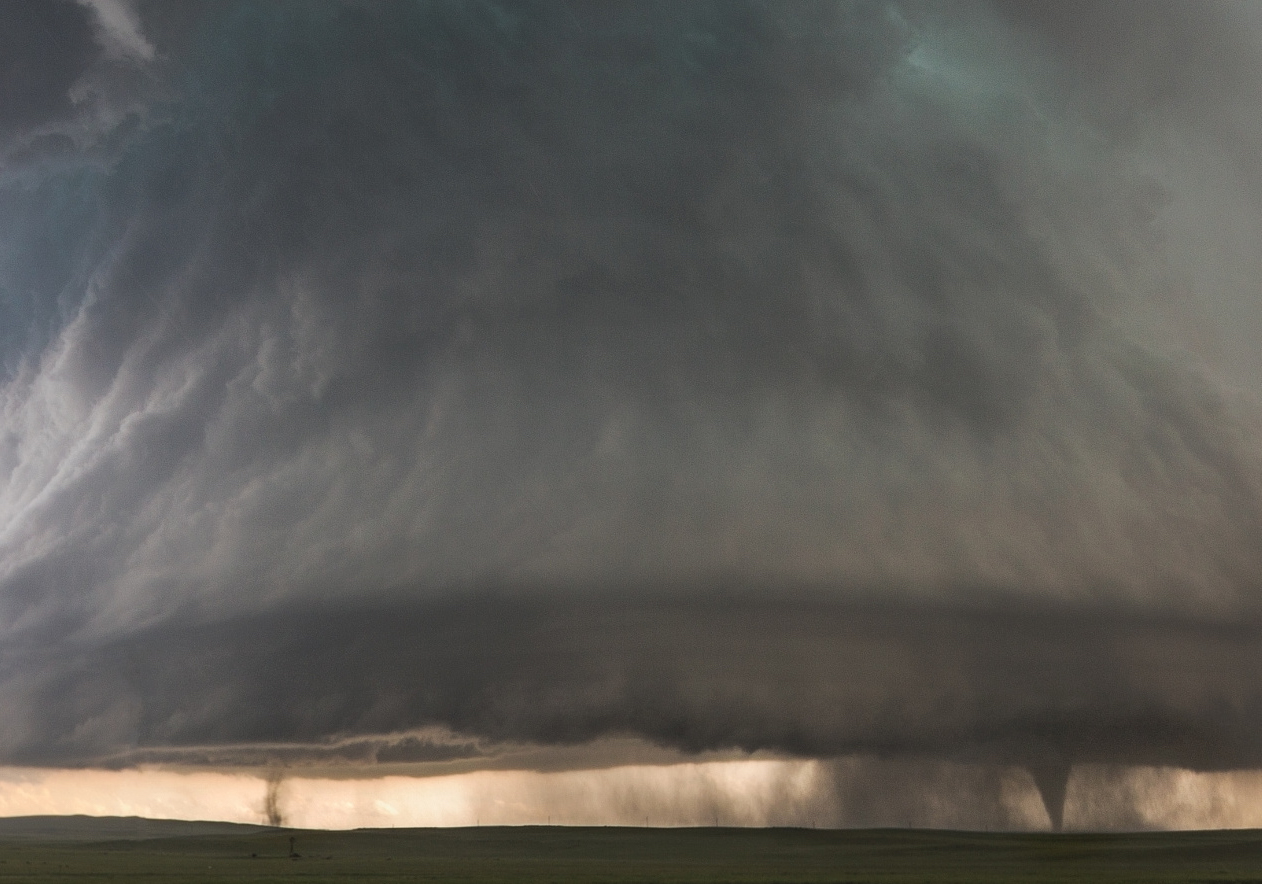 In all this storm produced at least four tornadoes! But these two, appearing at the same time, made for a wonderfully rare photograph that may just be the best Kelly has ever taken… yet.
We expect much more from the talented storm chaser in the months and years to come. Who knows… maybe there's more than one "once-in-a-lifetime" shot in his future. We sure think so.
To see more from Kelly, follow him on 500px, visit his website, say hi on Facebook and Twitter, or check out his Webby Award-Winning Clouds 365 Project.
---
UPDATE: Check out this double rainbow photo Kelly captured just 30 minutes later in front of the same storm!