Photography—it's all about passion, skill, and commitment. Ever wondered what a day in the life of a photographer is like? Every week, we ask a photographer to document and share how they spend their day at work, giving you an exclusive, behind-the-scenes look at a pro's shooting schedule.
This week, we're going to chase storms with Brandon Goforth, an extreme weather, nature, and landscape photographer based in Oklahoma, USA.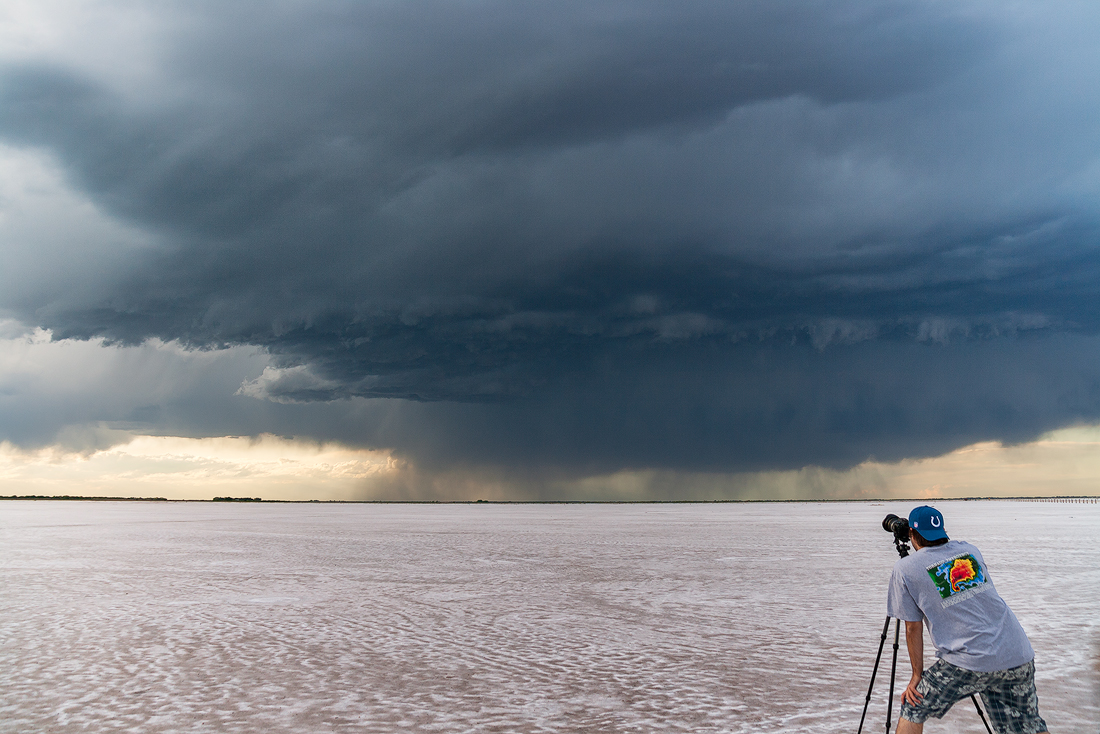 His powerful photos of gigantic storm clouds and lightning strikes in sprawling landscapes transport you right to where the action is—capturing what is both beautiful and violent in the unpredictable face of nature.
Interested in stormscape photography? Read on to see how Brandon spends an action-packed day, chasing and shooting these extreme forces of nature!
24 Hours with Brandon Goforth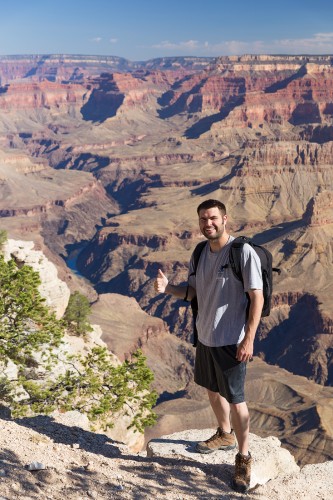 I've always had a strong fascination with severe weather, the outdoors, and nature. In 2000, I went on my first storm chase. The awe of experiencing stormscapes led me to photography. I eventually decided to buy an entry-level Canon DSLR. At the time, I didn't know anything about photography, so I spent every day researching and experimenting with my camera. During my first spring storm season with my new DSLR, I spent many days in the Wichita Mountains of southwest Oklahoma trying to familiarize myself with the camera, learning how things worked, and experimenting with compositions. I immediately found landscape and nature photography to be a hidden passion, and I just couldn't put the camera down. I'm a bit of a perfectionist at heart and I wanted to get great shots from the start, so there was a lot of learning and experimenting packed into those first few months. Even though a large portion of my images revolve around storm photography, I consider myself a landscape and nature photographer, with most of my earlier focus being on severe storms.
This schedule documents a 2-3 hour drive from my home to get to the target area of a developing storm, which is about the normal distance on average, though sometimes can be shorter or much longer.
8 A.M. I wake up, and take a quick glance at the day's severe weather potential. Here in the plains states, we have violent storms every year that are terrifying, yet beautiful and fascinating at the same time. Often these storms will exhibit incredible, unique cloud structures.
9 A.M. Time to round up the gear and ensure batteries are charged. This includes my camera gear, laptop, and paper maps. Yes, I still use paper maps, in addition to GPS. I normally shoot with the following:
Canon 6D body
Canon 7D body
Canon Rebel XTi body
Canon EF 24-70mm f/2.8L II lens
Canon EF 16-35mm f/2.8L II lens
Canon EF 40mm f/2.8 STM lens,
Canon EF 50mm f/1.8 II lens,
Canon EF 70-200mm f/4L IS USM lens
Canon EF-S 10-22mm f/3.5-4.5 lens
B+W Circular Polarizer
Gitzo Carbon Fiber tripod with Really Right Stuff ballhead
Photoshop CS3, CS5, and CS6 for processing RAW files
10 A.M. I spend an extended time reviewing the latest weather data, and building a forecast to pick a target area, so that I know where and when to be. I've extensively studied severe weather and forecasting, and I do my own forecasting. This includes determining if the atmosphere supports the type of storms I'm interested in photographing, whether those storms may provide me the type of photo opportunities I am looking to get. There are definitely large-scale weather patterns that give a hint that severe storms may occur over a week in advance, and confidence usually increases as the event grows closer. However, take note that there's still a lot of unpredictability that exists, even on the day of. I've seen days that look like big severe weather producers actually produce very little severe weather, and I've seen low-risk days produce grapefruit-size hail, tornadoes, and very photogenic cloud structures. There are just so many variables that go into planning and creating these storm photos.
11 A.M. Time to leave home for the target area, assuming an average of a 2-3 hour drive. I drive a 4WD SUV to get to where I need to go.
12 P.M. Lunch on the road.
1 P.M. On the road.
2 P.M. I arrive at the target location. I review current observations and adjust position, if needed. When photographing landscapes, a photographer might scout an area beforehand, and pick out a spot that contains all the right elements arranged in the right way. From there, it's a matter of waiting for the right light. With this storm-chasing photography, you don't get the luxury of having scouted locations, and you have to just quickly make use of what's around you. Many times that might only be a farm field, so adding foreground subjects can become challenging due to a location's limitations. But being that most tornadoes are quite brief and storms can quickly obtain or lose incredible structure, you have little time to move around and adjust.
3 P.M. To kill time, I play catch with a football on a dirt road in the middle of nowhere.
4 P.M. Reviewing the latest data, I make any last minute position changes. Experience is invaluable with this type of photography, in terms of both the camera and the understanding of storms, as there is always some amount of risk with some situations being higher or lower. It certainly doesn't hurt to be lucky every now and then either in regard to being in the right place at the right time.
5 P.M. As the storms develop, I reposition accordingly. Storm environments are very harsh lighting environments. I always use a tripod, and I get close enough to ensure I'm getting good detail and contrast. Low ISO settings are always ideal, but sometimes that becomes impossible with lower lighting and fast cloud motions, in addition to wildly blowing vegetation nearby. Distance and positioning is key, and both are constantly evolving with the storm. If you shoot these things from miles and miles away, you just aren't going to get all the good detail and coloration in the clouds and the storm is going to look flat. On the other hand, if you're too close you also start losing the overall beauty of the storm, and the stress goes up as your margin of error quickly diminishes. That being said, every storm is a little different and that "right amount of distance" often varies.
6 P.M. I spend the next few hours playing a chess match with storm evolution. Lots of stop and go, and repositioning to maintain a good view. It is during these hours of stop and go that the camera comes out of the bag. I will usually stay on a storm until just after sunset. With an evolving storm, there's a lot of quick stop and go, so you don't have a lot of time to position yourself and compose the shot, and you can often feel rushed. Truly great libraries of this type of photography take years of persistence to accumulate. Even with the growing numbers of people attempting it today, I still see relatively few great storm shots.
8 P.M. I am still chasing storms. The reality is that the majority of tornadoes and storms are not as photogenic as seen in many of my images. Most tornadoes are brief and low contrast, at least partially wrapped in rain. The ones that produce great images are actually much more uncommon than most people think, even on the plains, considering the overall number of storms that occur each year. This usually means failing a lot more than succeeding, spending many days on the road driving countless miles, and spending lots of money on gas and vehicle maintenance to see very little return on investment. And that's how it goes even for the most experienced and knowledgeable storm chasers. The popular tornado photo I took of the guy and vehicle on the road near Campo, CO on May 31, 2010, was on a lower risk day. I thought there may be a photogenic storm or two, and possibly a tornado, but I was shocked to see such a photogenic tornado that day. Really though, I'm shocked to see a photogenic tornado on any day!
9 P.M. Wrap up any last twilight shots. I grab dinner at the nearest town.
10 P.M. I begin drive home, and head out on the road.
1 A.M. I arrive home, and it is the end of my day. I won't even review my images until the next day, or the day after.
We hope you picked up some great tips and insights from Brandon Goforth about severe weather photography, which is so much more than just being in the right place at the right time. For inspiration, scroll down for a jaw-dropping collection of storm, tornado, and extreme weather images shot by him:
To see more photos, follow Brandon Goforth on 500px.
You can also check out his website, Twitter, and Google+ to connect with him and to see more of his work.
Got any questions for Brandon about his shooting schedule, his process, or his images? Leave a comment for him below!
Check back next week for a new installment of A Day In The Life featuring another inspiring 500px photographer.