It seems like a pretty simple shot doesn't it? Just a man, a teddy bear, and a beautiful vista. Compose, sit yourself down in the shot, and trigger the camera — nothing to fret about. Well… the story behind this touching image is a bit more convoluted than that.
As photographer Pedro Quintela reveals in the photo's description, his Valentine's Day contest-winner cost him a piece of tooth, an ND filter, and a little bit of sanity before all was said and done.
Here's the story as he tells it:
Last Saturday when I left Star Mountain (Serra da Estrela), I was thinking how could I put in words all the things that happened to me in one single day, really! The cold was gone so I felt at 100% to go back there and make the shot I missed last time.
It´s a little tribute to 500px. To you, kindest people on Earth that see my humble images and motivate me in such a great way. My hug for the almost 40-year-old Teddy bear "Bokeh" represents my virtual embrace for all of you. So far so good, right? No!!! You can´t imagine what happened to me before doing my shot.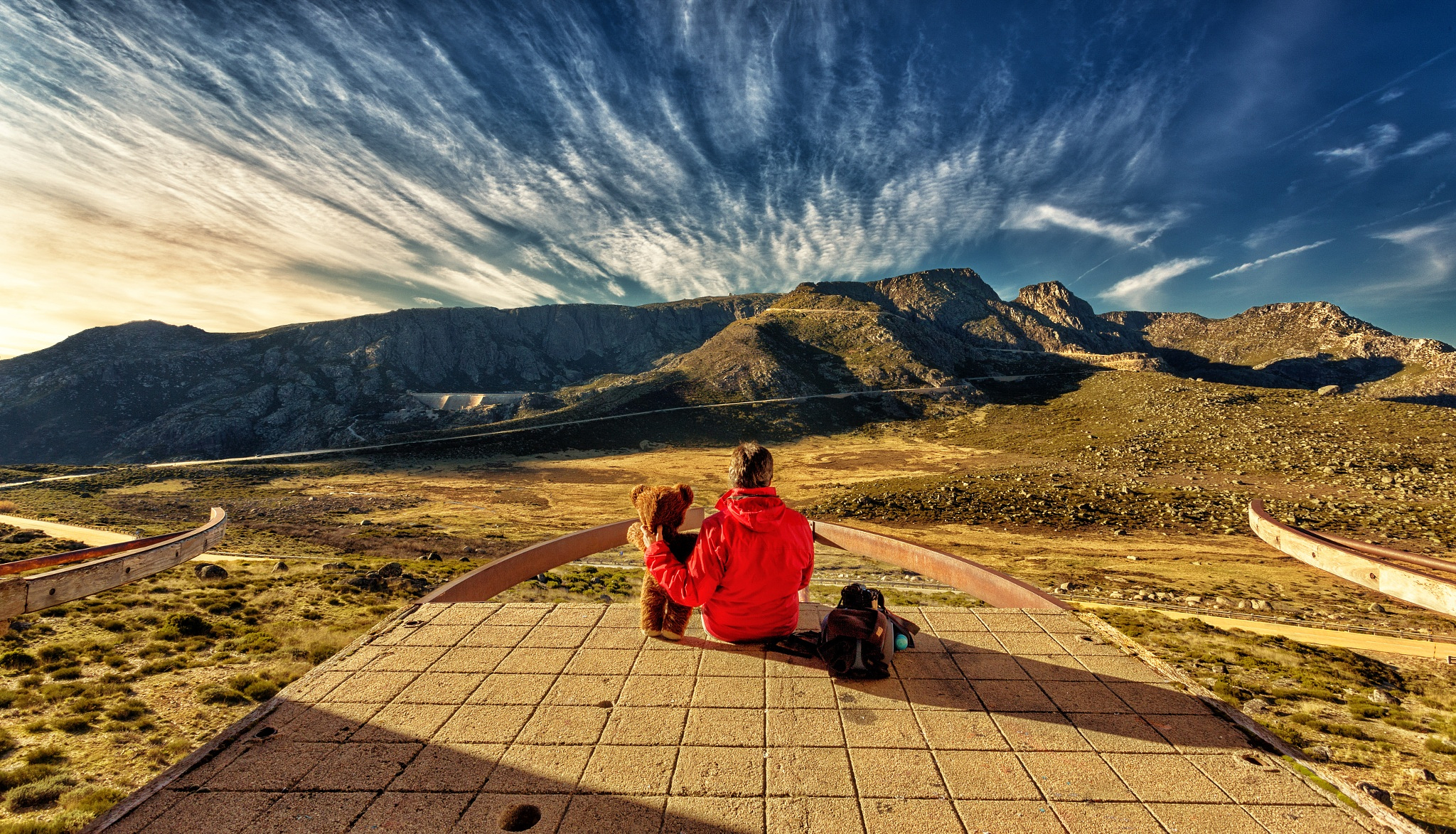 Over the course of a couple hours: I lost control of my car due to ice on the road, lost an ND 1.2 in a river stream, and break a tooth during lunch… Yes you read it right! Luckily I was on the mountain with lots of room to curse like a sailor on rough sea.
When my momentarily insanity passed I realized once more that since no one needs forever, it was about time to embrace life again and do what I have to do. That´s all forgotten now and I´m glad I captured this moment, despite the very cold wind of that day.
This location is an abandoned place that was built as station for an aerial cable car, that would start from here to the top of the mountain in front of me, with a couple of gigantic globes. There you will see the highest continental point of Portugal (2,000 meters) and the destination of the ropeway. I hope that you can sense how high I was… and I even won´t even talk about my afraid of heights. 🙂
No Teddy Bears were harmed during the day — my friends covered his ears during my curse-fueled rant — only my pride, wallet, and molar tooth were injured. Best wishes my friends, and happy shooting!
What an awesome story! Expect to hear more about Pedro in the coming weeks. The story of how he got into 500px, and how this site has changed his life, brought tears to our eyes. Here are some more of our favorite shots from his portfolio.
If you're interested in licensing Pedro's images, take a stroll through his store by clicking here. Pretty much all of his work is available through 500px Prime, and all of it is extraordinary.
If you're just a fan, great! Give his 500px profile a follow, or pay him a visit on Facebook.