Kathryn Han is the Director of Design at Contently, a content marketing technology solution. As an award-winning creative with more than 10 years experience in design for global brands, Kathryn is now responsible for leading Contently's brand. Prior to joining Contently, Kathryn worked for global publishers and brands including Condé Nast, Vogue, and Avon. Kathryn's work has been recognized by the Art Director's Club, Clio Awards, and numerous other design magazines and exhibitions worldwide. She is an avid Swiss and Dutch design collector.
Cover Photo by Dina Belenko.
---
In a recent article, I discussed why it's important for design and content marketing teams to work together. But as many of us have experienced firsthand, working across departments can fall into the easier-said-than-done category. Here are a few tips for how content marketing teams and design can actually work together:  
Use a style guide
There are so many moving pieces to a brand and an increasing number of channels to consider for content. The website, blog, collateral, products, ads, emails, press materials, sales decks—the list goes on and on. This is why brands need a style guide, which is a guiding principle that defines the visual identity.
The style guide provides a standard that everyone adheres to in order to build brand recognition and produce a consistent message. It covers typography, colors, voice, and images, as well as how to use these in a given system. A clear style guide ensures that the brand's identity remains intact and builds brand equity. This helps the internal team and external talent to stay brand compliant.
Both the content marketing team and the design team should have a very clear understanding of the style guide, and should incorporate it as they develop the strategy for creative ideas.
Use creative briefs
Once you have your style guide to keep everyone aligned on a larger scale, it's necessary to get teams on the same page for each specific project.
Before each important creative decision, the project leader creates a creative brief. The creative brief helps crystallize the request on a macro and micro level so everyone knows the strategy: what audience is being spoken to, what the deliverables are, and how to tie everything together with a strong narrative that ladders up to solve the pain point that the business is trying to solve.
For example, we created an interactive feature, "150 Content Marketing Tips That'll Inspire You." The content marketing team submitted a creative brief with strategic goals, a target audience, and content. Design came back with creative ideas and a timeline to get the project done. Rather than publishing the tips on a static webpage or infographic, the design team created something richer for the audience to engage in content.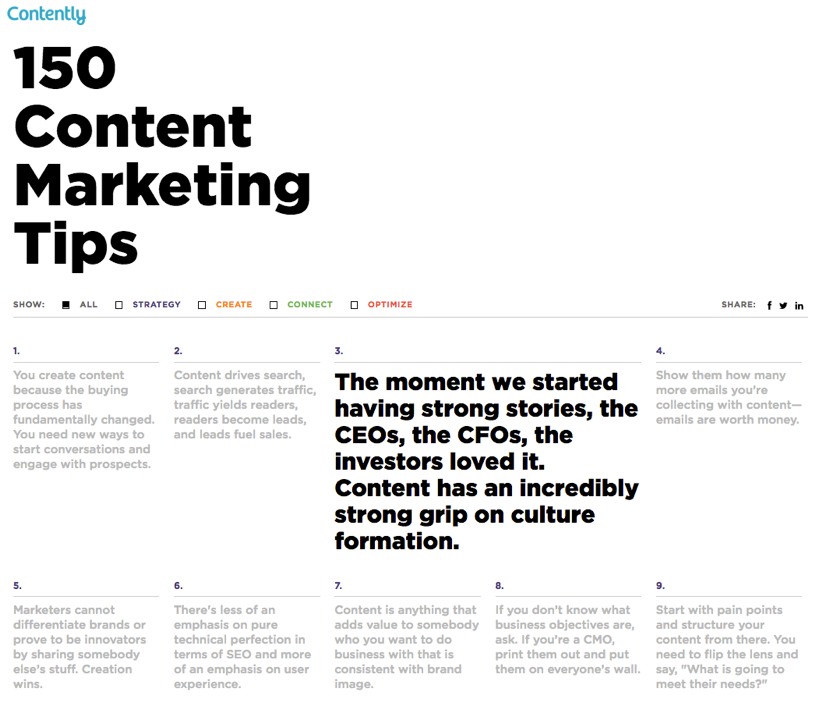 By using the creative brief to align teams at the start of our project, we were able to create an exciting and interesting interactive experience — so much so that it generated more than 300 leads in the first two weeks.
Planning with content marketing and design
When design and content are aligned with the creative brief, it's much easier to work together to integrate visual imagery into content marketing.
Content marketers should have an editorial calendar that outlines upcoming stories. At a minimum, it should include the topic, tone, type, and contributor for each piece of content. Design needs to be a part of this process in order to plan ahead. When we find a specific type of content to be particularly effective for meeting our content marketing goals, both content and design know that they'll need to invest significant time and resources when they're looking ahead.
Our digital publication, The Content Strategist, however, publishes two to four articles a day. If we did custom photography or create graphics for each article, we wouldn't be able to move as fast as we'd like to, which is why we use a stock-image provider. By having someone with a trained eye select and edit the images, we can ensure that our images have a cohesive look and feel representative of our brand. By planning based on project size and scope, you'll have sufficient resources to take editorial and design risks without sacrificing the brand.
Even the teams made up of collaborative and selfless individuals have different goals and different ways of working. By equipping teams with a style guide, agreeing on specific projects before beginning, and planning together, you'll set everyone up for success.