SALE ALERT: Only a few days left to take advantage of 15% off Plus and Awesome account upgrades and renewals! And you thought you'd never get lucky… Click Here to Upgrade Now
---
Gear reviews are NEVER this entertaining. In fact, Clay Cook and David J. Crewe's adventures in the desert with the Profoto B2 System read more like a Nike "Just Do It" commercial for photographers (million dollar idea right there…) than a boring feature-heavy review of a piece of portable lighting gear.
There was hail, freezing rain, disappointment, determination, and, ultimately, triumph in the form of the phenomenal shots below. Read on to hear the story, and then salivate a bit over an awesome piece of gear.
The Story
Professional photographers know that nature does not always cooperate, and 'flexible' deadlines are rare and expensive if they exist at all. There's an old saying: when life gives you lemons, make lemonade. In the case of Clay and David's shoot in Red Rock Canyon National Park, life gave them hail and freezing rain…
As Clay put it in his blog post about this shoot:
In this profession, there are so many positions and people involved to capture a professional advertising campaign, re-scheduling due to weather costs a lot of money. So, it's my job to take what's given and make lemonade from a lemon. In other words, I make it work.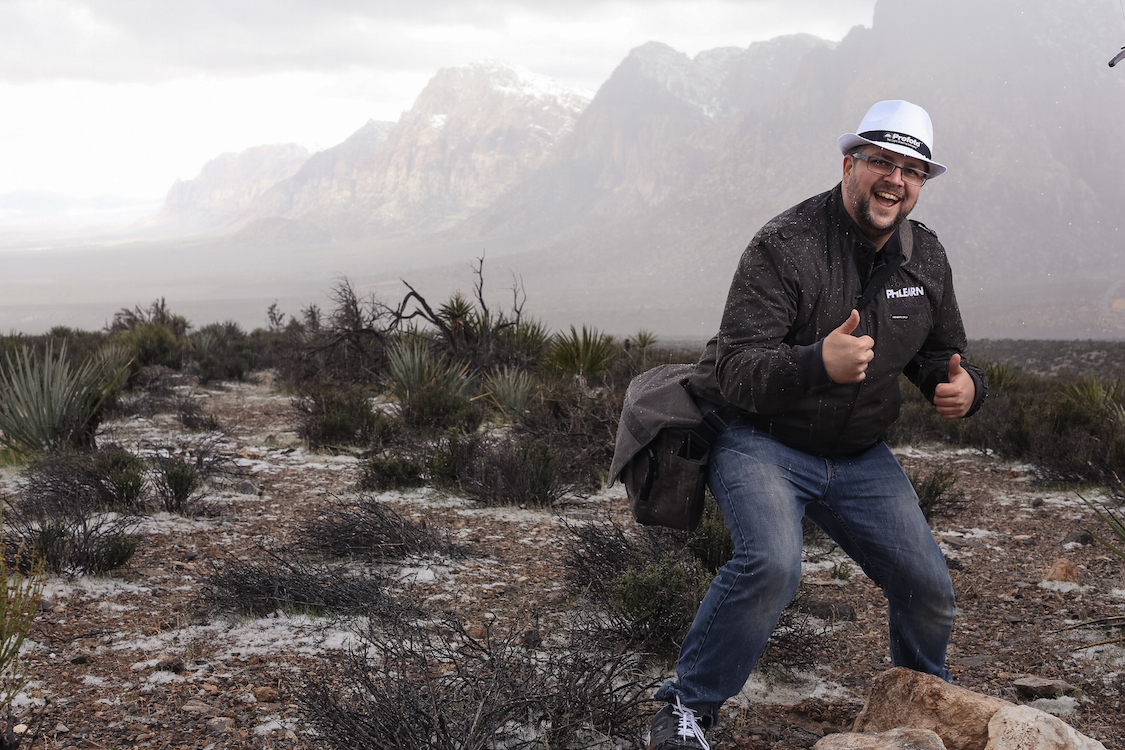 The shoot started as a conversation between two talented photographers; 24 hours later they were on their way to Red Rock Canyon in Nevada with beautiful model Nanako Hawley, a beautiful dress from Lindsay Adler & Dream Shoot Rentals, and a brand new piece of gear from Profoto in tow.
Just one issue… this is the view that greeted them, and it was quickly getting worse: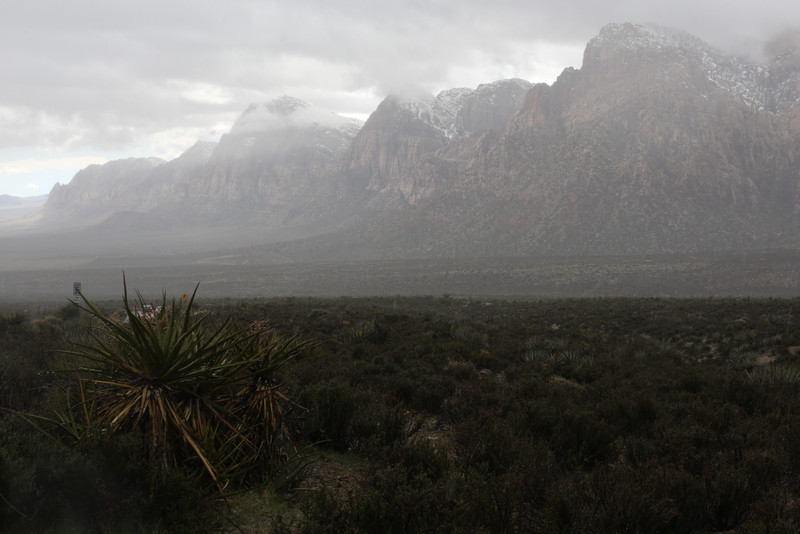 "Once we entered Red Rock Canyon and began to drive up the mountain, we soon realized we were in for a real treat," writes Clay. "The cloud moved overhead and we started to notice small pellets of ice smacking the window. Before long, we were trapped in a dramatic hail storm with freezing winds and soaking wet conditions."
David puts it a bit more bluntly in his account of the story:
The cloud cover turned to rain, which became heavy rain, and then hail…and then HOLY CRAP that's a LOT of hail, and just when it looked like we were done…oh then it started to snow….in the middle of a Thunder Storm! Yeah….honestly…it was pretty epic! Other than the fact that it was practically freezing.
They, however, refused to give up. Out of the car they went, lights were set up, and a photo shoot was attempted. But by the time they were set up they were also soaked, couldn't feel their hands, and had lost the mountains in cloud cover. Dejected, they rushed Nanako back to the car to warm up, packed their gear, and drove off.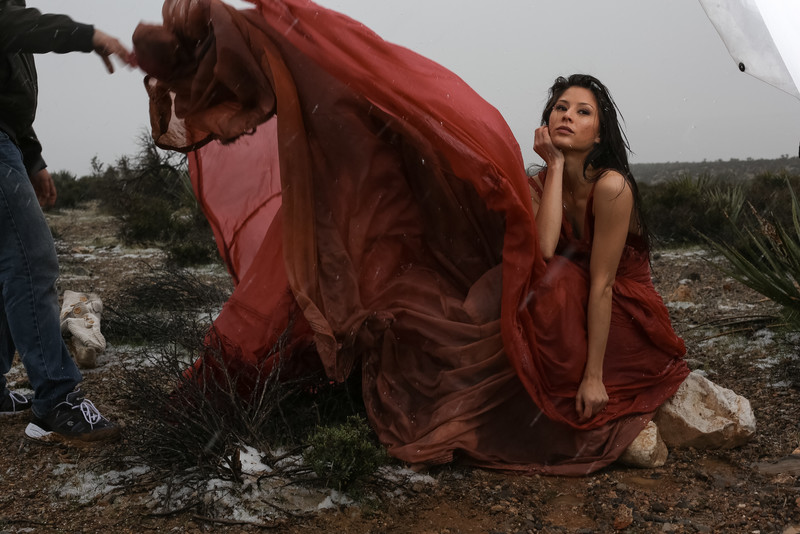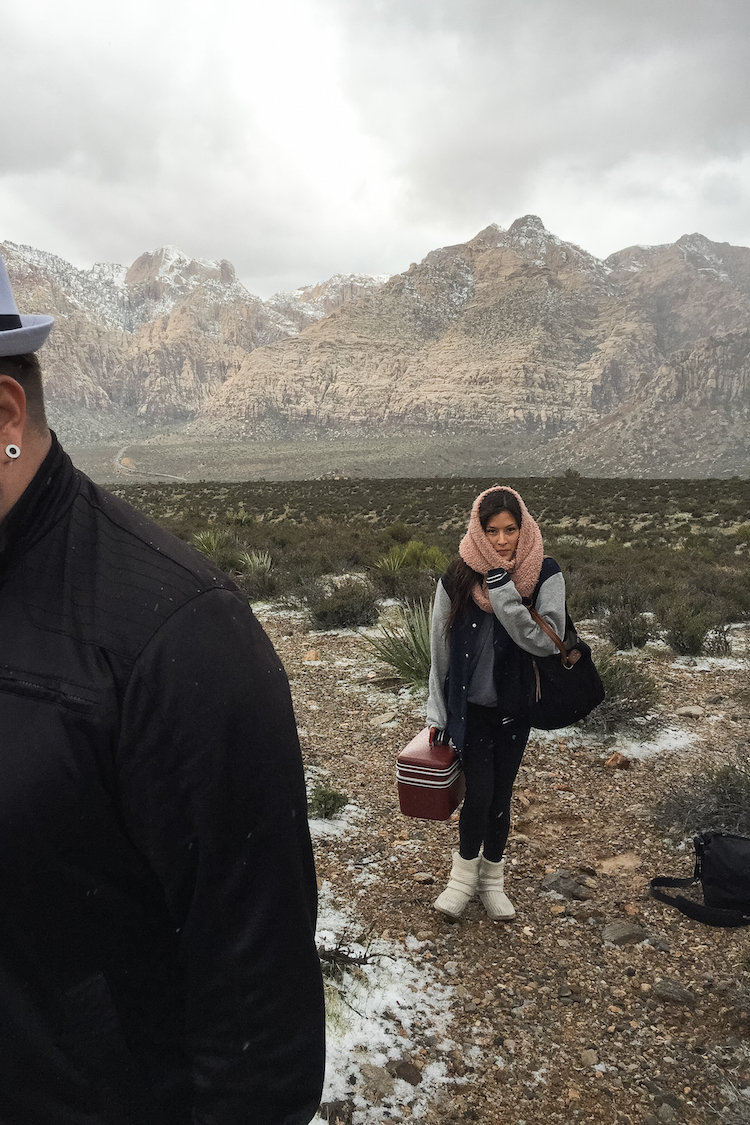 "We packed our gear and hit the road with full intention of leaving the canyon," explains Clay. "As we headed out and down the mountain, the hail had stopped and suddenly we hit a patch of dry area. I asked to stop the car and capture another quick set, luckily everyone was on board. I was ecstatic."
An ecstatic Clay and company all got back out of the car and set up once more. Soon, they were making lemonade. Here are a few more behind the scenes photos Clay was kind enough to share with us, followed by his First Person Shooter BTS video: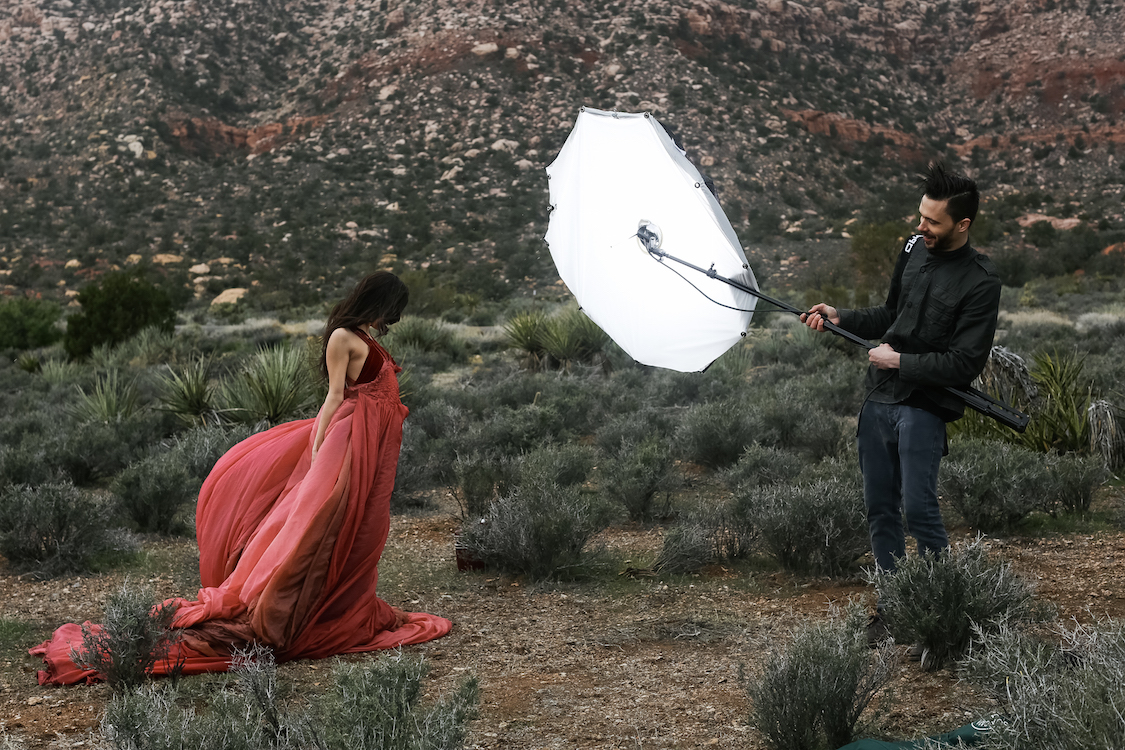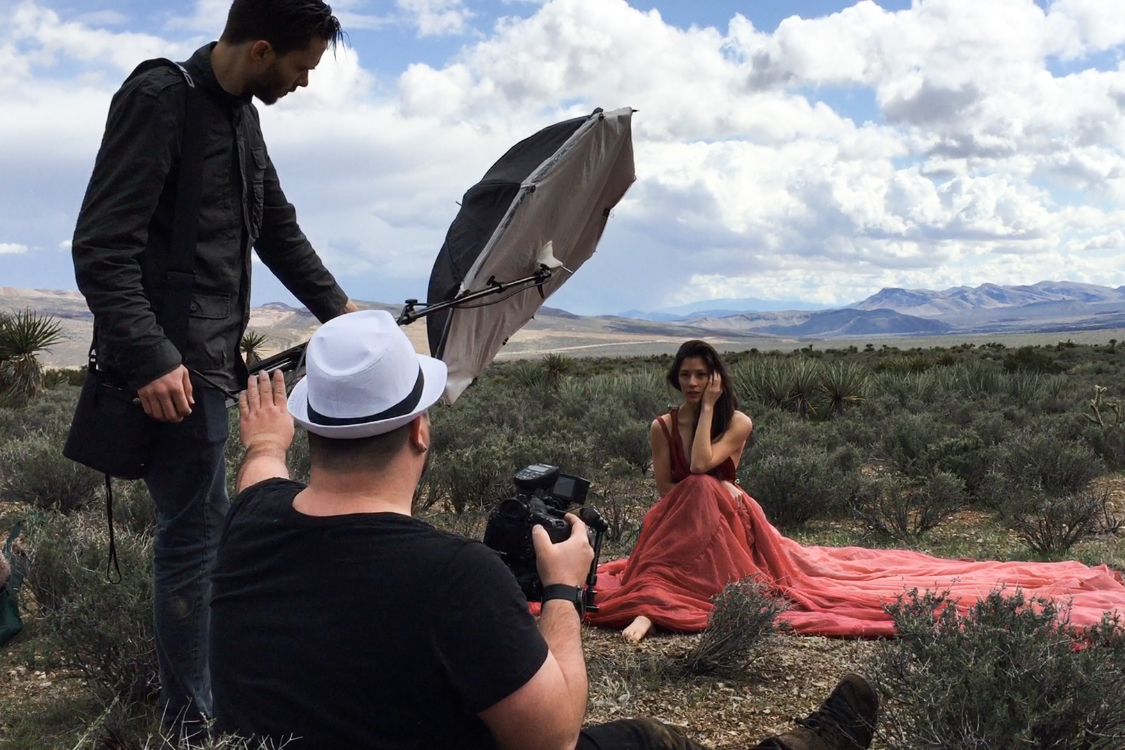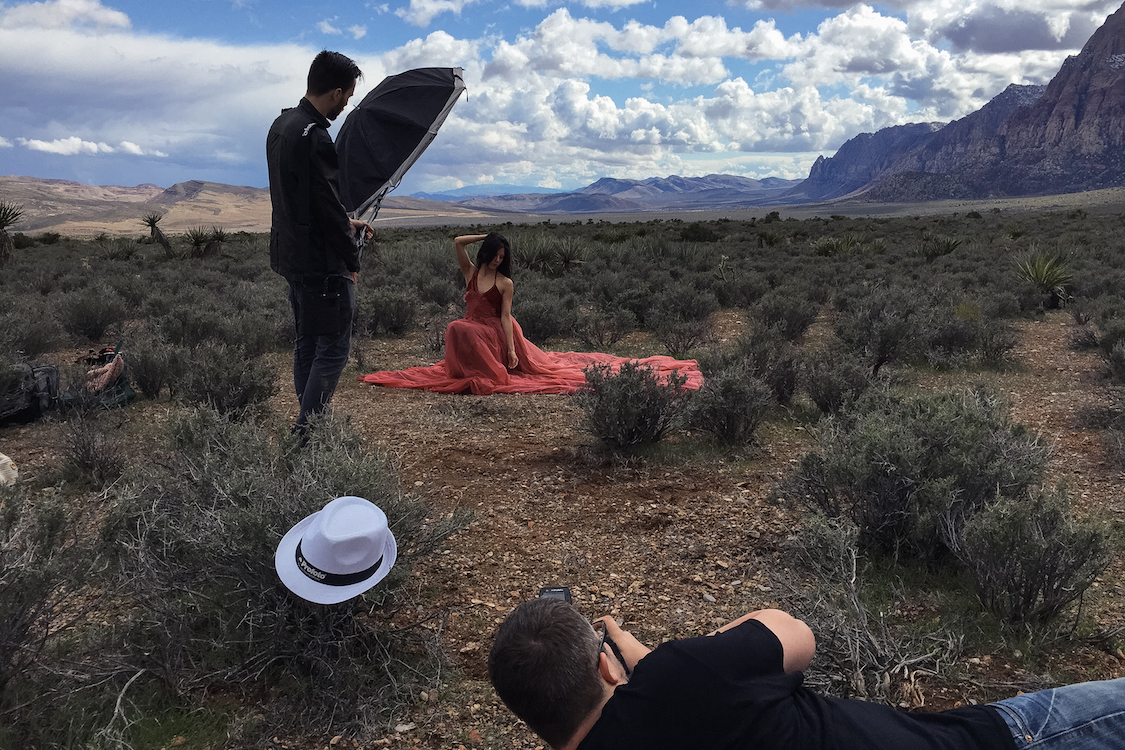 The Review
The second part of this story is actually the review of the new ultra-portable Profoto B2 system. With a price tag of $2,200, the followup to the groundbreaking TTL-capable B1 isn't cheap. And when you consider the fact that it comes with a native battery pack and half the power of the B1, you can understand why Clay was skeptical as he drove out into the desert to put it to the test.
Fortunately for Profoto and portable lighting fans, all of that skepticism fell away once he put the gear to the test.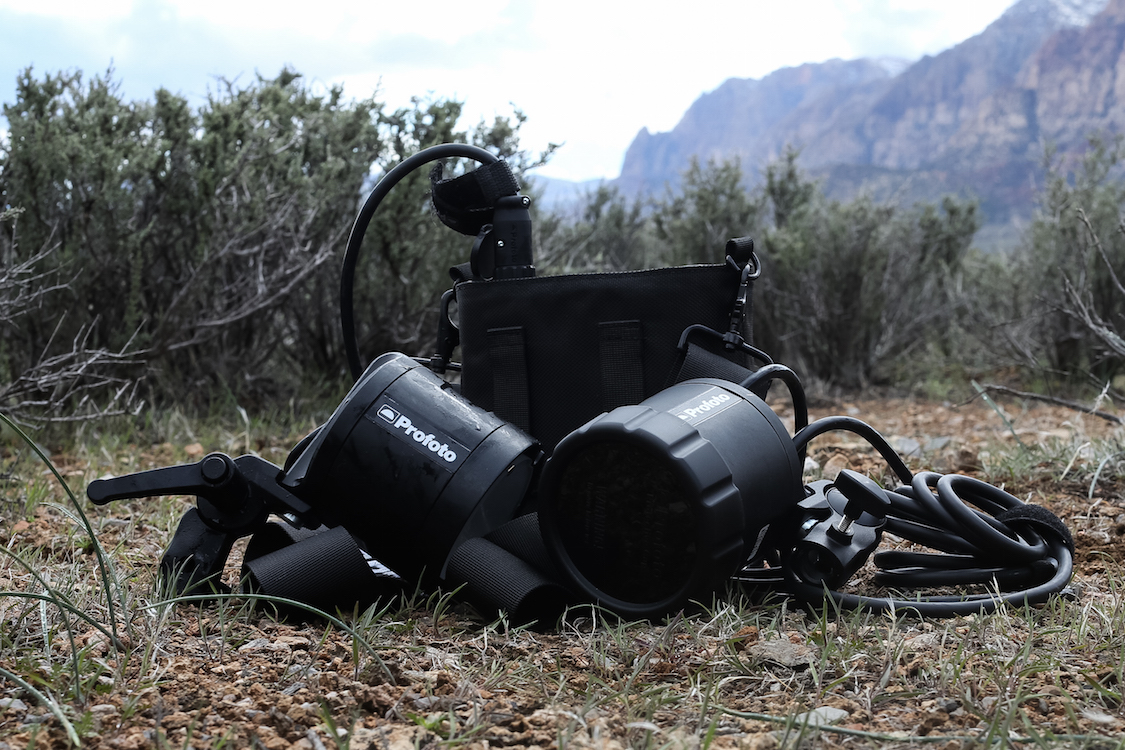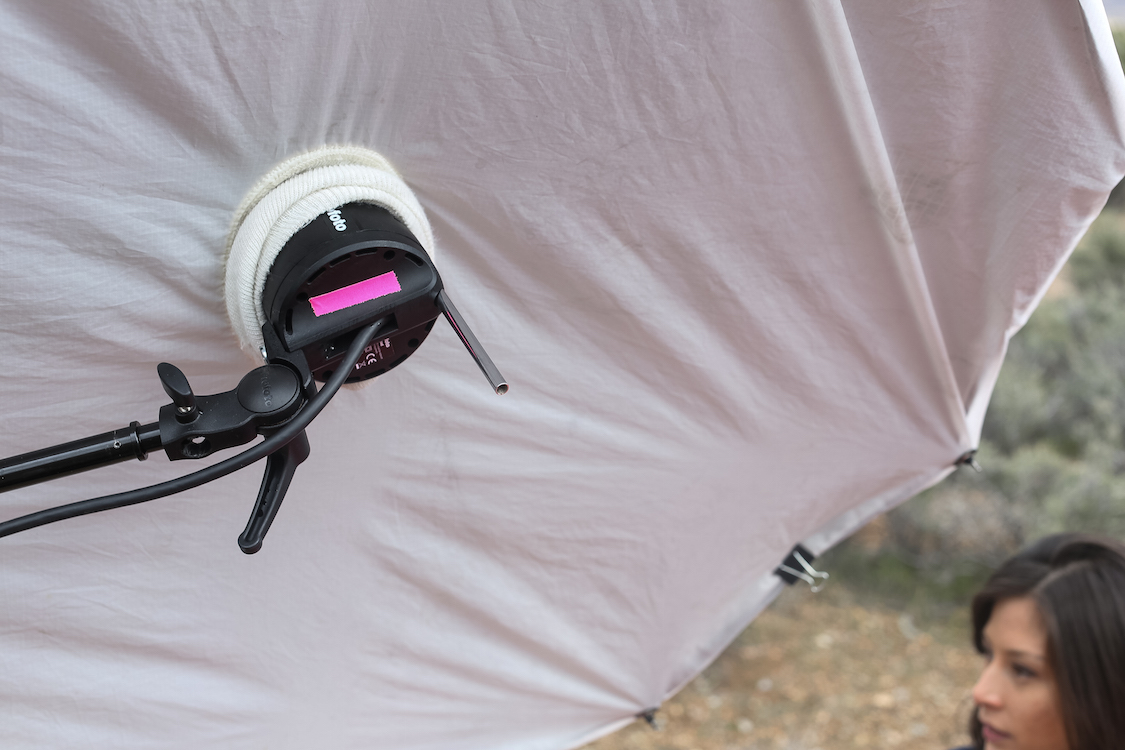 The light ended up being incredibly light, easy to use, functional beyond expectations, and more than powerful enough for what Clay needed. And given the situation the light was tested in, it also seems to hold up to quite a beating from mother nature.
Again, from Clay's blog post:
The Profoto B2 Kit turned out to be a lifesaver […] The B2 head is about a third of the size of a B1 head and it weighs less than a Canon 600EX-RT Speedlight. The battery pack is about the size of a macaroni and cheese box and weighs much less than a Paul C Buff Mini-Vagabond or any lithium battery pack. The portability and quick-to-setup system helped save time and gave us the ability to move sets with zero hassle.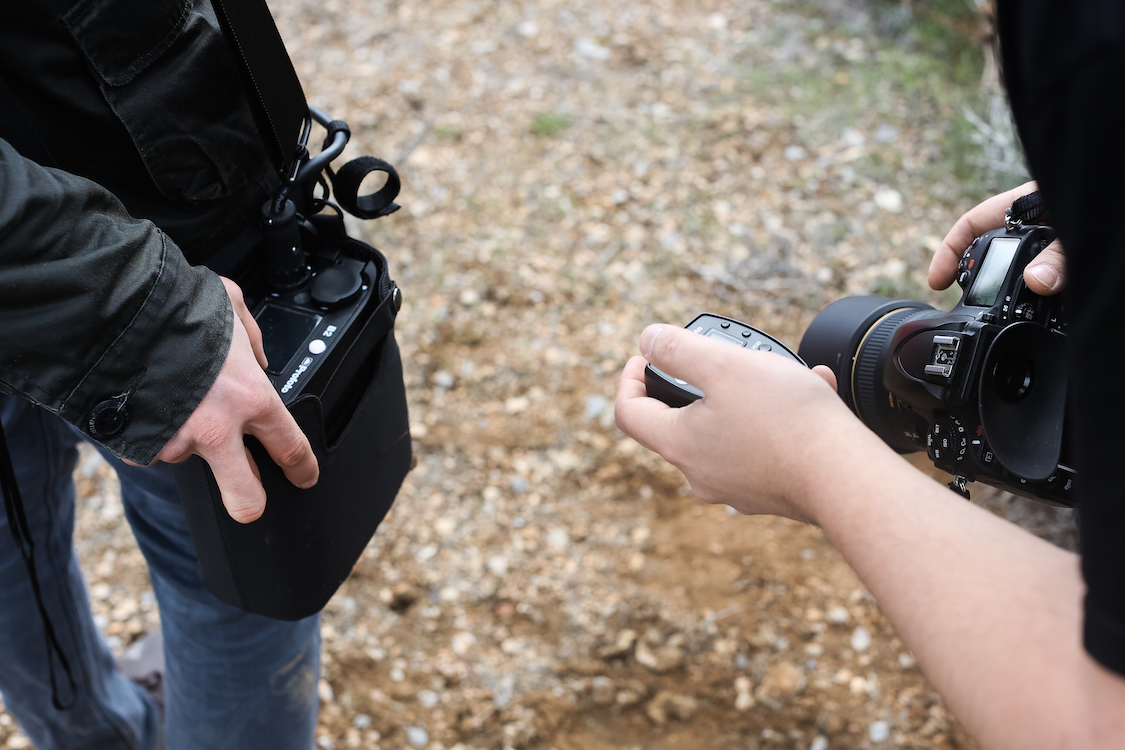 The light continued to impress once Clay began experimenting with the Air Remote and figured out how to get High Speed Sync. "… suddenly the game changed for me. I was able to bring down the ambient level of the sky and still maintain my depth of field. I captured every shot at 1/1000 shutter speed."
Long story short, this light is the real deal: an on-location photographer's dream pack that combines the portability and ease of use usually reserved for speedlights with power on par with studio lights. Win win.
You can read the full account on Clay's blog, and if you want to see more from Clay, be sure to follow him on 500px, visit his website and blog, or check him out on Facebook, Twitter, and Model Mayhem.