Ever wondered what it takes to shoot something for a major magazine from start to finish? Not just the shooting portion, or the post-processing, or the planning, but all of it together?
We've never seen someone go into detail about every step along the way, and so when we saw photographer Clay Cook's recent 'Peak Season' photo shoot for The Voice of Louisville, we jumped at the opportunity to ask him some questions and get him to run us through the whole shebang.
We hope you enjoy all these solid gold insights as much as we enjoyed getting them for you!
First, a little bit about the guy you're about to learn from. Clay Cook, in addition to being a popular photographer on 500px, is an award-winning, internationally-published photographer and filmmaker specializing in fashion editorial and advertising photography.
Interestingly enough, he got his start as a musician, touring the nation and selling tens of thousands of records with a band he and his friends formed at 16. By the time that band broke up, he had created thousands of fliers and edited hundreds of hours of video.
His creative muscles, then, had already been developing for some time when he received his first DSLR as a gift in December of 2010 and was "blindsided" by his love of photography.
Nowadays he plies his creative skills in advertising, commercial, and fashion photography and getting himself published by everyone from USA Today to The Voice of Louisville — which brings us to today's shoot.
500PX: First off, how did the opportunity for this shoot come about?
CLAY COOK: I was approached by the style editor of "The Voice Of Louisville," a local publication, to shoot their quarterly fashion editorial. The ideas that were brought to the table were unique, different and very original. Being a winter editorial, they wanted cold, snow, wind, and motion. The clothing would have a commercialized outdoor aesthetic with a touch of "sport."
An editorial shoot like this involves a LOT of people working together. How much were you, as the photographer, able to shape and dictate the vision of the photo shoot? And where did you draw your inspiration for each of the shots/the shoot as a whole?
CLAY: Fortunately, this particular client provides me with a level of creative control, which allows me to make suggestions on models, hair stylists, makeup artists as well as setting and location. My role as a photographer is to take a small idea and transform it into a tangible reality on paper. Although, there is a creative director, I was able to collaborate and share ideas to bring the entire vision to life.
Every shoot starts with a mood board or a few inspiration photographs. The mood board I was provided displayed a few models in full skiing-garb ready to hit the slopes. It was snowing, but looked as if it was shot in daylight on location, on a true Colorado mountain top. Although there was a budget to accomplish the vision, there was no way we could cart our team to the Colorado landscape, so we had to fake it. However, I wanted to take it one step further, creating a more dramatic scene.
What all is involved in the planning stages of a shoot like this for you? How do you prepare for shoot-day?
CLAY: Pre-production for an editorial of this scale is the most important facet. Multiple meetings, dozens of phone calls and too many emails to count; there is location, production design, wardrobe, models, hair styling, makeup and photography. Although there may be a team of 20 people on set, each person has their position and is expected to carry it out to the best of their ability. Things happen on set, but it's paramount to be prepared for any circumstance. A team of this magnitude has to know what the mission is and understand the logistics of that mission. Time cannot be taken for granted.
On the photography end, my team makes sure everything is packed properly and we have the necessary tools to make repairs if need be. We carry a grip kit that contains items such as tools, gaff tape, a-clamps, shoe covers, batteries, rags, Rosco Cinefoil, two-way radios etc. I brief my assistants the evening before and all of the expectations are laid out beforehand.
I prepare personally by making sure I get some sleep and consume a good hearty breakfast; when a 6:00am call time hits, I'm expected to work for 12 hours without the chance of a break.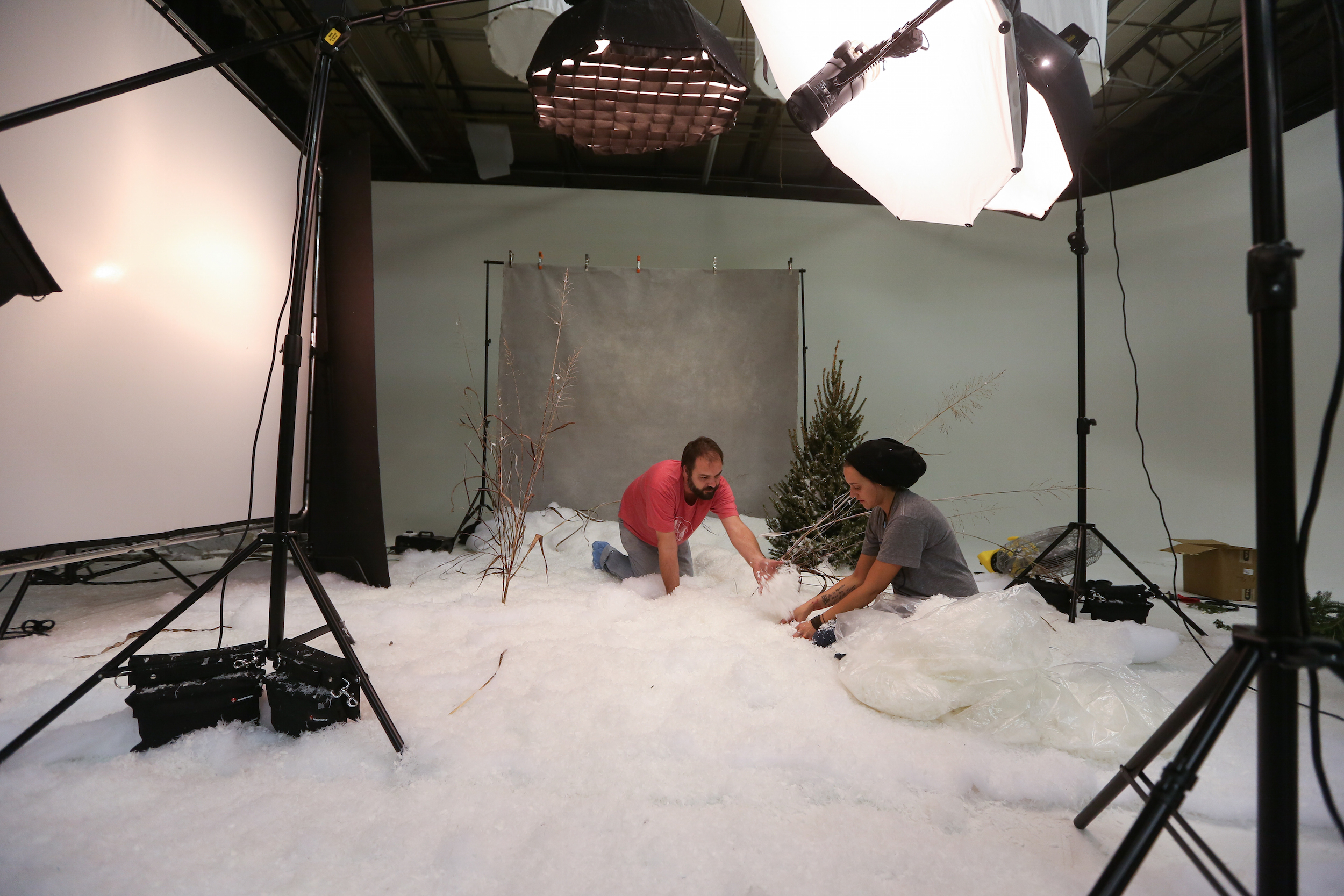 When that day arrives, do you have a specific 'ritual' or way of setting up? Is there a lot of ad-libbing while you shoot, or is it all planned to a T?
CLAY: When I step out of the car on-location, my team knows the deal. We have a pretty seamless regiment for setup that requires the least amount of time possible and a small foot print. In other words: I don't need a giant studio to create some amazing photographs, but when working with a team of this size, you have to have the space.
Usually, I'll have a general idea of the type of lighting I want to use and as soon as the gear I use is loaded, we get to setup and get to pre-lighting. Setup and pre-lighting usually requires at least an hour of time. I have been known to call an audible mid-setup and change the entire lighting scenario. And, sometimes the environment can inspire the style of lighting, but for the most part it's all mapped out beforehand in pre-production.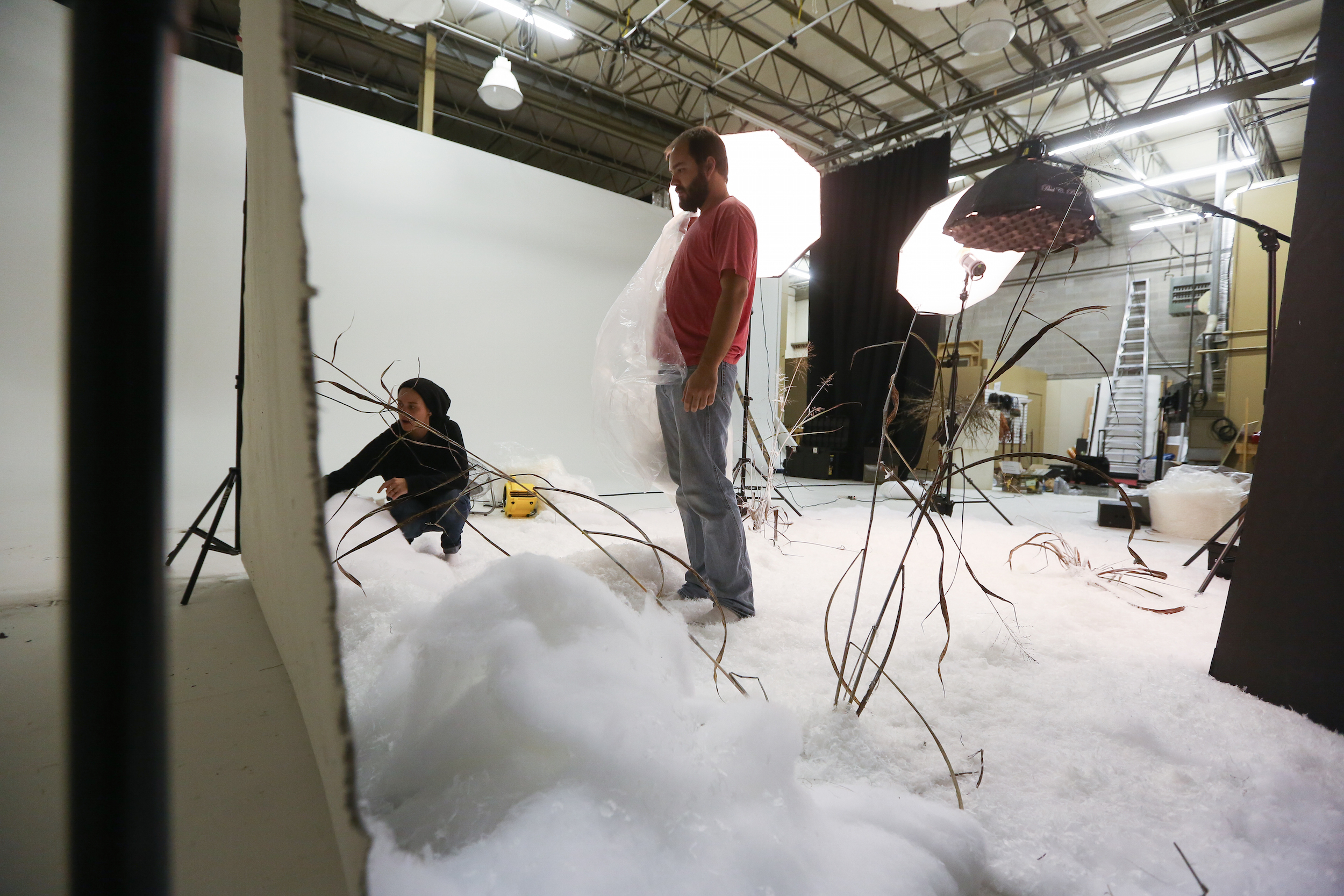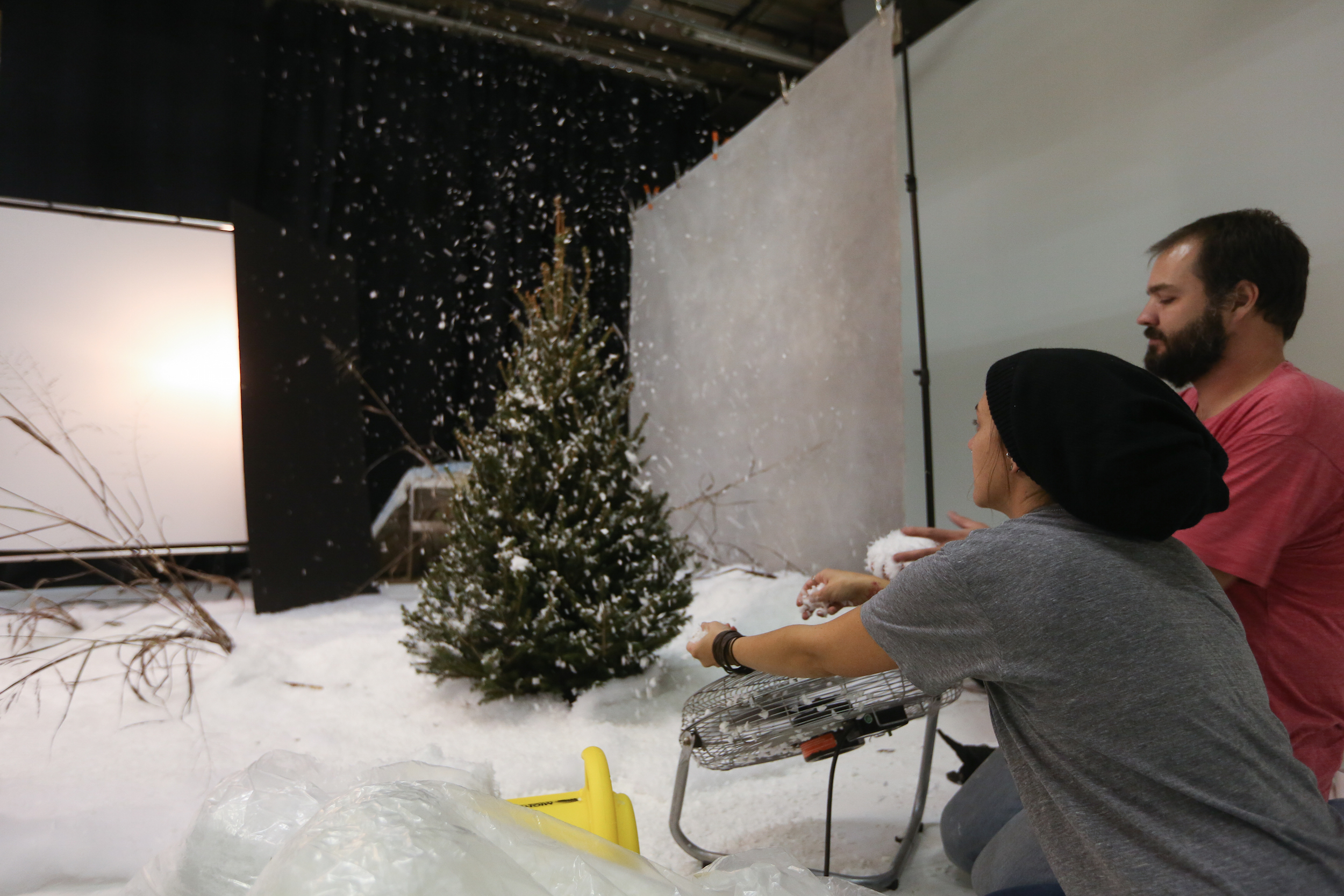 Walk us through how you set up each shot, and transition from one to the next.
CLAY: With a 10+ page editorial, time is of the essence. Although, hair and makeup can take up to two hours in between transitions, we have to be prepared for any type of look, orientation or style of pose.
The models are brought out in a "conveyor belt" fashion and we work like The Energizer bunny shooting look after look. Luckily, we do get a short break during these transitions to talk shop, plan for the next look, or discuss post-production. Depending on the look, our lighting style will only change slightly to maintain consistency throughout the day.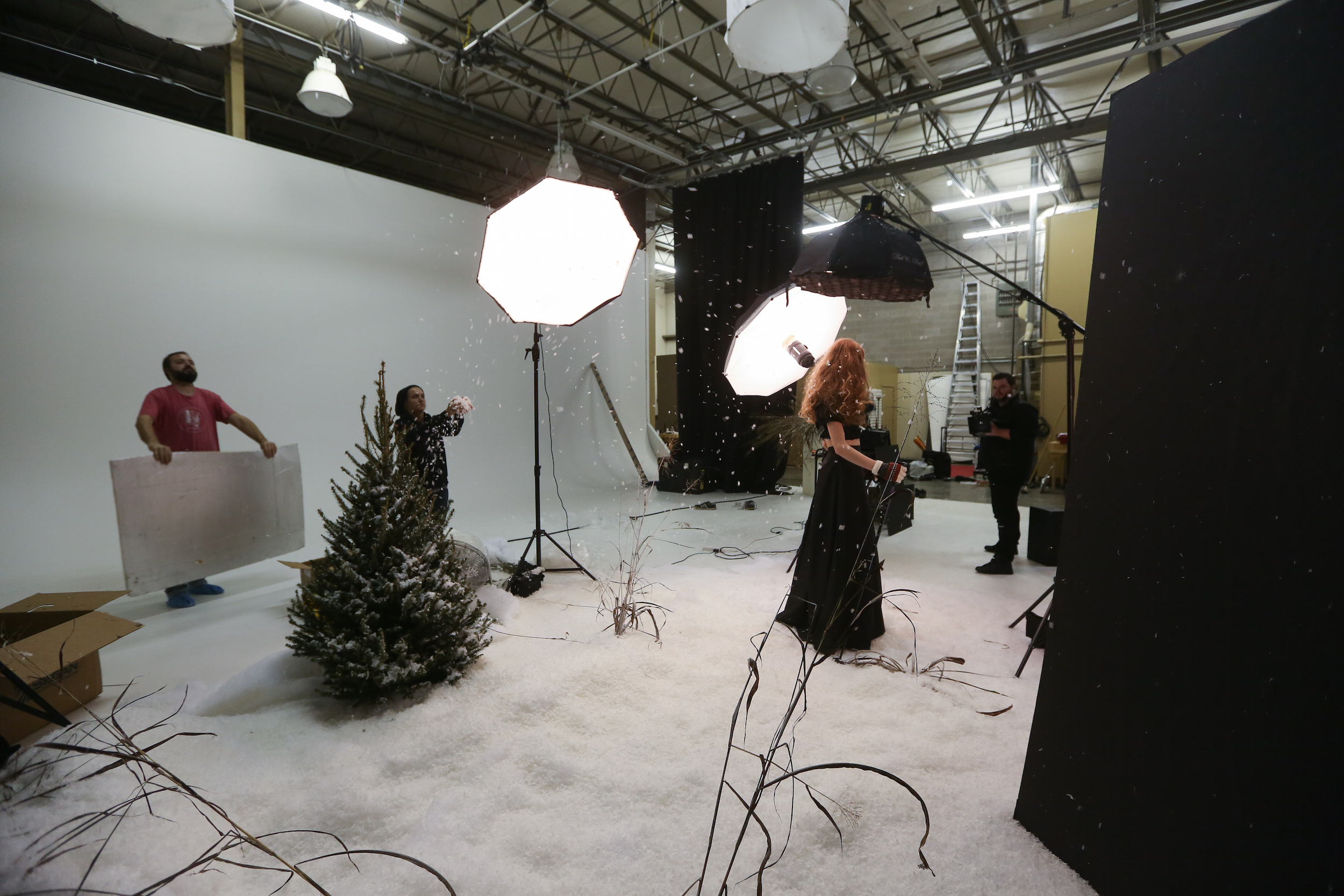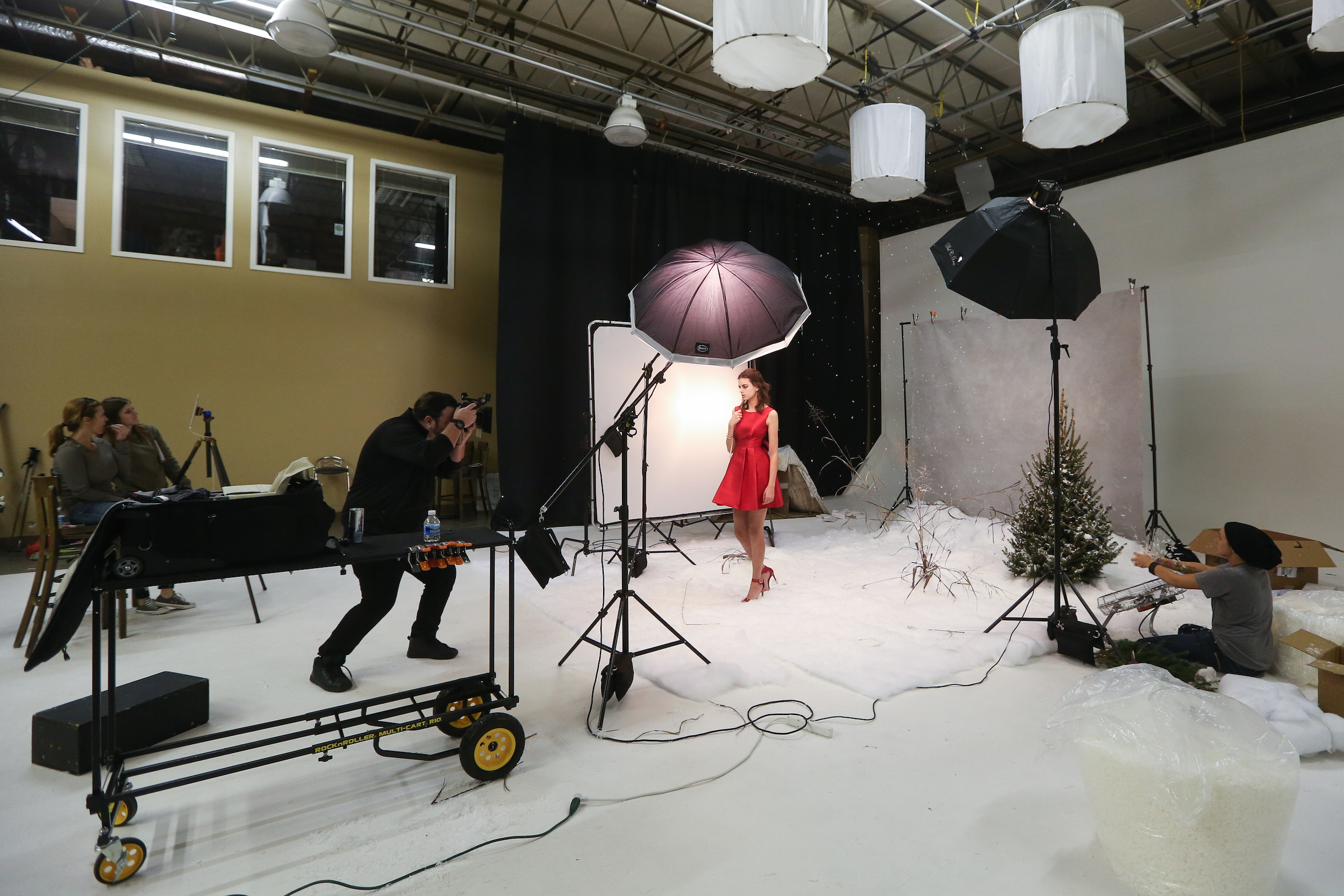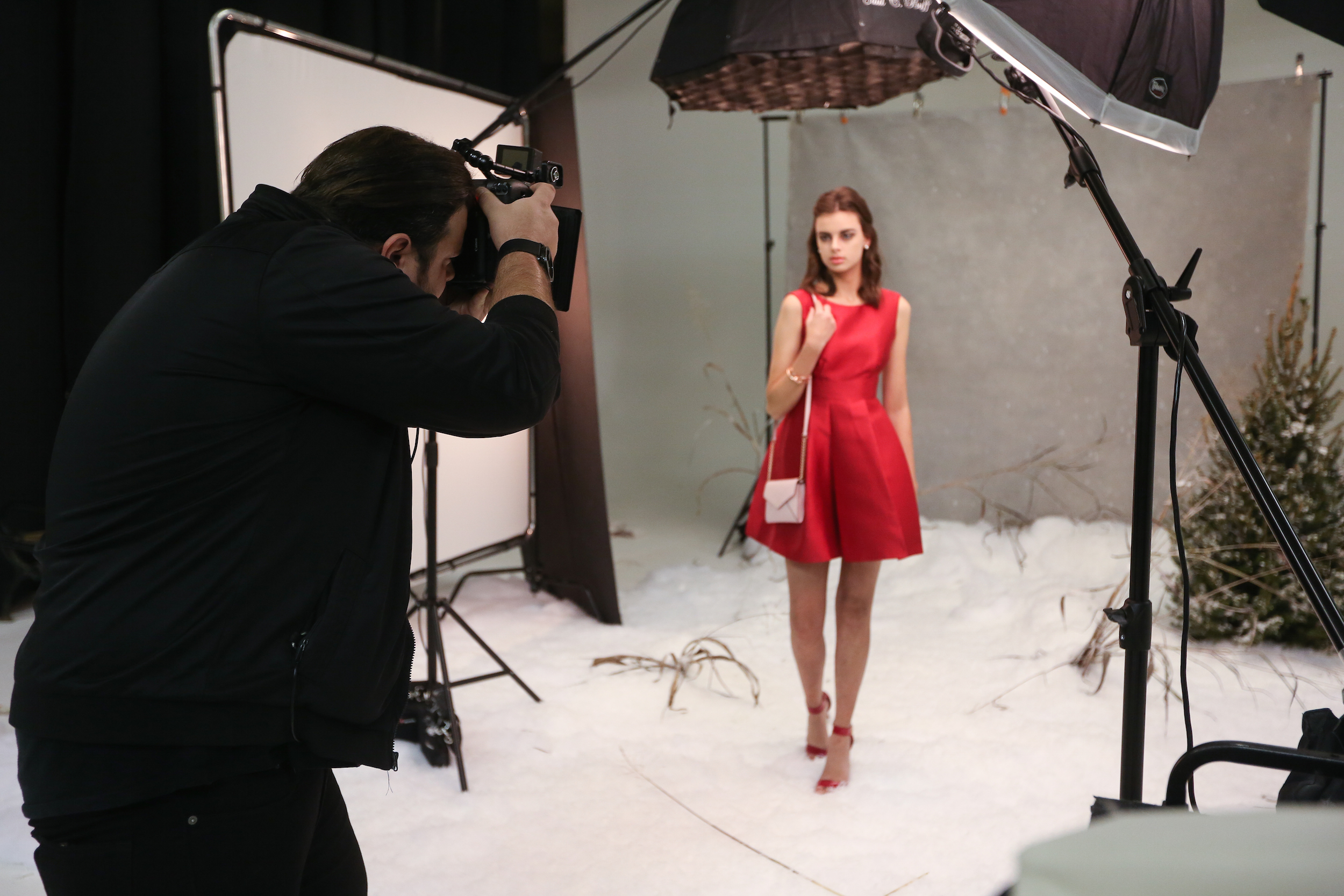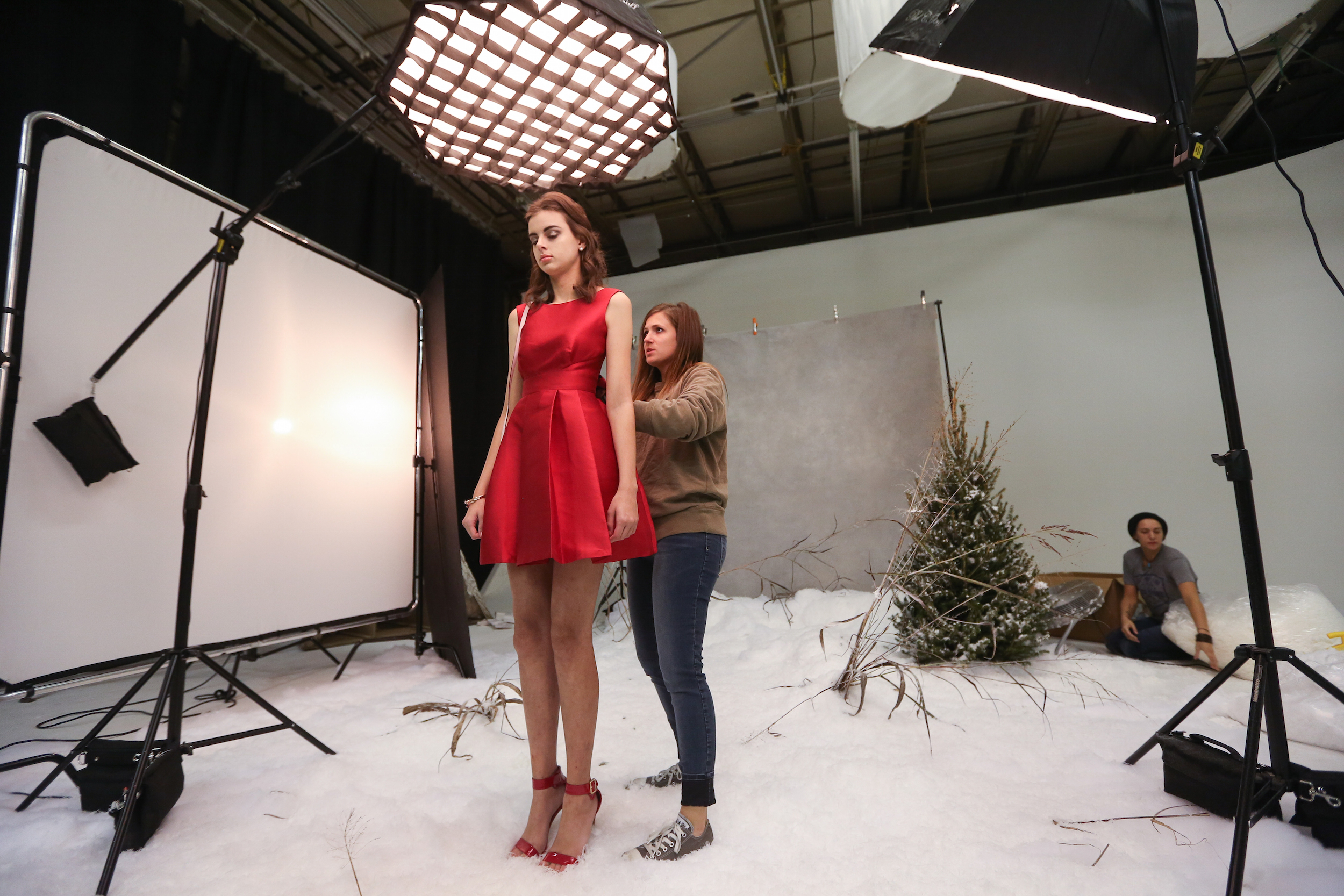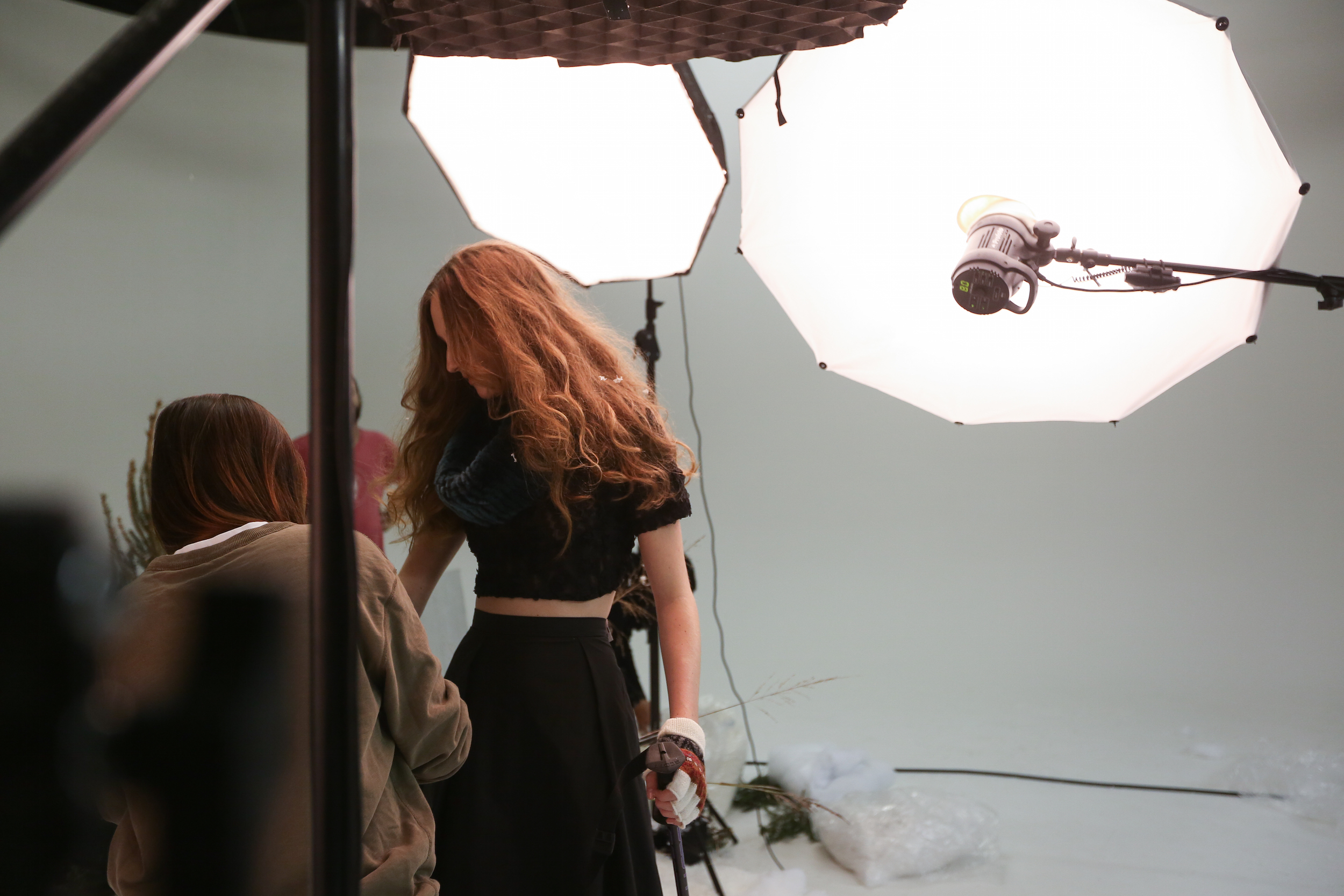 What gear did you use for this shoot? Could maybe pick out your favorite shot, describe the setup, and explain why you set it up the way you did?
CLAY: My camera and lens of choice for this editorial was a Canon 5D Mark III and a 50mm f/1.2L. The reason I used this particular setup was because of its consistency and operation, it can capture multiple frames in a short amount of time with zero failure. I used a LEE Filters 4×6" Graduated Neutral Density with the attached wide angle lens hood so I didn't risk any of the fake snow sticking to my glass. The Profoto D1 heads were fired by PocketWizard Plus III radio triggers.
The light setup: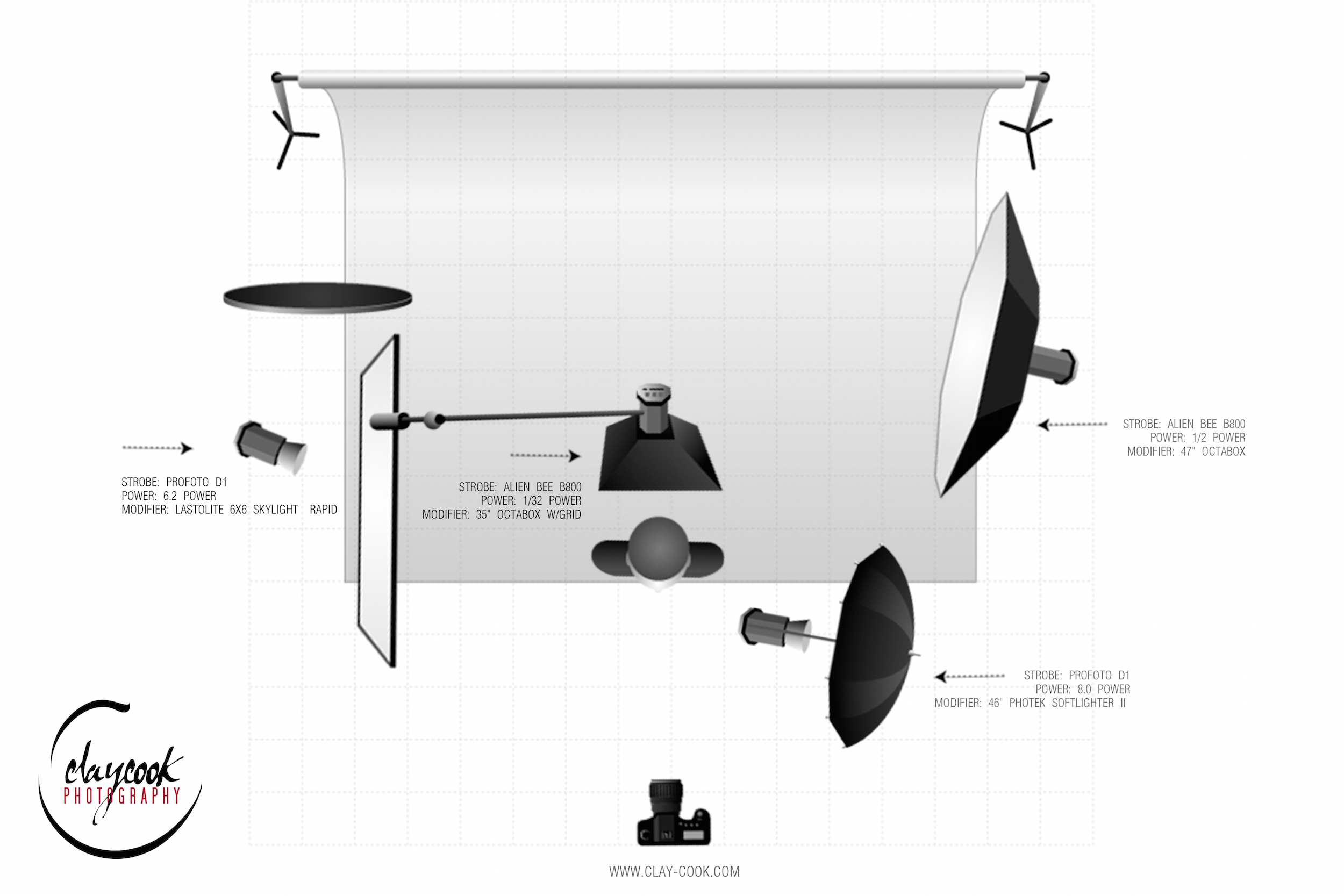 Key: Profoto D1 | 8.0 Power | 46″ Photek SoftLighter II
Fill: Profoto D1 | 6.2 Power | Lastolite 6'x'6′ Skylight Rapid
Overhead: Paul C Buff Alien Bee B800 | 1/32 Power | 35″ Octobox w/ Grid
Background: Paul C Buff Alien Bee B800 | 1/2 Power | 47″ Octobox
I wanted a dark, dramatic photograph, with the clothing well-lit. I wanted the viewer to have a cold feeling as if the subject was out in the wild at midnight with a strong moonlight. My beautiful Oliphant canvas backdrop was an essential tool that provided the drama we wanted. The gray-blue resembles stone, which work perfectly for this editorial.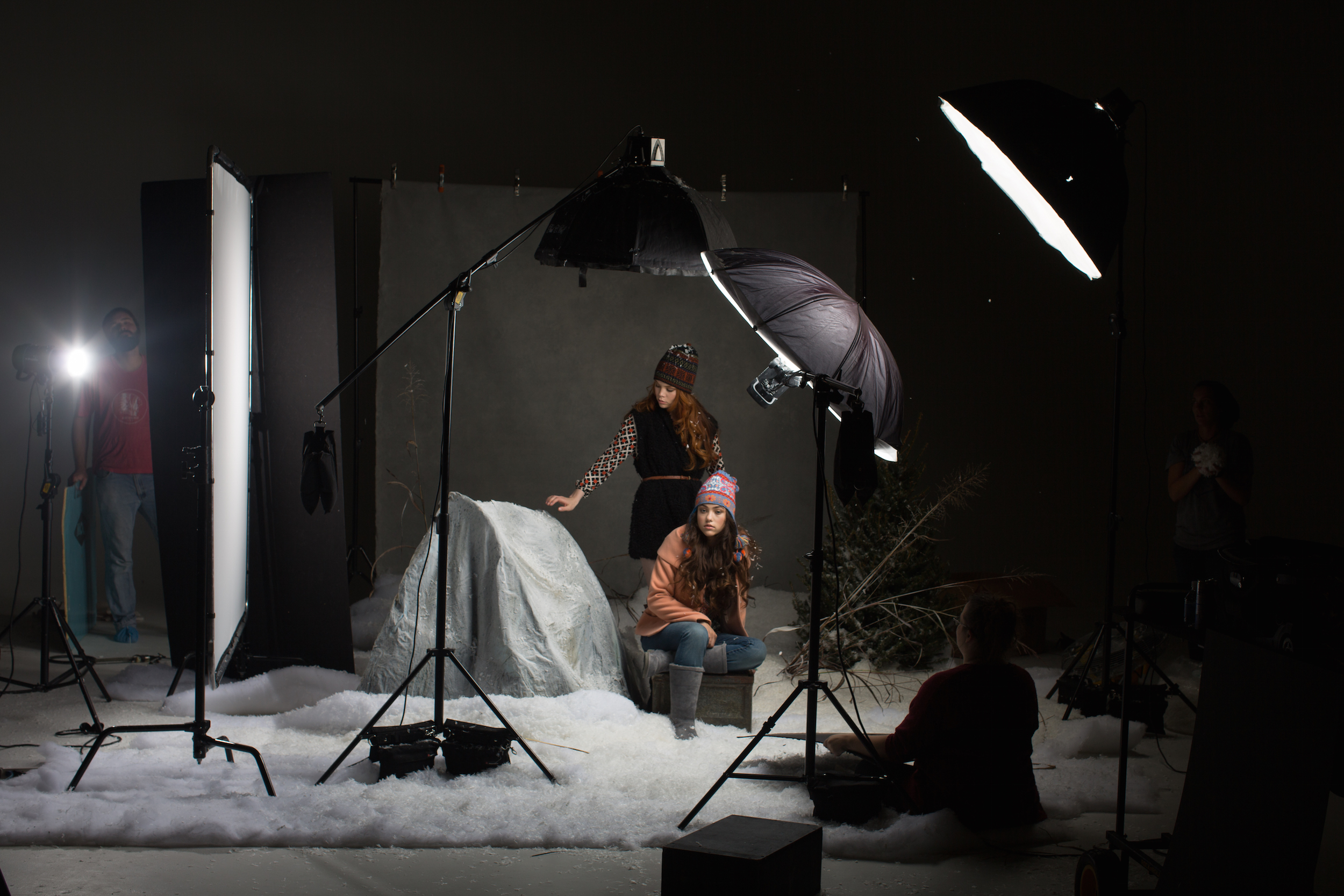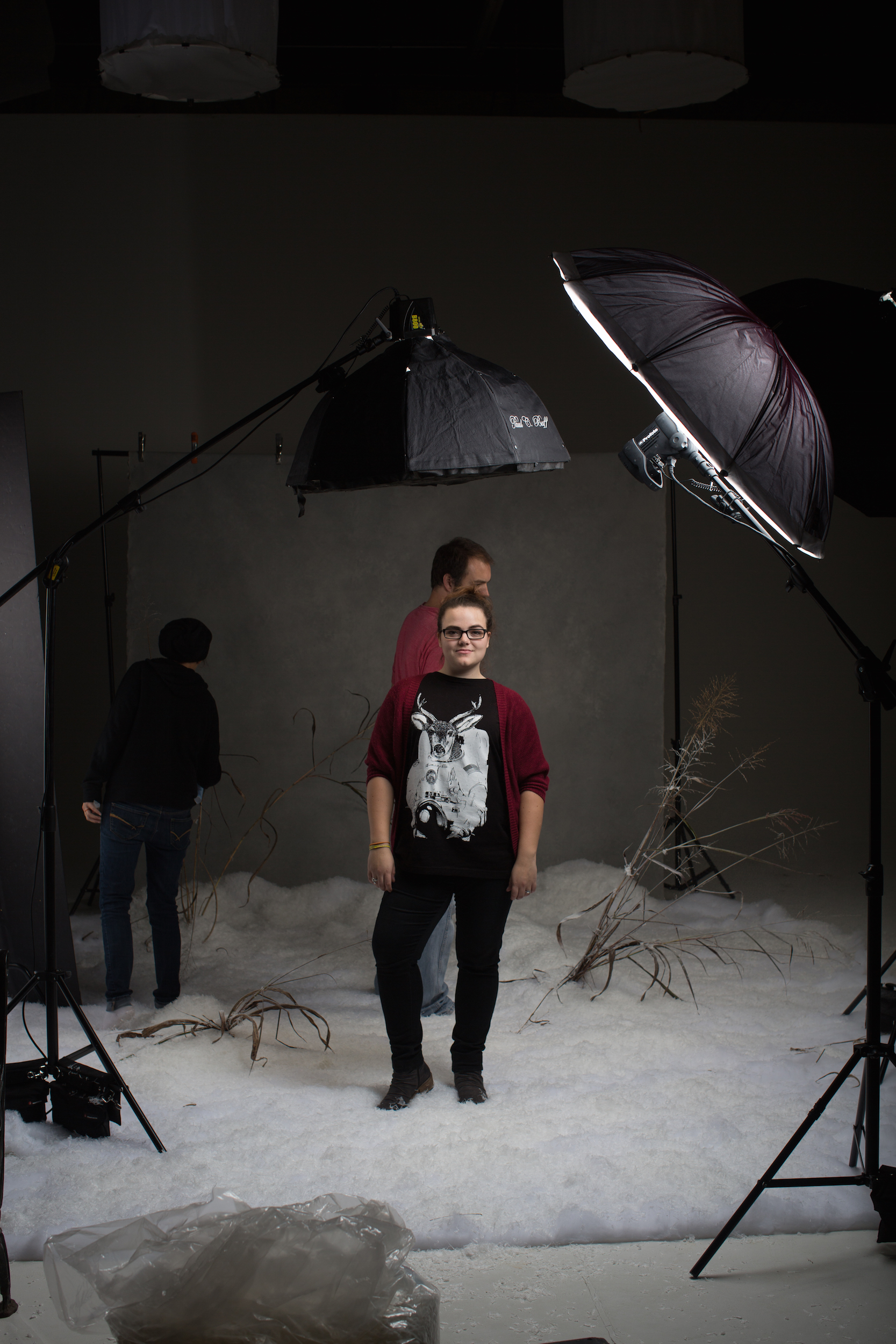 The key provided the majority of the light while the overhead octabox gave a nice ambient fill on the clothing. The fill from the left side reduced the shadow density on the models face and the background octabox permeated the snow scene with light.
---
Editor's Note: Clay was kind enough to point us to a BTS video he created while on this shoot. But this isn't just a standard behind the scenes look, he calls these "first person shooter" videos, and they're shot using a GoPro mounted on top of his camera, so you can get a first person look at the photo shoot in progress.
Alrighty, back to the interview.
---
What pointers would you give to someone that's going out on their first editorial shoot this weekend? Any mistakes you made when you first started that you wish someone had warned you about?
CLAY: The beauty of editorial work is that is doesn't have to be perfect. The best advice I can give a new editorial photographer is to focus on the subject matter before the technicalities of the photograph. Make sure the clothing looks great and the model is in motion or posed to flatter her overall look. Although time can be a concern, don't be afraid to slow down and work on the scene before you snap the shutter. Get it right in-camera and you'll save yourself hours of post-processing work.
I've made a lot of mistakes as a photographer, but just make sure that your team has been briefed and everyone is on the same page. There is nothing worse than a dis-organized mess with 10 people standing around awaiting direction the day of.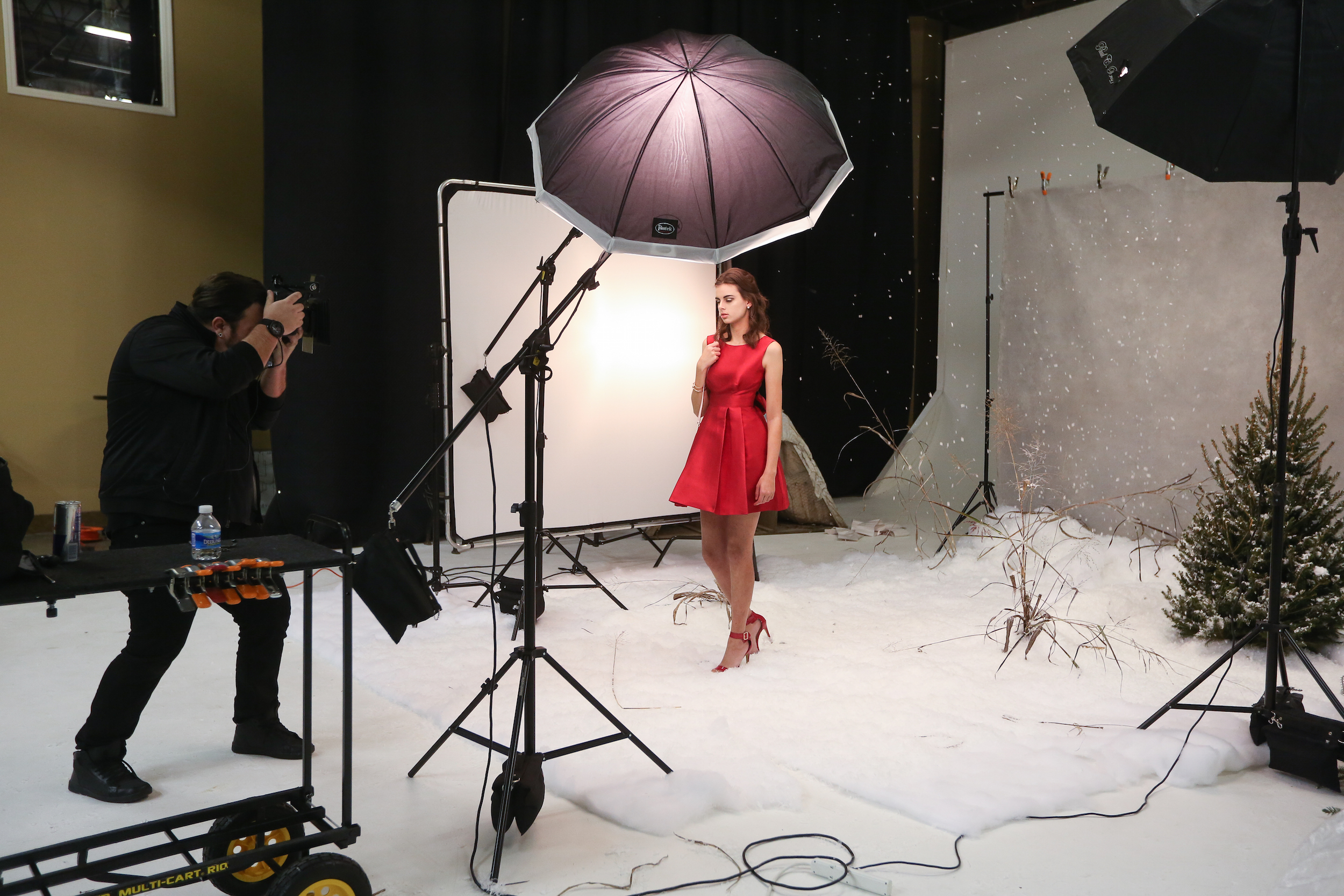 Alright, pictures are taken and you're happy with them, walk us through your post-processing workflow.
CLAY: I have a great team of people I work with both "on the court" and "off the court." Meaning, I have a high end re-toucher, Jordan Hartley, whom I contract for the bigger editorials. Jordan will usually take care of all the skin work, including re-touching and compositing. Then I will take over and color grade, sharpen, and apply and finishing touches. We have a great system that works seamlessly even though we are in different countries! I do re-touch much of my promotional and advertising work.
For this particular shoot "Peak Season," Jordan took care of the re-touching including the skin and clothing as well as the additional snow overlay. Jordan used a combination of cleaning, dodge and burn and frequency separation on the skin. Inspired by a few fashion images on the initial mood board, I colored the image using a combination of Hue/Saturation, Curves, Color Balance and Levels. I wanted to go for a "moonlight" feel, cold, but aesthetically eye-catching.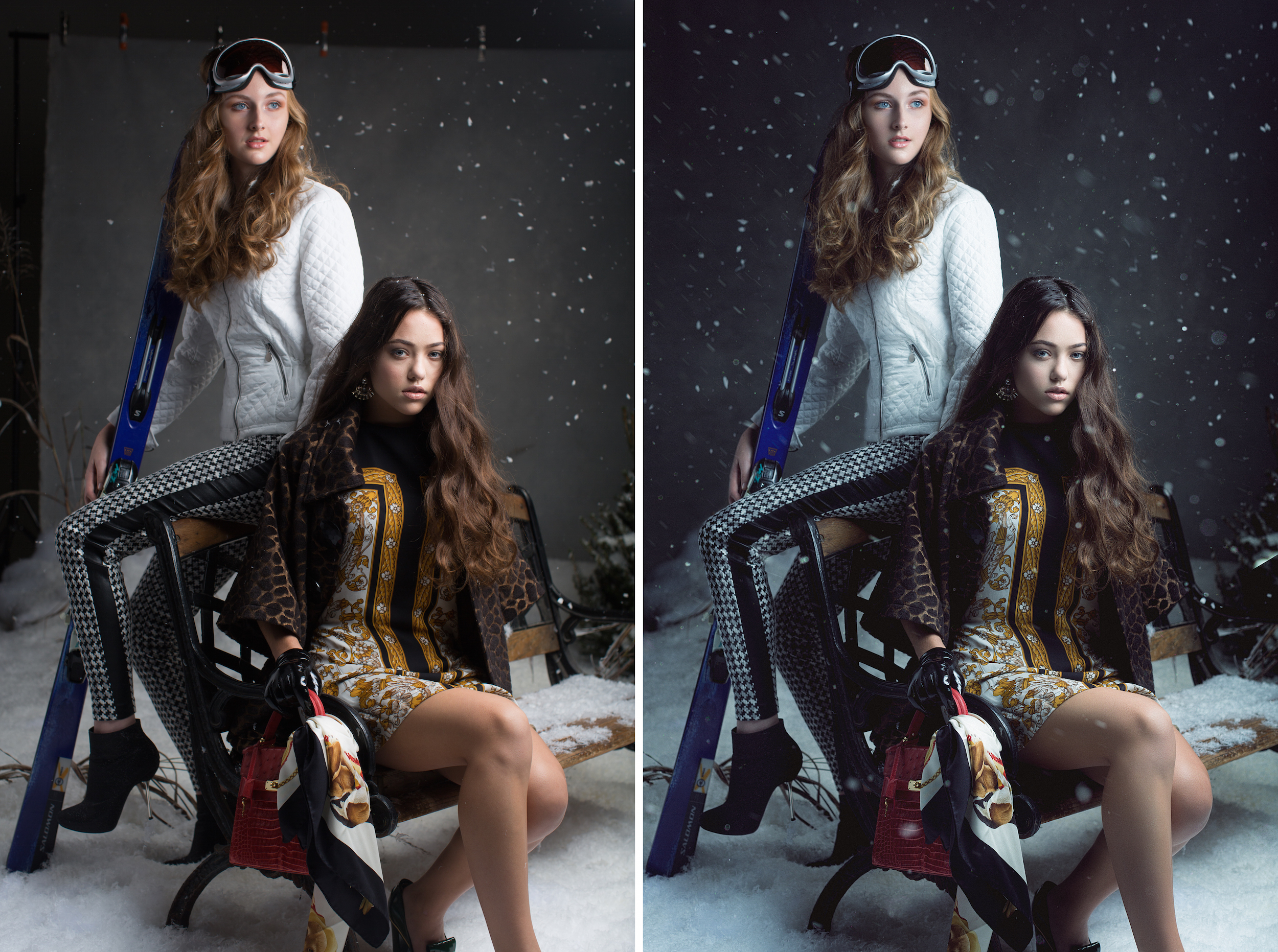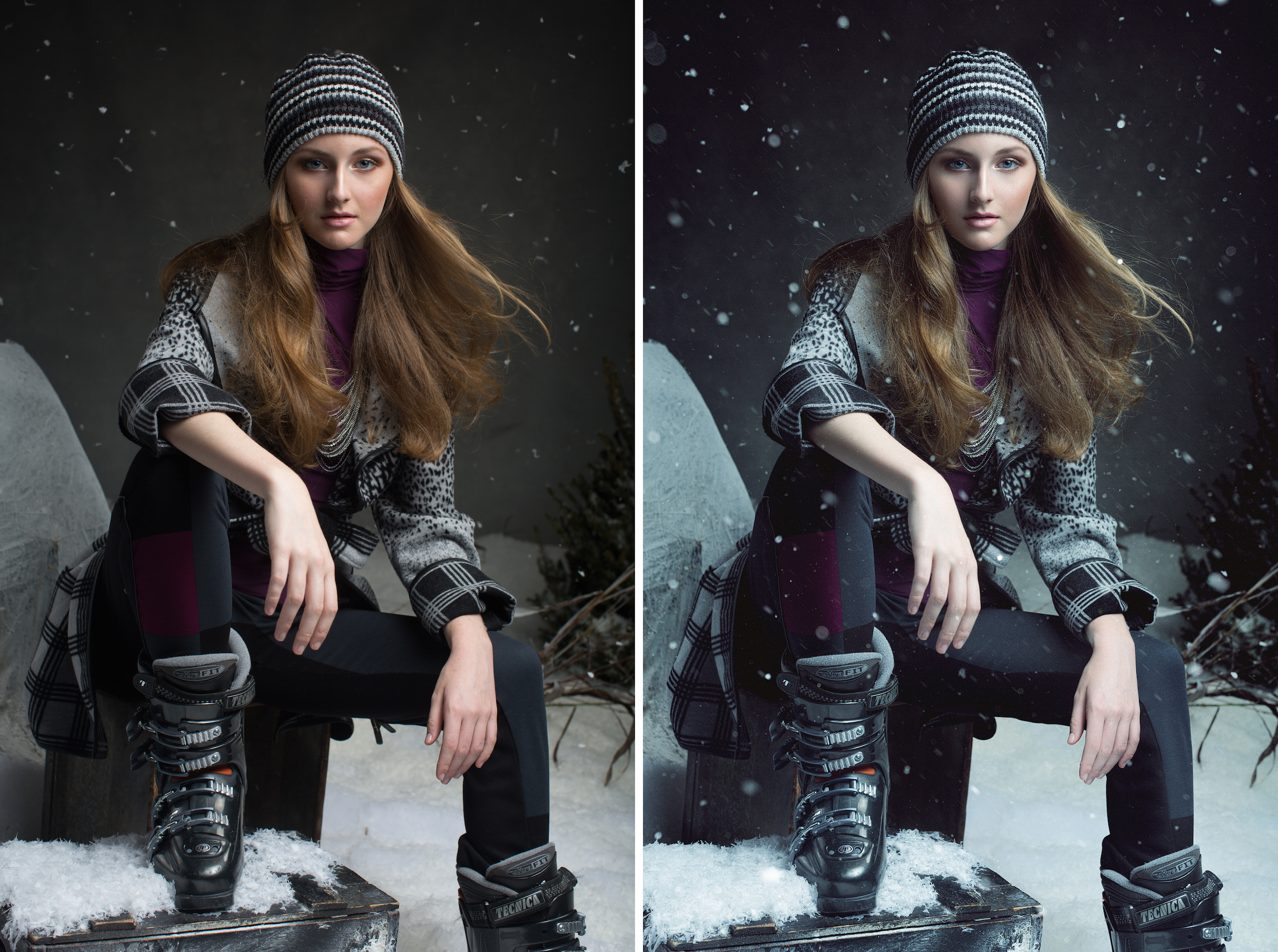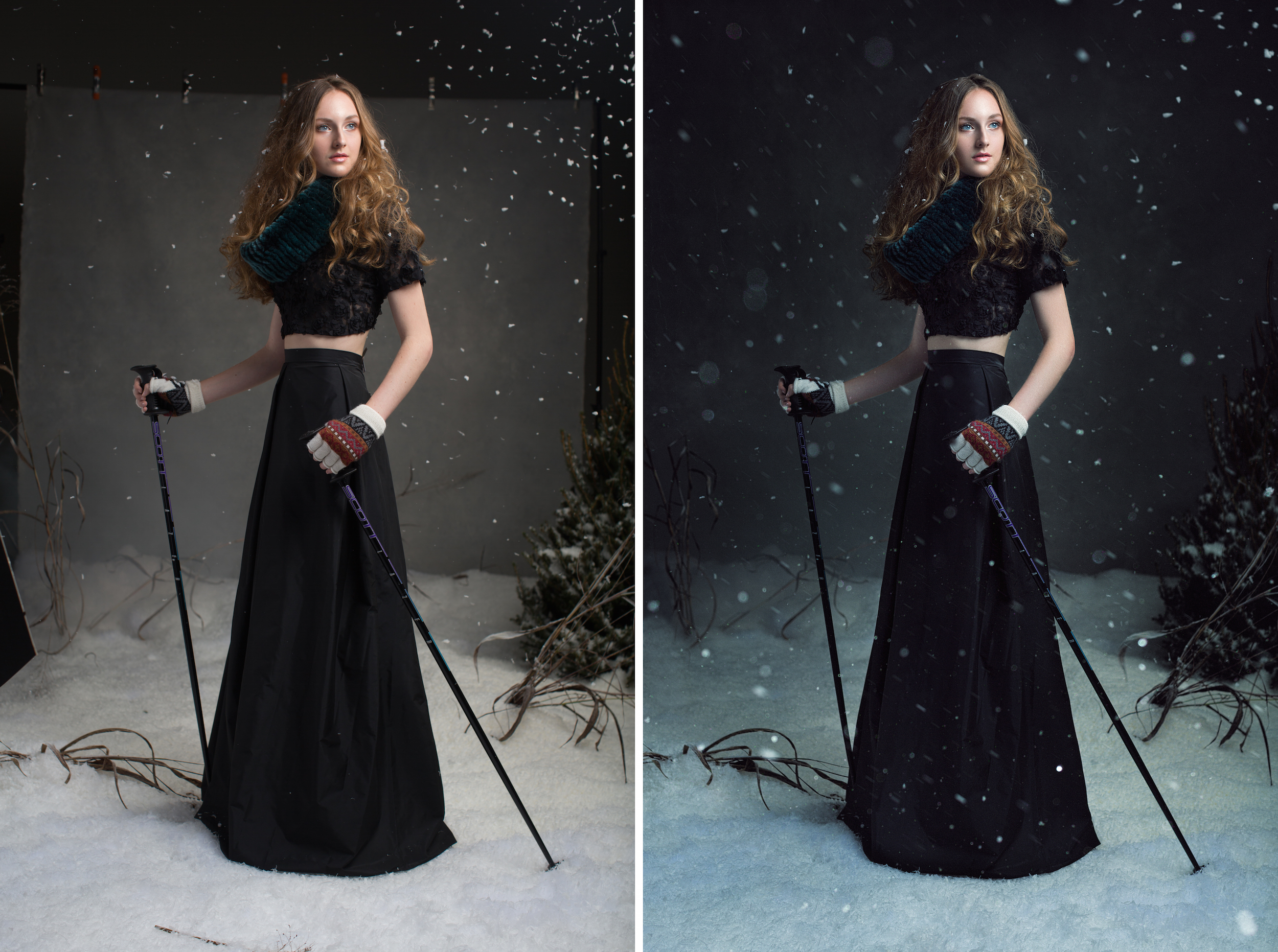 Are there any personal 'rules' you follow when working with an image in Photoshop? Tools/techniques that are a must? Things you wouldn't ever do in a million years?
CLAY: I don't use plug-ins, I don't use actions, and I don't use presets. Every image differs to me and every image deserves its own unique touch. Although I do tend to carry over the same techniques and application from image to image for consistency, there are small unique subtleties that presets would simply brush over.
Every artist has a different workflow, I will never tell someone that they can't do something. There are right and wrong ways to go about certain techniques, but I'm not one to dampen a creative spirit.
From start to finish, about how long does it take you to process each picture from SOOC to final, deliverable image?
CLAY: Depending on the amount of composite work, I can re-touch, grade and export an editorial image in about 2 hours. When dealing with a contractor such as Jordan, we work under strict deadlines. Our turnaround is usually 2-4 weeks, which is ample time to knock out our assignment. But, we've gone as far as turning around an editorial image 2 hours after the shoot.
The Final Images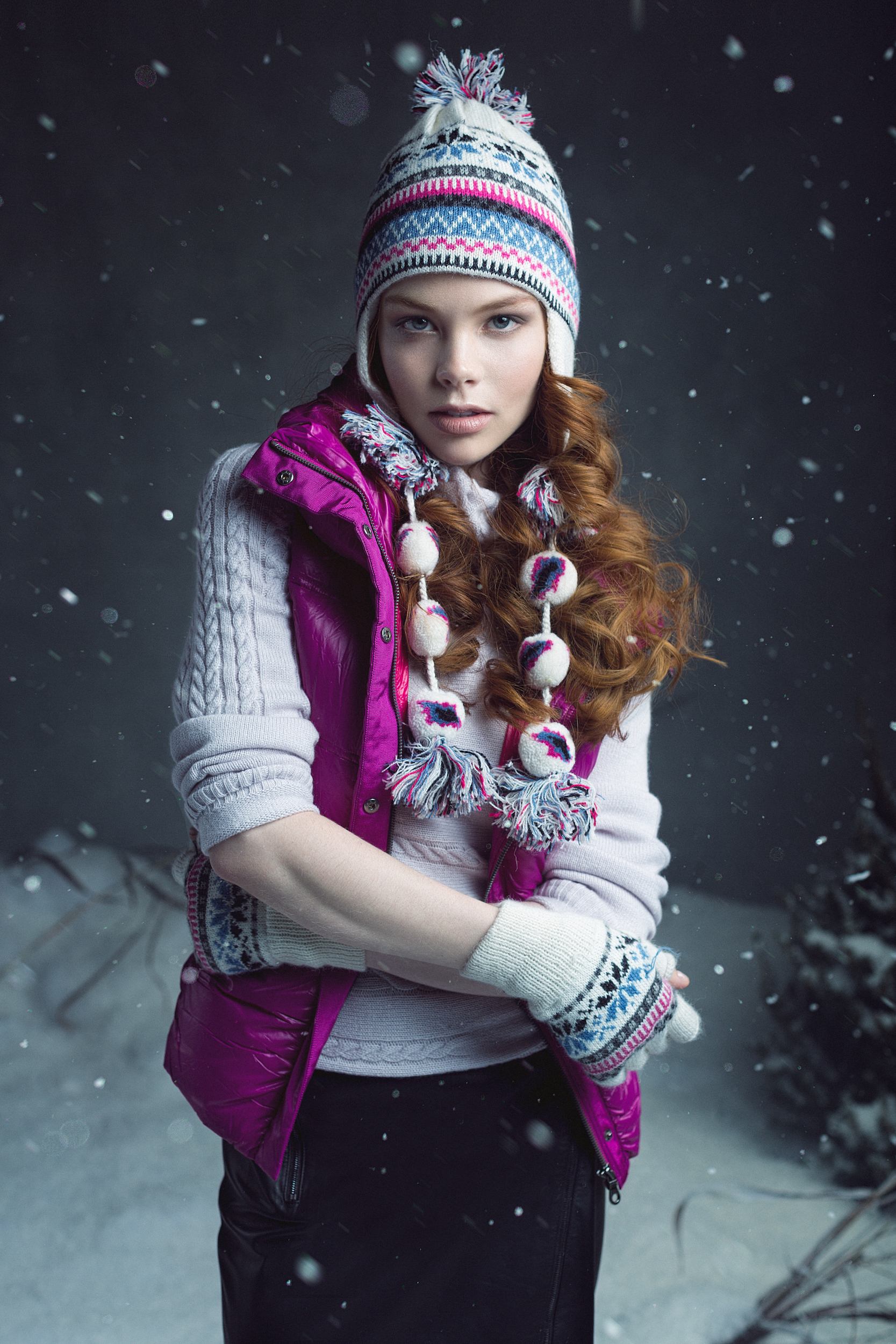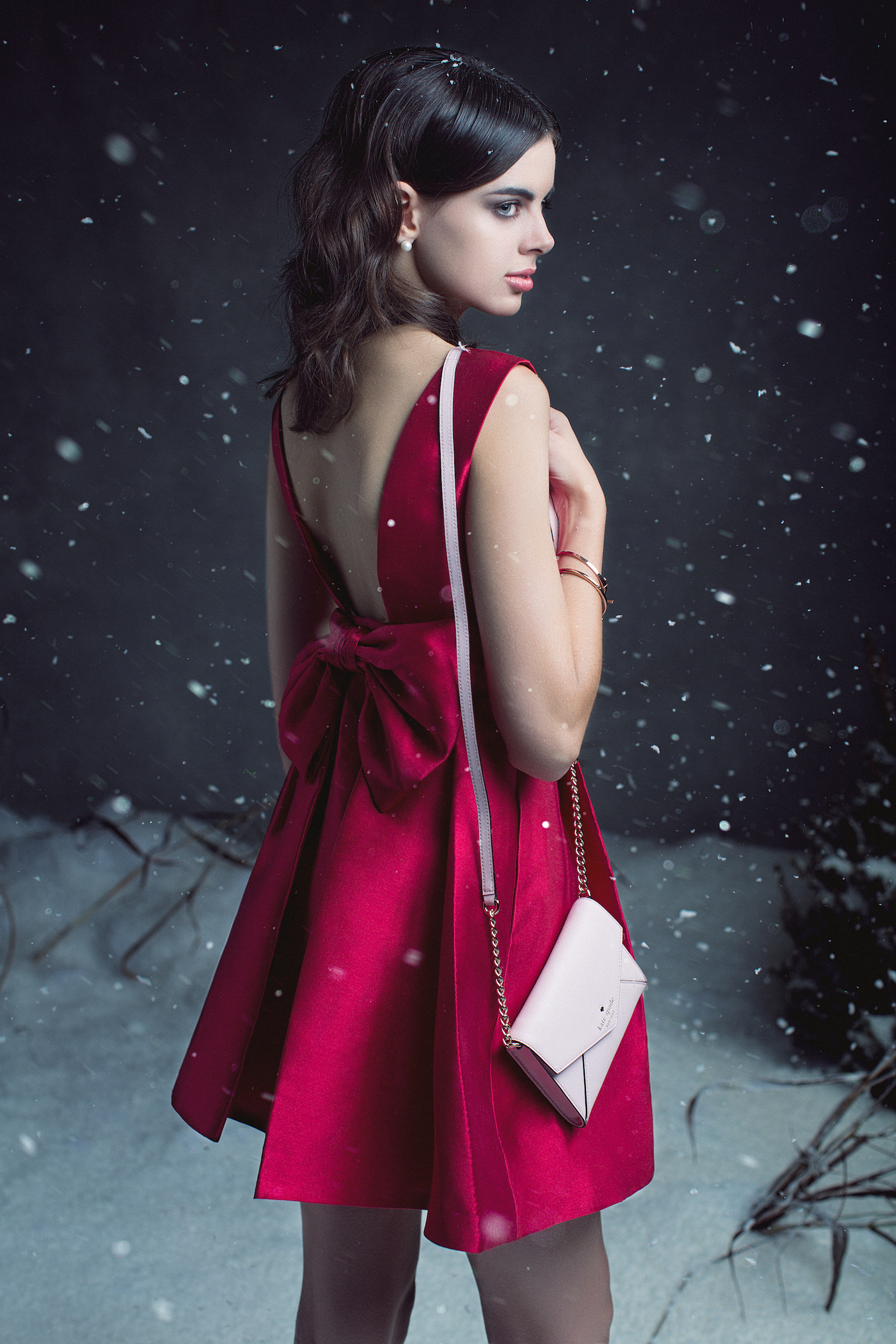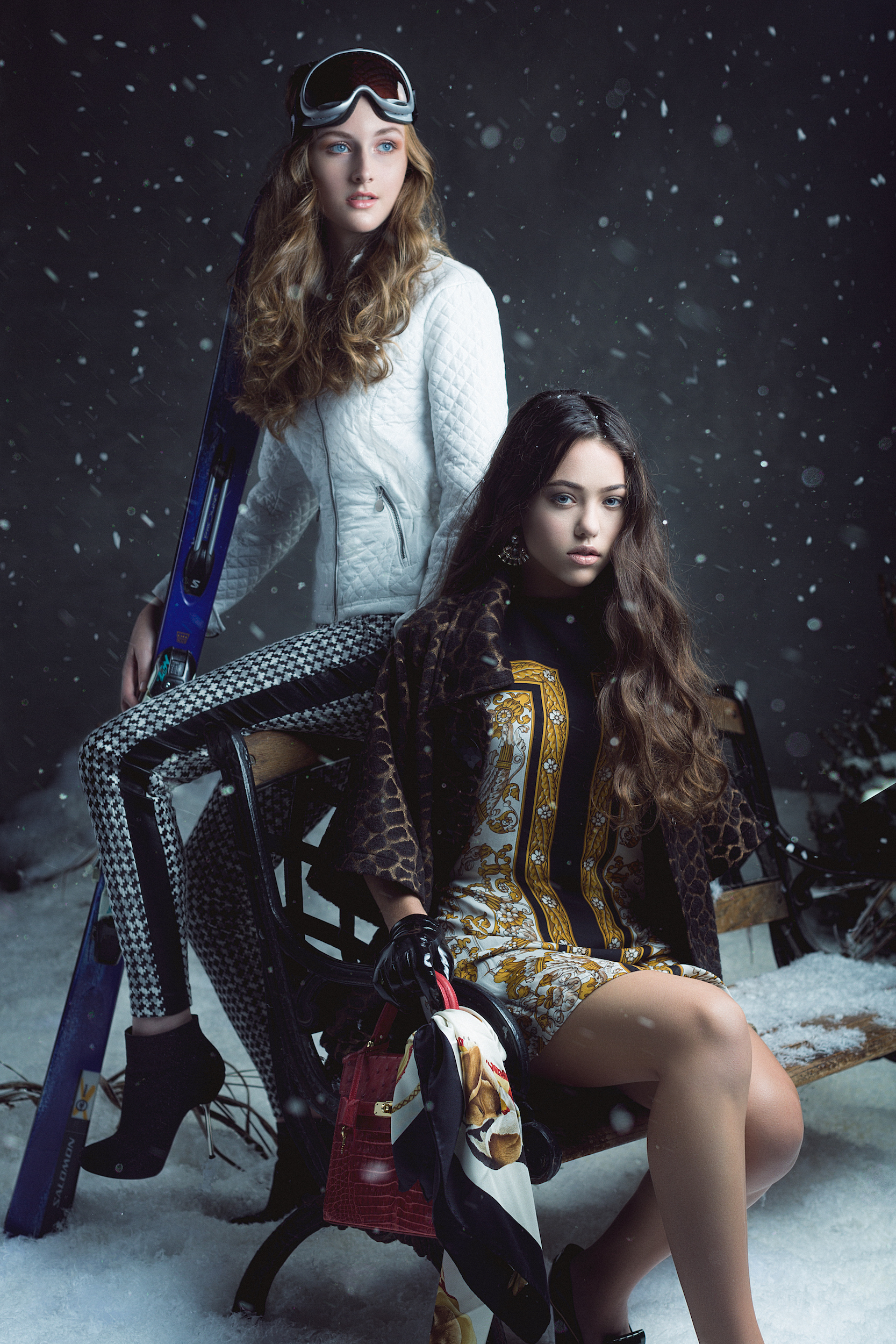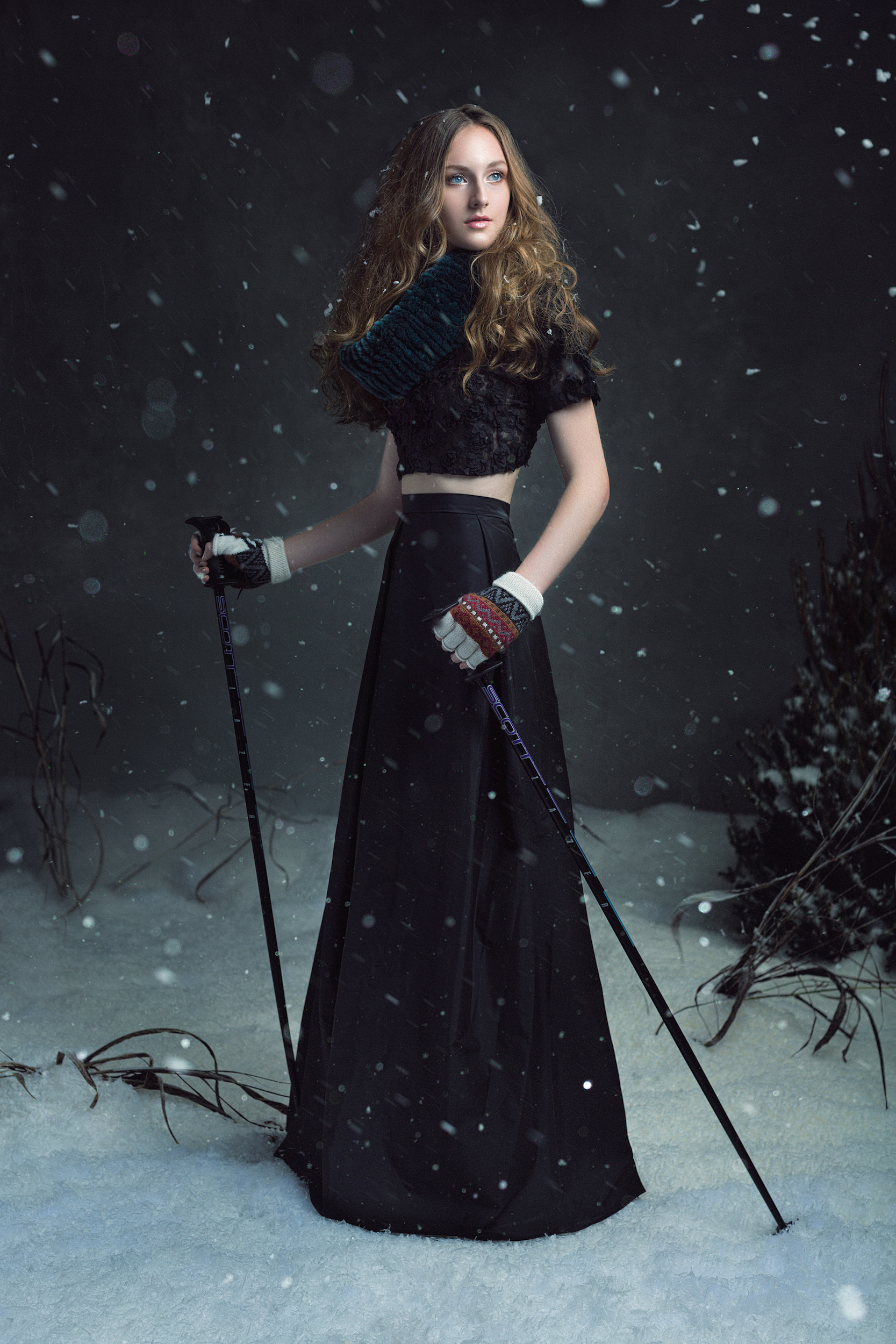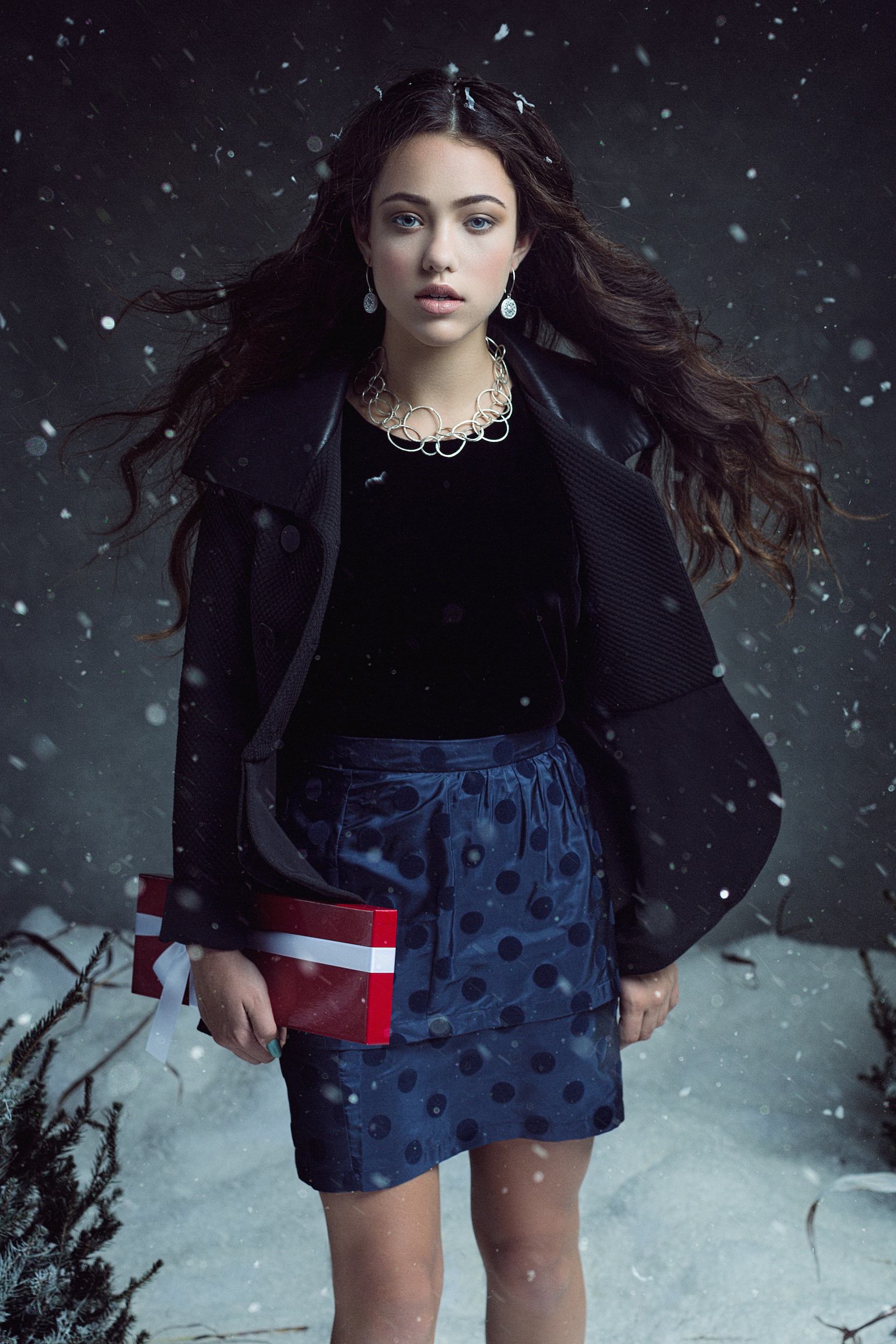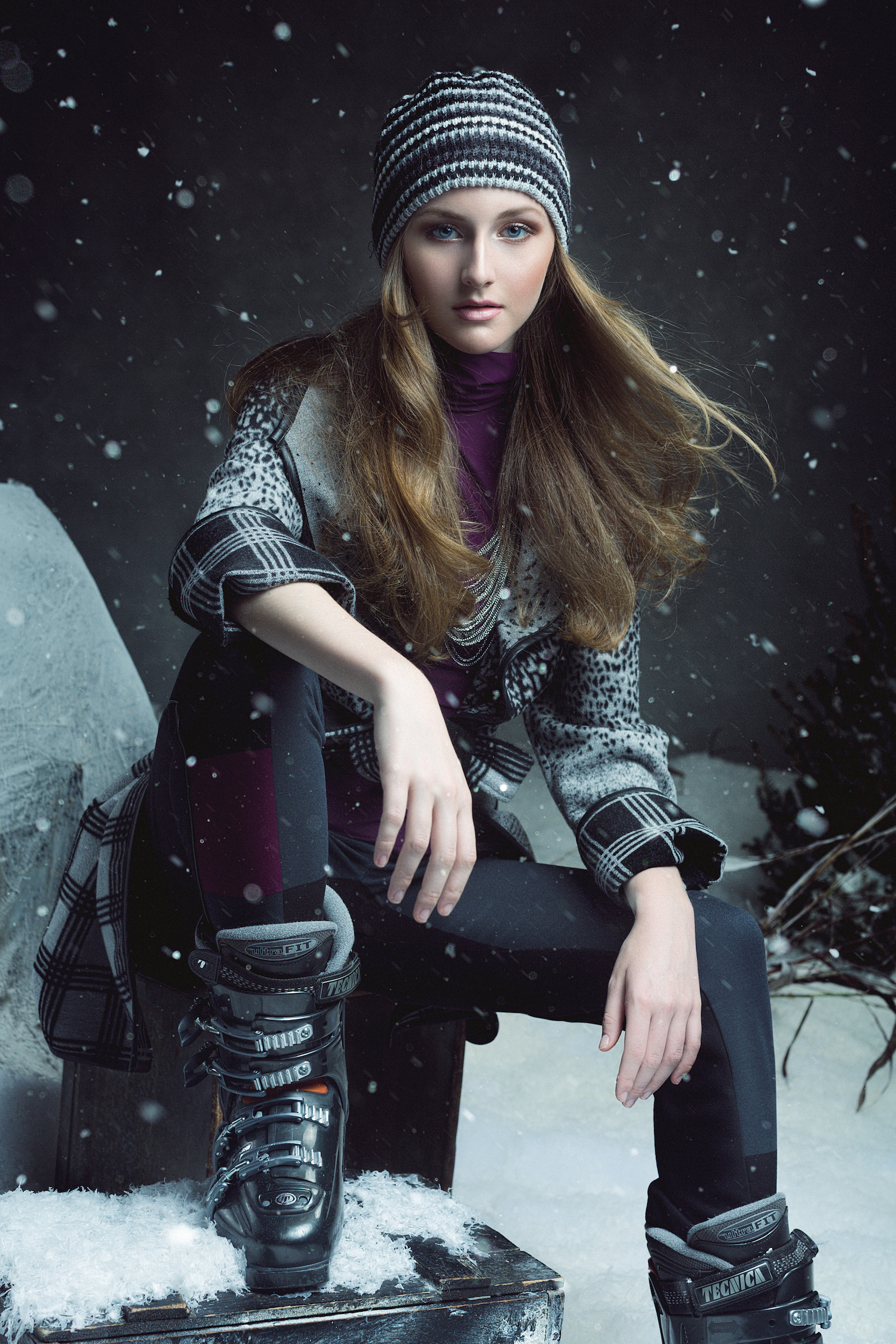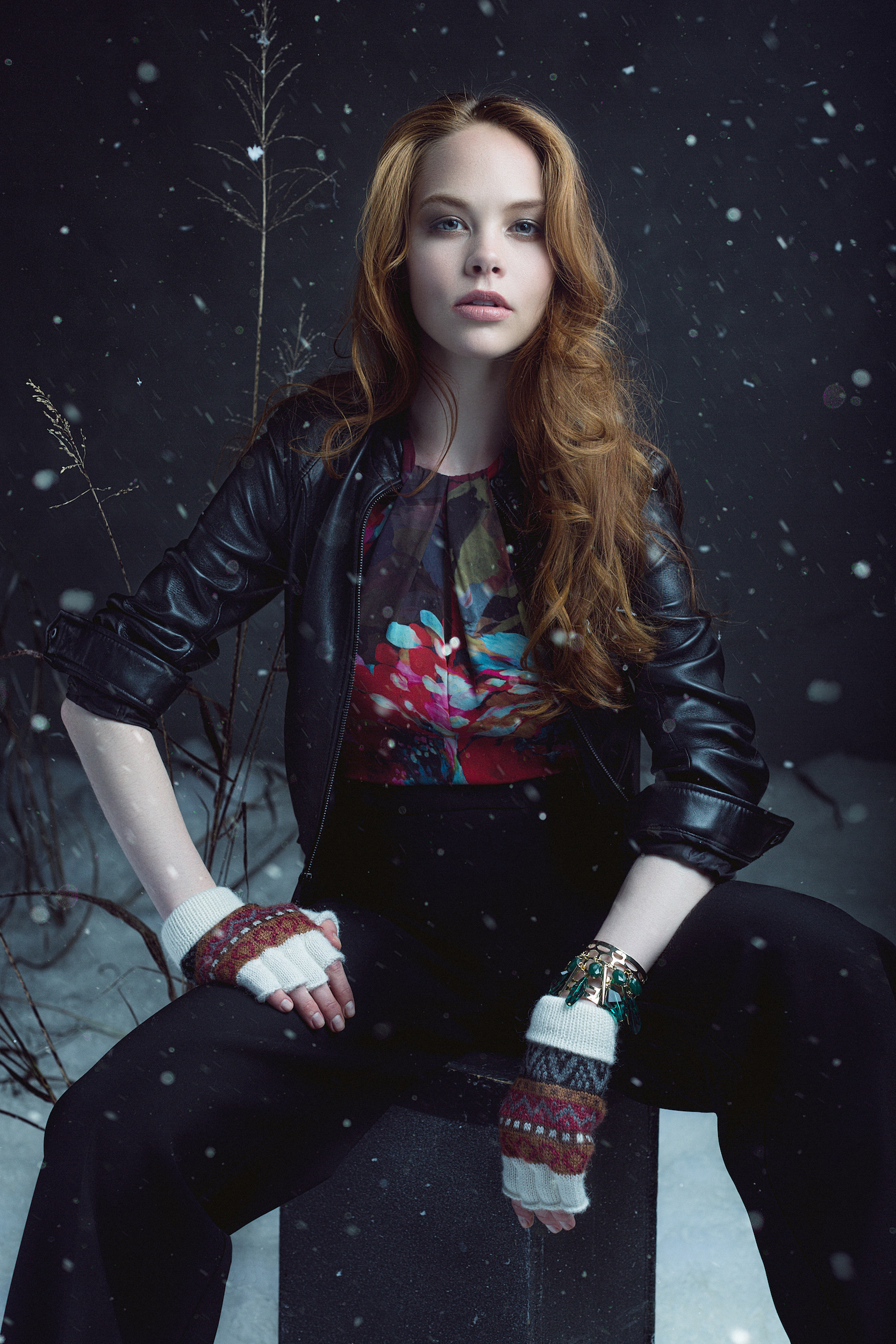 What would you say is the most challenging part of the whole process? Which part do you enjoy the most?
CLAY: I am a photographer, I love shooting and I love talking to people. The best part of the entire experience is always the day of the shoot. If the team is prepared, the light is right and the models are on their game, then you can't ask for a better day. We get work done, but also have an absolute blast on set.
Every step to achieve editorial "im-perfection" is a challenge, but there isn't a standout. Each and every process has its ups and downs and pay offs.
Do you find you learn something from each editorial shoot you do? What, if any, takeaways did this shoot provide?
CLAY: Absolutely. With every shoot I find a new technique or new trick that I can chew on later. With "Peak Season" I learned a lot about working with a set designer and also working with fake corn-starch snow, which is something I had never done in the past. For me personally, the best takeaway was the inspiration to do more, create bigger sets and shoot for the stars.
If you could do this one again, what (if anything) would you do differently?
CLAY: Every client differs, I rarely have a say in the physical wardrobe. I have to trust the stylist to put the right clothing with the right model, but there are cases where the clothing simply doesn't fit the concept and I think there were certainly some discrepancies with "Peak Season."
That said, it isn't always the fault of the stylist, but more the boutique or vendor providing the clothing.
Any advice for photographers reading this who would like to be doing what you're doing?
CLAY: Shoot, shoot, shoot and shoot. Just when you're sick of shooting, shoot some more. Push your creative muscles and don't be afraid to invest time, energy and cash into a photoshoot. The more you shoot, the more you fail; the more you fail, the more you learn. Never be afraid to take risks.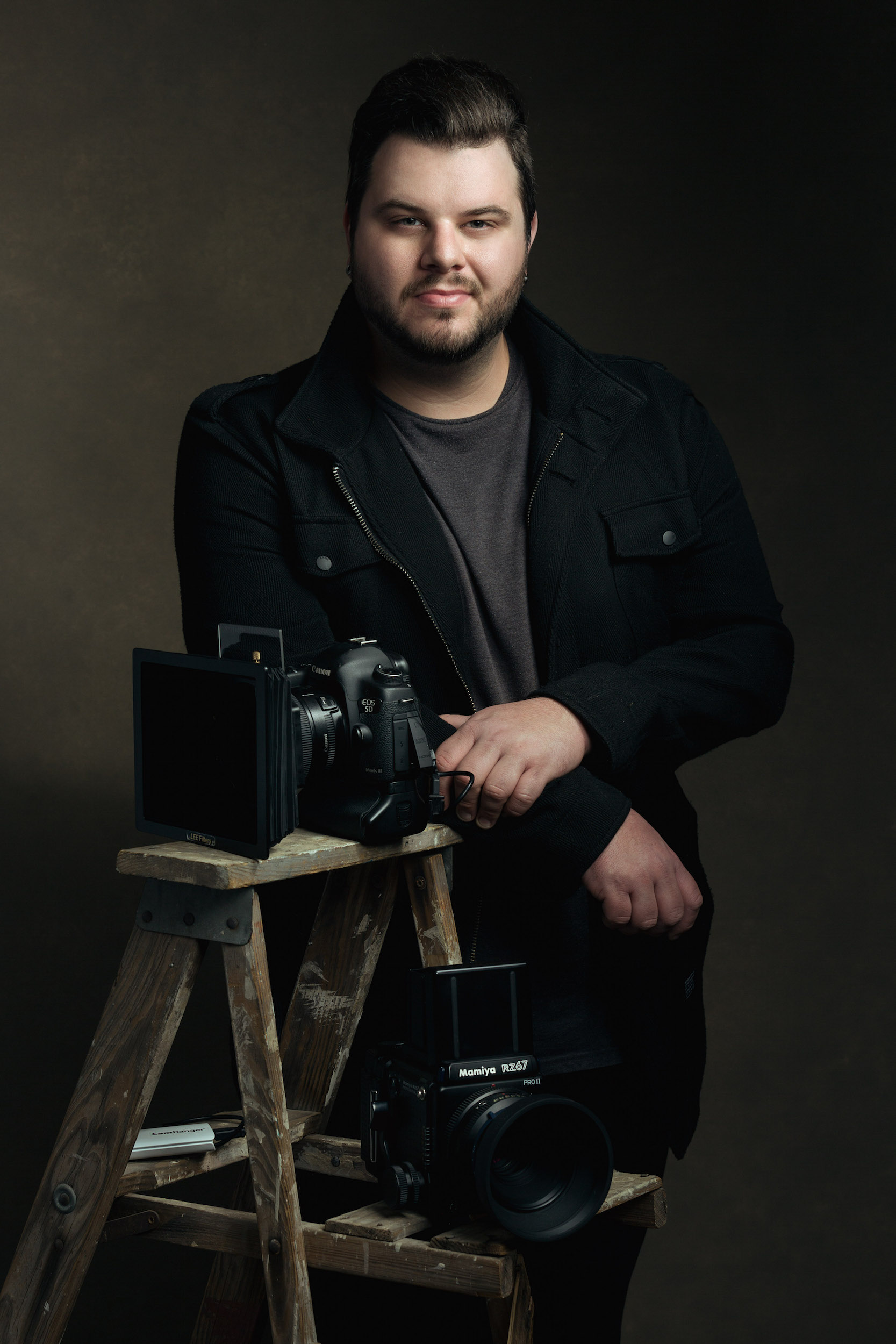 And, finally, what can we look forward to seeing from you in the near future? Any exciting projects or assignments in the works (that you can share, that is)?
CLAY: I'm constantly pushing my creative limits and my clientele is only gaining in popularity. I have a lot of great things in the works including multiple fashion editorials and over a dozen creative concepts. 2015 is ramping up to be a great year; I'd love for everyone to watch the journey.
---
If you'd like to watch Clay on that journey, you have a lot of options available to you. In addition to his 500px profile, you can visit him at his website and blog, or give him a follow on Facebook, Twitter, and Model Mayhem.
Also, just in case you didn't know, it takes a village to both raise a child and put on an editorial shoot. This was no different, and so we're including the full credit list below:
Style Editor & Creative Director: Lori Kommer
Style Assistant: Jamie Hubbard
Photography: Clay Cook
Additional Processing: Jordan Hartley
Production Design: James Wise
Makeup: Casey Ritchie, Isidro Valencia
Hair: Matthew Tyldesley, Ashley Flora
Model: Alaina Mitchell, Anne Shook, Lucy Duane, Talia Blue
Creative Assistant: Latora Michelle, Na Dia
Photography Assistant: Alexandra Brumley