Bromo Starry Night by Silentino Natti
It's not said enough: 500px is a platform built for photographers, by photographers. So when dedicated, concerned users like Sarah Marino and Ron Coscorrosa thoughtfully voice their concerns like Marino did in her recent article Photo Consumption, Conformity, and Copying in Landscape Photography, we listen.
Their concerns are, ultimately, our concerns. When Sarah says that 500px's increasing influence on landscape photography, "is not a positive development" — or when Ron writes that 500px is, "a site [whose] singular goal seems to be to encourage mass mindless photo consumption" — we do our best to listen, understand the concerns, and find a way to address them.
We've already reached out to Sarah and Ron to see if they're willing to team up with us, offer further feedback, and help turn 500px into the site they dream it could be.
But in addition to this, we'd like to take little time out to do a few things: point out a few changes at 500px that seek to address some of the couple's concerns, offer some advice that will help you have the best possible 500px experience, and ask for your feedback so we can make sure 500px only ever gets better… because we can't do this alone.
Improving the 500px Community, One Small Tweak at a Time
As 500px has grown and issues like the dreaded "reciprocal voting" plague have arisen, we've had to adjust to make sure the community stays vibrant, positive, and a great place to share your images and look at other peers' work.
We've not always been the best at letting you know about these things, so here are a few ways we've been trying to make 500px better.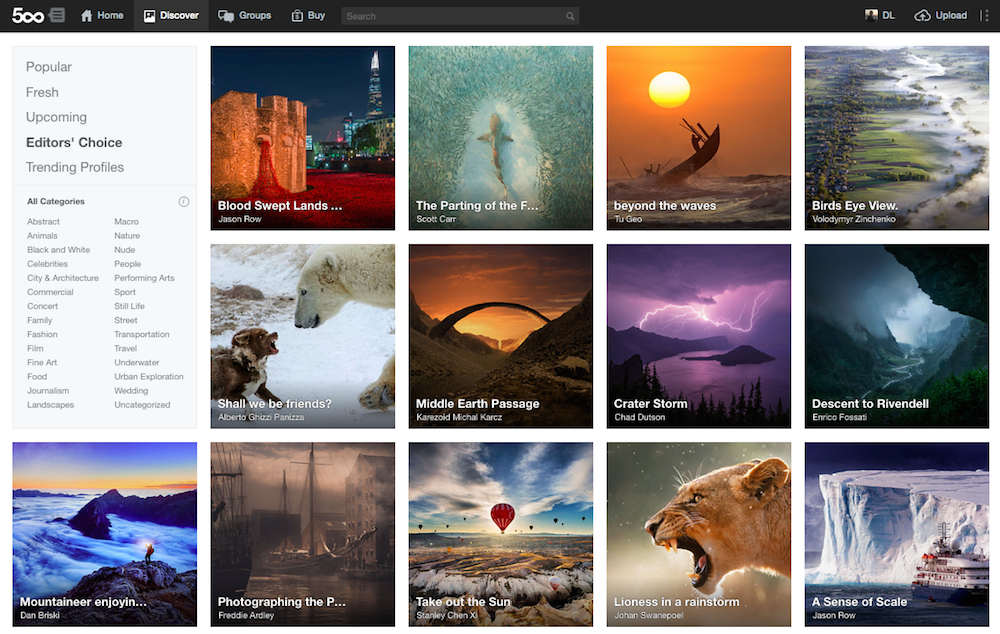 Editors' Choice
The point of the Editors' Choice program is to surface a broader, more diverse body of work. We ask talented photographers like Andy Kirby, Joel Tjintjelaar, and Lisa Bettany to scour 500px for great images that maybe aren't getting the attention they deserve.
In fact, the more we develop the program, the more adamant we are about this. It's not about rewarding already-Popular images, but finding the gems hidden away in the archives.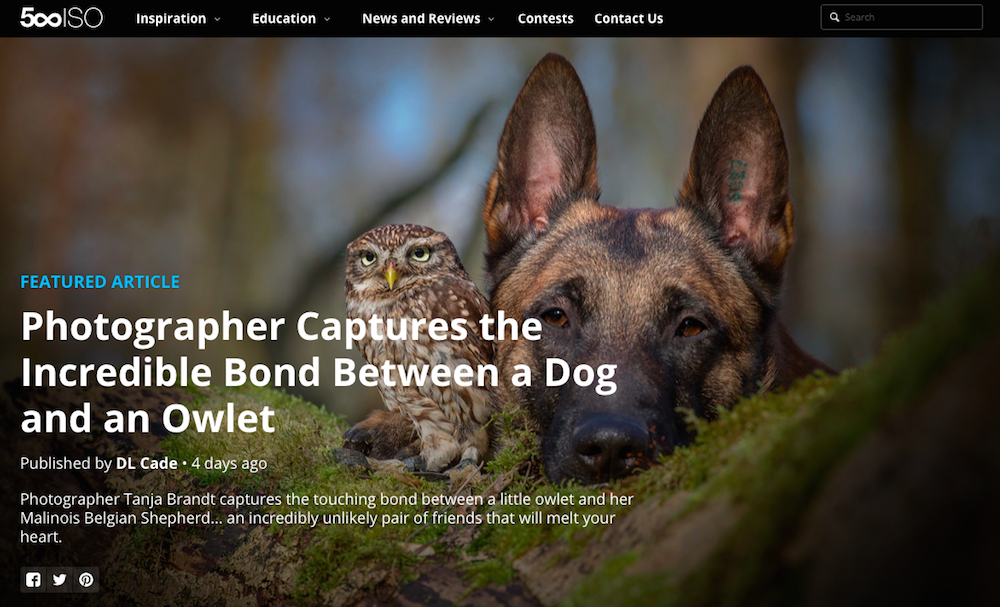 500px ISO
It may seem a bit self-serving to talk about ISO on ISO, but this blog is a big part of trying to surface unconventional photography, tell the inspirational stories behind it, and help the community continue to get better.
There are in-depth tutorials by 500px users, incredible stories behind some of the most incredible shots uploaded to 500px, and features that highlight work that fits distinctly outside the "typical" 500px mold (this feature on landscape photographer Scott Rinckenberger is a great example).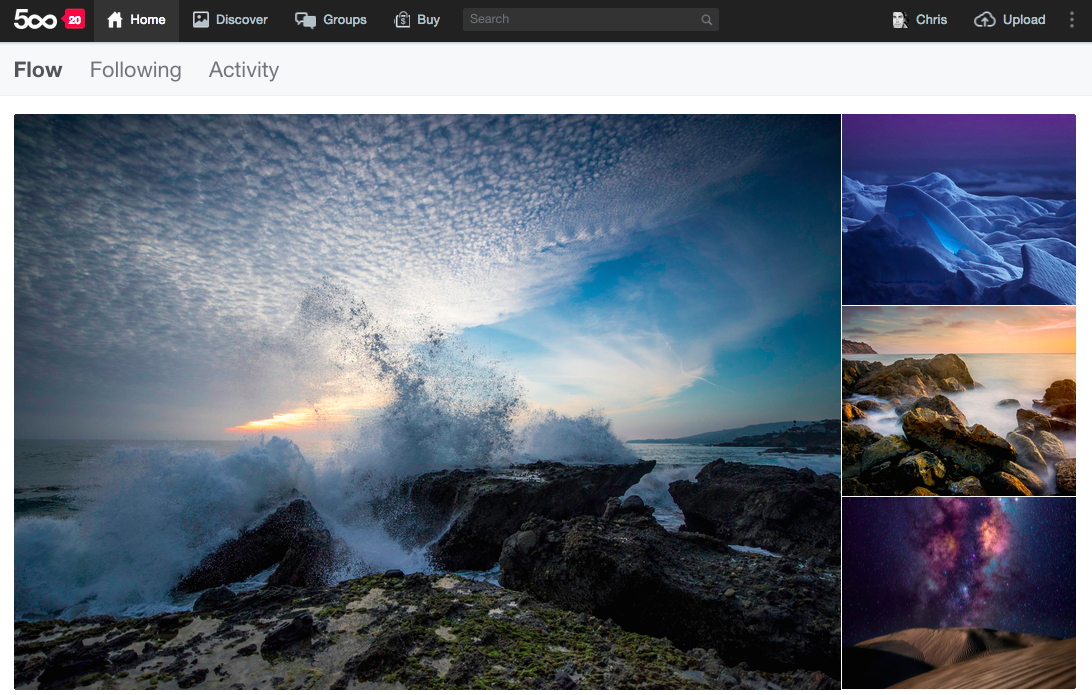 Flow
Flow is our "one experience definitely doesn't fit all" solution to how you experience 500px. What you see in your flow is made up of the images those you follow have liked, favorited, and commented on. That way, we keep exposing you to new, exciting work you haven't seen… but passed through the filter of those photographers you trust enough to actually follow.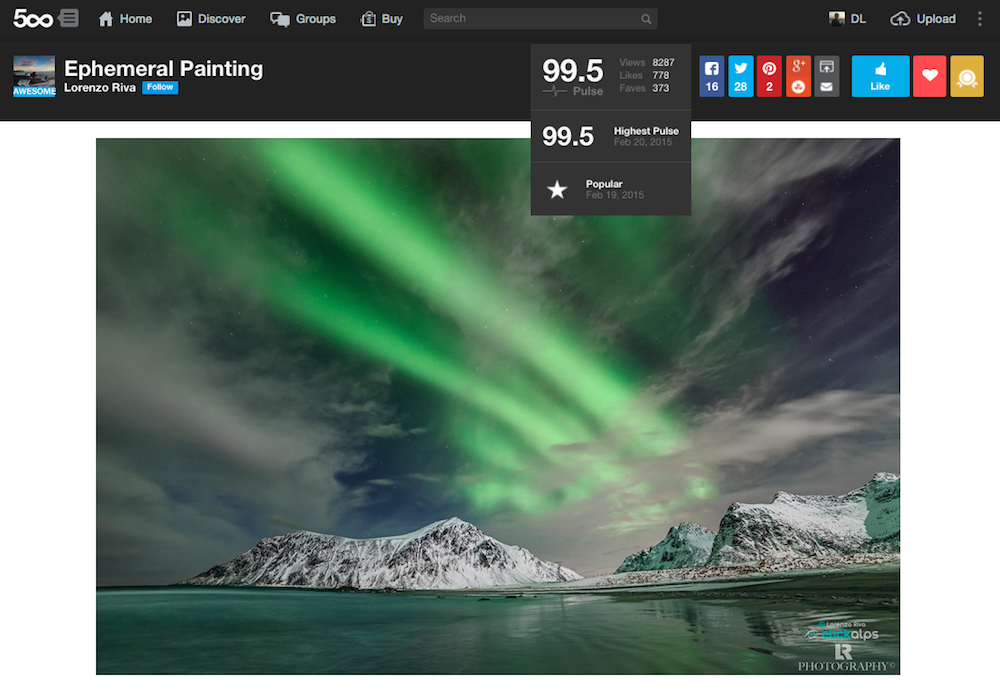 Death to Spam and Reciprocal Voting
We hate spam and reciprocal voting as much as everybody else who uses 500px, and so we've put limiters in place to help us weed out problem users and bots. But beyond spam limiters, we also have an ace up our sleeve: Pulse.
Pulse is NOT a simple "Likes are worth X points and Favorites are worth Y points" system, and while we keep the specifics secret to prevent abuse, there are some things you should know:
Not all likes and favorites are worth the same
If you're very stingy with your love, only liking and/or favoriting images very rarely, your votes are worth a lot. If you crawl down your flow liking everything in sight, they're not.
Reciprocal voting counts for less and less
If someone likes your image only after you liked theirs or commented on their photo, we track that. You guessed it: it's worth less. If you earn a follower, over time they will continue to like and favorite your work through flow, and you'll earn the affection you deserve. But if the only reason they like your work is because you liked theirs, their "love" isn't worth all that much to you.
We're not stupid
Sadly, some people think we are. We have automated systems in place that tell us if you've somehow liked 1,000 photos in 3 hours. Or left the same "V+F" comment on 100 photos in the last 10 minutes. Bots beware, our ban hammer is hovering right above your automated heads… ready to drop.
Reporting
If a user is obviously spamming, you can report them. Enough red flags, and they'll get a warning… then a temporary ban… then a permanent ban. Our Customer Excellence team is on top of it, and they never get winded. Seriously… one of them is an ultra-marathon runner.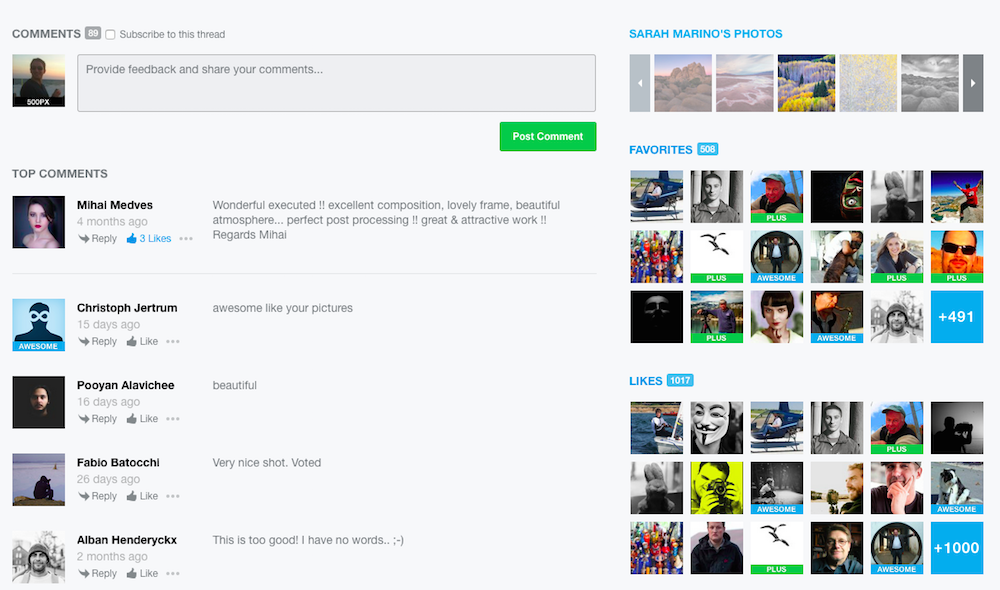 Fostering Better Discussions
Comments
We know that comments like "V+F" and "Great Shot" don't exactly count as good feedback. V+F in particular sets that vein in our foreheads throbbing. But while we haven't yet outright banned comments like that (maybe they genuinely don't have anything more to say…) we have added the ability to "like" comments so the best ones make their way to the top.
Groups
We started Groups last year to help make discussions even more lively, and we're constantly trying to point people towards the ones where real discussion is going on.
Groups like Landscape Photography Critiques and Landscapes are both active places where Landscape lovers can have more meaningful discussions about their photos than just can't happen in a comment thread on an individual photo.
How to Make the Most of Your 500px Experience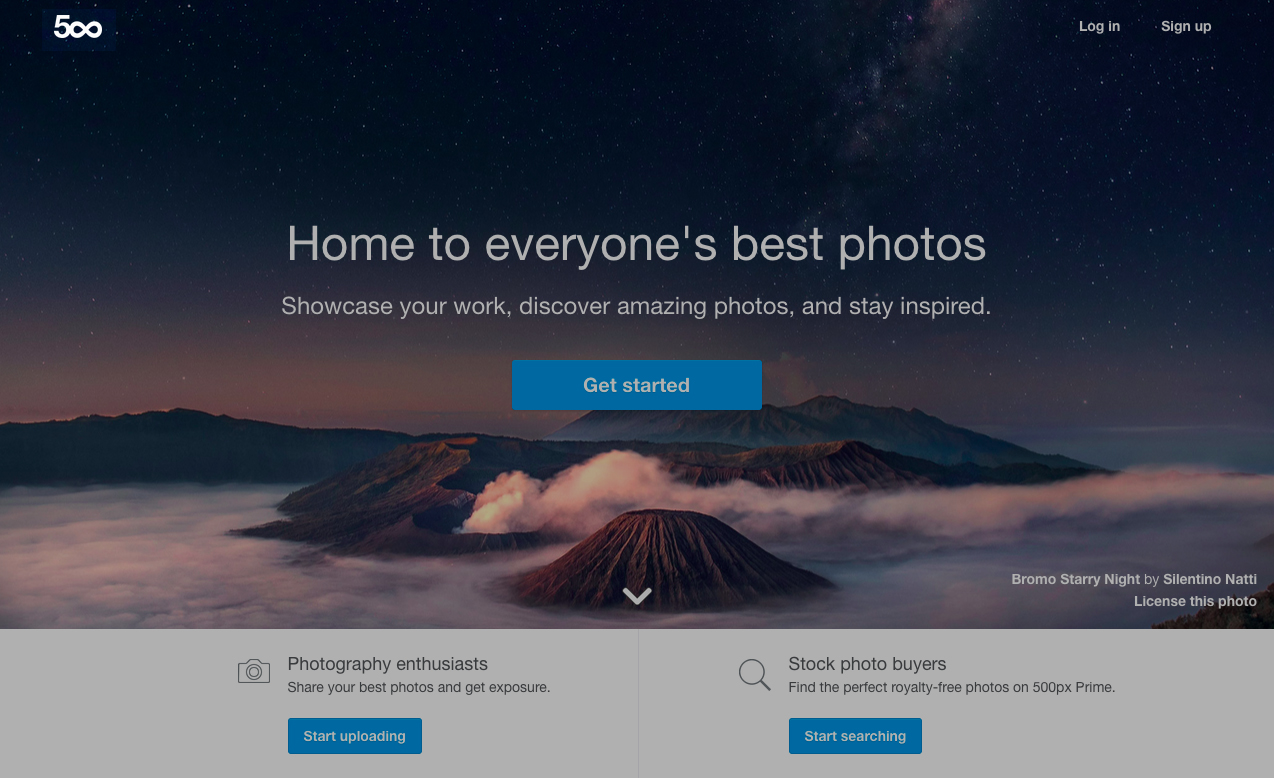 On the most basic level, the best way to make the most of your 500px experience is to use 500px the way you want others to use it. Reward great comments by liking them; start a Group and encourage other genuinely engaged users to join it, so you can build a community within the community; and only like and favorite images you feel break the "over-processed" or "soul-less" mould.
On the other side of the coin: leave thoughtful feedback and comments for photographers; take the time to look at the photos in your Flow, and be selective about who you grant your affection to; and dig into the archives or visit the Fresh page to help surface images that might otherwise get lost in the fray.
And if you run into a wall or find that there is a specific feature or property of 500px that is stymying creativity or encouraging abuse, report it and/or let us know. But that actually falls into the next and final section.
Calling All Feedback
If you don't like something, if there is a change that should be made, if you have an epic idea for making 500px the go-to photo sharing platform, or if you just want to say hi and share some cat gifs with us, please get in touch.
You can submit feedback to our dedicated support team through this link, and trust me when I say they are on top of things. Every employee who gets hired at 500px has to do a day as a Customer Excellence employee so they can see how it's done and understand who it is they're working for. I did mine a month ago and I can say with confidence that our CX team is second to none.
We want to be better. We want to make sure 500px is the best place on the Internet to share your photos and love of photography with other like-minded photo enthusiasts and professionals. Whether your goal is to get feedback and improve, to get inspired by others' work, to share your professional portfolio with a wider audience, or to sell your photos through 500px Prime, we want to offer a killer experience.
So offer us feedback. Because when you speak, we listen.