It's easy to assume that the best photographers among us were born with a camera in one hand and a light meter in the other. We see incredible work by professional photographers on 500px and us beginners are tempted to just give up… there's no way these pros were ever as mediocre as we are now, right? Wrong!
Humble Beginnings is a new feature in which we ask the best photographers on 500px to share the story of their own "humble beginnings" in photography. Then we compare one of their first images with their current work, so you can see how far they've come since they first picked up a camera.
---
"The ugly messy pan shot of a single car with nothing in focus was one of mine from Monaco [in 2008]." That's how professional motorsport photographer Jamey Price started his Humble Beginnings submission.
We had been going back and forth over email for a few weeks, and as a MotoGP nut and car lover myself, I'd been waiting with bated breath for his article to come in — steeped in the jealousy only sentences like "I'm heading to Aspen tomorrow morning at 5am for Lamborghini" can produce. Well… sentences like that and photos like this:
Jamey Price's Humble Beginnings
My road to being a motorsport photographer has been very strange to say the least. I was given my first camera in 2008 when I turned 21. I have always been a very visual person. I never picked up magazines for the articles, that's for sure.
At that time, I started taking photos at my college swim meets I was competing in. Around that same time, I was also riding race horses as an amateur steeplechase jockey (National Hunt for those in England). I rode races all over the East coast, and for a short time after college, I lived in England and Ireland working as a "lad" taking care of the horses in the morning, and as a part time photographer in the afternoon working for different trainers, newspapers, wire services and even as the track photographer for a course in Yorkshire for a couple weeks. It was a blast. But the whole time, knowing it probably wasn't going to make me a living. Horse racing is tough to make any money in.
Despite a love for horses, my passion has always been racing cars. Don't ask me why. No one in my family gives two cents about it. But to me, they're fast, loud, exotic, expensive and races have a fantastic atmosphere. Especially Formula 1 races.
In 2008, I had the opportunity to attend the Monaco Grand Prix while traveling through Europe during college. I had only just recently been given a DSLR and obviously took it to the races. I had a long been a fan of Formula 1 photography but had no earthly clue what I was doing. I enjoyed the weekend, but looking back, didn't come home with any very nice images from it. But I desperately wanted to learn and get better. So through trial and error, I did.
My first credential to cover Formula 1 came in February 2012 while covering the pre-season winter test in Barcelona. I had covered some NASCAR races for Getty and a few sportscar races for different clients, but I knew my heart was in Formula 1. To date, I've covered 13 F1 races, 4 pre-season F1 tests, and many many many other forms of racing ranging from NASCAR, Indycar, MotoGP, sportscars, touring cars, and nearly everything in between.
I've been lucky to work with a really exceptional group of clients that value photography as part of their essential marketing practices, and those clients have sent me all over the globe. I love traveling and getting on a plane going to a new race track. It's exciting, deep down I am still very much a racing fan. You have to be to spend as much time as we do at tracks and working around cars.
---
Here's the "before" image Jamey sent us. Or, as he describes it, "The ugly messy pan shot of a single car with nothing in focus":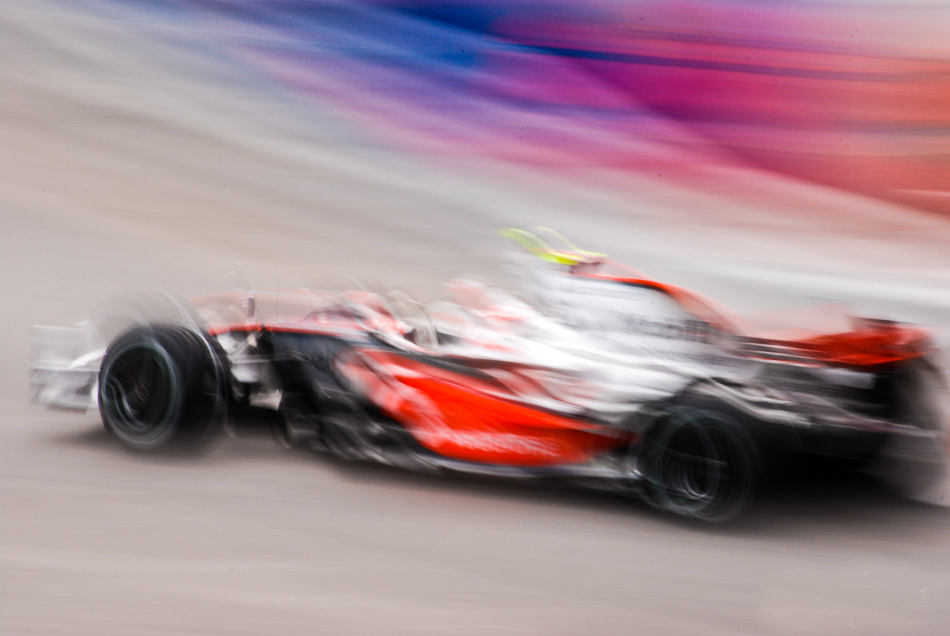 And here's the kind of work you can expect him to create these days:
Embarrassing Story
Editor's Note: When we ask photographers for their humble beginnings story, we also suggest they offer an embarrassing beginner story to go along with it. Jamey is the first to take us up on this offer.
The first time I opened my Nikon in 2008, I knew that a fast shutter speed could capture fast moving objects. So I pointed it at my ceiling fan and cranked up the shutter speed to 1/8000. If a camera can catch an F1 car at 220mph, then it can certainly catch my ceiling fan. I pushed the shutter and obviously the resulting image was completely black. So I went on a forum, and asked why the images coming out of my camera were black.
From the variety of answers I got back, I realized that there was more to photography than I originally thought, and that I might need to do some reading before going forward.
Advice
I get asked all the time how to get credentials to races. I wish there was an easy answer but photography as a profession is like every other profession. It takes time, networking, skill, practice, patience and luck. No one simply arrives at the top without working at it for years.
Go to local races, dirt track races, lawn mower races, anything that moves is good practice. And then send the best of the best of your images to art editors and websites and don't quit just because someone says no, or doesn't respond, or doesn't like what you have shot.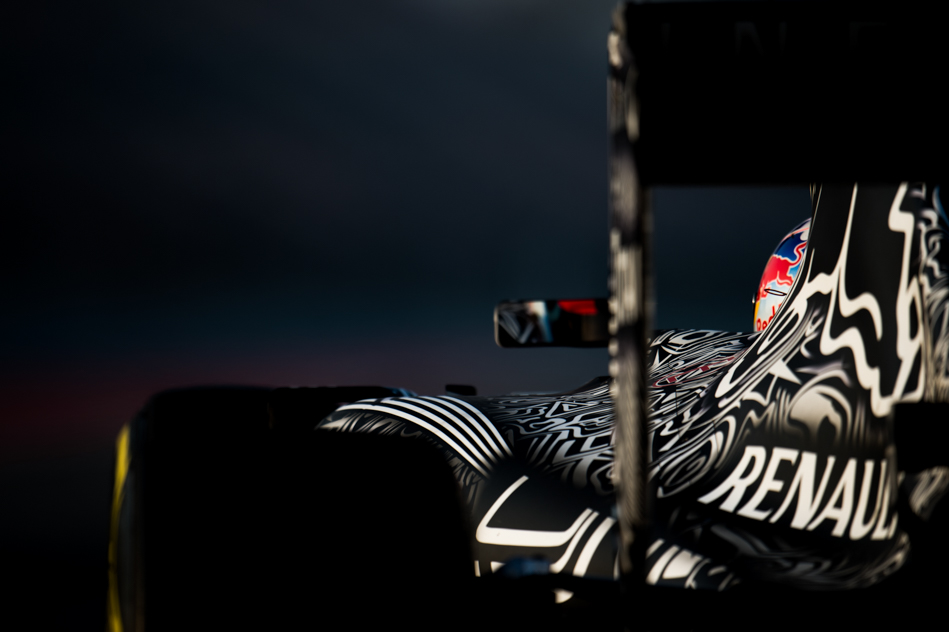 Practice practice practice. One of the more well known F1 photographers grew up practicing panning cars outside his house. It's kinda crazy, but definitely works. Practicing how to balance your body when you're shooting at 1/10 of a second is an art not easily learned.
Knowing your camera inside and out helps too. I rarely have my camera in anything other than manual. I want to be in control of what it sees and does.
Backlit isn't bad. There is a common misconception that shooting into the sun makes for ugly photos. Who decided this? I don't know… but I've made a career by pointing my camera into the sun. Not all the time, but flip through my images, and you'll see a lot of backlit race cars.
To me, that's when you see the curves and detail the best. Race cars are beautiful things when you see them in the right light and right angle.
No credential? So what? Honestly, this is one comment that bugs motorsport photographers to the core. Many people say that the quality of images we get is simply due to the fact that we can stand trackside and get close to the cars and have expensive lenses. And that couldn't be further from the truth.
In fact, during many F1 sessions, the photographers will go up in the grandstands to get a different perspective. I spent half of the Russian Grand Prix Friday wandering the spectator areas looking for different angles. Use what you have, and make the most of what is around you. I know plenty of racing photographers that could outshoot nearly anyone just using their iPhone.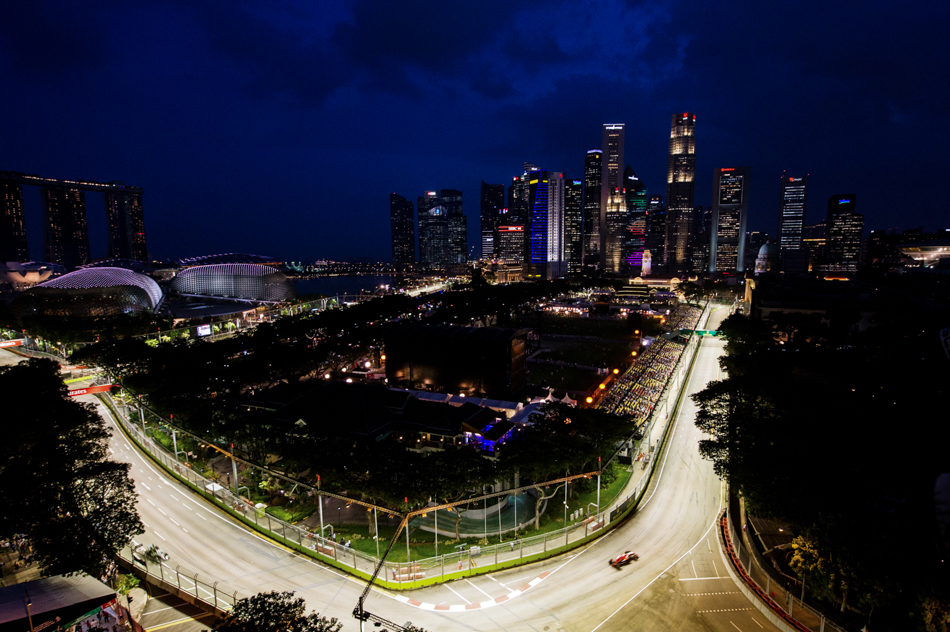 We hope this article was as enlightening for you as it was for us! Expect to see more from Jamey in the coming weeks; in the meantime, pay him a visit at his website, check him out on Facebook and Twitter, and don't forget to follow him on 500px.