Model and property releases can be a pain, especially if you're a street shooter or like to work outside of a studio environment. Carrying a stack of model/property releases and a pen is never ideal when you're out in the middle of the woods, and taking street portraits feels a lot less personal when your next move is to pull out a folder and pen.
With Releases by 500px, these problems and more are now a thing of the past.
This simple, intuitive, and FREE iOS app lets you easily draft, sign, and save model and property releases right from your iPhone or iPad. Pulling out a sheet of paper and a pen is downright unnatural on-location 2015… pulling out your smartphone on the other hand is all but expected.
What's a Model/Property Release and Why Do I Need One
You can get a much more in-depth explanation of model releases in this article, but here's the gist. If your photos feature a recognizable person in them (at ALL recognizable), and you want to license the photo for anything other than certain news coverage, you will need a model release. (Take our quiz to test your model release knowledge!)
The same goes for private property and some iconic locations — you'll need to get a property release signed.
Up till now that's been a big hassle. If you're on location you're dealing with papers blowing everywhere, not having a surface to sign releases, and the general awkwardness of getting a paper release signed. If you downloaded a popular release app, you might be paying as much as $9!
Releases by 500px is easy to use, intuitive, and best of all FREE.
How It Works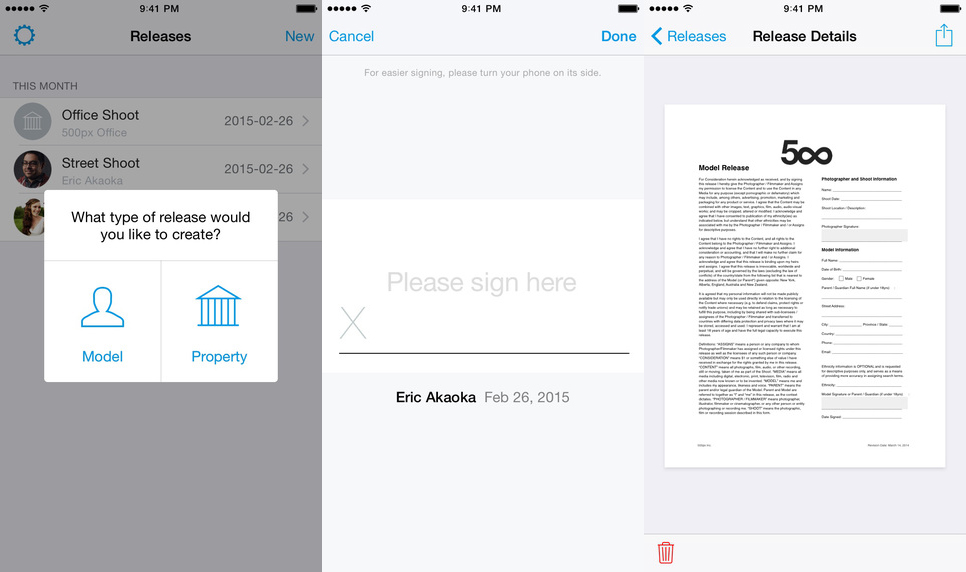 Using the app couldn't be easier. Just fill out a few fields, pass your phone to the model or property owner to sign with their finger, and generate a legally-binding release you can then save, print, or export through apps like Dropbox or Box.
To sweeten the pot, you can also save models or properties for later. If you're planning on shooting with the same model several times over the next month or so, there's no need to fill everything out again. Select them from your list of models, re-enter the shoot info only, and you've got a fresh release.
No pens. No paper. No hassle.
Then What
You've got your beautiful portrait like the one above. You've got a great model release PDF generated, signed, and saved in your Dropbox where you can easily get to it from anywhere. Now what?
Now is when you upload that photo to 500px and submit it to 500px Prime so buyers can license it and we can pay you 70% on each license you sell.
You can find out exactly how to submit your photos to 500px Prime, releases and all, in this walkthrough article. And make sure you read through these 6 Common Issues To Correct Before Submitting Your Photos To 500px Prime.