What would you say if a male stripper came to you and asked you to photograph him… naked… covered in Vaseline… suspended with industrial chains from the ceiling? Fine art "epicness" photographer Benjamin Von Wong was offered such an opportunity a few years ago when Montreal Based Stripper Suntory asked him just that — Von Wong said yes.
What resulted was a challenging, creative, and incredibly eye-catching photo shoot in the style that has become Von Wong's signature in the years since: epic.
Here's one of the SFW images Ben recently uploaded to his 500px account from that photo shoot:
The photo shoot itself was actually a lot more challenging that you might imagine. The concept seems simple: naked stripper covered from head-to-toe in black paint/makeup and vaseline hangs from chains attached to the ceiling. Point, shoot, done, right? Wrong.
There were quite a few obstacles to overcome, as Ben explained in this blog post.
They needed industrial strength chains, a sturdy set of metal beams or other ceiling structure that could support the chains (which were VERY heavy) and Suntory, and someone with the knowhow to put this all together in a safe way.
The final setup, once they found all the required equipment and expertise, looked something like this: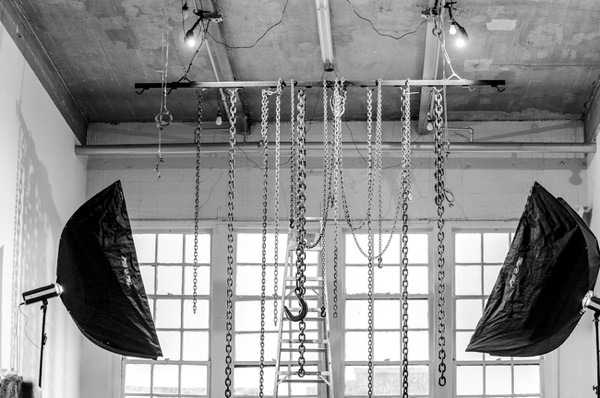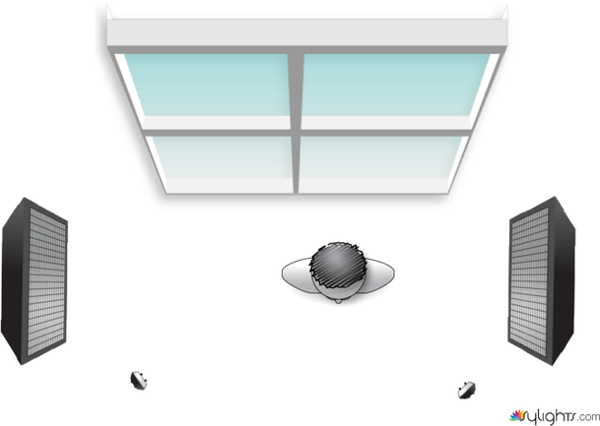 The setup involved plenty of harsh, directional light to help further define the already-ripped Suntory, with soft boxes on either side of him and two speedlights clamped to the ceiling for some top-lighting.
Makeup was another challenge. It turns out transforming a person into a silvery-black statue isn't exactly easy, so makeup artist Jessica Renahan got creative and covered Suntory in a concoction of Vaseline, acrylic, oil paint, and charcoal powder.
The results above and below speak for themselves. NSFW Photo:
Finally, for those of you who stuck with this post to the very end, we have a surprise… The BTS video! Below is a video Von Wong put together in 2012 showing what it took to pull these shots off.
There isn't a section showing the black background image, but as Ben explains on his blog, that photo is the result of hanging a 10-foot wide black backdrop from the ceiling using a combination of gaffer tape and backdrop stand.
So… you've had a second to think about it. A male stripper comes to you and asks you to photograph him… naked… covered in Vaseline… suspended with industrial chains from the ceiling. What do you say?