Meagan V. Blazier is the epitome of the saying, "it's not the camera, but who's behind the camera, that matter." She creates unique landscape pieces using a camera that surprises and stuns most people once they have seen her work. All of Meagan's photography is captured with a modest Canon PowerShot SX40HS.
Initially, she was self-conscious about her camera, fearing that her peers would not take her work seriously. However, she came to learn that it's the vision and using the tools available to realize that vision that's important.
Meagan has sold numerous prints of her work, has works licensed for book covers, been published in SHOT Magazine, various online publications, and has been awarded three Editor's Choice picks on 500px. Meagan continues to pursue her passion, push her creativity, and inspire others.
You can find more of her work on 500px, her website, Facebook, Instagram, Twitter, and Pinterest.
---
I didn't really get into photography until my son was born. Like most new parents, one of the first things I did was go out and buy a camera so I could document every minute. As I started taking more pictures, my vision expanded and I began to start looking at things differently.
I found inspiration in everyday scenery — things that most people would probably pass by without a second look. An abandoned house in the field. An old barn that is deteriorating. Places that are now empty shells with a story to tell. I wanted to bring new life to these places through my photographs. These are my inspirations.
But I don't use expensive gear to bring my vision to life. All of my photos are captured with a Canon PowerShot SX40HS (jpg) — a model I'm not even sure Canon still makes.
Editor's Note: This camera has, in fact, been discontinued.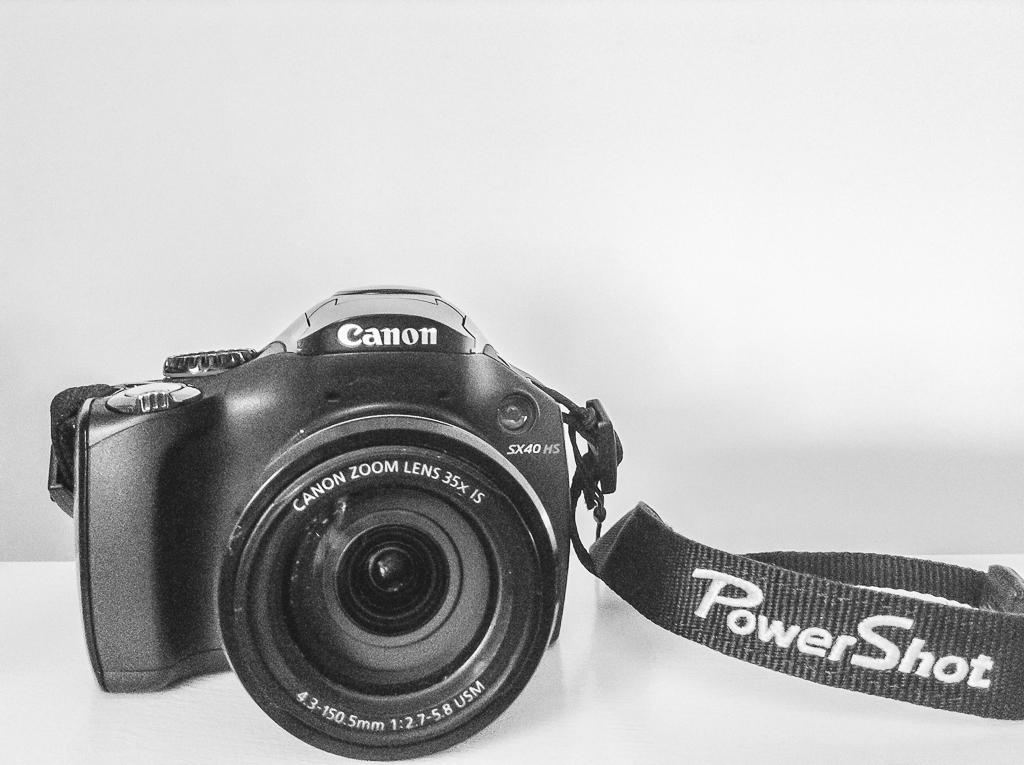 I can remember many times people would ask me what camera I used and I would completely avoid the question. I didn't want to answer because I was afraid people would think less of my work when they found out. However, after a while, I realized that it wasn't about the camera. It was about who was behind the camera and their vision.
I think a lot of people form the idea that you can't be a good photographer or produce great work unless you have top of the line professional gear that costs $1000's and it's simply not true. The camera itself isn't what is going to create great pictures; it's the vision of what you see behind the lens.
I frequently tell new photographers to try a point-and-shoot before going out and spending thousands on expensive gear. You can buy P&S cameras that have aperture priority, shutter priority, and full manual modes just like the expensive dSLRs. They can be a great and relatively cheap way to learn about shutter speeds, depth of field, exposure triangle etc.
If you become hooked and upgrade to a dSLR then you will already have a sound working knowledge of the technicalities of photography. If you find photography isn't for you, then you have not spent a small fortune for nothing.
Like everything else, point-and-shoot cameras have their advantages and disadvantages.
The main advantages to a point-and-shoot are that they are lighter, smaller, and can offer a great range of focal lengths without having to carry around a bag full of expensive lenses.
One of the great things about the Canon SX40HS is its zoom range. The 35x zoom (which is probably modest by today's offerings) allows me to frame and compose a shot from the side of a road. To me, this is a great advantage. It's often not practical, possible, or legal to go walking across someone's land to get the frame and composition that I want.
One of the biggest disadvantages of point-and-shoot, particularly if you shoot portraits, is that you will not be able to take a shot with the narrow depth of field and smooth creamy bokeh as you would with a full-frame dSLR and a 200mm f/2 lens.
But that doesn't mean that you can't create that shot with the same look. It would just need some extra processing work in Photoshop.
The bottom line is that the camera doesn't limit the finished piece. With today's editing software, anything that you can imagine is possible. The only limit is you and your vision.
Every photo I've taken is something that I happened to come across — gems, if you will. I love to get in my car and drive until I am lead to a treasure. I don't have a bag full of gear or tripods. I've never used a tripod, and if the need arises, then my car door works just fine! All I need is my camera and a vision.
Another issue is that point-and-shoots don't have the dynamic range of more expensive cameras. However, using Lightroom, you can create a much greater dynamic range, equal to or beyond a single exposure of a more expensive camera, by selectively adjusting the exposure of certain areas.
This photo, "Countryside" is special to me because this is when I really grew as an artist. I familiarized myself with Lightroom, learned how to use each tool, and realized the editing power that was available. This was my very first attempt at using those tools to creating depth in an image and make the image just as compelling as someone who used more expensive gear.
This image was edited completely in Lightroom with very basic edits.
I adjusted the overall exposure, contrast, and highlights. I then used radial filters and brush tools to locally adjust exposure and create light detail throughout. Light and focus can be used to direct the viewer's eye around an image and to attract their attention to areas and create a very moody atmosphere.
Here's the before and after:
I don't consider my photography to be the typical landscape photography. I don't shoot soaring mountains, flowing rivers, or desolate beaches. I prefer not to call my work landscapes at all, although that's the known genre they best fit into.
I refer to my work as "Imaginescapes," because they're not your average landscape scenery. I like to take each image and process it with lots of detail and mood, transforming them into something almost dreamlike.
My goal is to create images that draw the viewer in, that speak differently to each person who views them. Or to create a story that is left open for interpretation, for each piece to mean something personal to each person that views it.
Most point-and-shoot cameras, including my Canon SX40HS, will not save in RAW file format so you will be editing .JPG files. One thing I will say is that when editing a .JPG, you can't push it as much in processing as you can with a RAW file. You have to learn your limits and how far you can push edits when it comes to processing a JPG before noise and other unwanted artifacts become too much.
I always underexpose my images. It's easier for me to create the light I desire in post-processing. You have more room for adjustments in an underexposed image versus an overexposed image. Blown highlights are also impossible to recover, especially in a JPG.
If you're new to photography and haven't yet grasped using aperture and shutter speed to get the look that you desire, don't worry! Learning it takes time and there are limitations regarding depth of field with point-and-shoot cameras.
You can always create the look of bokeh, depth of field, and slow shutter speed that you want in post with Photoshop. Of course, it's always best to get as much right as you can in camera, but don't let what the camera is capable of limit your vision. Use all the tools available to you in order to realize your vision. Don't let your gear limit what you can do. You are your only limit.