From water droplets to insects to flower petals, photographer Miki Asai has a knack for shooting the big world of tiny things that can rarely be seen by the naked eye. Her jaw-dropping macro photos reflect her magnified worldview, personal passion, and curiosity—traits that we admire in a photographer.
In this feature, Miki reveals the story behind one of her popular photos, "The Explorer"—along with some simple tips and tricks for shooting macro. Read on!
Hi Miki! Please tell us something about yourself and where you're from.
MIKI ASAI: I'm from Hokkaido, Japan. Hokkaido is the northernmost part of Japan. It is well-known for winter sports, dancing cranes, and the Blue Pond.
Why do you prefer to shoot macro?
MIKI: I am trying to show the world the beauty of small things normally unseen.
What are some of your favorite subjects to shoot?
MIKI: I especially like shooting water drops, flowers, and small bugs—except spiders!
Got any advice for macro photography beginners?
MIKI: I learned that when it comes to living things—if you want to achieve the shot that's in your head—patience is really the only way. I've been asked by others how I control ants, but humans shouldn't be able to control them. You've got to use a tripod, an appropriate shutter speed and depth of field, then rely on your own passion and patience.
Well said! Where do you find the inspiration to take photographs?
MIKI: The day I got my macro lens, I was taking photos in my garden. As I was looking through the viewfinder, I noticed there were beautiful raindrops and a tiny ant walking through the frame. I might not have even seen it if I wasn't using a macro lens. So I thought to myself—how can I shoot these things more beautifully? I still feel the same to this day. I am learning everyday!
Thanks for letting us get to know you better, Miki! Now let's move on to your technique.
GEAR
Canon EOS Kiss X5 (EOS Rebel T3i),
Canon EF-S60mm F2.8 macro USM,
Velbon GEO E535M,
Lightroom 5 and Color Efex Pro 3.0
SETTINGS
Shutter Speed 1/250, Aperture F6.3, ISO 800, exposure compensation -0.3EV
HOW SHE GOT THE SHOT (AND HOW YOU CAN TOO!)
"I spotted a plant's tray filling up with rain water in my garden. There were ants walking on the edge of this tray. So I dropped some small stones into the water. This is so I could attract the ants into the center of the tray. As I expected, the ants walked toward and on the stones. I wanted more shutter speed, but it was cloudy. I tried to use my LED flash light, but my hands were busy focusing and pushing the shutter, so it didn't work. I even tried to use my toe! I gave up soon because I started to get a cramp in my foot. So this photo was shot in 100% natural light."
POST-PROCESSING WALKTHROUGH
Note: In the screenshots below, Lightroom settings were converted to English, except for the History panel.
"Post processing work was very simple."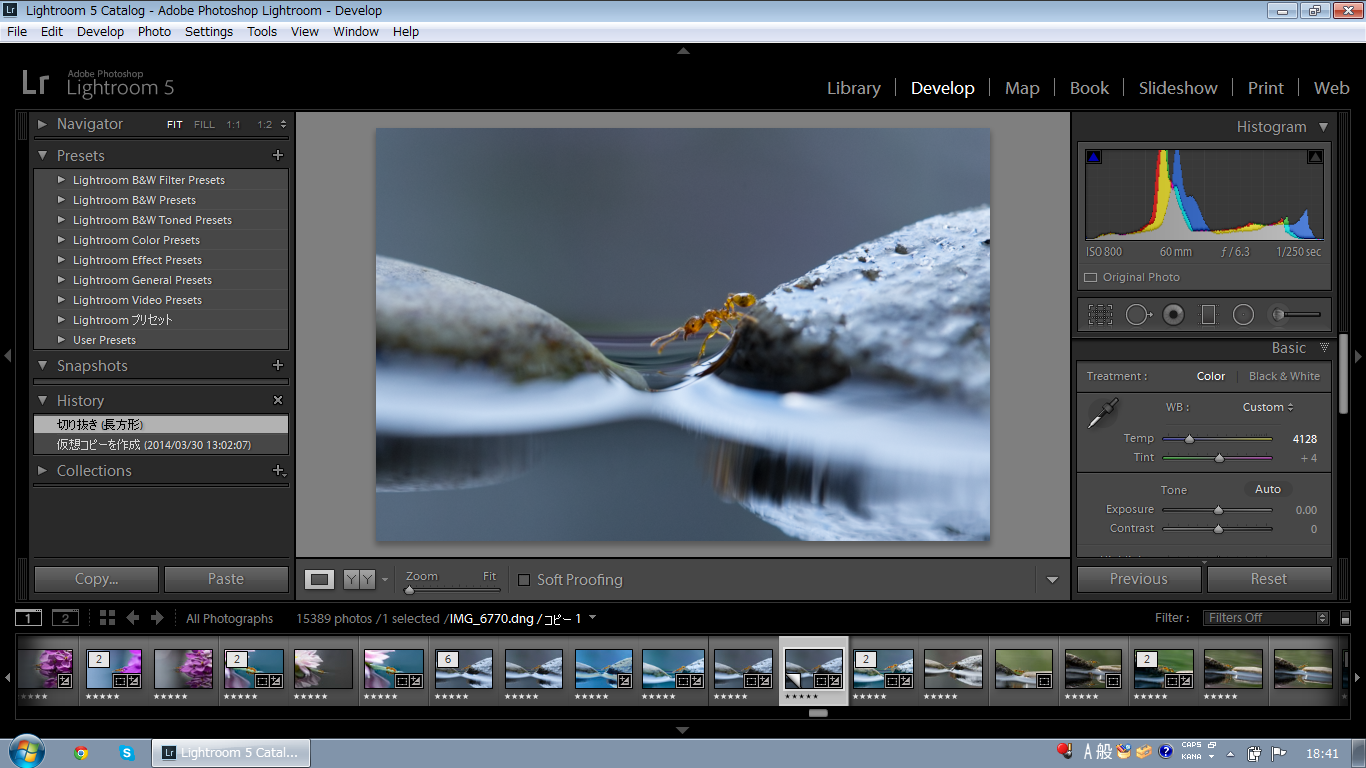 "Here is the original photo. I just used Color Efex Pro. Pastel, because I wanted particular colors."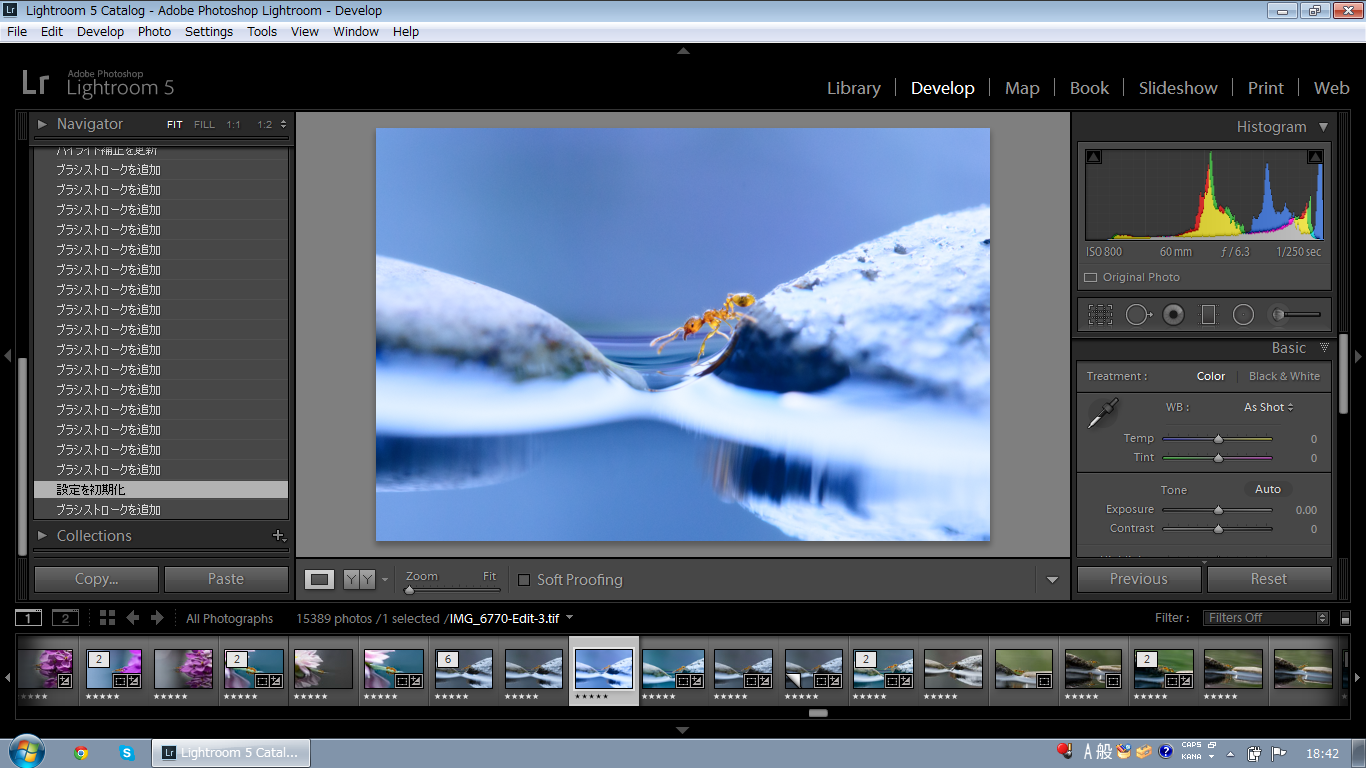 "Then I used Lightroom 5 for adjusting color temperature, hue saturation, sharpness, and white balance."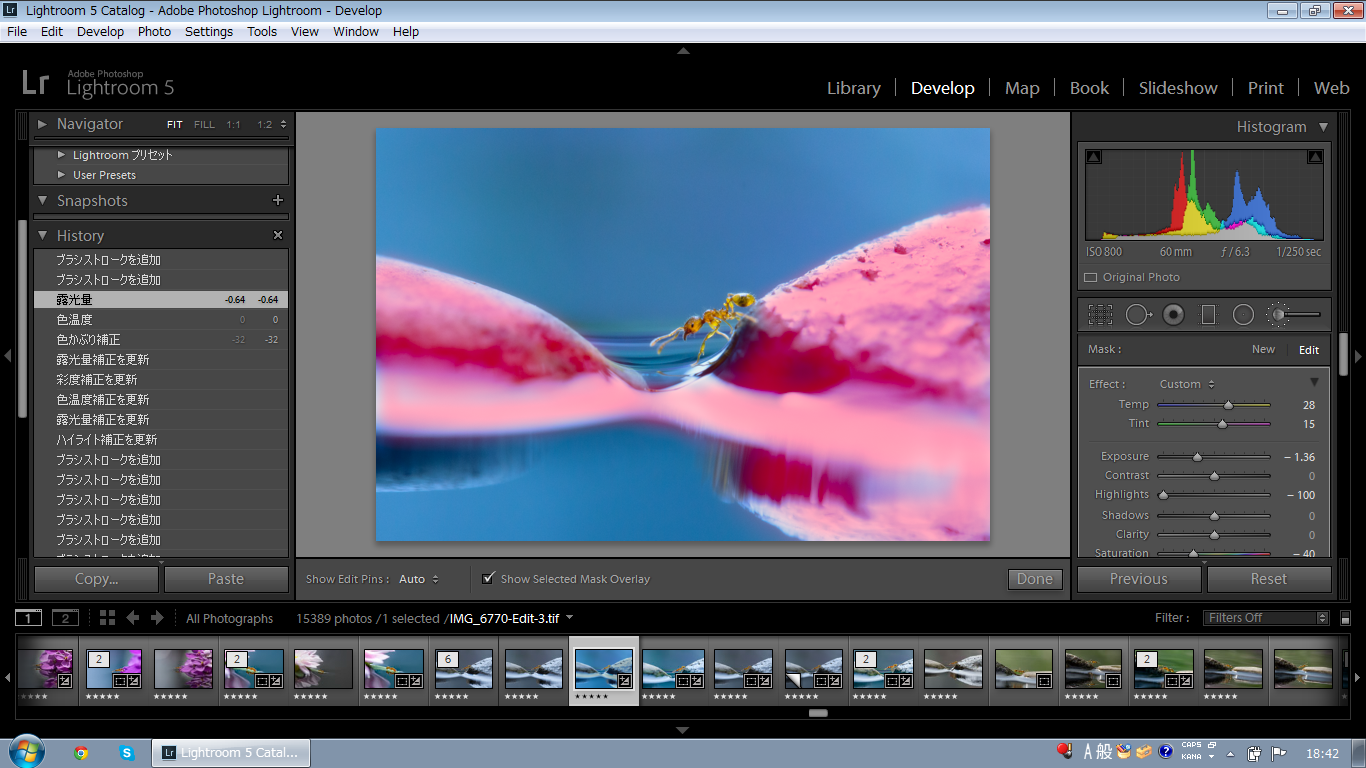 "The stones and the water turned white on Color Efex Pro earlier. To correct this, I used a brush tool for highlighting."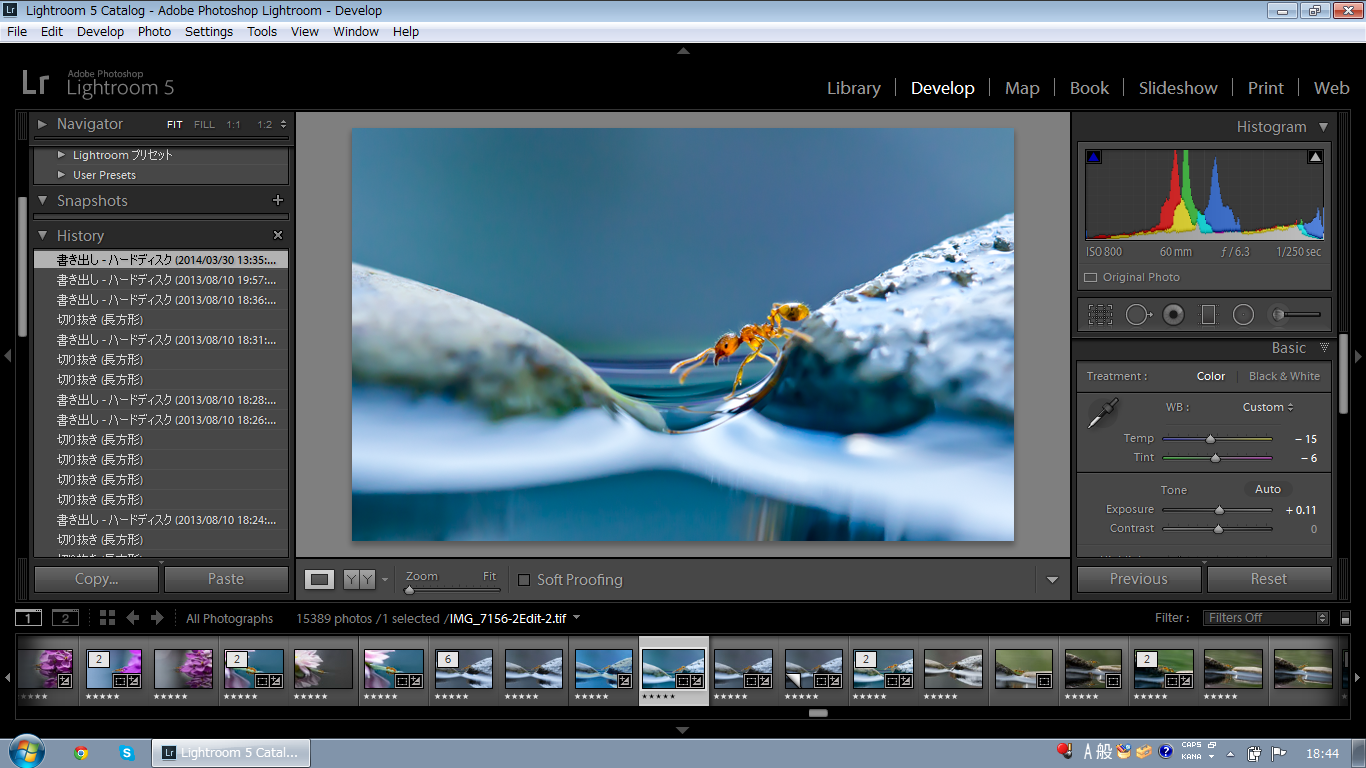 "I shot the photo as close as possible to the ant. But the ant was really small—about 2mm—so I had to crop the image."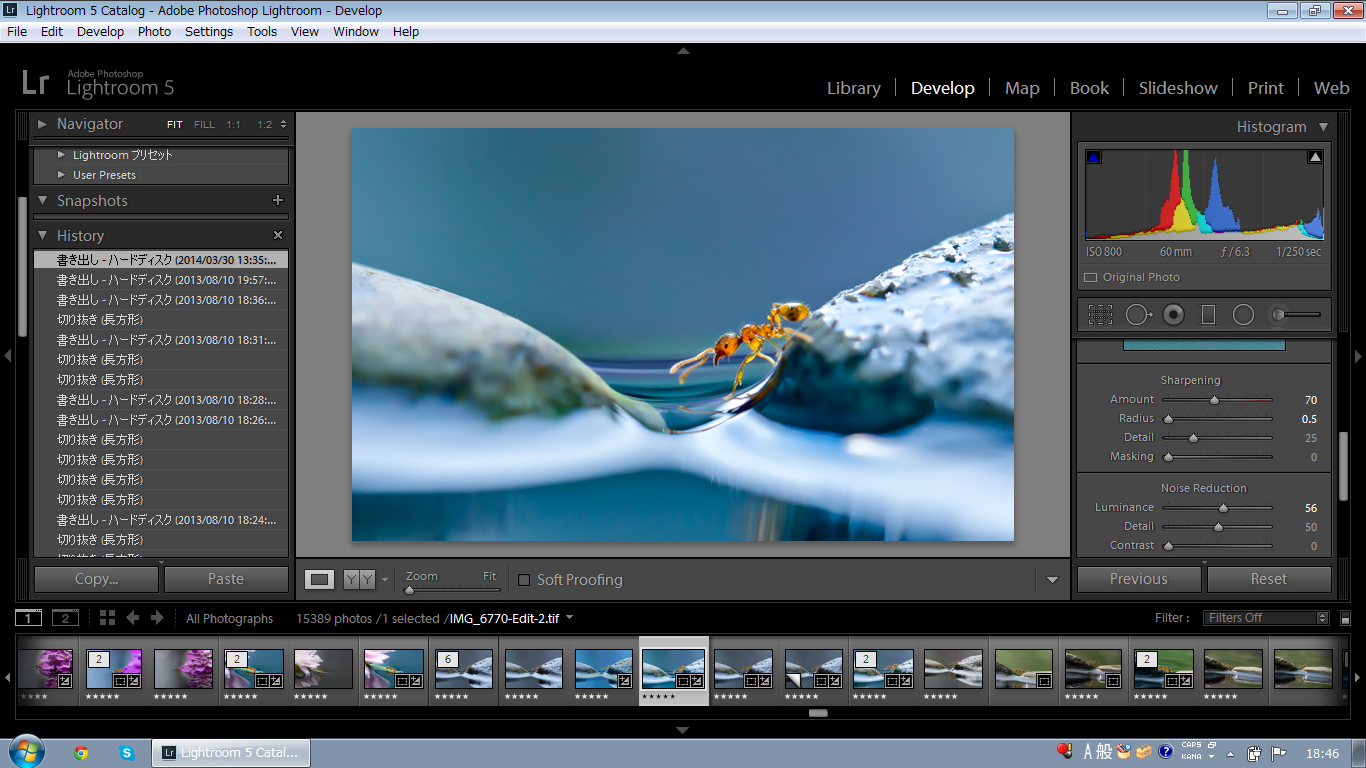 "My last step was to sharpen and reduce the noise of the image."
Will you be attempting something like this out? Upload your macro photos to the Macro category, so we can find your work.
Want to see more of Miki Asai's body of work? Browse her portfolio and get inspired!

Interested in being featured here on ISO? If you have a tutorial or tips you would like to share, email us.