Photography—it's all about passion, skill, and commitment. Ever wondered what a day in the life of a professional photographer is like? Every week, we ask a photographer to document and share how they spend a typical day at work, giving you an exclusive, behind-the-scenes look at their shooting schedule.
This week, we're spending the day with Amsterdam-based concert photographer Luuk Denekamp.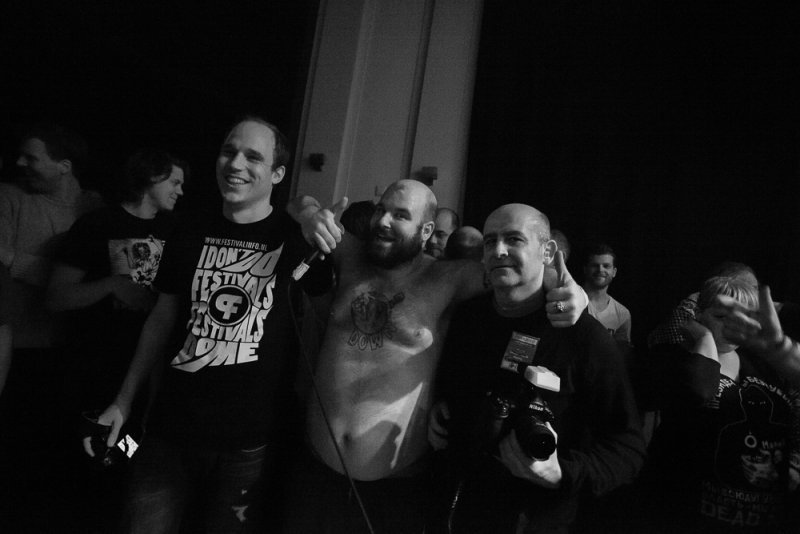 Whether he's shooting in a music festival or dome stadium, Luuk Denekamp's photos capture the heightened drama, fervor, and excitement of live music from bands and artists like Coldplay, Justice, Foo Fighters, Iggy Pop, Radiohead, Jay-Z, Nicki Minaj, and other legendary and popular performers.
Interested in becoming a concert photographer? Read on to see how he spends an evening at work, up close and personal with pop and rock stars among a crowd of fans.
24 Hours with Luuk Denekamp
9 A.M. I start the day by reading my e-mail and watching the stock market for the next several hours, usually until 6 p.m. On days when I have to shoot a concert, I research and take a look at the band's live performances on YouTube to see their setup onstage, how they move, and if the singer is left or right-handed. At small venues, there are no barriers for the photographer, so I have to stand on the best spot to photograph the band. I don't want to be standing left-side when the singer is on the other side. That's why I check on YouTube first.
10 A.M. I make sure I confirm my photo pass, or check if it's with me. The magazines that I shoot pictures for are oor.nl and Lustforlifemagazine.nl. They take care of securing my pass through the record labels or band's management.
7 P.M. I pack my camera bag. I usually shoot with a Nikon D4, and 24-70mm, 70-200mm, 400mm lens; all 2.8. If it's a big gig or if I'm not in the photo pit but situated away at FOH (front of house), I take my 400mm lens and tripod with me. Those kind of concerts are a bit boring because you can't move around and don't see a lot because of the distance and the mobile phones between me and the artist. If the gig is in a smaller venue like Paradiso Melkweg, I mostly shoot with a 24-70mm lens. There are no barriers in those smaller venues, so I arrive early.
7:30 P.M. Time to shoot the supporting or opening act. I practice a bit with the light during the supporting act, so that I don't waste time with finding the right settings when the main act starts. I never miss out on shooting a supporting act since I missed a totally-unknown Lady Gaga opening act many years ago.
8 P.M. The concert begins. I always shoot in RAW and manual lightning on 2.8 and 3200 ISO. Because I've been doing this for 30 years, I know which shutter speed to use most of the time. I prefer to shoot concert pictures at highest shutter speed possible.W hen it gets below 125s, I raise my ISO to 6400. Definitely shoot in RAW—if I take a shot that looks wrong, I can correct it in Adobe RAW.
9 P.M. At the concert. If there is a barrier from the stage, it can get crowded with other photographers, so I can't always be in the position I want. Sometimes, you must chose a side—left or right. Some bands may also have weird restrictions. It is very important not to get hasty. I just wait for the singer or subject of my shot to move onstage until he gets to where I think he will go. At concerts, you will notice the stage lights change a lot. I try to shoot with the best light available, so I wait for that moment when that light comes around. This is why it's important to practice shooting with the light during the opening or supporting act; I remember the best settings from my time shooting the supporting act. I rarely shoot when the lights are red.
10 P.M. Three songs have been performed. Before the big concerts, I usually have to sign a contract that I can only shoot three songs; sometimes only one. After three songs and the gig is over, I head home and start editing. I open the photos in Adobe Camera RAW. From there, I fix the color temperature, having used auto-balance on my camera. After that, I open them in Photoshop to sharpen them. I also use Nik Colorefex filters to enhance the pictures. I am able to get more detail with some of those those filters, especially if I have some photos taken with red light. Sometimes, I convert those to black and white.
11 P.M. When I am finished, I email and send them out to the magazine that publishes my photos. And they are online the next day.
We hope Luuk Denekamp's shooting schedule gave you some tips and insights on what it takes to be in the industry of concert and live music photography.
Want to see more from Luuk? Scroll down for a collection of his striking concert photos, from Slash to Red Hot Chili Peppers:
Follow Luuk Denekamp to see more of his images.
To connect with him, follow him on Twitter or visit his official website.
Feel free to comment below if you have any questions for Luuk about his schedule, process, and gear.
Check back next Monday for a new installment of A Day In The Life featuring another 500px photographer. Who would you like to see next? Leave a comment for us below, and we'll reach out to them for you.