Back in February, we committed to delivering a more community-focused platform. Since then, the entire team at 500px has been working tirelessly to design and build useful features to help you amplify your personal brand and connect with like-minded creatives. After countless hours of brainstorming, coding, and beta-testing, we're excited to offer you a glimpse of what we've been working on!
500px direct messaging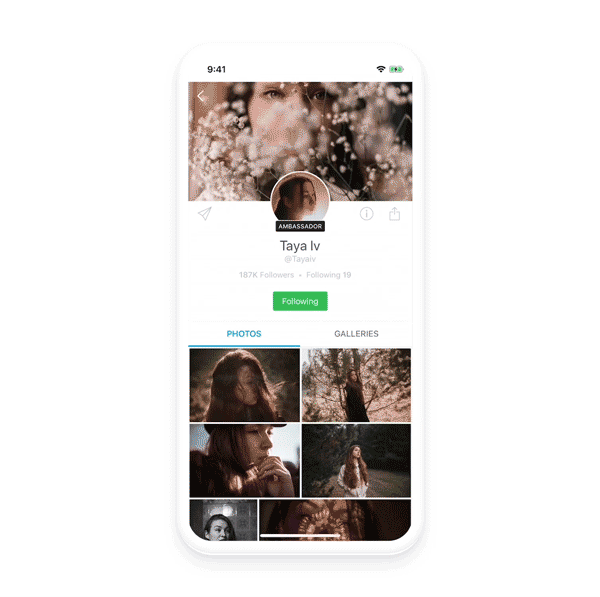 You asked, we listened! Last week, we started rolling out 500px direct messaging to Pro+ and Pro users. Today, we'll be expanding the service to all users with an Awesome membership, as well as to our most active free users. Direct messaging will be available to everyone on June 4th.
We're excited to reveal a new way for you to connect with other photographers, near and far, on a deeper level. With direct messaging, you can chat with your favorite 500px photographers about how they took that photo you love, where they most like to shoot, the gear they recommend, and more. You can start conversations by searching for their username, or by clicking 'Message' on their profile. Stay tuned for a group chat version of messenger to roll out in the next few months.
Updates to the photo detail page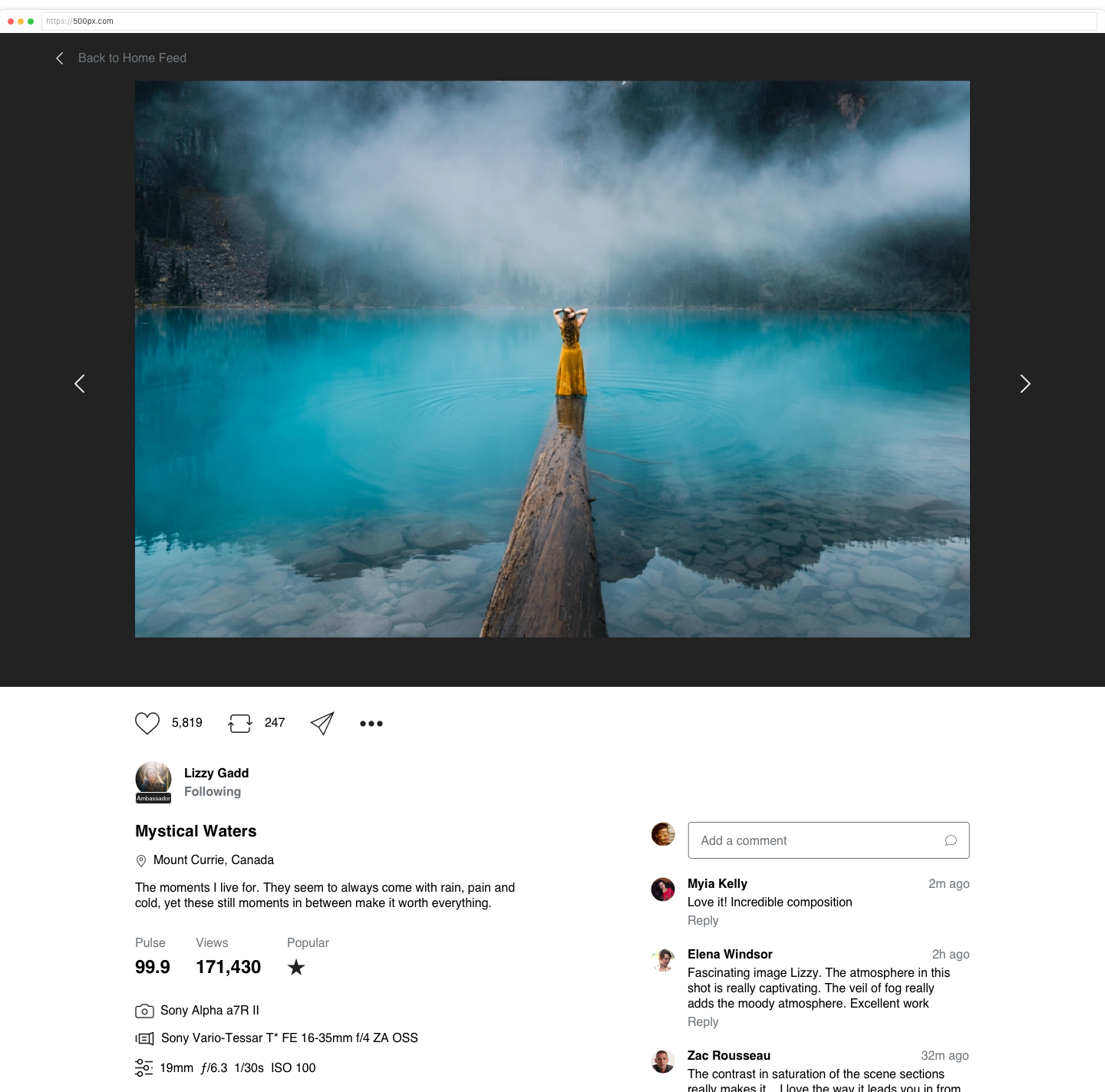 This summer, you'll notice several changes to the photo details page. We want your work to be showcased in the best possible light, and shown to the right audience—so we're removing some of the distractions from photo pages, and making it easier to find out more details about any photo.
Refreshed home feed + Discovery + profile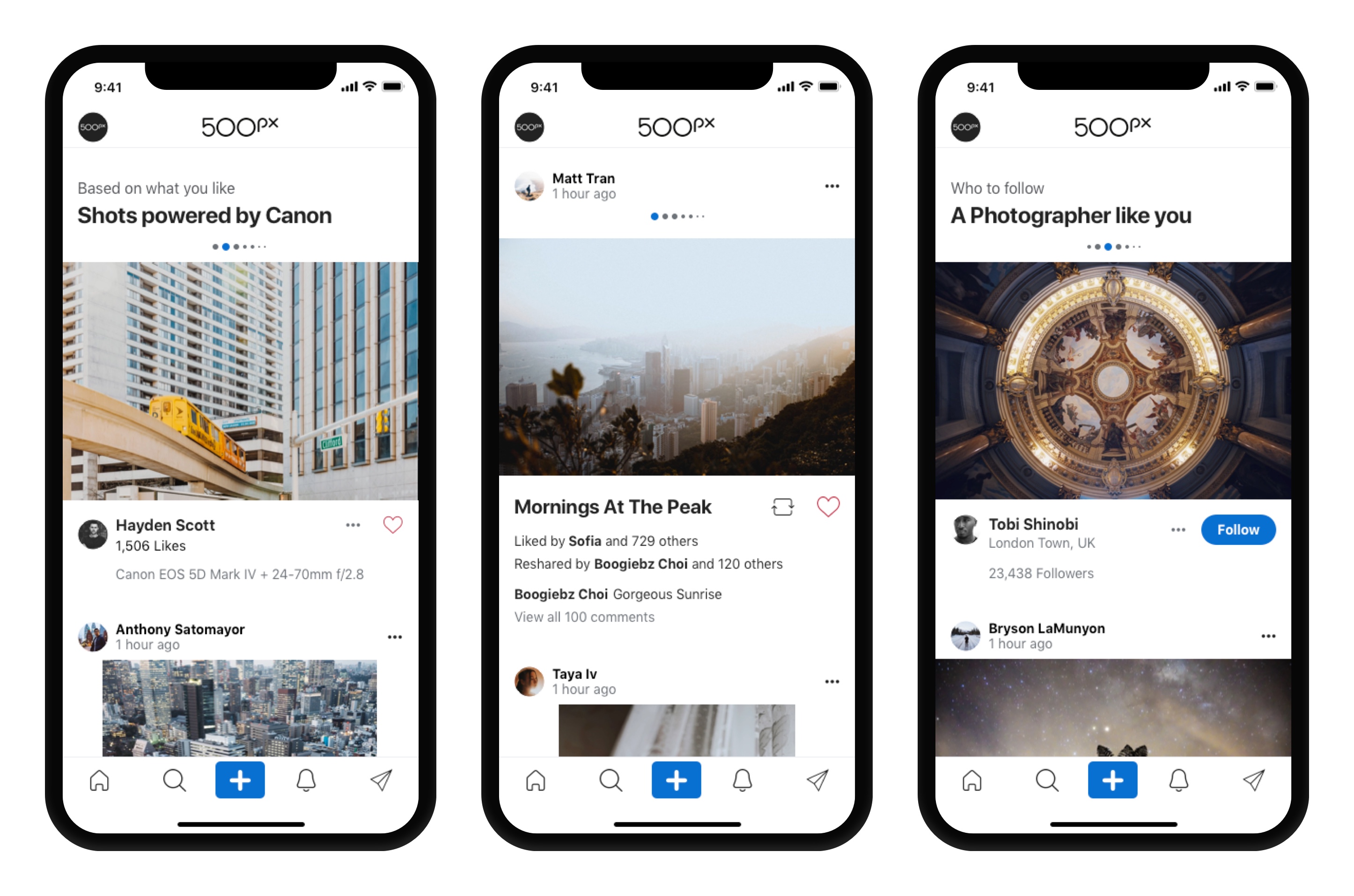 We're also hard at work on several other projects to help make your 500px experience more seamless. These include:
An updated home feed experience that will better distribute photo exposure on the platform: we want to ensure that 500px photographers get the exposure they deserve! We're also improving personalized photo recommendations, so you're always seeing the type of content you want.
A simplified Discovery experience, which will allow you to easily navigate to the type of content you want to explore.
An improved profile layout that ensures 500px is the best place to showcase your work, plus, a new activity log on profiles, which will allow users to check out what photographers they follow are up to in the community.
Updates to our Privacy Policy and Terms of Service
We've updated our Privacy Policy and Terms of Service to be in line with the European Union's General Data Protection Regulation. Read more about the Privacy Policy and the Terms of Service changes.
Stay tuned for more details on the new launches and features. And, if you have any suggestions or ideas to help improve the experience of our community, please let us know.
Main photo: Apostolos Boulogiannis