Will Burrard-Lucas, a professional wildlife photographer based in the U.K., never fails to amaze us with his work. From adorable moments with meerkats to panic-stricken wildebeest migration—his images have always captured the drama and chaos of life in the wild.
Another quality we admire in Will is his innovativeness; he is the brains behind Beetlecam and a range of other remote camera equipment for wildlife and aerial photography sold by his company Camtraptions.
We recently asked Will to share his go-to camera equipment and accessories with us. Whether you're new to wildlife photography or looking for new tools to add to your camera bag, you'll find lots of helpful advice in this list of must-have gear to pack for a photo shoot in the wild. Scroll down and read on!
What's in Will Burrard-Lucas' Camera Bag?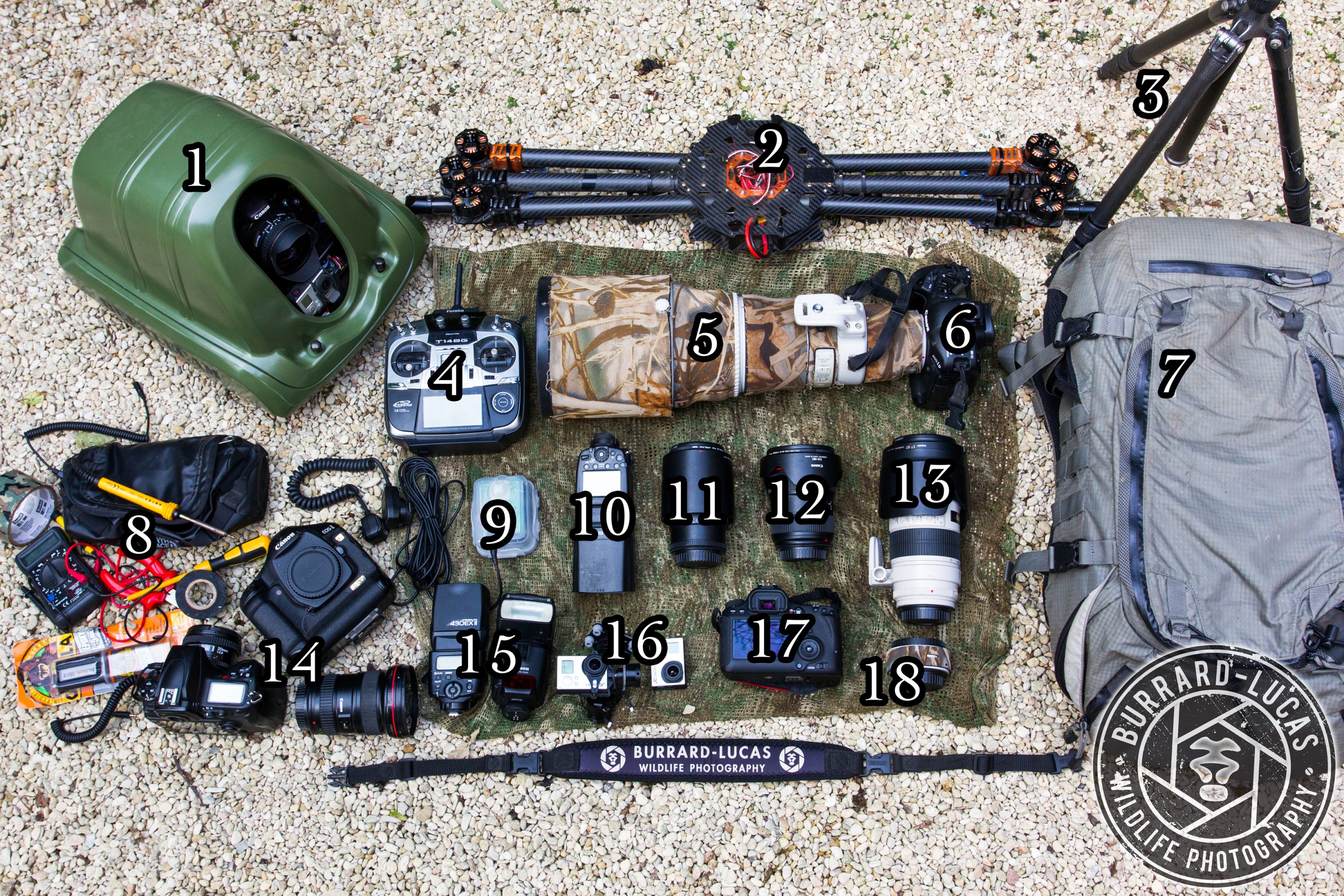 1. BeetleCam is my own creation. It is my go-to device for remote photography. It's basically an armored remote-control buggy for my camera. I can use it to position and control my camera more than 100m away. This is what I use for my signature close-up, wide-angle shots of African wildlife. I now sell BeetleCams through my company, Camtraptions. See photos shot with Beetlecam.
2. RC Copter. I am a great believer in the potential of drones to revolutionize the way we film wildlife. At the moment, most drones are too noisy to use with sensitive wildlife so I have had to design my own, super-quiet versions. I am currently going through the process of patenting my design, so in the photo above, I have just shown an old frame I had lying around. Keep an eye on Camtraptions for an announcement in the next couple of months. In the meantime, you can check out this drone footage that I shot in the Serengeti last year:
3. Lightweight tripod. For long exposures and night shots.
4. BeetleCam/Copter controller.
5. Canon 400mm f/2.8 IS II lens. My favorite telephoto lens. Producing incredibly sharp images, it's relatively lightweight when compared to the previous generation of Canon telephotos. It's fast, and good in lowlight and for isolating subjects with a shallow DOF.
6. Canon 1DX. My primary camera. It's full-frame, fast, great autofocus, good lowlight performance, and has customizable controls. This camera does everything I ask of it!
7. F-stop Satori Exp camera bag. By far, the best camera bag I have ever used. Fits in a decent amount of gear and is comfortable for long treks.
8. Tools. And other bits and bobs for doing DIY stuff in the field!
9. Prototype camera trap sensor. I have developed my own motion-sensor camera triggers for DSLRs. These allow me to set my cameras up and leave them for several days at a time. When an animal moves into the field of view, the sensor triggers the camera. I will soon be selling these sensors through Camtraptions.
10. Canon 600EX Speedlite flash. I have loads of flashes, which I use for various things, such as filling in shadows, illuminating stuff at night, or providing light for macro photography. I almost always use these off-camera, so I have an off-camera cord and wireless radio triggers.
11. Canon 100mm f/2.8 macro lens. For photographing small critters.
12. Canon 24-70mm f/2.8 II. My general purpose, wide-angle zoom lens. Used for landscapes, and for moments when I can get really close to my subjects.
13. Canon 70-200mm f/2.8 II. My general purpose, medium-range zoom lens. Useful for larger wildlife and animals in the environment-type shots.
14. Old cameras used for camera traps. I usually use a Canon 17-40 f/4 or 16-35mm f/2.8 II on BeetleCam and camera traps.
15. Flashes for camera traps.
16. GoPro. I love these. They are versatile and relatively inexpensive, so you can take risks and use them in creative ways.
17. Canon 6D. This is my secondary camera. I used to have a 5d mk III as my secondary body, but it was involved in an altercation with a wild elephant in Sri Lanka, so I had to get a replacement. The 6D was a less expensive option! It's still full-frame and the image quality is good. I was also interested in using the in-built wifi control in conjunction with my BeetleCam.
18. 1.4x III teleconverter. Just in case I need a bit more reach on my 400mm.
Want to get to know the guy behind the images a little better? Read on for 500px's exclusive Q&A with Will Burrard-Lucas.
Hi Will! Great to meet you. Can you tell us how you became a wildlife photographer?
WILL BURRARD-LUCAS: I spent part of my childhood living in Tanzania, where I first developed a passion for wildlife. When digital cameras came along, I got into photography. Naturally, my two interests started to merge. For eight years, I travelled whenever I could in order to improve my photography and build up my portfolio. In 2010, I was able to leave my old job and then focus on wildlife photography full-time.
What was the most memorable experience you had shooting in the wild?
WILL: Back in 2012, I was living in Zambia. I was able to photograph a pack of African Wild Dogs for the first time. I had searched for them on many trips before, but they had always managed to elude me. They are highly endangered, and very hard to track down!
WILL: I had been dying to try out BeetleCam on wild dogs. On this occasion, I finally got my opportunity. The dogs were very inquisitive, and I managed to take the shots I had always dreamed of getting. You can read more about my encounter in my Luangwa blog post.
What are your favorite locations to shoot in?
WILL: Having spent a year living in Zambia, I will always have a soft-spot for that country. In particular, I love the Luangwa Valley, where I spent much of my time. It was nice to be able to document the changing seasons and to develop an intimate understanding of the wildlife and ecosystem.
What photograph are you most proud of?
WILL: I love the meerkat photos I took recently in Botswana. Meerkats are some of the most charismatic creatures I have ever come across, so I loved documenting their behavior and antics! The photo, "Trouble!" is one of my favorites.
You can read more about Will's experience photographing meerkats, or watch this adorable and fun behind-the-scenes video of Will meeting the meerkats:
To see more of his wildlife images, follow Will Burrard-Lucas on 500px.
You can also visit his Facebook page and blog, or follow him on Twitter.
To find out more about his camera equipment, head over to Camtraptions.com
Got a question for Will, or your own experiences and photos in the wild to share? Leave a comment below!