Motivated by the desire to be creatively challenged and overcome impossibilities, Benjamin Von Wong has become notorious for his epic photography. His hyper-realistic art style captures viewers in a fusion of special effects and innovative concepts.
To see more of his work and words visit his 500px profile, website and blog, or give him a follow on Facebook, Twitter, Instagram and YouTube. This article originally appeared here and is being republished with express permission.
To create great work, one must never settle for mediocrity.
I like to plan my photoshoots around opportunity. Though I don't have the luxury of having a studio or an in-house production crew at my disposal… I have managed to build, with time, a relatively large social following and numerous travel opportunities through my contracts and speaking engagements. As a result, my shoots are quite often designed around where I happen to be.
Back in September, I was invited to speak for Broncolor at Photokina in Cologne, Germany. As a result, I began looking out for opportunities and locations that would be interesting to shoot around the area. One of my old friends Mateusz was looking to sponsor a shoot for a start-up he was going to be working on and offered to help me in any way possible to put a project together.
Together we began brainstorming the various sights and scenes that were available to us. As always, I wanted to find not only something exotic, but something that I had never done before. This meant no abandoned buildings, woods and forests, or underwater shipwrecks.
When we discovered the amazing caves of Feengrotten in Saafeld I knew that we were set. Now this was something I had never had the opportunity to do before! Not only was it exotic, it was only a 5 hour drive away from Cologne. Completely doable.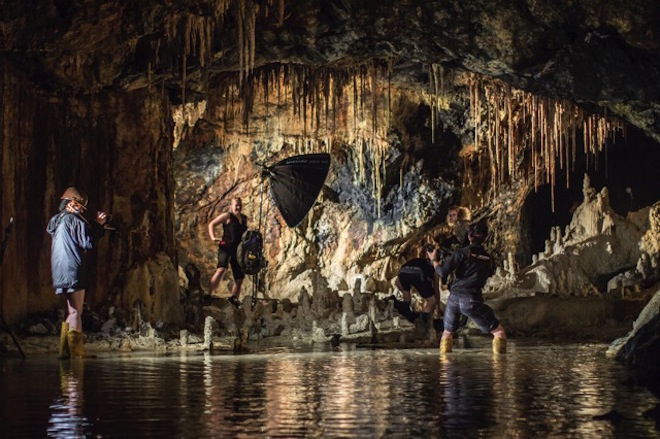 BTS photo by Eva Creel
One of my three secrets to success is to work with people who love what you do, and I always like to keep that in mind when assembling a crew. I needed to find people that would be willing to not only drive 5 hours to the caves, but also continue straight on into a full midnight shoot in an 8 degree cave. That's some real dedication.
Long time fans (now turned friends) of mine Eva Creel and Nicolas Cormier were the first to hop on board before even knowing what exactly the schedule was going to be. Throughout the week, as things slowly started coming together, random fans that I met along the way during Photokina such as André Appel, Lia Luftikus, Florence Heyer, Zoe Klomp, and Bjorn Lubetzki moved their entire schedules around to be part of the project.
Though everything is more expensive in Europe, the one thing that's actually quite affordable is travel (once you get there). Everything is close by. This meant that I could use the opportunity to work with amazing talent, without breaking the bank. Supermodel Jen Brook — who was only a short flight away in Manchester, UK — was flown in for the adventure while makeup-artist Anna Kunz and videographer Nadja Elinger came in all the way from Berlin and Munich respectively (3 and 8 hour train rides!) just to be part of the creative project.
The one remaining peace of the puzzle was clothing. Finding unique and exciting clothing is always a challenge, but the brilliant thing about social media is that if you stalk the people whose work you love, they will link and credit the people they work with. I'm not quite sure how I discovered the work of Agnieszka Ospia, but I instantly fell in love with her designs. Her work was exquisite and guess what… she did international rentals.
Though quite pricey, her work was stunning and I wasn't about to cheap out on the last piece of the puzzle! I sent her a message.

Credit: 1,2,4 photo Marcin Nagraba – Photography & Art, 3 photo Slevinaaron photograph
I believe that photography is only 1/3rd of the process. The other 3rds are pre-production and post-production. Fail at one of the three, and the other two have to compensate.
Shoot day began by first figuring out where we could go, and where the lighting could be set up. The folks over at the Feengrotten were kind enough to lend us a couple rain boots so that we could reach the most photogenic areas. Shlepping thousands of dollars of equipment through about two feet of water into a muddy slippery grotto was the last thing I wanted to do, but the shoot called for it, and what's the point of having great gear if you're not going to use it?
As a result of striving for the best shot possible, I found myself crouching with wet socks and pants in freezing knee deep water, patiently attempting to light and frame the perfect shot. $38,000 of Mamiya Leaf Credo 80 hovered just inches above certain death should I clumsily trip over my 3LT tripod.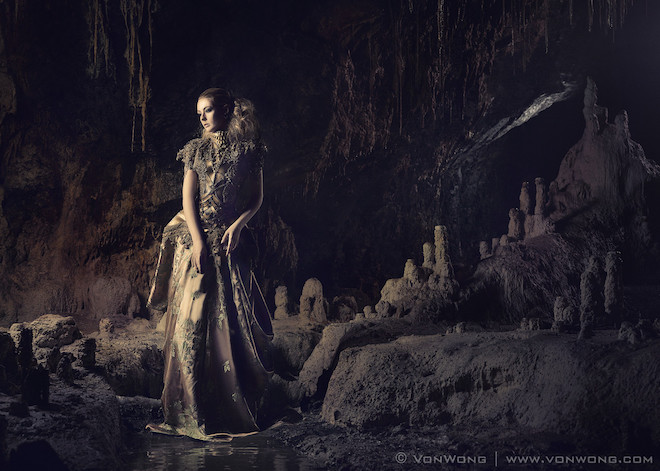 Leaf Credo 80MP Digital Back Kit with 645DF with Schneider 80 f/2.8 LS | ISO 100, f/7.1, 1/1600 sec | Broncolor Para 133 | Move 1200 L Battery Pack

BTS photo by Eva Creel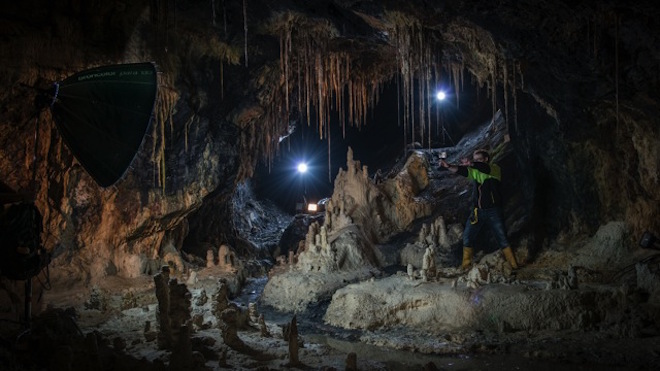 The 3 point lighting setup with the Move 1200 L Battery Pack, two bare bulbs to light the backdrop, and the model with the main light as the Broncolor Para 133
Lighting the sets was equally challenging. Not only were the cave ceilings covered in fragile stalactites, the ground was uneven and surrounded by mud with hints of stalagmites creeping through.
The Para 133 we had brought along, though a beautiful light modifier, was quite huge and required two people at all times to carefully move around and make sure that we didn't destroy the fragile environment around us.
A careful combination of moving light and model so the two were in the perfect position was required for each shot. In each instance, the final touch was to ensure that a small kick of light was brought in to lighten the background and give it that little kiss of depth.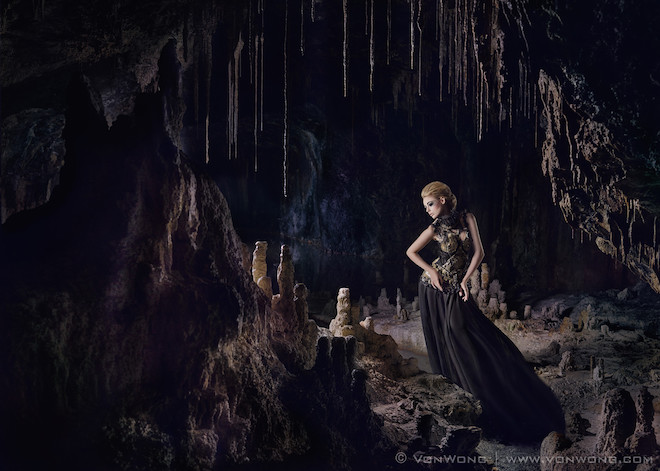 Leaf Credo 80MP Digital Back Kit with 645DF with Schneider 80 f/2.8 LS | ISO 100, f/5.6, 1/1600 sec | Broncolor Para 133 | Move 1200 L Battery Pack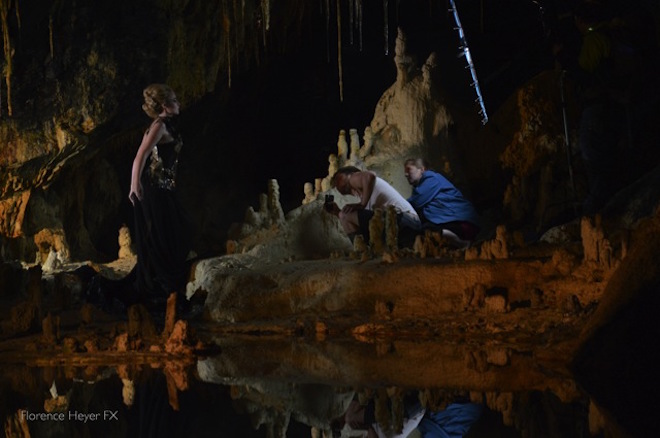 View a 180 degrees from the shot… Photo by Florence Hayer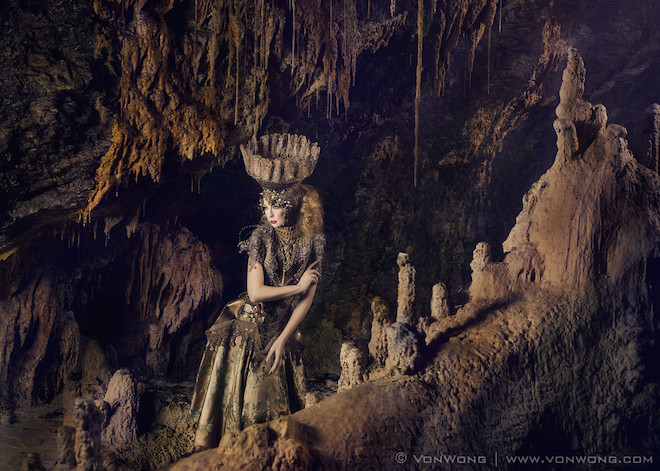 Leaf Credo 80MP Digital Back Kit with 645DF with Schneider 80 f/2.8 LS | ISO 100, f/4.0, 1/1000 sec | Broncolor Para 133 | Move 1200 L Battery Pack
Due to timing and scheduling constraints, the entire project — from the 5 hour drive in from Cologne, to picking up Jen Brook from the airport, to doing hair, makeup, scouting, set up and shoot — was completed in just a single day.
To some, the trouble may not have been worth it… but for me, these are the types of adventures that I live for. I invest time, money and effort into my shoots… so that hopefully the images that result are anything but mediocre.
Of course, I'm only one part of the equation. These are the people that made it all possible.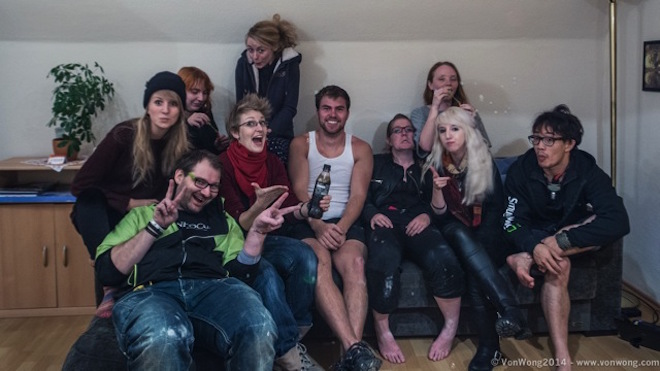 Oh and in case you're wondering… the BTS video will be going up on the blog next week.