I've been a pretty big astronomy nerd for a while now, and I've been lucky enough to capture the northern lights on multiple occasions as well as some stunning galaxy shots. I love the idea of being so small in the universe; it makes me feel like I'm part of something special when I capture it.
The solar eclipse had been on my mind for some time, but I couldn't quite land on the right way to capture it. I knew I needed an interesting foreground—and what better object than the most iconic symbol of Toronto, the CN Tower. With how quickly the phenomenon starts and ends, I knew planning was going to be key. This is where I had technology on my side.
I've been creating timelapse videos for the last few years and trying to get better at the planning stages. I started using the desktop version of Google Earth to pre-plan my shots. It allows you to virtually walk around anywhere during any time of the year—you can even see the position of both the sun and the moon.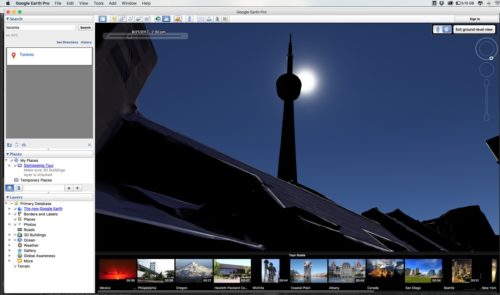 For this shot I set the date to August 21 at 2:31 pm, which is when Toronto's view of the eclipse was supposed to peak. I walked around multiple areas in the downtown core, but with how high the sun is currently, I realized I was going to have to be almost below the tower in order to get it in the frame. I landed at Front and Simcoe as my position and went to go scope it out.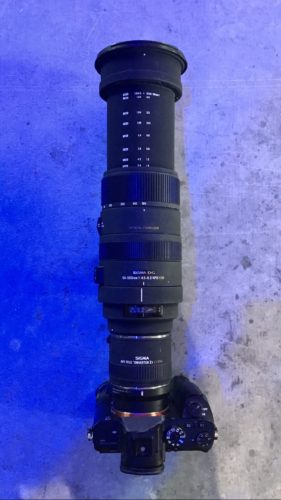 The longest telephoto I had in my arsenal of glass was the Sigma 70-200mm, and I knew that wasn't going to cut it, so in the weeks leading up to the event I found an amazing deal on a Sigma 50-500mm f/4.5-6.3 DG AGO OS super zoom that included the Sigma 2x Teleconverter—1000mm at my fingertips!
I ventured to the location a few days before the event and took some test shots to dial in exposure and see what kind of range I could get.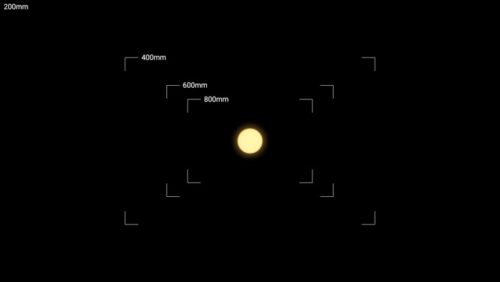 I snapped this on my Sony A7sII full-frame camera but still wasn't happy about the size of the sun, and didn't want to have to zoom and crop in post, so I decided to use my crop sensor Sony a6500 for the final shot, which effectively gave me a 1500mm reach.
There was a restaurant right where I wanted to shoot from, so I made a reservation for one of the outdoor booths and asked permission to shoot the eclipse come Monday. You'd be surprised about the things you can get if you just ask nicely.
How I Got the Shot
This was my first attempt at shooting an eclipse, and there were a bunch of technical issues that I had to get around. First of all, the sun is REALLY bright. I wasn't able to get solar filter in time (approx 20 stop light reduction), so I had to make due with my ND1024 Super Dark filter from Syrp. The front element size of the 50-500 is 95mm, and finding a step-down ring is a lot harder than you think, so I had to do my best "Macgyvering" with the help of a trusted friend: gaffer tape.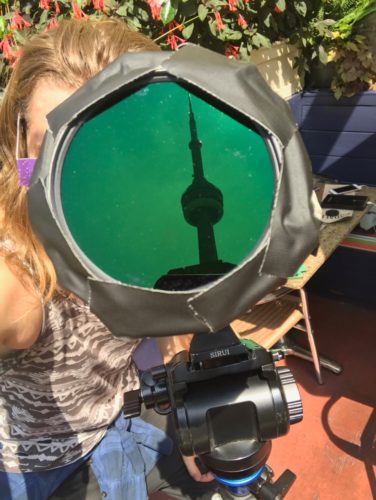 Everything on my camera was pretty much maxed out:
f/90 (yes, this lens goes up to an astonishing f/90)
1/4000th shutter
ISO 100
ND1024 fully closed
A tripod was key for this type of shot. At 1500mm even the slightest movement produces a large amount of vibration down the lens. Even at such a high shutter speed, I still used a 2-second self-timer on the camera, although I was probably shaking more than usual from excitement (haha).
I captured a variety of shots and exposures throughout the phenomenon, but I knew that I would have to be compositing several images together to get the result I was after. There's simply no way to capture foreground elements while still exposing for the sun, and I really wanted to show off the surface edges of the moon, the ripples from the atmosphere, and a bit of texture in the sun itself.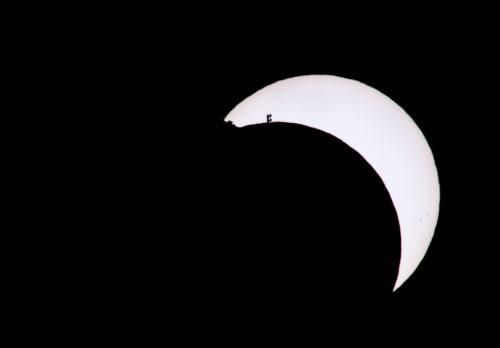 I then quickly opened up my aperture all the way back to f/11 and slowed the shutter to 1/1000 so that I could expose the CN Tower properly. This shot was the result.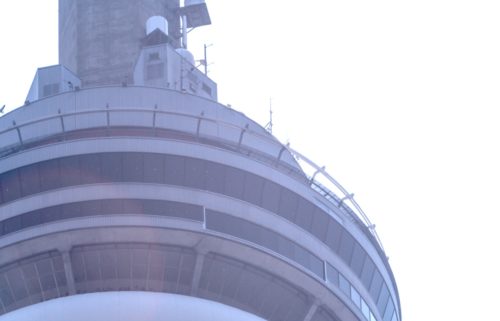 I opened these two images into Photoshop and used a variety of blending techniques to even the exposure and allow people to see what the human eye cannot. It's been funny see this image posted around and a few of the comments people are throwing back at it: "FAKE!" "PHOTOSHOPPED!" It definitely treads the line of being unbelievable; the biggest thing people find hard to believe is the size of the sun. I've been trying to educate people on the interesting idea of frame compression. At 1500mm this shot is totally possible, but until cameras can have a dynamic range past 30 stops, capturing an image like this without the help of Photoshop won't be possible.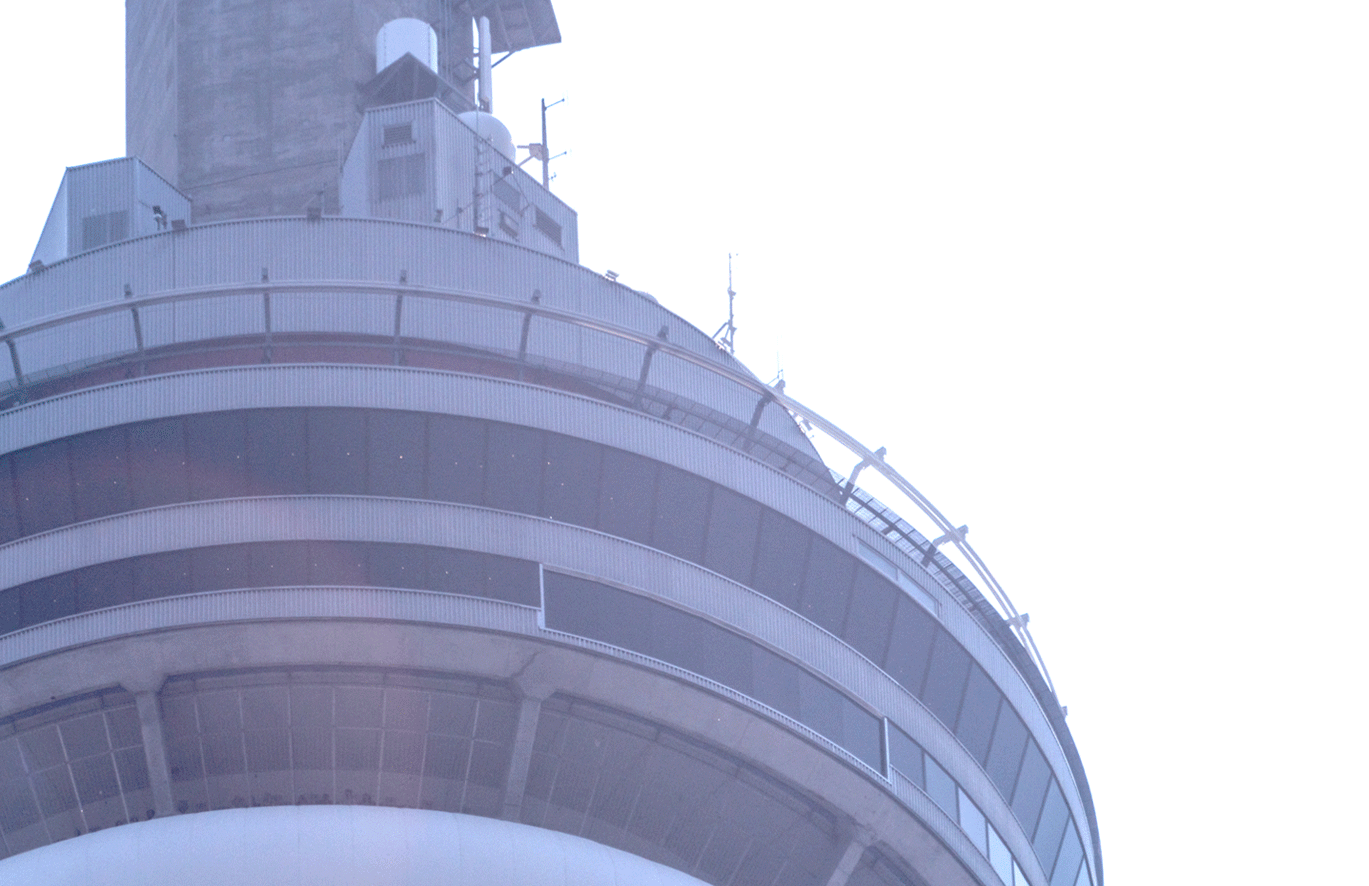 My next eclipse goal is to travel to South America in 2019 and try to capture a totality event so I won't have to comp anything together.
Check out more of my work on Instagram and feel free to leave a comment or DM me any further questions you may have; I'm happy to answer them!
About Jon Simo
My name is Jon, but most people call me Simo. I'm a content creator from Toronto, Canada, and I've pretty much had a camera of some form or another in my hands since I was a child. I'm a cinematographer by trade, but I find that photo and video go so hand-in-hand; they compliment each other, and I think being a strong photographer helps my cinema projects. I think photography is one of my favorite addictions. A lot of people tell me to put the camera down and just enjoy the moment, but they fail to understand that this is how I enjoy the moment. I feel like the lens in an extension of my own sight, and it feels like something is missing if I don't have a capture tool by my side, whether it be a DSLR, 35mm film camera, drone, 360 camera, or a smartphone.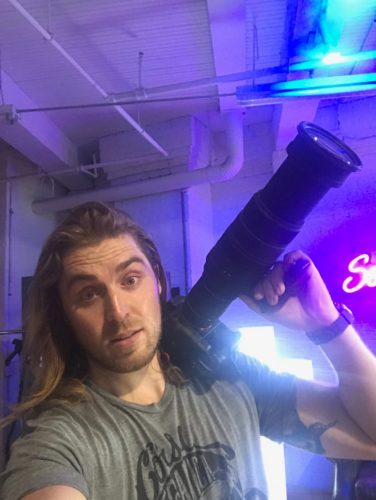 My style treads the line between the surreal and reality; I like to use special techniques to make my images something more than a straightforward capture. I've recently done two cross-Canada trips: one was capturing creative content for Samsung, and the other was a cinematic documentary of a brewery traveling from Vancouver to Toronto with their new brewing equipment. Travel inspires my photography so much. I always make time to do three personal trips a year; it keeps my creativity high and my mind clear. As I write this, I'm on a layover en route to Alaska to keep that adventure going.
Follow Jon Simonassi
500px: 500px.com/JonSimo
Instagram: @JonSimo
Twitter: @JonSimo
Facebook: Facebook.com/JonSimo
Vimeo: Vimeo.com/jonsimo