500px BLACK FRIDAY SALE: 30% Off 500px Plus and Awesome account upgrades, renewals, and gift subscriptions. Ends soon. Shop now!
To this day, the Star Wars saga continues to inspire and excite generations of fans. How are you spending Star Wars day? R2-D2 is spending it with some "me" time. Can someone get this little droid his own movie? These 500px photographers have reimagined R2-D2 starring in some adventures of his own, which is awesome and adorable—scroll down!
Star Wars Episode IV: A New Hope begins when Astromech droid R2-D2 flees from the Galactic Empire's Death Star to desert planet Tatooine with protocol droid C-3PO. R2-D2 carries a holographic message for a mysterious Obi-Wan Kenobi from Princess Leia, who is imprisoned by the evil Darth Vader.
The droids disagree on which direction to go. R2-D2 is all, "I'm out of here. Beep beep boop."
Later, he meets Chickzilla, a stark raving mad bioengineering experiment gone wrong.
R2-D2 and Chickzilla fight to the battle. Chickzilla falls off a cliff to his demise.
Oops. R2-D2 should've put the brakes on. He plunges in after Chickzilla and crashes into the sea.
Ahoy! He is rescued by awesome pirates. Meet First Mate and Navigator ARRR2-D2: "Beep beep ARRR boop."
Cuddling session with the Pirate Captain's cat.
Land ho! R2-D2 says goodbye to his pirate friends and sets off.
Only to end up being spotted and chased down by Stormtroopers!
Robocop to the rescue. This is the beginning of a mash-up bromance that nerds everywhere can only dream of.
"Robocop, can we take a selfie?"
Wait, where did Robocop go?
R2-D2 finds himself alone again in an abandoned apocalyptic wasteland.
R2-D2 meets a friendly rodent—Bro-dent—who offers him some "magic" (ahem) fruit.
R2-D2 should probably not have had some "magic" fruit. His world begins to spin.
He trips out and begins to see very weird things.
Very weird things…
Later, he wakes up. Remembering nothing.
"I miss you, C3P0."
R2-D2 calls for a lift.
Reunited! (Even if they find each other capture by Jawas.)
C3P0 secretly wishes he went with R2-D2.
Much later, R2-D2 is able to complete his mission, find Obi-Wan Kenobi, and play Princess Leia's message for him.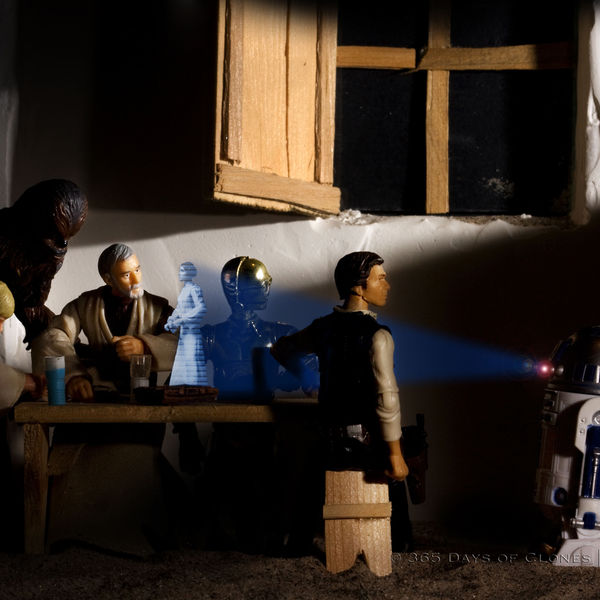 And that's the story of R2-D2's crazy adventures which you didn't see on Star Wars Episode IV: A New Hope. (Or at least that's how we at 500px imagined it.)
Happy Star Wars Day!
Browse more Star Wars-inspired photos.
Browse more toy photos in our Still Life category.