Every so often, we see a photo so powerful, that it either moves us to tears or puts a smile on our face. These magical and heartwarming images of terminally-ill children have done both. The best part? These children are living out the fantasies in their own drawings—whether it's hanging out with a giraffe or sailing the seas as a pirate.
Thanks to Shawn Van Daele, the photographer who has made these shots possible with The Drawing Hope Project. His skills, dedication, and big heart has helped bring joy and hope to these children and their families.
In this exclusive Q&A, Shawn shares the story behind his photos, personal tips for working with children, and his technique. While opinions on Photoshop may be divided, this is one inspiring use of the tool that we can all get behind. Scroll down, read on, and share this inspiring story with your loved ones!
Nice to meet you, Shawn! How did you get into photography?
SHAWN: I originally studied Drawing & Painting at OCAD in Toronto. Later, I did one year of Graphic Design, where I became interested in photo manipulation, and then photography. All three of those sort of merged together into a huge passion! I am also a co-owner and photographer at Renaissance Studios Photography, where we specialize in weddings and engagements.
Is photography your full-time job or a hobby?
SHAWN: Full-time! I couldn't imagine doing anything else. The Drawing Hope Project is my "side project" which has exploded lately. It is the most fulfilling thing I have ever done. It's my goal to find a way to do this project full-time for children and families everywhere.
What gear do you usually shoot with?
SHAWN: I am a Canon guy. I absolutely love my 5D Mark II! I usually shoot with my 24-105mm lens, though my favorite portrait lens is surprisingly my 70-200mm. My favorite tool though is my Wacom tablet.
What were your reasons for starting The Drawing Hope Project?
SHAWN: I came to a point in my life where I wanted and needed to give something back—to show gratitude for everything I've been given in my life. I wanted to do something with my creative abilities that would make people smile, inspire them, and was fulfilling my own need for a creative outlet at the same time. Being able to do something you love with the tools you've been given, that in turn can change someone's life for the better is the best possible use of your skills and gifts. I wanted to bring awareness to rare diseases and conditions, and everything fell into place. I wanted to inspire the magic of childhood, and let kids and their families who could use a little happiness in their life see that anything is possible.
How did you get started with it?
SHAWN: I started with transforming a drawing I did myself when I was 6 or 7 years old, for my grandmother. I turned it into a real photo, which is where the whole concept then grew from.

Above: The very first image that started Drawing Hope
How do you prepare for a shoot with the kids and their parents?
SHAWN: It's very casual! The families send me a drawing their child did, along with a bit of the child's personal battle and story. They're submitted through this form at Drawing Hope. Then, I get in touch with them to coordinate the shoot and learn more about what the child is passionate about, since I always try to include that in their final, magical photo. The day of the shoot is very casual, just me, my camera, and a lot of props! I arrive with a goodie bag full of art supplies for the kids as well, to encourage them to stay creative! The shoot itself involves a lot of jumping around, playing, laughing, throwing things in the air—generally making a mess, and just being kids! Sometimes, I involve costumes. I usually chat with the parents ahead of time about any special wardrobe requests for the child to wear. Everything else I bring myself, and there is NO charge to anyone for this. I do the entire project for free.
How important is posing in your photographs?
SHAWN: Very, but again, it's casual! I usually have the image planned in my mind ahead of time, so I know the angles of shots, perspective, and lighting I need ahead of time to be able to composite things later, and have them all come together. More important than posing though is the facial expression of the child. The best shots I get and always end up using are where they are smiling and laughing. It's most important for me to capture that joy in the photo, especially with these children that are going through so much. It means a lot to these children's families to see them happy and free.
Do you have tips to share for working with children as subjects?
SHAWN: Let them be kids! I always involve them in the creative process, and ask them what their ideas are. It gets them excited, and I am constantly encouraging them by saying, "You are the best model ever!" or "You've done this before haven't you?" — and other things like that to give them confidence and love the whole experience. I include their passions — if they have toys or things they love, I include them. Anything they are proud of! I often ask the parents what makes their child laugh, because if you can get that "inside story" from them, that makes the child just crack up, you gain their trust, as well as awesome shots of the child just being themselves.

Above: Skip to 0:28 to see how Shawn works with children in his photo shoots
What's the most important lesson you've learned from the kids you work with?
SHAWN: Life is too short to not have fun. These children are all special because of their serious and life-threatening health conditions. You can't be defined by the things that try and pull you down. You are always you first, not the things that happen to you.
That's an inspiring lesson! Let's talk more about your technique. How do you edit your photos in post-processing?
SHAWN: I generally comp out the image ahead of time, so before the shoot I know exactly what I want to accomplish, the shots I need to get, and props I need to bring. When I'm back home, I start first by selecting the "perfect" shot of the child. Sometimes, I composite two or three shots of the child together to get the perfect mix of, for example, their cape in the wind, movement of their clothes, or position or angle of their limbs. I start layering the image and creating layer masks that I then paint out — usually at 500% zoom and with a 6px fuzzy brush — to isolate the child and other objects. Sometimes, a finished image can include 200 different layers. The final step before I tone the image is painting in shadows under all the layers, and dodging highlights on things to make it look believable. I then blur and sharpen the image to create more depth of field. I always try and have 3 spaces in the image: the foreground where items are very blurred and leaving the image, the mid-ground, which is where the child and main focus is, and the far background, again where items are more blurred and desaturated. Perspective and lighting is everything!
What tools and software do you use to edit?
SHAWN: Everything is done in Photoshop! I import everything from the shoot into Aperture first, and do basic correction there first. I work entirely on Mac, and I am currently using Photoshop CC. Each photo takes about 6-8 hours to edit, and most of my masking and editing is done using my Wacom tablet.

Above: Watch a time-lapse video to see Shawn's post-processing technique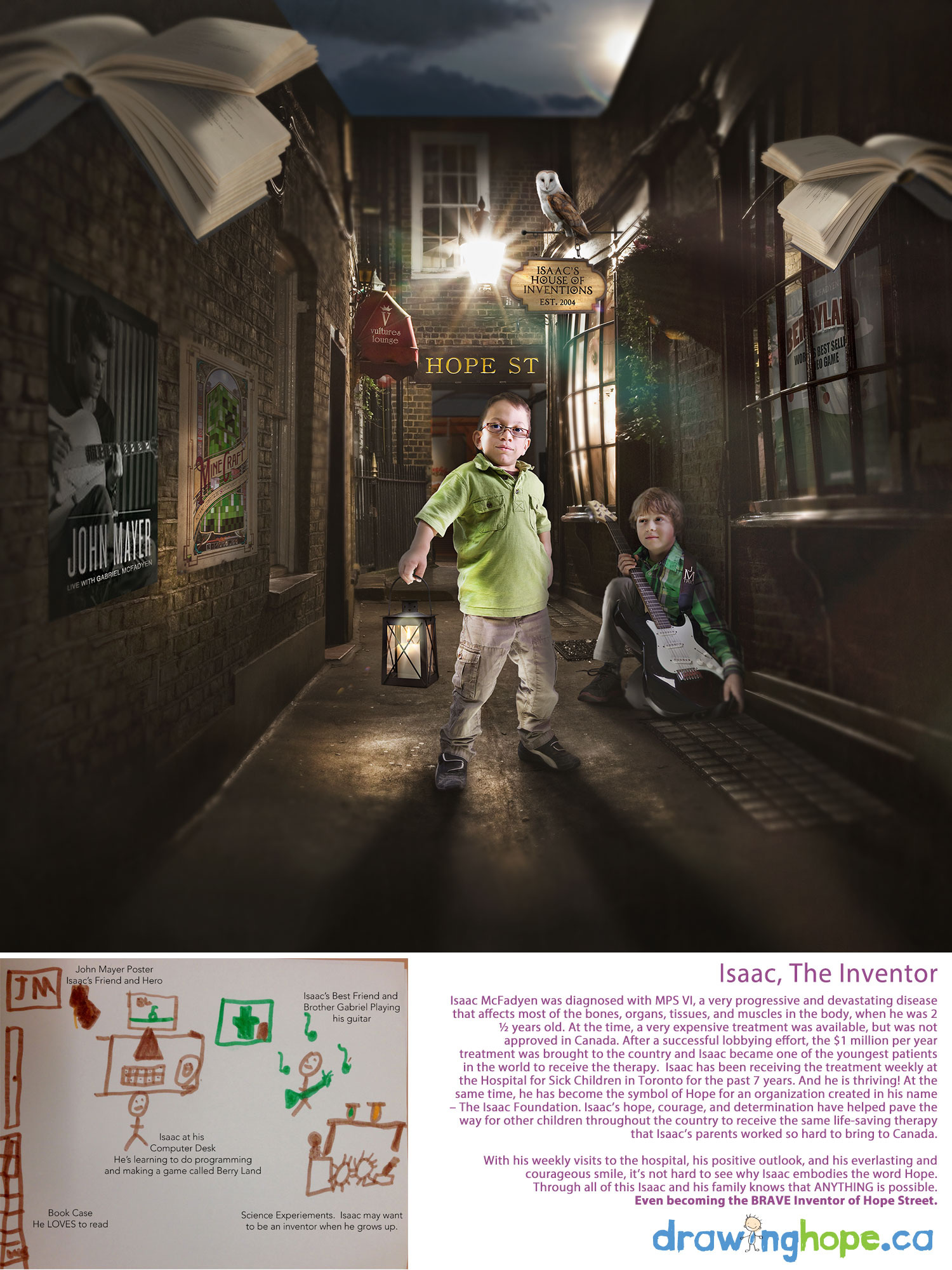 Below: The final photo as seen in the video
How can our 500px community get involved with Drawing Hope?
SHAWN: I do this entire project for free and for no profit. Every expense and my time is entirely donated by me, and I have just recently started a GoFundMe.com/DrawingHope page to help me offset some of the expenses I incur. I will still continue to do this regardless of donations, but they really truly do help me to continue doing this, as it's my goal to be able to somehow do this entirely full time.
People can also share Drawing Hope with people they know! Everyone knows someone who could use a little hope or inspiration in their life. If you know families with children who have been born or are living with serious health conditions, they can send their children's drawings here, so I can get in touch about doing a photo for them.
Lastly, the project's mission is to bring awareness to the need to register as an organ donor. So many of the children in this project would not be here if an organ donor didn't save their life. It's simple, and it takes 2 minutes to register as an organ donor at BeADonor.ca. The need for blood donors is equally important.
Do you have any upcoming projects you would like to share with us?
SHAWN: Mainly, just lots and lots of Drawing Hope Project shoots! Coming up this week, I'll be filming a reveal of one of the photos on the Steve Harvey Talk Show. I am working with Isaac McFadyen at SickKids Hospital in Toronto, which has been featured on MTV. Recently, the project was featured on ABC World News with Diane Sawyer and The Today Show on NBC. Later this summer, some of the photos will be displayed at Cleveland's University Hospital, which will also include a magical photo shoot with children from the pediatric wing!
If you could photograph just one thing in the world, what would it be?
SHAWN: It would be The Drawing Hope Project. There is no better feeling in the world than doing something you love, and also helping people by bringing them hope and inspiration. It's better than any paycheck. When you can use your talents to help children especially, that is the best feeling imaginable. This quote by Ralph Waldo Emerson sums it up:
"To laugh often and much; To win the respect of intelligent people and the affection of children; To earn the appreciation of honest critics and endure the betrayal of false friends; To appreciate beauty, to find the best in others; To leave the world a bit better, whether by a healthy child, a garden patch, or a redeemed social condition; To know even one life has breathed easier because you have lived. This is to have succeeded."
Those are beautiful, strong words. Thanks for taking the time to chat with us, Shawn.
The Story Behind Shawn's Magical Photos:
Grab some tissues and hug someone you love. These stories are inspiring, but may also bring tears to your eyes.

"We sadly lost Marco this past October. Marco is truly the heart and soul of this project now. He was born with a 'broken heart' as his Mom put it, but his life was saved by an organ donor. He later went on to fight and beat cancer. At the time of his Drawing Hope Project photo shoot he was happy and healthy, and then about one year later, the cancer returned and spread quickly. Marco continues to be an inspiration and is in spirit in every photo I do."

"Dominic is awesome! He was born with severe heart defects and spent his first three years of life having multiple heart surgeries. He loves anything to do with castles."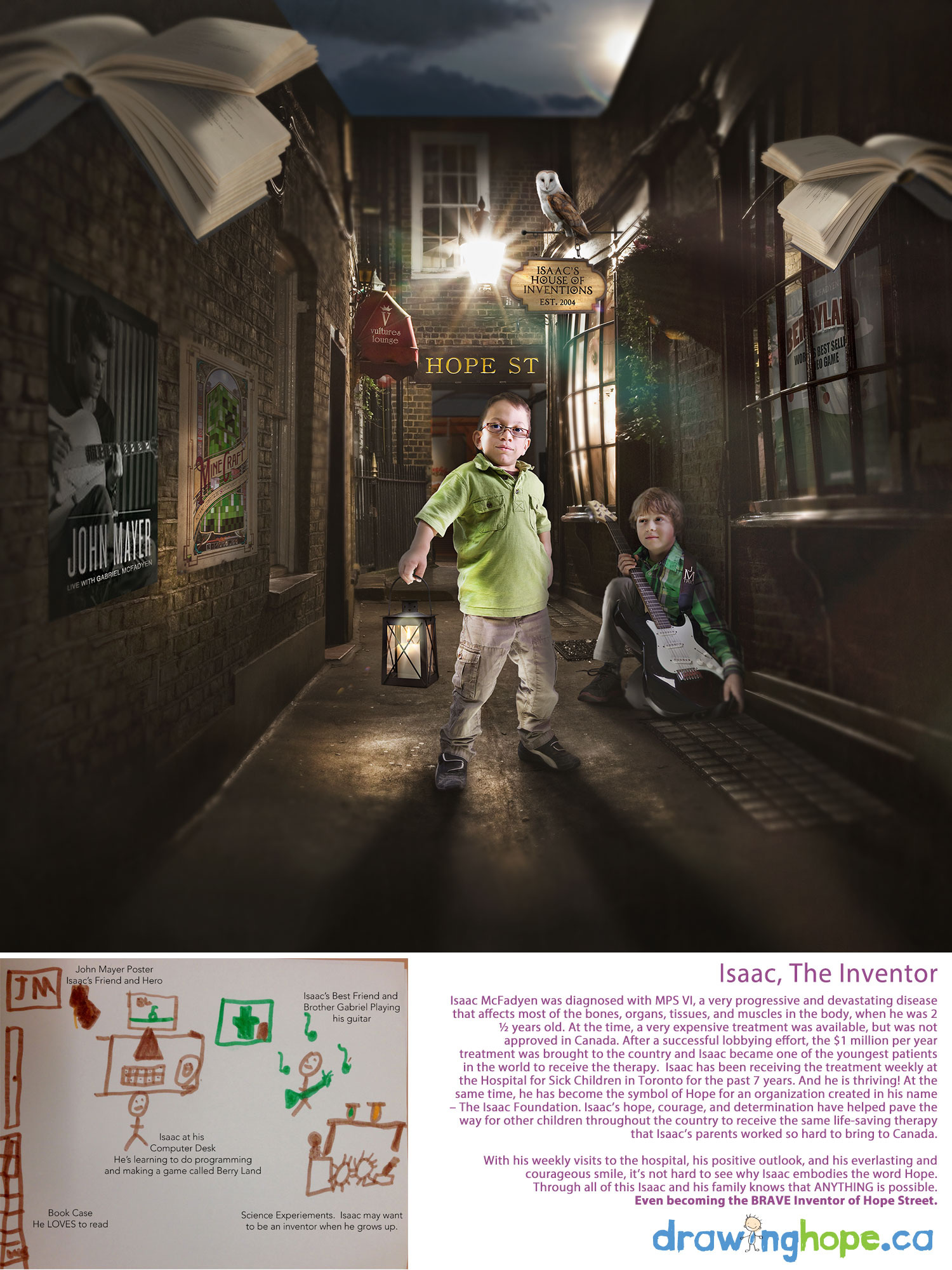 "Isaac has a rare disease called MPS VI. His treatment costs $1 million a year. He loves mystery novels, Harry Potter, and inventing things. He's pretty awesome. Isaac reads a book a day, and just not kids books. His best friend is his brother, Gabriel—seen here in the pic. His hero is the singer John Mayer, and they're actually good friends. Gabriel is wearing a brand new guitar strap that they'll be sending to John Mayer, as John only uses the guitar straps that this family sends him."

"Kaleigh, and her sister McKenna, are both part of The Drawing Hope family. Kaleigh loves princesses and castles. She has an incredible spirit and energy, despite living with severe arthritis at her young age."

"I actually travelled to Alberta to meet and work with Chance for this photo. Chance is suffering from leukemia, and is still undergoing chemotherapy treatments. Chance absolutely loves ships, boats, and anything nautical!"

"Kayla has a passion for equestrian riding, and is so adept at it. We spent the day at a stable near her home where she demonstrated her epic riding abilities."
Scroll down for the story behind Shawn's other cool images:

"The band Walk Off The Earth had just gained incredible notoriety for their, "5 People 1 Guitar" cover of Gotye's song "Somebody That I Used To Know" — they became instant YouTube sensations, and it landed them on The Ellen Show. A few days later, I was at their studio and we created a series of promo shots for them—this was one of them.

"I love to bring creativity to my wedding photography. This shot was from Liz and Jeremy's wedding, inspired by Hitchcock's North by Northwest. This was actually shot with them running through a parking lot after we had completed their family photos! It tied in with their travel-themed wedding."

"This is me with three of my four Boston Terriers! The fourth hadn't joined the family yet when I created this one. They're little, but they're strong! This was part of my "365 Days" Project I was working on at the time, which is a series of self portraits."

"This is one of my all-time favorite photos from my self portrait series. My partner Clint helped out with this one, holding the chairs in about 100 different places while I shot them in my favorite field near my home. The idea behind it is that sometimes when you are looking for something, it's easy to miss that what you're looking for could be all around you. I love the surreal feeling to it."
Follow Shawn Van Daele to see more of his work.
Learn more about The Drawing Hope project, and how you can get involved.