We know you come to 500px because you value high-quality photography, and so do we—it's at the core of what we do! We also know the importance of recognition and the challenges you face when trying to gain exposure within a large community. We believe that great content should speak for itself, so we've made several changes to our platform to reflect that. Here's how we're working towards increasing the visibility of high-quality photos and exposure for the photographers that create them.
We're rolling out changes to both our web and mobile platforms that will showcase more incredible images from photographers overall, regardless of follower count. As members of the community, here's what you can expect to see:
New Home Feed design
We've changed the look and feel of your 500px Home Feed. Both web and mobile platforms now feature a cleaner and more contemporary design inspired by photobooks. The new layout's aesthetic will better showcase the photos in your Home Feed and introduce you to new content from photographers you may not have discovered.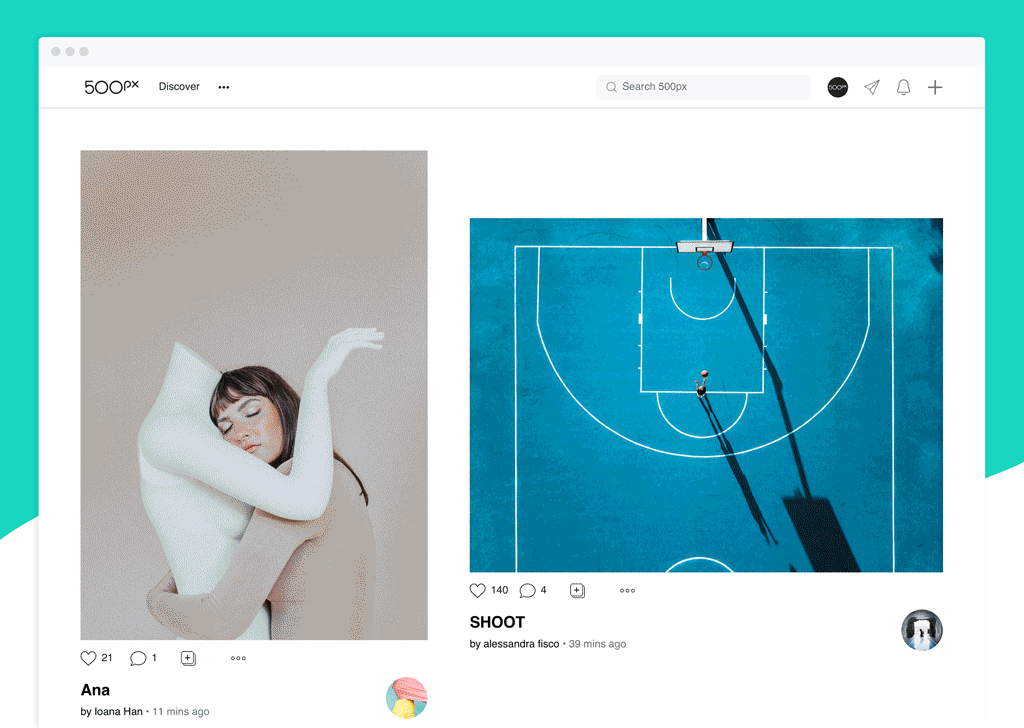 What can you expect?
Explore more photos. The new layout on both mobile and web will showcase more content than ever before, allowing you to browse more of the photos you love without having to leave your Home Feed.
Discover more photographers. The new Home Feed experience is designed to help you find new photographers who shoot the styles and genres you're interested in.
Do more with Galleries. You now have more flexibility when it comes to publishing Galleries to your followers' Home Feeds. With our new publishing feature, you can add photos to your existing Gallery and share it with your followers when you're ready. Plus, you're now able to view and publish Galleries on mobile.
Recommended content in Home Feed
We want to help all photographers gain exposure on 500px. But with a community of over 15 million photographers, it's become increasingly difficult to discover content from photographers that don't have a significant following.
To help address this, we've developed a new recommendation system powered by machine learning to surface more content from photographers, regardless of follower count, including photos from users that are new to the platform. This new technology will help distribute exposure more evenly, in light of the high volume of daily uploads. That means more visibility for more great photographers and a wider variety of content for you to explore in your Home Feed.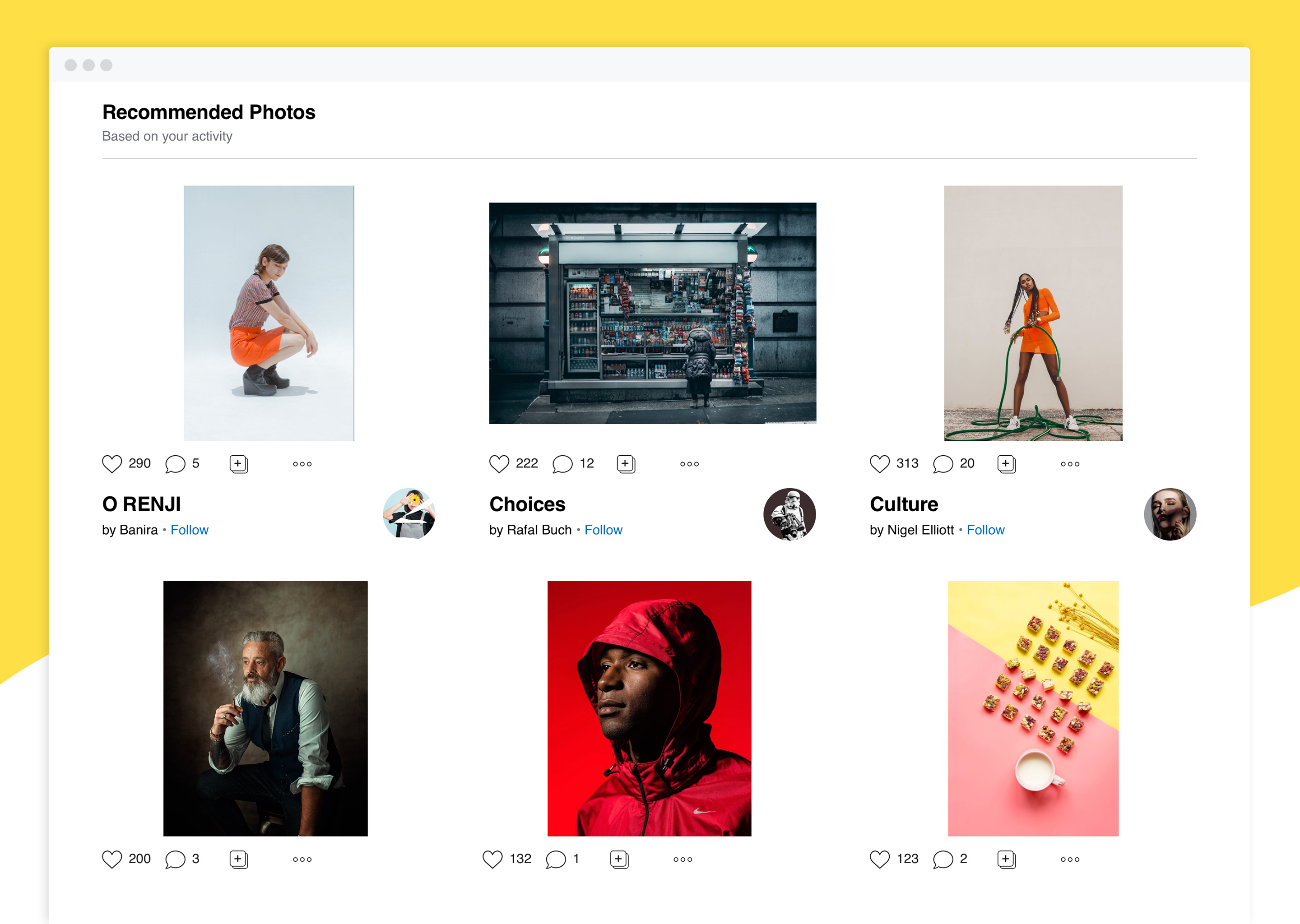 What can you expect?
Recommendation carousels and grids. You'll now see recommended photos in a carousel format (on mobile) or grid format (on web) in Home Feed. These recommendations will highlight great "undiscovered" photos, without distracting from content from photographers you follow.
Recommendations based on your activity. Our goal is to introduce you to personalized recommendations that broaden your perspective and inspire your photography. The more active you are on the platform, the more tailored your recommendations will be to your preferences.
More current recommendations. As part of these changes, recommended photos now consist of only recent uploads, so you can always discover new content.
New photo page design
Your photos are the focal point. So we've redesigned the photo pages on 500px to ensure Pulse, affection, views, and other details are easily accessible, but don't distract from the content.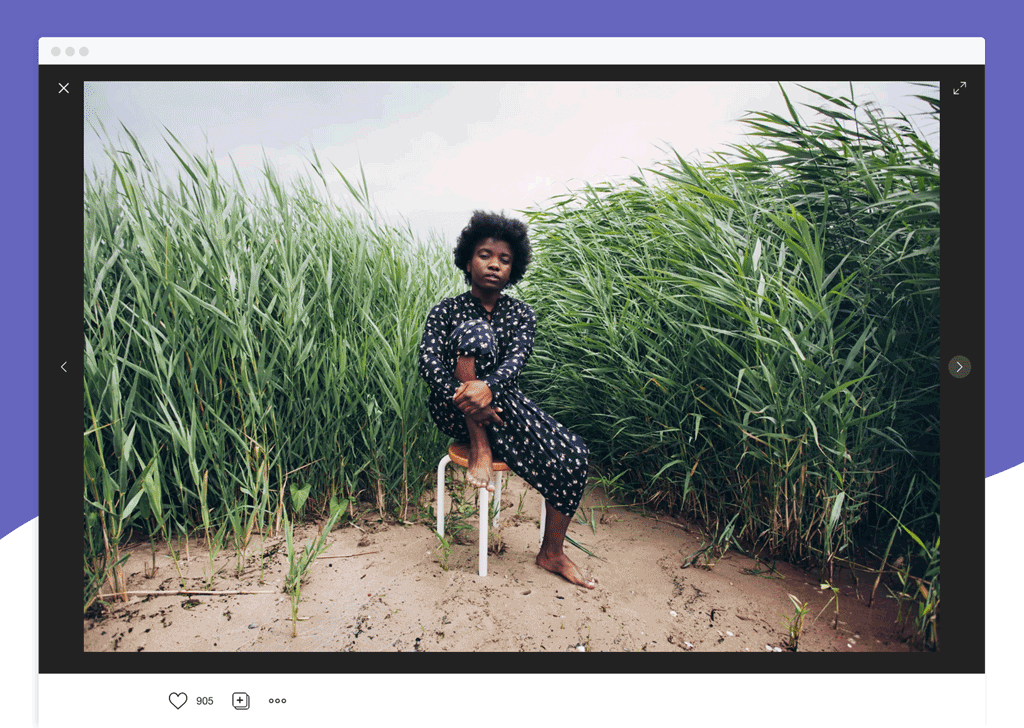 What can you expect?
Prominent photo display. We have reorganized the information shown on photo pages to give the photo top priority. Plus, images are now shown in a larger size on photo pages on web.
Dark backgrounds. Photos are shown on a dark background to enhance colors and minimize distractions in the viewing experience.
NSFW content in mobile Home Feed
To comply with the terms and conditions of both the App Store and Google Play Store, the 500px mobile experience will not surface NSFW content in the 500px app.
What can you expect?
You will not be able to view NSFW content via search, in profiles, or within your Home Feed on either the Android or iOS apps.
The content will still be available for users to view on our web experience, if you have opted in to "Display NSFW content on the site" in your settings.
Our core focus is to provide a platform that helps photographers progress in their creative journey. We're committed to providing the tools and resources to assist you in increasing exposure and getting paid for your work and skills, so you can focus on what you love doing—creating!
Have feedback for us? We'd love to hear it. Send us an email.
Not on 500px yet? Sign up here!
Update: Dec. 12, 2018
We would like to thank our community for all of the feedback we've received regarding the recent changes to your Home Feed.
Recommended content in your Home Feed
The Home Feed is the heart of 500px and we want to ensure that experience represents our community. One of our goals in including recommended content directly in your Home Feed is to provide equal opportunities for photo exposure, regardless of follower count. Now, not only can you discover and be inspired by photographers you've never seen before, but your photos will also inspire new audiences as they appear in other photographers' Home Feeds.
While we recognize change can be challenging, your opinion is extremely valuable to us and is not taken lightly. Our team has been actively monitoring and taking note of your concerns as we continue to iterate and improve on the new experience.
What changes can I expect going forward?
Last week, we brought maps back to photo detail pages—simply hover over the location of a photo and the map view will appear. And in the new year, you'll once again be able to see in which Galleries a photo appears on photo pages. Please stay tuned for more updates in the near future.
– The 500px Team
Main photo credit: Nicolas Thiou