It's here! After two popular teasers, our interview with milk splash photography master and viral Internet sensation Jaroslav Wieczorkiewicz of Aurum Light Studio is here.
We talk about his journey into photography, his milk-splash technique, his favorite photos, his workshops, and a lot more. Remember, this is the man behind each of these incredible photo series: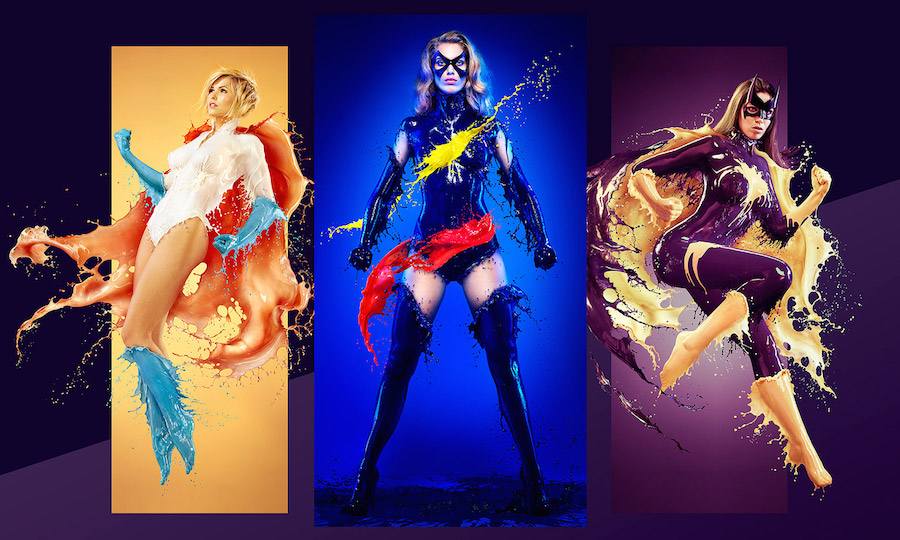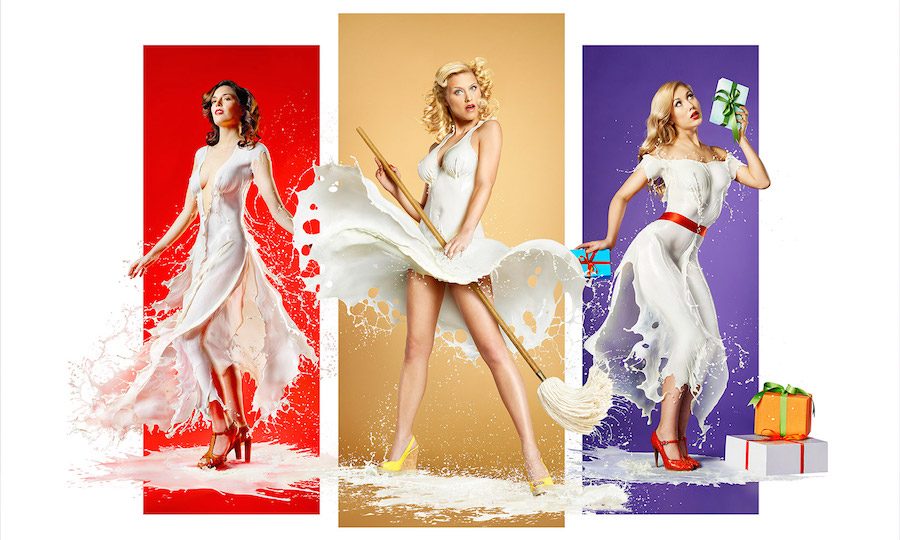 Before we start, one quick note from Jaroslav. Splash Heroes—the series we covered in this feature—is no longer available as a calendar; however, all 12th Splash Heroes Girls will be released as a limited Large Poster Prints, and the first set of 4 is already available at this link.
Alright, enough talk! Scroll down to meet the man behind the milky fun: Jaroslav Wieczorkiewicz.


First off, tell us a little bit about yourself and your journey into photography
JAROSLAV: I have been shooting for a long time, I started on film in 90s on a Zenith camera borrowed from a friend. But I was always told and grew up with belief that I need a solid and steady job.
Considering myself creative, I find joy and satisfaction in making my ideas a reality, so I became an architect and have both a technical and art background now.
I was shooting considerably less during my University time, mainly to support my architectural projects.
Then, 10 years ago, Architecture turned into that steady job and I noticed that in my free time I was going back to what I was missing…
So I started shooting again and at some point I decided to focus my efforts and take it to another level.
I made a 3 years plan: First to dust out the skills, check what is out there on the market and the rules of today's game; second year to shoot many different ideas to find what makes me click; and the third to shoot personal projects that I found intriguing.
It was a simple deal: if that 3 years plan worked, I would refocus and put more effort into photography. If not, then I still had a career as an architect in London… there was really no bad option.
I took that challenge and, fortunately, it worked out! Because of my unpronounceable surname with my wife Aleksandra we came up with AurumLight Studio and took things from there.
You're famous for your incredible splash photographs. How did you stumble into this style of photography, and what made it stick for you?
JAROSLAV: Thank you, you are to kind, but famous is an overstatement. Mario Testino is famous! I touched a bit of viral popularity, for which I am grateful, but that's all.
I mentioned that I have tried many different styles, and I believe this is the best way to find what you love and just go with the flow…
I am always excited about technically challenging projects and never turn my back on the hard work.
I knew that I wanted to go more into commercial and specific work.
I always have a notebook with me and sketch random ideas some of them involved liquids too.
I remember that around 2007 I saw a W/Brasil Agency ad campaign with Gisele Bundchen and I was instantly hooked. Later, when I researched the theme, I noticed that there was so much more to do in this genre.
I read, made some tests, was looking for photographers around the world that were still active in that field, called, emailed them, went for test shoots, trade shows, or workshops.
Photographers such as Paulo Vainer, Kurt Stallaert, Andrej Razumowski, Christophe Gilbert or Bill Cahill inspired me to work harder. Like anybody else, I wanted to quickly learn through other people's mistakes, take what is out there and add from my head or heart and change it. Come up with something fresh.
It's that curiosity and constant exploration of your new ideas that makes it exciting. Every time we try to push the envelope and go a little bit further, and that is why people appreciate our work.
These images just blow us away… how long does it take, start to finish, to capture AND post-process a single one of these photos? How long did it take you the very first time you did one?
JAROSLAV: It is a complex process with a few stages, and all of them can take quite a bit of time. It's hard to estimate exactly because personal projects have a different pace and time-frame than commercial ones.
When I shoot for clients, we are playing along the same rules as every other creative group: there is a budget and a deadline, and we make it work.
But when it comes to my new ideas like the AurumLight annual calendars, I slowly plan every shoot. With the help of my experienced and dedicated team, we go through every step of the shoot in the studio. One illustration can take a few hours of work.
When it comes to post-production, depending on how complex the initial idea is, it can take anything from a few hours to a few days.
I like to come back to my illustrations and change them a bit. Usually there is around 6 months between the moment when the draft image is ready and publication. This allows me to make up my mind on little details and revisit the files.
Interestingly, the first few images I did were some of my most efficiently done. They were clean and fast works… These days, the concepts are more and more elaborate, and that consumes a lot of time and effort.
What would you say is the most difficult thing about capturing one of your splash photos?
JAROSLAV: I think that the most difficult bit is to stay focused and on course throughout the whole process. There are so many different things and elements going on around you that you can lose the grip at any stage.
Aleksandra—who does most of the logistics—keeps an eye on the process, and me when I am in-the-zone. My team makes sure that the shoot is smooth and all that makes my work quite straightforward. I can concentrate on the model and kick-start the process.
I couldn't make it without them and I am very fortunate to work with such talented and trust worthy folks!
Is there a secret to this type of photography? Or maybe a couple of them? Tips you would offer to anybody who would like to capture photos like these themselves?
JAROSLAV: There is no secret. And I do believe that anyone can do it. But that doesn't mean that it will work for everyone, just like life, concert, or wedding photography doesn't really make it for me.
I am a control freak and I love working with big groups of people. You have got to have a lot of interpersonal skills to convince, take everyone through and then accomplish the whole process. They believe in me and I trust them. Photography is about winning people's hearts and minds.
It's like a mission and you need to have a plan and lots of energy to keep up. That is the real secret!
Could you list out the gear you use to capture these shots?
JAROSLAV: Like a typical guy… I have started very simple. And then I lost it and now have more gear than I probably need.
When I shot my first illustrations I had one camera, a two cheap lenses, and a two light heads… When we were shooting the Splash Heroes series last year we had a complex setup and a minimum of seven heads on the set…
I shoot with anything that is available and work around my limitations.
Personally, I own over 10 Paul Buffs Einstein E640 heads and a few other lights. I use Manfrotto tripods and stands, Lastolite giant and small panels, Nikon and Phase One cameras.
If you are interested into the complete list you can watch our behind the scenes videos and lighting diagrams with a detailed setups:
You've got everything from samurai fighting, to PinUp girls, to super heroes in your portfolio. Where do you come up with your ideas/inspiration?
JAROSLAV: Usually from my head or heart, but I observe and absorb a lot too. Good stuff can come up from a conversation with a friend or a stranger, a trip or a good, long, hot shower!
I remember preparation for my first seminar in USA in California 2012. While working on a concept it felt so obvious to run with a Milky PinUp series. America is the home of the genre.
While over there I was introduced to a popular actress to discuss a potential shoot. Her husband—even a more popular actor—showed me his collection of action figures and right then it stroked me! On my way back to London I had a sketchbook full of Splash Heroes ideas…
Keep your eyes open, the greatest things are most likely right in front of you!
Do you have a favorite series? What about a favorite image?
JAROSLAV: My all time favorite illustration is my first ever done with milk: The Milky Nun.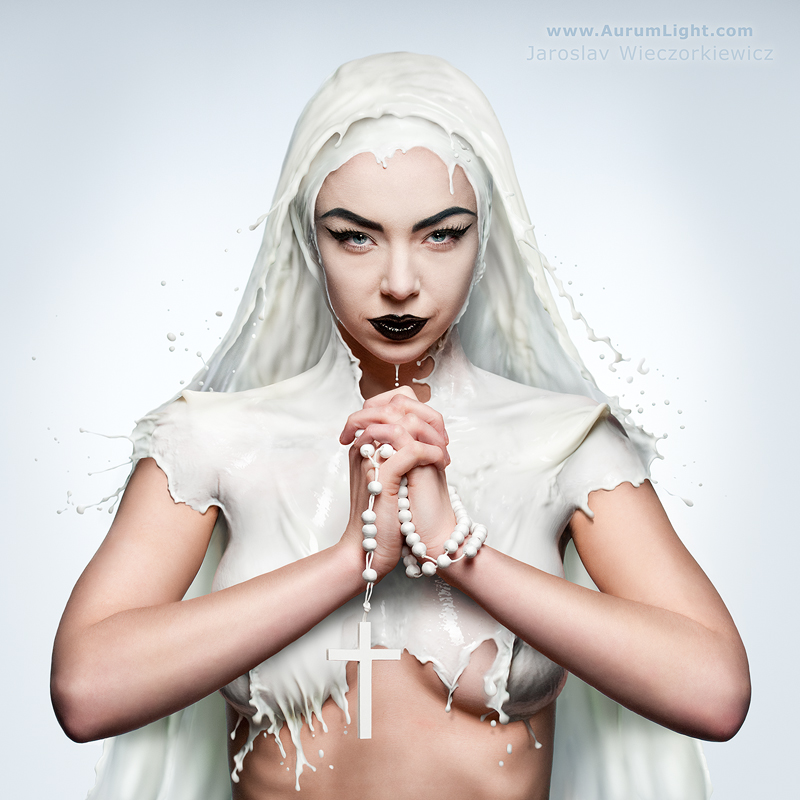 Behind every single image is a story, people and events, and we made the one above happen when everything was a struggle. It was a great win. And I love it to bits.
If series, I trust it will be the one I work on now. And I hope people will like this up and coming material too. We will see in December!
It's safe to say you've achieved Internet fame with some of your photographs (the pinups in particular!). What was that like? What did that experience teach you?
JAROSLAV: A satisfaction—that is the main outcome. Obviously it brings attention and effectively potential clients.
It is encouraging, and I am proud that we got recognition in international competitions where well-known and respected photographers succeeded before us. Something that has started as a personal project became a national Ad campaign. That is my favorite scenario!
This exposure doesn't make my work better or worse, same goes for comments. The most important thing is that it shows that we are going in the right direction.
And that is what I would wish to anyone!
I know you've got a USA Splash Tour in plans. Could you tell us a little bit about that? What can people expect to learn, where will you be, how much will it cost, you know, the whole elevator pitch : )
JAROSLAV: I would love to bring the Milk Workshop to the USA to as many locations and fellow photographers as I can. I admit that without proper production teams it is quite a difficult task to set something this big overseas.
We are still looking for partners to work with. And I hope it will not be long when I could share precise details.
In the meantime we have workshops in Germany in September and Singapore in October (email info@aurumlight.com for more info)!
Also we will run free talks and this May you can meet me in Krakow Poland at the ArtBuzz#6 Festival and in Birmingham UK in August. During these events I am as transparent as possible giving away all I know to make something special happen.
We also hand over the studio to our participants and everyone gets a chance to create a liquid illustration under our eye! It is simply a rare opportunity to be part of some amazing image making!
The workshops are a 2-day event: They open with an overview presentation, then a full day of Liquid photoshoots covering "know how," tools, lighting, approach, and a deconstruction of previous images, finished with a complete post-production workflow.
Any final last words of wisdom for our readers and the 500px community?
JAROSLAV: As a creative I know that the journey to your destination point can be tiresome. Trust me I have been at the starting line and am still going through the distance.
Sometimes it's hard and you feel beaten. After an exhausting project it is very hard to take another one on board.
Everyone should first figure it out for themselves "What do you want to do?" and then just do that! When you lock it in place, win people over, collaborate, and ask for direction and critique. Treasure the journey and people on your way, as this is what will make it special.
And with time, you will get there. There is absolutely nothing that can stop you.
People say the times are hard for photographers… I say that in Photography there was never a better time to do amazing things. The game has changed that is for sure, but there is absolutely space out there for anyone! For you and for me, just find the right spot, make it yours and never let it go!
Last but not least, where can our users find more info about you and see more of your work other than on 500px?
JAROSLAV: The usual spots: My Facebook Page, Twitter, our main website, and the blog. Thank you for your time!
Cheers,
Jaroslav Wieczorkiewicz