Our editor is out at a press even this morning, so we're digging up some of our favorite articles from the ISO archives to keep you inspired, entertained, and educated! In this post, we interview one of the most incredible, talented, and unique photographers on 500px: Katerina Plotnikova.
Scroll down to find out more about this amazing photographer, and then head to the home page to see a couple more classic posts from the 500px ISO archives.
---
At first glance, you may think the photograph above, taken by Russian photographer Katerina Plotnikova, is a composite or was enhanced in Photoshop.
Think again. You'll find that the rest of Katerina's body of work is just as magical and provocative. It didn't take us long to fall in love with the rest of her surreal photos. So we caught up with the fearless photographer herself for a Q&A, and asked her to reveal the story behind some of her mind-bending shots! Read on, and prepare to be dazzled.
Hi Katerina! First things first, we'd love to hear it from you straight — are the animals in your photos real?
KATERINA PLOTNIKOVA: Of course they are real! The fox, for example, is a real domesticated animal. His name is Adyssey. He has a bit difficult temper, but he is very loved by his owner. All the animals that are in my photo shoots are treated really well. Sometimes, I even think that their owners treat them better than their own kids!
How adorable! Can you tell us more about yourself?
KATERINA: I was born in a small town near Moscow, where I still live to this day. My life revolves around two things — photography and travel. However, my travel experience is not too extensive. Last year, I travelled all over Russia, from Moscow to a remote Sakhalin. This year, I visited a number of South East Asian countries. My big dream is to travel around the world, and see all the corners of our amazing planet.
How did you discover photography?
KATERINA: I was into painting all my life. When I was about six or seven years old, I started taking painting lessons. Later on, I enrolled in a university with a specialization in advertisement design, where I was introduced to the world of photography. It was part of the course load. There it began. All my passion towards painting, all the years of academic art training — all this helped me move to a discover a new state of art — photography, which is still prevalent in my life to this day.
Where do you find the inspiration for your work?
KATERINA: Just about anything. Oftentimes, I'd visit home improvement and hardware stores to find inspiration — I'm not kidding. You can find a lot of very interesting things there. Some things would look like a dress, and from a bunch of things you can build, for example, a tree house. I'm also very inspired by flea markets, secondhand stores, and even garbage bins. Sometimes, people throw away stuff that is priceless to an artist. But more than anything, I'm inspired by nature. Some landscapes are so inspiring that you just want to fly.
Who are the photographers whose work you admire?
KATERINA: My favorites are, of course, Tim Walker, Annie Leibowitz, and Adam Smith.
What camera, lenses, and other gear do you often use?
KATERINA: I use Canon 5D Mark II and Canon 50mm f/1.2L. It's enough for what I do.
If you had to photograph just one place, person, or thing in the world, what would it be?
KATERINA: That's a very good question. But I don't think I have an answer. Every day, I either want or imagine something new, so if you ask me the same question again, I'd answer it differently.
Thank you for letting us get to know you better, Katerina!
Scroll down for Katerina's own personal stories behind some of her incredible photos!
"The bear is real! His name is Stepan, and he's a movie star! He has an extensive experience — around 18 years. Throughout all these years, he has never showed any aggression. The only threat is that he can break your heart. He's so marvelous and well-managed, that after just a minute of being with him you can't suppress the smile."
Behind the scenes: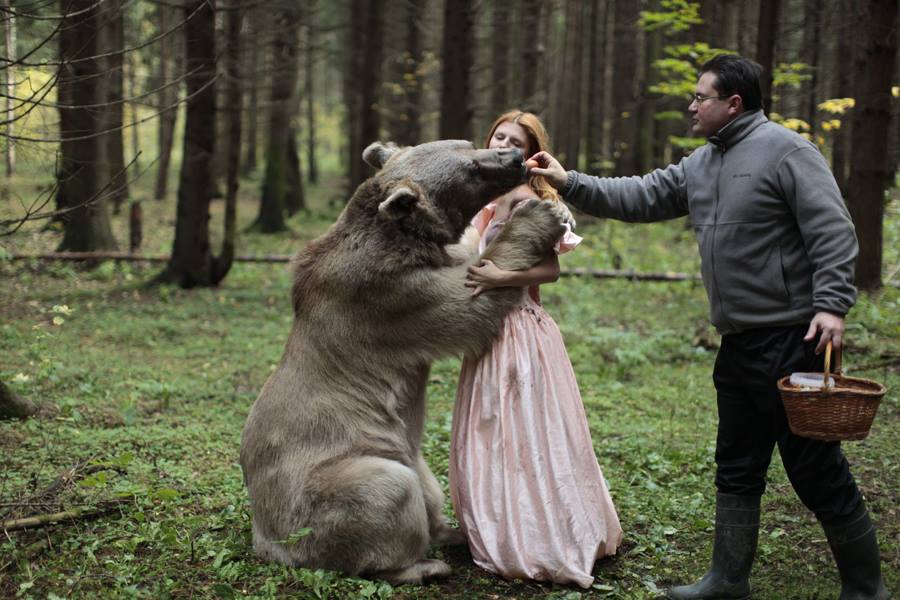 "You would be very moved by Stepan's behavior and his infinite warmth with his handlers. They delight him with treats — such as cakes and fish. They treat him like a human, and that impresses me very much."
"I didn't plan too much of this shot. The whole moment lasted just a few seconds. I only had to crop it in Photoshop afterwards."
"This photo has an interesting story to go with. Last summer, before my trip to Altai mountains, I decided to visit Novosibirsk, the Siberian capital of Russia. One of my friends, who is a photographer as well, decided to surprise me! She organized this shoot for me. She got my favorite models to pose, and borrowed a few hedgehogs from her friend. So right after stepping off the train, we travelled to this photo shoot."
"Hedgehogs are incredibly lovely animals and so much fun to work with, albeit a little bit painful at times. They also require a lot of attention — they are pretty quick and easy to lose, but luckily, it all ended well for all parties involved."
"Foxes are my most favorite animals of all. There's nothing that connects the fox to the model, other than a mutual love of foxes. The fox is owned by one of my friends."
"This tiger isn't afraid of people. Her name is Chanel. She's very affectionate. It's not so easy to work with her — she has a particular temper. However, her handler is a very experienced man. In the end, it wasn't too scary. This was my first experience with tigers. And I have to say — I experienced overwhelming emotions during the photo shoot. Chanel [the tiger] has an interesting life story. Her mom abandoned her. If not for her handler Michael, she would be dead by now."
"This was taken in Vietnam. The place is called Sunny Dunes or White Dunes, depending on the translation. Initially, the idea was slightly different from this final shot. We wanted to create a dress out of the sand, but in a different way. But when we arrived at this spot, we had to improvise, and that's how this shot happened. We weren't ready to throw sand at the model. We didn't have any tools to do that, other than our helmets from a motor bike! We ended up using these helmets to scoop up all the sand. It was so much fun! I had to post-process this shot a little bit, but nothing too major."
"To do this shot, I had to call for a crane. Well, not a construction crane, but a towing truck with a crane. I use them pretty often for my shoots. It's always fun seeing the reaction of the drivers, who are used to work with towing cars from ditches. And now here they are — right in the middle of a photo shoot!"
"Sometimes, I'd hang a cupboard, or a swing…in the winter…in the mountains. Sometimes, the tow truck drivers don't seem to care. Sometimes, they are very involved in the process. One of those drivers even once said that this made him very bored, and he would often sigh heavily."
Keep scrolling down to see more of Katerina's mind-blowing images!
Editor's Note: Katerina's responses were translated from Russian to English.
Want to see more of her work? Follow Katerina Plotnikova, and thumb up her Facebook page.
Want to browse other surreal images on 500px? Click here!