Artist Daniel Stavro Girizd is a man of many talents. A digital/visual artist, he dabbles in photography, video production, costume design, stilt walking, and fire performing… oh, and we can also add Parkour to that list.
The benefit of this polymath approach to art is that that you expand not only your knowledge and skill set, but also the opportunities that you're inviting and prepared to take advantage of.
Daniel, who goes by Stavrography here on 500px, has into Pakour for 10 years… he's also worked with Cassiopeia, a fire-performer from Germany. And it was those two experiences together that led to the opportunity to capture some epic advertising shots for the Parkour clothing brand ETRE-FORT's latest lookbook.
We recently caught up with Stavrography to ask him what all it took to put these shots together—from prep, to shooting, to the extensive post-processing that went into each.
Prepwork
Prepwork was particularly challenging because the vast majority of it had to be done without ever actually seeing the shooting location.
"Preparations for shooting consisted of imagining and planing all the shots a few months in advance, which was pretty hard since I couldn't check the locations until 2 days before the shoot (I was in Serbia, shoot was done in Switzerland)," Daniel told us over email. "The only thing I knew for sure was that we decided to use smoke-bombs and my experience as a fire-performer for the images."
Location scouting didn't even begin until he got to Switzerland and began making final plans… and this was less glamorous than it sounds. "I don't have my sketches nearby since I am traveling now," he wrote us, "but they were D-grade elementary school drawings haha."
The Shoot
We asked Daniel what the most challenging part of the shoot was but, for all his trying, he couldn't seem to zero in on just one thing. Both timing and lighting were huge challenges.
Greatest challenge I faced was Timing. For most of the shots, we would need about 30min on-set… with a few shots planned for 1h on set. Timing was incredibly important, because we needed to coordinate all the athletes and bring them on set at the right time.

Also, setting flash-power outputs without a commander unit, when you are standing on a small island trying to light a bridge in front of you with flashes on different shores… ugh… Let's just say it was good cardio since getting wet that night wouldn't have been the smartest of ideas (it had snowed 2 days before).

I am usually up for anything for getting a shot done, but Switzerland, snow, March, mountains, water… You do the math.
The Gear
The cold weather and "photographic cardio" was only part of it, because it turns out Daniel was also working with less gear than he would ideally have needed.
"Note that all of the shots were shot with only 2 to 3 flash units (SB700 + 2x SB900)," he tells us. "So I often had to use a tripod and capture multiple exposures using different lighting setups that I combined later in post."
This, combined with some help from both the athletes and the clients (some held lights, some waved smoke bombs, and some acted as voice-operated remote shutters), helped bring an incredibly complicated shoot together.
Finally, Daniel had one more gear thank you to share:
I really, really have to give shout out to Nikon, because without the dynamic range of the D7000, the final products as they look now wouldn't look as good—no matter if I used my current Sony a6000 that I love so much, or with any other brand's crop-sized sensor (nor even some newer FF ones, I can freely say).

I just destroyed those files in post beyond infinity, which you will understand better when you see some before-and-after shots.
Favorite Photos
One of the questions I just had to ask Daniel was about his favorite shots. Which of these crazy images was his top pick? And which was the most fun?
As usual, his answers had less to do with the final products then the story behind them—a photographer's favorites are often the ones that were the hardest to pull off.
For Daniel, that was the two photos above.
My favorite shot is one with parkour-athlete Simon, hanging under the bridge. It was second set done during first day, hardest to pull out, and first composite I started editing on my newly-bought laptop that this project earned me along with some other gear. It is one of two composites that took me ~20h in post.

The most fun shot was definitely the 3-point-stance one, with fire wall behind athlete Ramon. Running with fire rope (that you hold with a water-soaked glove) while firing bulb shutter with an IR remote can be challenging you know? Since the IR port on my Nikon D7000 couldn't "see" the remote trigger every time through the big front element of a Samyang 14mm lens, Felix had to act as my remote.

I got burned many times during making of these fire-shots, but it is just something you get used to when performing with fire.
Print Out Your Shots
One of the most interesting things that Daniel mentioned when we spoke with him was, surprisingly enough, about creating physical prints. Remember that Daniel is an artist born out of the digital revolution, and does NOT shy away from creating the perfect image in post.
Still, seeing his images in print was an amazing experience he won't soon forget.
A few selected pics were printed on big metal plates, and ETRE-FORT made a giveaway.

For someone that got into photography through digital media and skipped over the film era (although I do shoot film sometimes now), and practically never printed out his work, seeing those prints live was better than any Retina display.
A Note About Fear
Finally, the last words Daniel left us with were particularly inspirational. He talked about fear, and how he converts it into "fuel for superawesomeness."
I've never done such a big project before. I don't have a team or assistants, and all of my gear fits into one backpack. I prefer to pull out my ideas alone, and one of the biggest reasons why I like doing so is that, if anything goes wrong, I prefer to know that it was my mistake.

I was terrified of this whole project, oh yes. Not because I wasn't sure if I was going to make it or not… of course I was to make it one way or another. But the sole weight of doing such a big project for the first time was raging inside my chest at a time.

If I've learned anything from 18+ years of performing in front of different audiences—sometimes counting more than 30,000 people—it's to convert all of that fear and stage fright into fuel for superawesomeness.

That's applicable to photography, performing, or any other thing you want to do in life, but scares you shitless.

I can say shitless on the Internet, right?
Yes.. you can Daniel.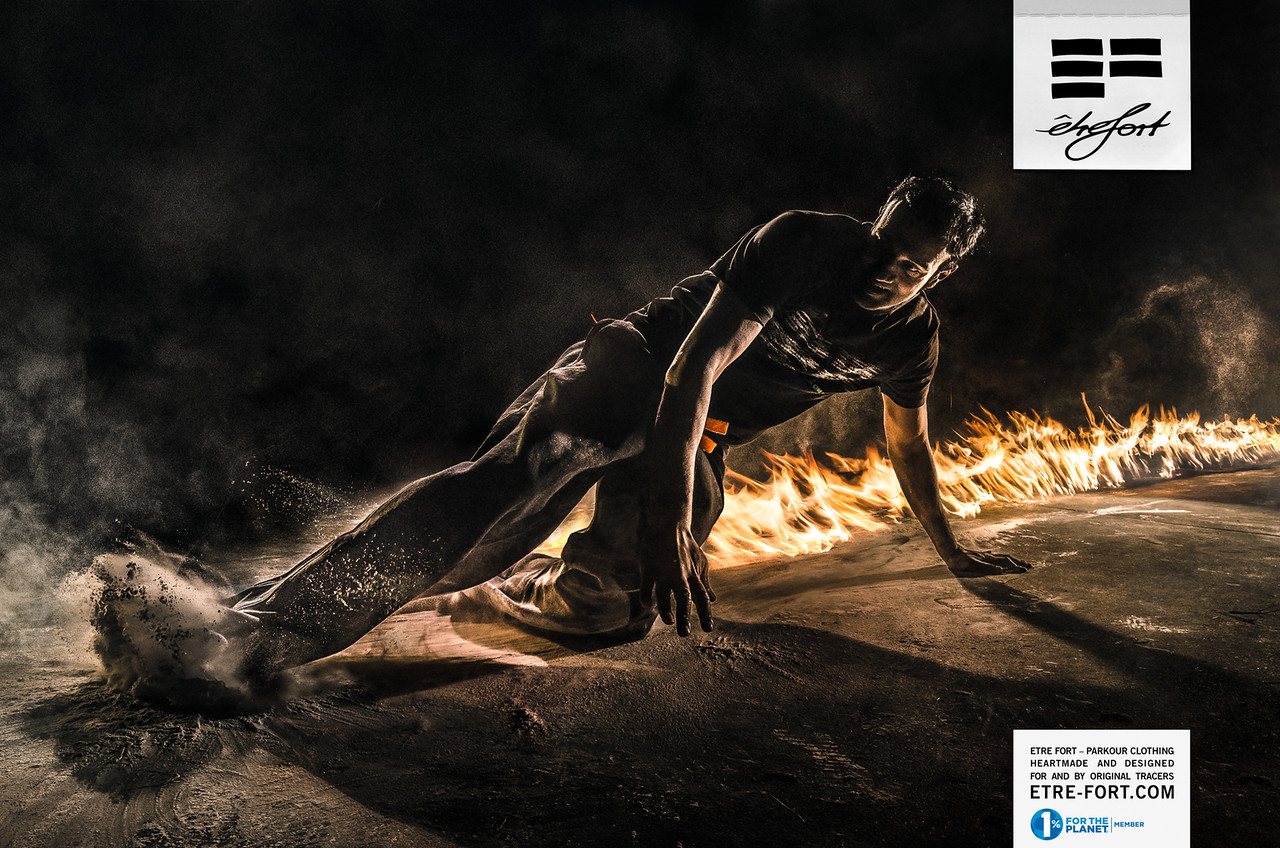 We owe Daniel a huge thank you for his detailed description of these images and what it took to pull them off. We hope you found this short pseudo-interview as entertaining as we did.
As for those "before and after" photos we talked about, we've talked to Daniel about doing a full breakdown of one of his favorite images above, so check back for that in the beginning of July!
In the meantime, check out the ETRE-FORT lookbook to browse through all these shots in one place, and follow Stavrography on 500px, visit his website, or like his Facebook page for even more "superawesomeness."