We're thrilled to announce that 500px is an official exhibitor for the 22nd Annual Scotiabank CONTACT Photography Festival. For the entire month of May, the windows at 500px HQ will showcase the photo series "GLITTERBOY," created by acclaimed artist and 500px photographer Quil Lemons, and shown for the first time ever in North America.
"GLITTERBOY" shatters limited definitions of identity and the policing of black masculinity with a simple, delicate instrument: glitter. We're proud to host an exhibition that encourages freedom of expression, inspires new generations of photographers to think differently, and uses creativity to break barriers. As 500px's VP of Community, Dustin Plett, put it: "That's what art should do."
Learn more about the boundary-pushing exhibition, and the artist behind it, in our exclusive Q&A with Quil Lemons below.
1. Who is "GLITTERBOY?"
Quil Lemons: A Glitterboy is a black man who expresses himself freely, without inhibition. Black masculinity is far more complex than its mainstream representations. This project declares to the world that black men cannot and should not be boxed in to one portrayal—there is so much beauty that often gets ignored or repressed. "GLITTERBOY" highlights that marginalized body; it says to the world: "You can be pretty or feminine, and you can still be a masculine black man. Whatever makes you feel confident is a pure expression of who you are."
2. What does "GLITTERBOY" represent?
QL: An innocence that often gets overshadowed. Black men need to be told that they too can shine. I decided to do a series of black boys wearing glitter because in the media, you don't really see black boys experimenting with anything that's considered "feminine," or embracing themselves in that way. Shooting the project wasn't intended to be a rebellious or political act; it was an act of self-expression. But one quickly realizes how polarizing these images are, because of the stigmas placed upon these bodies.
3. Where do you get your inspiration from?
QL: This exhibition was definitely influenced by Prince, Frank Ocean, and Donald Glover, all of whom pushed the narrative of what a black male public figure should be. I appreciate them for all that they are. Though, I think inspiration comes from a lot of places. A lot of the art I create comes from my own lived experiences, as I find myself and my voice as an artist.
4. How has your life changed since you released your first instalment?
QL: This project forced me to turn inward to figure out who I am and who I want to be. "GLITTERBOY" is my baby! Right now, I'm finishing up shooting the second part of the series—it's bittersweet seeing the project mature, but I'm happy to see it be enshrined. I feel like it was an ode to my younger self, who would have benefitted from seeing these images as he was dealing with the dramatic years of adolescence.
"GLITTERBOY" was my introduction to the world as a creator. I've grown so much in the past year—I guess I'm adult-ish now—as I've watched this project grow, and now holding its own on the streets of Toronto. I hope that through my work, I can keep shifting perceptions of what is considered acceptable. I've received so many kind words about this project that have warmed my heart. I hope to continue to create work that resonates and makes people feel like themselves.
5. This project challenges race, masculinity, and gender stereotypes. Why was this an important theme for you to address?
QL: I felt like this theme had been tiptoed around for far too long. It's strange to me that black men embracing femininity is viewed as taboo. I had a feeling that I wasn't the only one who felt that way, so I wanted to take charge and speak on it.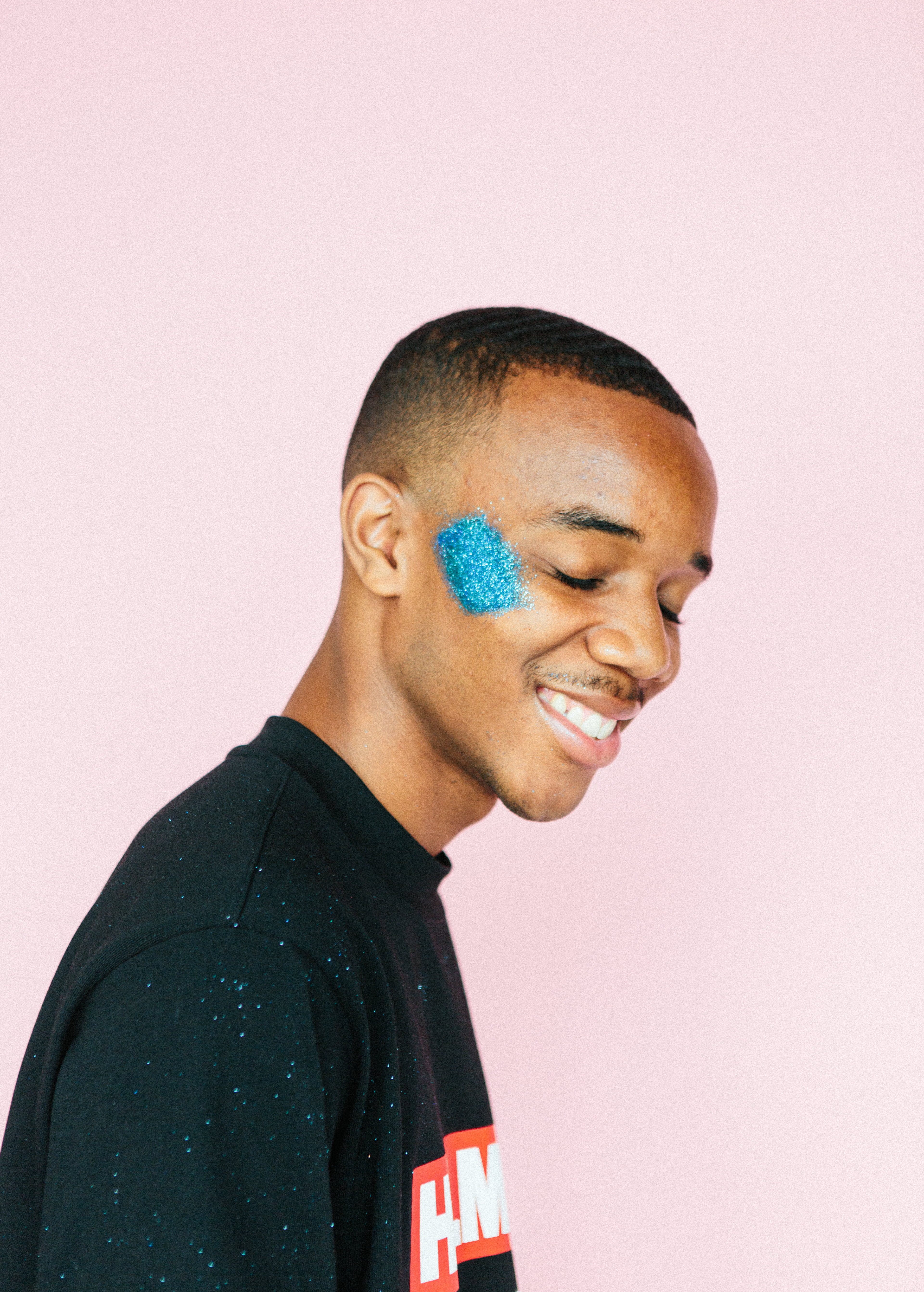 Quil Lemons
A 20-year-old artist based in NYC, Quil Lemons is the photographer behind "GLITTERBOY." He is passionate about challenging the status quo through his art. Quil is grounded in his creative and personal identity—and what that means for the spaces that he occupies. Quil is passionate about expanding and creating space for bodies of color within the creative community.
Follow Quil:
500px
Website
Instagram
Twitter