Jonathon Reed and Asad Chishti are cycling 15,000 km from the Atlantic coast of Canada to the Arctic and Pacific Oceans. Throughout the 6-month expedition, they are documenting unheard stories within the Canadian landscape through the lenses of their cameras. This is the first of a series of dispatches from the wild and windy roads of the north.
I crested the last hill and started bombing the highway, icy cold air hitting my chest and filling my lungs, refreshing and invigorating my body after the long climb. In the distance, there it was. Distant blue-grey, silent, and immovable. The Atlantic Ocean. Asad and I pedaled the final stretch to Cape Spear National Historic Site, where we set aside our panniers and hiked down to the water's edge. The ocean spray lit with the morning sun and the horizon pressed against the distant eastern sky.
This is where it begins.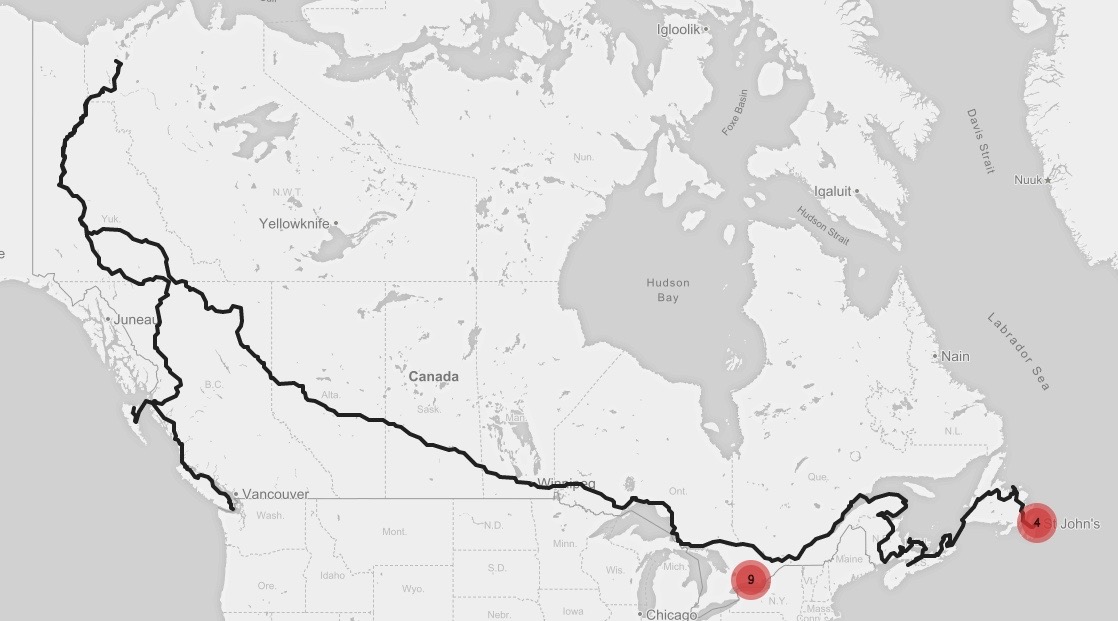 Map tracking our journey across Canada.
For the next six months, we are nomads. We are traveling 15,000 kilometers by bicycle across Canada—weathering storms and wind on the highways, charging our batteries with solar panels, and carrying our cameras from the rugged Atlantic coast to the Arctic tundra to the Rocky Mountains. Our goal—in response to the mainstream narrative of Canada's 150th anniversary—is to document and amplify marginalized voices and experiences. We believe a more truthful and courageous acknowledgment of our past will build a stronger foundation for our collective future.
We've got a long way to go.
Writing this in St. John's has an air of simplicity to it. Our bicycles are loaded and facing west and the road is stretched out before us. The reality is, of course, that we've been preparing for this expedition for the better part of a year. An unsupported multi-season cycle tour is complex enough, let alone an unprecedented multimedia journalism project. The last few months have seen grant proposals, website development, brand partnerships, endurance training, a crowdfunding campaign, and countless emails. Over the majority of the past year, we have painstakingly gathered our specialized collection of gear.
GEAR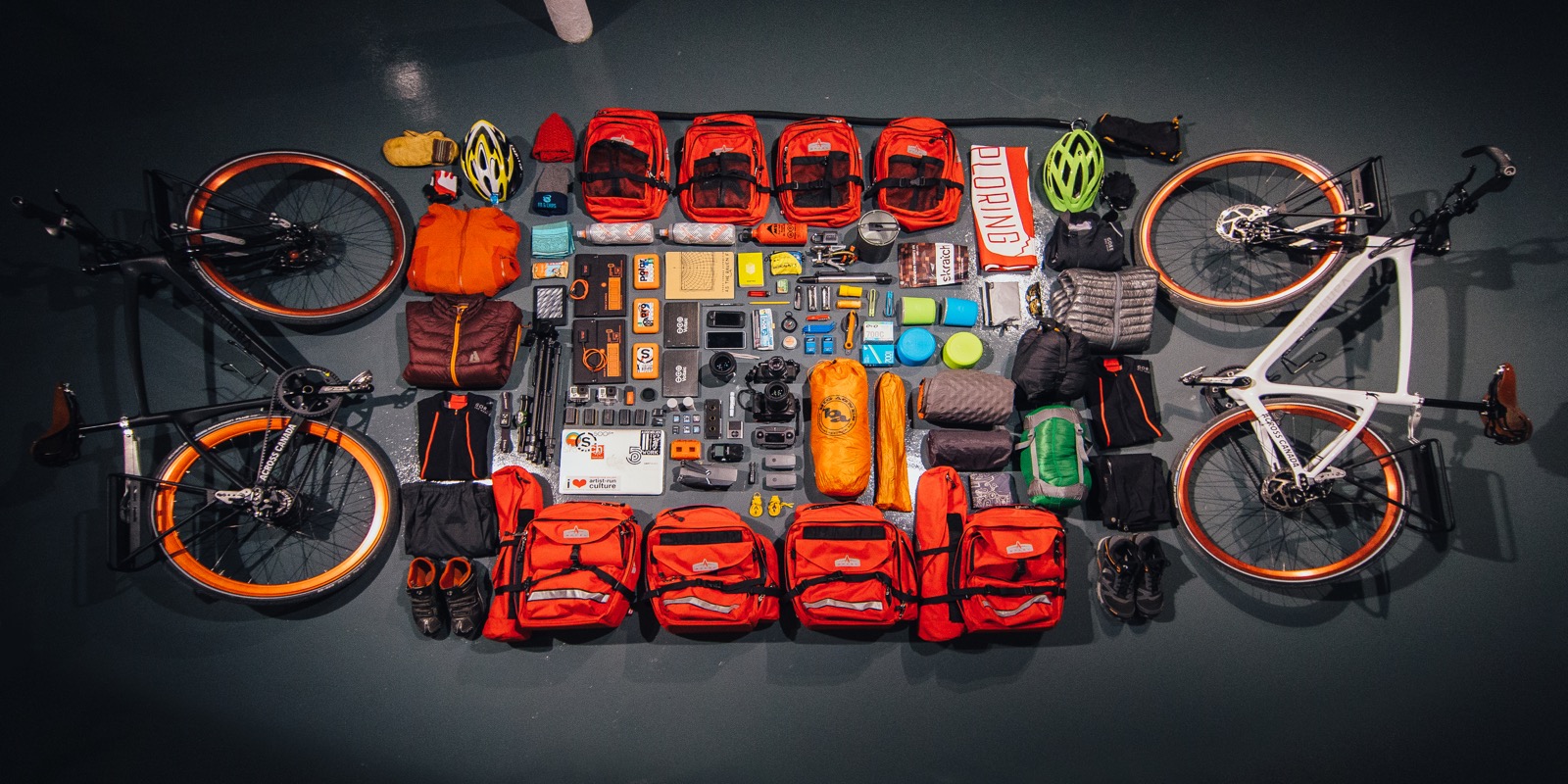 Our gear is split into three main categories: documenting, camping, and cycling. We have seven cameras: our full-frame DSLRs, action cameras, drone, and a film camera from the 1980s. Our footage is edited on a laptop, powered by solar panels and portable batteries and backed up on external hard drives. We're sleeping in lightweight, three-season camping gear and riding on Canadian bicycles custom-built for touring. Everything is stored in eight red panniers that attach to the sides of our bicycles.
We consider ourselves a mobile production unit. From St. John's, we'll cross Newfoundland and Cape Breton to the Maritimes, around the Gaspé Peninsula, and through northern Ontario. After Winnipeg, we'll take the Yellowhead Highway northwest to British Columbia and the Yukon, switching to the Dempster Highway to Inuvik in the Northwest Territories. From there we'll retrace our route south and continue along the Pacific coast down to Victoria, British Columbia. For each major region of Canada, we will be posting a monthly entry in a photography- and adventure-based series featured on ISO.
It's one thing to go on a short trek into the wilderness and then return to your comfy office to process photos and share your work. It's another to attempt to shoot, edit, and write all from the road. We know because we've practiced both. Here are some shots I captured and processed from the floor of a tent last fall.
Until next time, you can find us at astheravenfli.es/journal. Wish us clear skies and a tailwind. Newfoundland will be the biggest challenge until the Arctic, so we'll need all the wishes we can get.
Jonathon Reed is an adventure-based photographer and videographer, an experienced writer and wild-at-heart traveler. He started calling himself a photographer when he broke his parents' compact digital at age 11. He loves sunrises.
Asad Chishti always has his camera by his side. He has taken a photograph every day for the past seven years, seeking to document the details and small stories of everyday life. He got his start primarily through street photography.
Follow them on 500px and stay tuned for their next ISO article tracking their travels through Canada.
Follow Jonathon on 500px
Follow Asad on 500px