Chalk this up as one of the craziest, weirdest, most out there portrait ideas we've ever seen. No strange/creative framing, no intense lighting setup, no stunning model that steals the show, just a friend with every square millimeter of his face covered in… sprinkles.
The photo was captured by 20-year-old Neston Simoes, an enthusiast photographer from Mumbai, India whose work ranges from standard portraiture, to digital art, to street photography, to… well… the occasional sprinkles portrait.
These are far from his most professional portraits—he's a very talented photographer whose work you should definitely check out—but these are his quirkiest creations, so we caught up with him to see what this shoot was all about.
Like many of his contemporaries, the young photographer prides himself on "creating magic" with whatever minimal equipment he can afford. As for the sprinkle portraits, he tells us it was just a fun experiment:
If you guys are wondering what exactly is this, well these are just simple portraits shot with a small creative touch. I stuck Sprinkles (edible cupcake decoration) on my friend's face thinking it would be cool and fun to experiment with.

I really don't know how the model actually felt and was so patient, sticking these sprinkles all over his face with Honey syrup. Ewww… I am actually feeling weird and slimy talking about it.

Again the gear that I used was a simple camera and lens, a tripod, and a basic one-flash setup which didn't actually work very well (it died couple of times). There was also a bit of post-processing applied to enhance the colors.

Of course, the entire room was a MESS at the end of the day, but I am just so happy I pulled it off with the gear I have. I had NO REGRETS! For some of you these images might look funny or artistic, but to me this was an awesome experience shooting something different. 🙂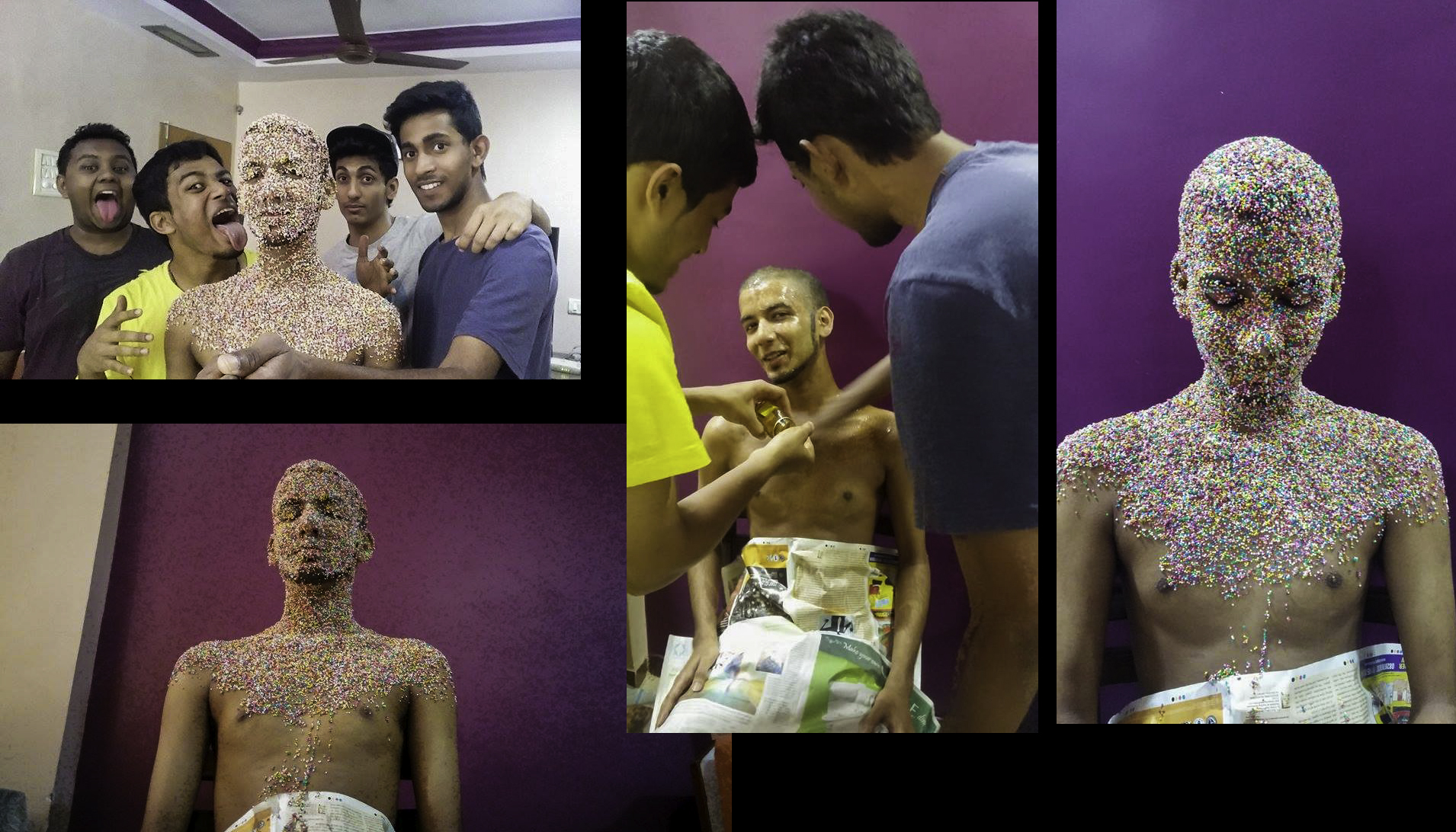 We'll admit this doesn't seem like your typical "inspirational idea," and it's probably not something everyone will add to their repertoire. But it made us smile, and reminded us of a very important reality: there are always cool and crazy new ideas to try.
This is perhaps the best example we've come across all year of shooting "outside the box." Try something different. The results may or may not turn out, but when the "worst" case scenario is that you'll have a blast with a few friends, that's a risk worth taking.
Be sure to give Neston some love on his 500px account, and then go Like him on Facebook. Then, once you've done that, share your craziest photo experiment in the comments down below!