When Finnish artist Vesa Kivinen captures your "portrait," he doesn't just hint at the contents of your soul—your deepest fears, desires, triumphs, and avenues of personal expression. Vesa brings them all to the surface, creating collage imagery that reveal more about his subjects than even the subjects themselves thought possible.
If you prefer dry definitions, Vesa is a "mixed media artist" whose work might best be defined as "Western abstraction." He combines oil painting, body painting, and photography to create his imagery.
But while he is not the first to do this kind of work, he may very well be the best. Summed up beautifully by Michael Schwartz, Professor of History and Philosophy of Art at Augusta State University:
Vesa's art is amongst the most integrally advanced in the history of Western abstraction—no small claim, but one backed up by the works themselves. Rather than abstraction as a fleeing from life, his works are a diving into the incarnate mystery of human being—direct celebrations of the fullness of Life.
A filmmaker, photographer, painter, and Photoshop artist, Vesa brings all of these skills to bear when he captures—or rather: creates—an image for and of one of his models.
The technical process involves painting on canvas, bodypainting on his model, photographing the whole process from start to finish, taking more photos out in nature, and then combining all of those images (anywhere from 2 to 200) in Photoshop as a collage.
From start to finish, it looks something like this:
But this technical description misses the point. His process, and the point of his work, is better explained in this story behind one of his images:
When I met Hanna from "Territory" I was practicing kickboxing in Helsinki at a club and I saw her in a ring. She had a great fighting spirit and attitude. After a brief chat she told me she had just gotten a silver medal in the national competition and we decided to work together on a piece. We met for a coffee and when we started digging into why she thought she didn't win her past came up. She had been badly bullied as a kid and her actual self image was asphalt grey and not very healthy.

During the shoot I painted her with the color she imagined herself to be and then asked her to wash that color away. We replaced it with a much healthier and vibrant paint and in her mind, she was kicking the old self-image and releasing that idea of herself. That is what the piece is about…
This is the final image: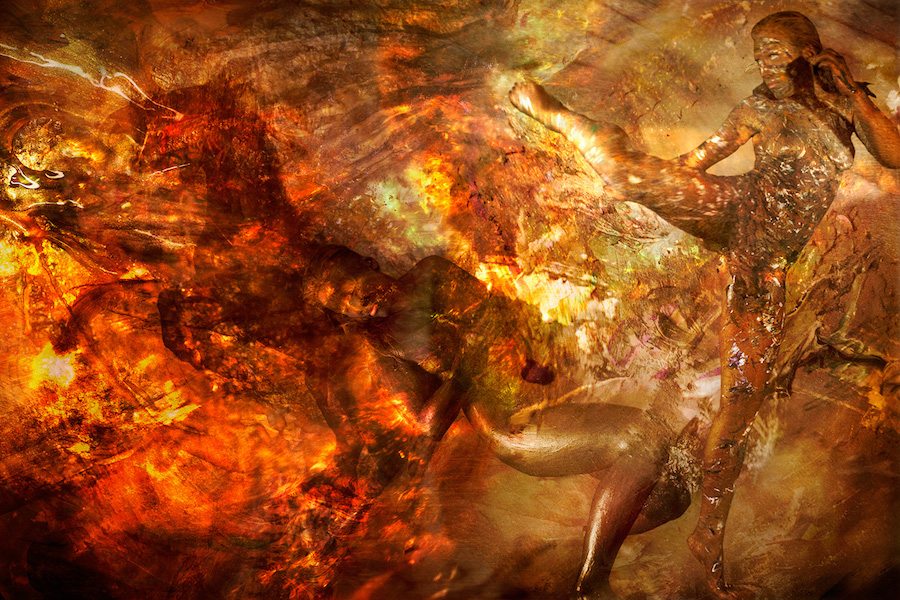 This work is more than the sum of its parts. It's not just body painting, oil painting, Photoshop artistry, or photography. It's therapy; it's art; it's pure expression; it's all of those things at once.
The finished pieces are certainly not what Nikon (or anyone else) would call "pure photography." But they might be approaching something we could call "pure art." Here's a look at a few more of Vesa's pieces:
Of course, these photo collages really come to life when displayed in a gallery:
In the end, Vesa's work defies explanation. It has to be experienced to be understood. Picking your favorite piece and devouring it, pixel by pixel, photo by photo, brush stroke by brush stroke, will better explain the images than we could ever hope to do in words. We sincerely hope you take the time to do this.
And if you'd like to see more from Vesa, be sure to follow him on 500px, visit his website, or say hello on Facebook and Instagram.