Rustam Azmi is an Indian photographer based in the United Arab Emirates—one of the Best places for cityscape photography. He started practicing photography in 2013 after being inspired to become a cityscape, rooftop, architectural, and landscape photographer. He loves to travel to new places and meet photographers from all over the world.
You can find more of his work on 500px, Facebook, Twitter, and Instagram.
---
The day this photo was taken was a rare one for Dubai: it was really foggy in the morning, great sunshine during the day, and a wild thunderstorm in the evening.
I had missed shooting the fog that morning and was upset about it, so when I heard that there was going to be a strong storm in the evening, I was determined to make up for it and capture something great.
Preparation and Planning
The most difficult part of getting this show was actually selecting the location for the shoot. My friend Zohaib Anjum and I scouted few locations but didn't find anything we were really happy with at first. That's when we started considering rooftops, despite the crazy risks involved… we could end up getting struck by lightning instead of taking a picture of it.
We finally decided to take the risk, and up to the roof of a 56-floor tall tower we went, covering our gear with some plastic keep it from getting soaked in the rain.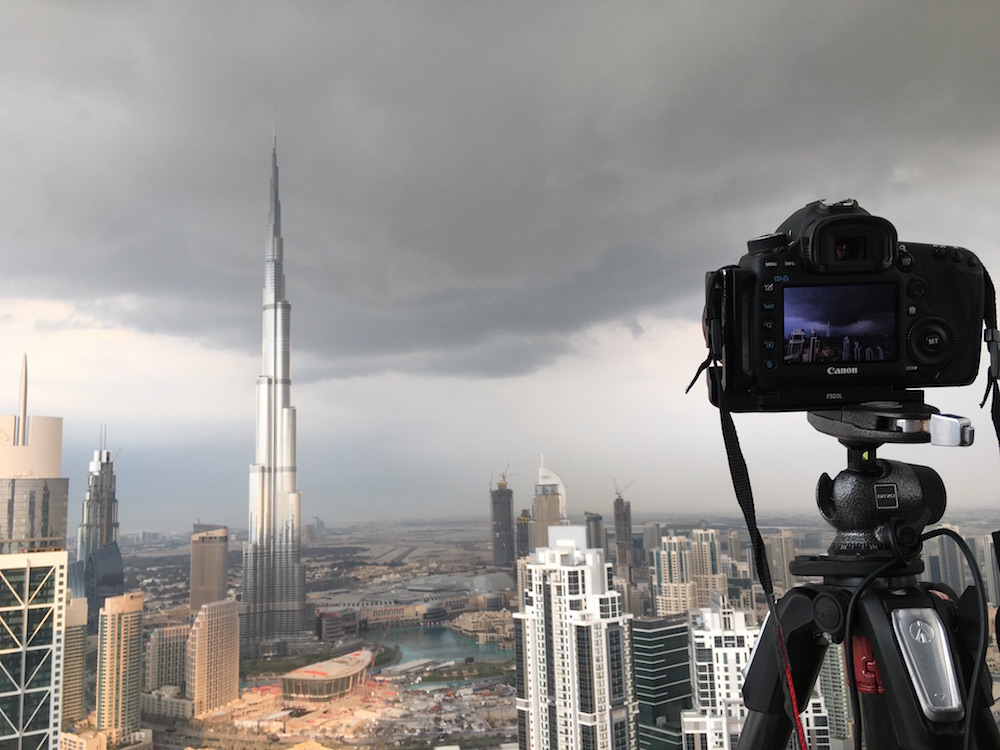 Shooting
As we reached the rooftop, we couldn't believe our eyes. In 28 years of living here, I had never seen Dubai with such dramatic weather. I quickly placed my Canon 5D III over the edge and started shooting.
After a few minutes it started raining heavily, with some hail as well. I quickly grabbed my gear and ran inside.
A few minutes later I came out to see if the hail had stopped and, stepping out into what was now just a light shower, I (again) couldn't believe my eyes. There in front of me was one of the most beautiful Dubai sunsets I'd ever seen.
Over the next hour we saw a ton of lightning, but I couldn't seem to capture any of it between bouts of strong rain. Too much water was accumulating on the front of my lens and I just couldn't shoot properly.
Then, as the sun began to disappear below the horizon, the rain eased up and some proper shooting started. I placed my camera on timer and started capturing back to back shoots, but after 400 photos I still hadn't catured a decent lightning strike.
Tired and upset I started pleading, "please God, just one shot!" and then, a few minutes later, I captured my dream photo.
I was standing a few hundred meters away from the Burj, but I could feel the lightning strike when it happened! It was incredible.
Processing
1. Imported the file into Lightroom
2. Did some basic adjustments (color correction, lens correction, hsl)
3. Exported to Photoshop CC for further adjustments
4. Removed some water and lightning flares
5. Used Color Efex Pro to add some contrast and detail to the sky
6. Used a dodge and burn layer on the sky for the same purpose
7. Applied a warm filter for the ground
8. Used Define to denoise the sky
9. Added a bit sharpening to the ground
10. Resized and watermarked
I feel this is a unique image, and one of my best I've ever captured. I have never seen any image of lightning striking the Burj Khalifa at blue hour that was also taken this close.
The image has been already featured on the Official Dubai Instagram account and several newspapers are picking it up. And capturing it was a truly wonderful experience that I'll never forget.