Photography—it's all about commitment, passion, and skill. Ever wondered what a day in the life of a professional photographer is like? Every week, we ask a 500px photographer to document a typical day at work, giving you an exclusive, behind-the-scenes look at how they shoot photos in the field.
Here at 500px HQ, we love photography teams! We've already featured landscape pros Dylan Toh and Marianne Lim, and tilt-shift mavens Alexandra Petrov and Bharath Wootla. This time around, we're diving in with dynamic duo Tina Terras and Michael Walter whose dreamy, surreal underwater portraits leave us enthralled—and thirsty for more.
You could say it was their shared passion for photography that brought Tina and Michael together when they stumbled upon each other's seascape images online. After a year of communicating via email, they met up and realized that they do belong together. And they've been living and working together as a team in Kiel, Germany—right by the beautiful Baltic Sea.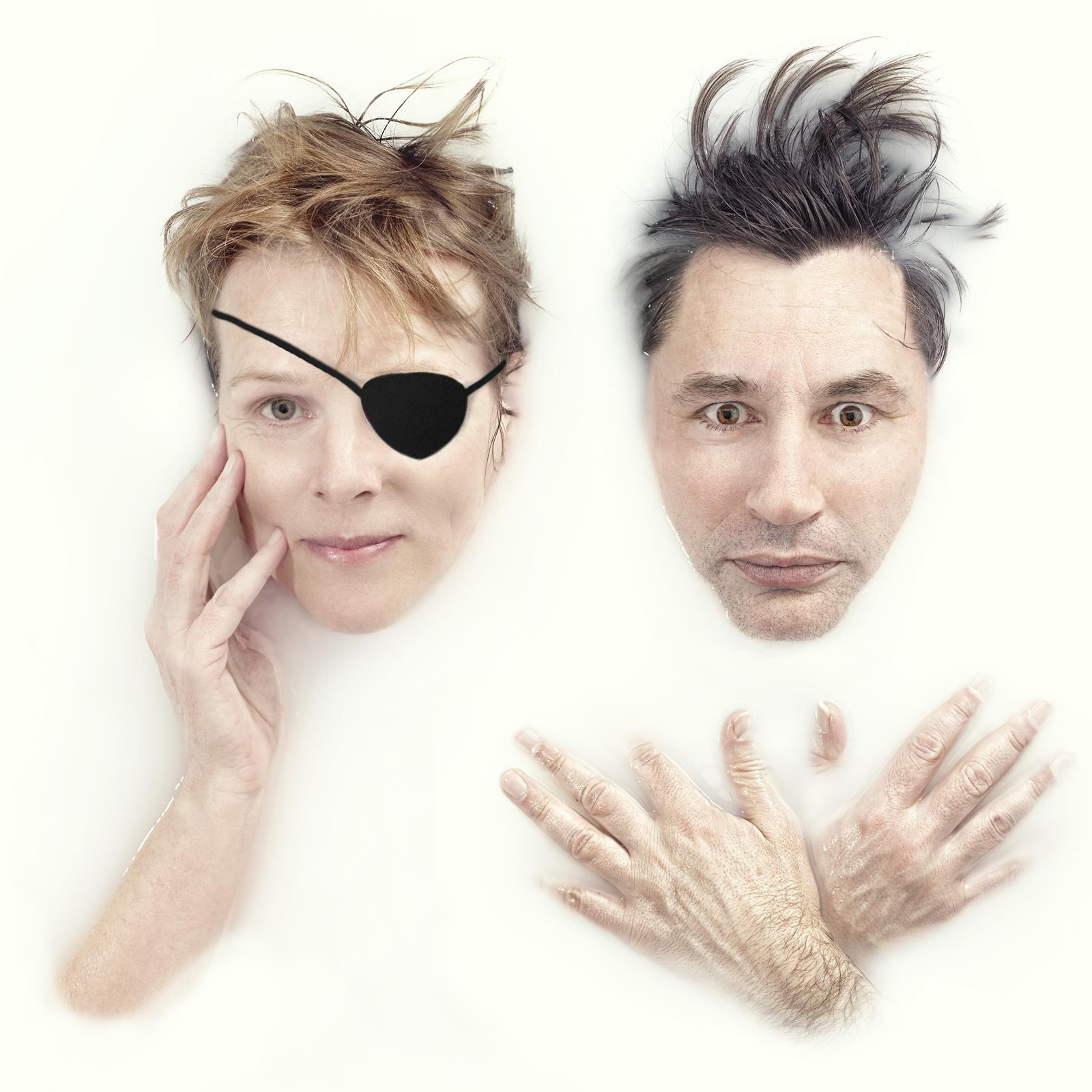 What does it take to be an underwater portrait photographer? What is it like to collaborate with another photographer, and work as a team? Tina Terras and Michael Walter document their 24 hours for us, sharing their expert tips and gear recommendations along the way. Scroll down—and dive in!
24 Hours with Tina Terras and Michael Walter
8 A.M. Good morning! You probably guessed what's coming. We still wake up every morning and are often really grateful for that. By the way, do you like seagulls? Well, very often they are very noisy. Especially in the morning, when they think it's time to wake us up. That's the price we have to pay for living in a city on the Baltic coast.
9 A.M. We pack our gear fast. It's one of the advantages, when working as a team. Our equipment for our underwater photo shoot consists of Canon 5 D Mark II, Canon Lens EF 50mm 1:1,8, Canon Zoom Lens EF 17-40mm 1:4 USM, Ikelight housing, 3 Ikelite DS-161 underwater strobes, tripods for the strobes, softbox, background material in black and white, diving suits, diving goggles, and lead weights.
11 A.M. Ready to go! The equipment is packed. We drive about an hour to our favorite swimming pool.
11:30 A.M. We discuss details of the shoot, and the light settings. The water of the pool, in which we work very often, is 30 degrees Celsius. These are very comfortable working conditions. Our clients can therefore be much more relaxed with the shoot. We've been photographing people in pools under water since 2010. They contact us to shoot a once-in-a-lifetime special picture of themselves. They dive with us either as a couple or alone. If it's for a wedding, the brides even dive in wearing their wedding dress. Our clients come to us because of the images. But we learned from our clients—and we were really surprised—that the photo shoot itself was also considered to be a big event in their lives. We are very pleased that during the photo shoot, a lot of energy flows between us and our clients. It's fun to see them act like children, when they are diving as a couple and laughing while posing underwater. Sometimes our clients laugh at themselves. They think that they are doing something "nonsense". But to us, it isn't nonsense. As photographers, we recognize that how they are in the way they feel and the way they live in the now—right now. Being underwater can bring the feeling of being secluded in a secret hiding place, where no one is watching. Since they can't properly recognize us underwater, they quickly become very relaxed. We love working this way with our subjects.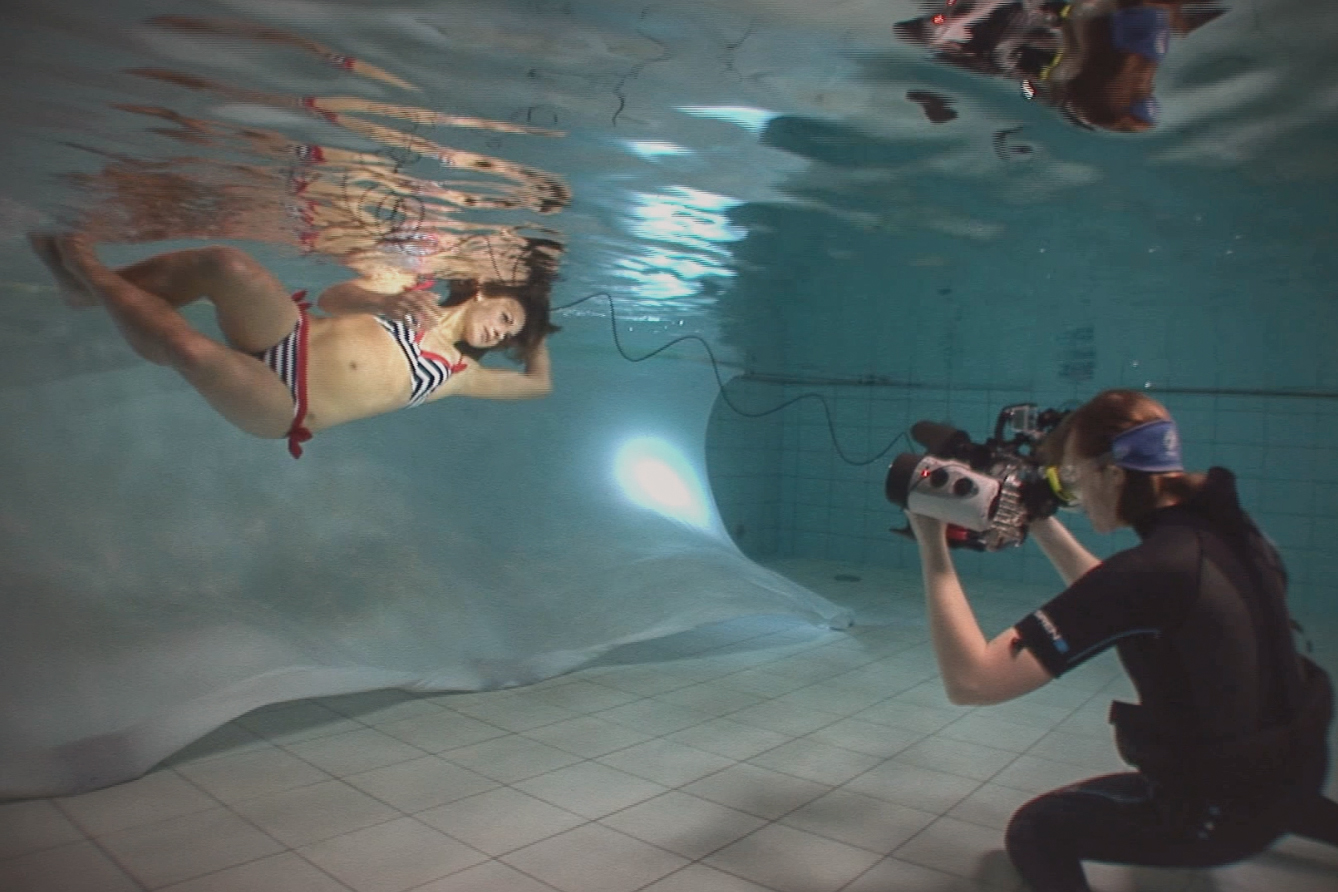 12 P.M. During the photo shoot, we take turns. One takes the photos, while the other one illuminates the client or model with an additional light. Over time, we developed our own light setting. We've figured out which angles are bad, and which are better. We don't want to photograph any underwater images which will make our viewers immediately think of a swimming pool. We also don't want to show reality—we want to capture emotions and surreal moments. However, there are also a lot of other better-looking pools out there…
1 P.M. We are driving to a small place in the country, so we can try out some new ideas. If you think that you know exactly how to photograph something, maybe it's time to seek new ways. We love being in the water again—finally. We specialize in shooting in shallow pools, because it is much easier to photograph in them. Photo shoots in deep water are very tiring—the effort is much larger there, because you need additional divers to keep everyone safe. Today, we are relaxed in the shallow pool. We start by improving the lighting settings. Later on, after the shoot, we will often rotate the images to 90°, but currently, we don't like the kind of reflections created by the water. This is exactly why we'd like to try some of our new ideas today!
3 P.M. We have been testing our lights for two hours now underwater. We're surprised at how well the new light setting works. So far, we used our front strobes, with additional continuous light. Therefore, the autofocus worked well. But because today we used the front strobes indirectly, there are now problems with the autofocus of the Canon 5D II. We will deal with that problem next week when we do further lighting tests.
4 P.M. Home again! The first thing we do is to rinse off our equipment in the shower. That cup of coffee can wait! Working in the pool is a lot fun, but the smell of chlorine is not pleasant at all. As soon as we reach our apartment, it starts smelling like chlorine.
4:30 P.M. We are doing some editing in post. This takes a long time. The use of presets in Lightroom for underwater images is not as simple, compared to images which were taken in the studio—even if the lighting conditions are similar or identical. For underwater pictures, it is different. The red portion of the light fades with every inch, on its way to the model and to the camera. If the model is too close to the underwater flashes, it is not only overexposed, but it gets too much red light by the extra warm flashlight which is used during the shoot underwater. Is the model too far away, the skin could look pale and blue. The current settings and light ratios require very different processing steps. We are not yet at the goal, but now we see that these pictures will be more beautiful. The rest of the editing will be much easier.
5 P.M. We transfer the images to the computer. We immediately see that we are on the right track. Although we have some problems with the auto-focus and blur, we solve them right away. You may wonder: Why are we constantly engaged with the light and not just shooting in outdoor pools? It doesn't matter which pool we use—as long as we can control the light setting, we will be able to take good underwater pictures.
7 P.M. Now we are discussing how we can promote our upcoming photo shoots in France, and attract more clients. Our plan for 2015 is to do some underwater shoots in France. We already have the concept, location, and logistics. All that's left is how to promote them.
---
We hope reading about Tina and Michael's shooting schedule gave you a great glimpse at what life is like for professional underwater portrait photographers. Want more inspiration? Scroll down to see more of their surreal work!
Follow Tina Terras and Michael Walter on 500px to see more of their images.
You can also visiting their official website, or connect with them on their Facebook page and YouTube channel.
Got any questions for Tina and Michael about their photos, photo shoot packages, or techniques? Leave a comment for them below!
Check back next week for a new installment of A Day In The Life featuring another inspiring 500px photographer.