Photography—it's all about commitment, passion, and skill. Ever wondered what a day in the life of a professional photographer is like? Every week, we ask a 500px photographer to document a typical day at work, giving you an exclusive, behind-the-scenes look at their shooting schedule and techniques in the field.
This week, we're spending the day with Prague-based landscape photographer Martin Rak. By day, he is an area manager for Marmot, an outdoor company. After hours, he takes his Canon EOS 5D Mark II to shoot the subjects he enjoys the most—moody landscapes from mountaintops to rivers.
It's rare to find a landscape image that can tell a powerful story, but Martin Rak has managed to deliver this consistently in his fairytale-like body of work. When it comes to capturing a blanket of fog rolling over the hills or the golden light of the sun setting over city rooftops or even a flower bathed in bokeh, we look to him for inspiration.
Aside from his photographs in full color, he is also not afraid to shoot in black and white with a minimalist style, creating atmosphere of stillness, heavy with mystery.
Perhaps it's because of his sharp curatorial eye or his natural skill in spotting and working with great light. Whatever it is, we can some find some answers and inspiration in the 24 hours of his life that he documents for us.
Scroll down, and see what it's like to be spend an autumn day in the life of a landscape photographer.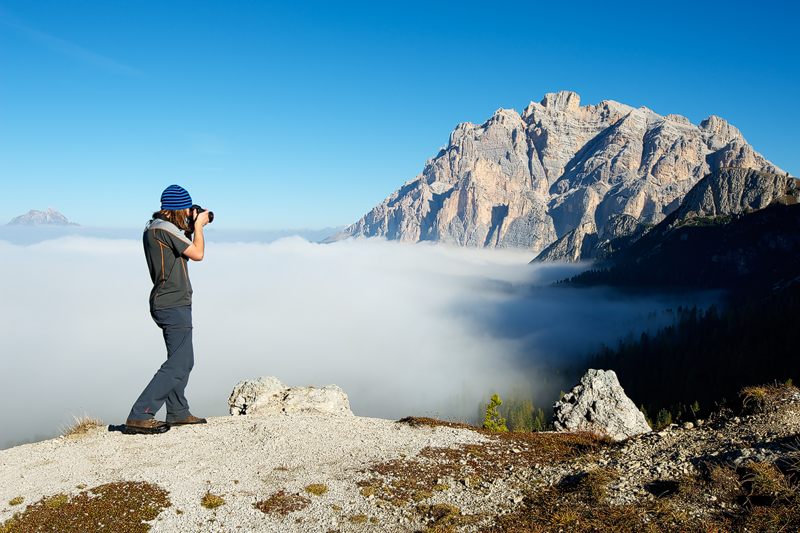 A Day in the Life of Martin Rak
5 A.M. I wake up and check the latest weather forecast on my phone. It looks very promising, so I quickly pack my stuff, check if I have all my photo gear, and set off.
6 A.M. I am going up on a narrow trail in the Bohemian Switzerland National Park. It is still dark. I can see dozens of eyes, reflecting the light of my headlamp when I look deep into the forest.
6.45 A.M. I arrive at the viewpoint. It is on a sandstone cliff high above the valley. Everything below is covered with a blanket of fog, only treetops and hills are peeking through. It is late October, and it is freezing cold. I am setting up my tripod. I am looking for some great compositions.
7:30 A.M. Sunrise. The sun is slowly making its way up above the horizon and the first sun rays pierce through the mist. The golden light together with the colorful trees create such a wonderful performance. I am just releasing the shutter, while enjoying the beauty of a wonderful autumn morning.
 
9 A.M. The mist in the valley is almost gone, as the sun is getting higher. Having packed my gear, I just sit on the rock, have a snack, and enjoy the view.
10 A.M. It is a nice and sunny October day, so I've decided to scout the area and look for some new locations. Bohemian Switzerland is a beautiful national park in the northern part of the Czech Republic right on the border with Germany. There are so many valleys, gorges, and rock formations there. You could be exploring it for weeks, and still discover new views and unseen spots.
12 P.M.  I am getting tired as I have been hiking almost all morning in a harsh terrain. I head back to my car. As I come back to the main hiking trail, there are already many hikers, and it is getting quite busy. Time to rest and time for lunch.
2 P.M. I am sitting in one of the local restaurants enjoying a cup of espresso after a great lunch. I check the latest weather forecast which looks good.
3 P.M. I have decided to go to the Carolafelsen viewpoint which is right across the border of the Saxon Switzerland-German part of the Elbe sandstone mountains. It is a 40-minute drive. On the way, I stop to check my favorite waterfalls, but there is almost no water, as there hasn't been much rain recently.
4 P.M. I park my car and head to the rocks.
5 P.M. I am setting up my gear at the viewpoint. The trees in front of me are colored in red and yellow. It was a fantastic autumn mood.
6 P.M. I am shooting the sunset. The wind is blowing pretty hard, so I have to hold my tripod because it almost fell over. I meet a fellow German photographer. We chat for a while, and when the sun is gone behind the horizon, we pack our gear and head back to the parking lot.
7 P.M. I am already in the car driving back home.
8 P.M. I stop at the gas station to grab some food and a cup of coffee.
9 P.M. I arrive home. I quickly check the images I took today on my computer. It seems there could be some keepers. All in all, it was a wonderful and successful day.
10 P.M. I am completely exhausted, so I am going to bed. Good night…
We hope reading about Martin's day hiking in the woods of Switzerland gave you some insight into landscape photography work. Want to see more of his photos? Scroll down for more breathtaking landscapes to inspire you:
Follow Martin Rak on 500px to see more of his images. You can also connect with him on his website, Facebook page, or Google+ page. Got any questions for him about his techniques or images? Leave a comment for him below!
Check back next week for a new installment of A Day In The Life featuring another inspiring 500px photographer.