Have you ever wondered what a day in the life of a professional photographer is like? Wonder no more! Every week, we ask a top-notch 500px photographer to document a day at work — be that in the field, in the studio, or both.
From talented portraitists to astrophotographers who capture the night sky as you've never seen it before, they offer you an exclusive, behind-the-scenes look at their shooting schedule and techniques in the field.
This week, we're trekking through a Bavarian forest with a landscape photographer whose work you have no-doubt seen with regularity on both the Popular and Editors' Choice pages: Kilian Schönberger.
Kilian's subjects of choice are vast, preferably foggy landscapes. Based out of Cologne, Germany, he's often trudging through forests or hiking mountain paths with his Sony A7r and Canon 5D MKII in tow, searching for the perfect composition.
And in that he has both an advantage and disadvantage… you see, Kilian is colorblind. That's right, the man behind the vibrant landscapes you see above and below doesn't see colors the way most of us do, but he considers this a strength.
"I recognized that I could turn this so-called disadvantage into a strength, too and developed my own unique photographic view," he explains on his website. "[For example], while getting a picture of a chaotic forest scene, I can't clearly distinguish the different green and brown tones. Brushing aside this 'handicap' I don't care about those tones and just concentrate on the patterns of the wood to achieve an impressive image structure."
Obviously this 'handicap' is anything but. In fact, Kilian doesn't so much as mention it as he takes you along for (almost) 24-hours in a Bohemian Forest, a mountain range along the German-Czech border, and part of the Czech "Šumava National Park" and German "Bavarian Forest National Park."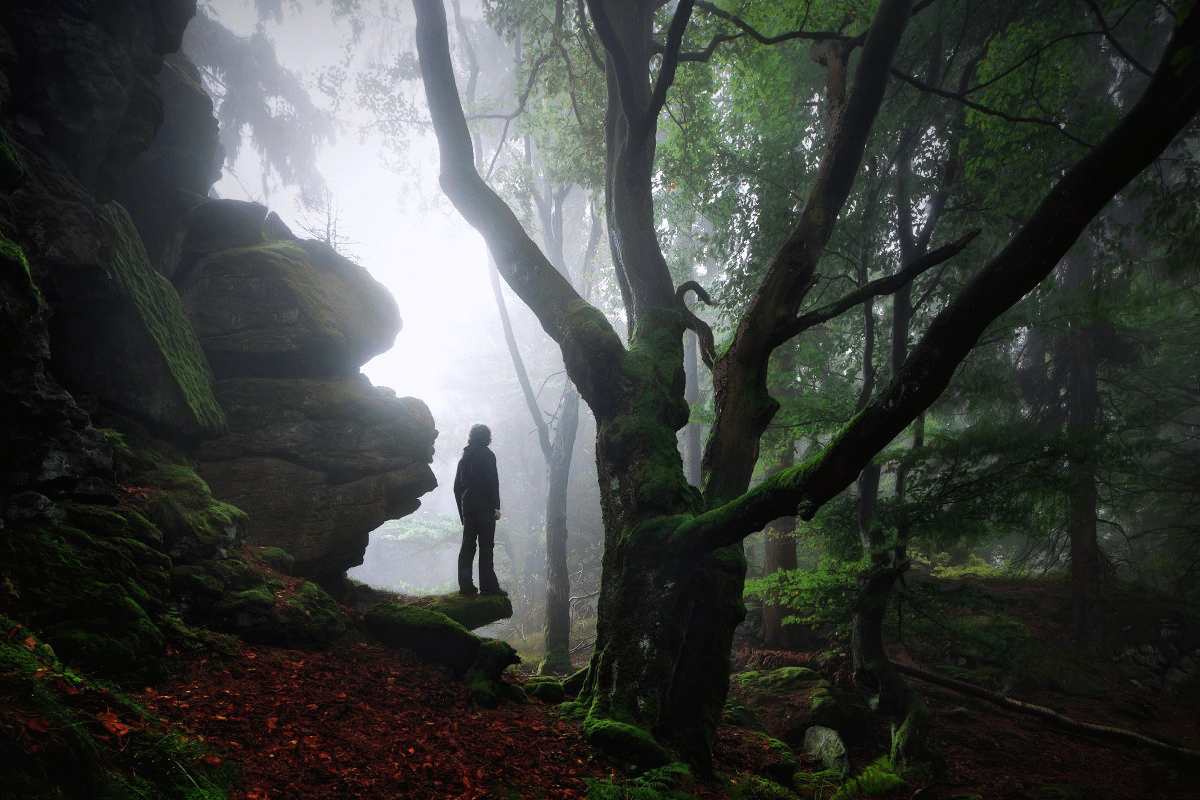 24 Hours with Kilian Schönberger
1 A.M. Late autumn and it's already quite cold outside. I'm still awake and looking at the latest satellite images till I'm sure of which place will be the best for my sunrise captures. It's not always easy to see the difference between fog and clouds and to predict how the fog layers will develop in the next hours.
Normally I try to take a snatch of sleep after I've made a final decision for my photo tour in the morning. Hardly two hours sometimes. Depends a bit on how far I have to drive, hike and so on.
My target for the next morning are the heights of the Bohemian Forest mountain range, wooded uplands along the German-Czech border. You can find two national parks in this region: The German Bavarian Forest National Park and the Czech Šumava National Park. Sunrise will be around 8 — I want to be on location one hour before sunrise, therefore the alarm clock will go of at 4 A.M. since I have to schedule in a 1.5 hour drive and a one hour hike. Already 1:30 A.M. What? Not much time for a refreshing sleep.
4 A.M. The alarm clock goes off. Instant adrenalin rush. Quick look out of the window — seems to have become a good day. Quick look at the newest satellite images — seems to have become an even better day.
I put on my outdoor clothes, have a few cups of coffee (adrenalin & caffein — what a nice combination) and get my equipment into my car. The night ride begins. Roads are empty and the landscape is covered in darkness. Not too easy to check the weather and light conditions when everything seems to be black. Good music is essential, too. I made some mixtapes with my favorite songs for those night and early morning drives.
5:30 A.M. I reach the parking lot in time. I got underneath the fog layer at 900M ASL (above mean sea level). Driving and also walking with a headlamp becomes difficult since I can't see any farther than the end of my nose. When you turn the light on, everything is blinding white due to the illuminated dense fog; if you turn the lights off, everything turns black. Fortunately I know the path due to former visits. So I start my hike up the mountain.
Hopefully the mountain top will tower above the white veil. I'm dubious about my decisions: what should I do when fog covers even the highest peaks of the Bohemian Forest? But high risks in terms of weather conditions have led to great pictures before, so I'm hopeful.
I'm walking further up the mountains: Even more fog. But — good news — a slight glow of blueish dawn light from above signals that I'll reach the fog surface. Temperature is below zero now. The ice covered little stones under my hiking boots are scrunching with every footstep.
Others are doing yoga — I am ascending mountains in the darkness of the night. Immersing in my own tranquil world step-by-step. A stoic rhythm of walking through the night towards the gently looming dawn. Braving the elements and taking pictures out there is a very conscious style of photography. Meditation and far beyond.
6 A.M. Lucky me! I'm reaching the upper surface of the fog layer 30m below the mountain top. The top reaches out like a little rocky island above a sheer endless sea of fog. Perfect conditions — better than I even hoped for.
This moment reminds me to the Caspar David Friedrich Painting "Wanderer above the Sea of Fog". The fog surface permanently changed its altitude. Trees appear and disappear. Strange looking trees: Wooden skeletons since bark beetles killed the spruce forests of the higher parts of the Bohemian Forest during the last decades. It looks like the wooden skeletons are dancing in the swirling fog. Spooky.
I start shooting this eerie scenery with the Canon 70-200mm f/4.0L — my lightweight "mountain-tele-lens."
7 A.M. Suddenly the fog level begins rising and covers my position. No sight anymore — but shooting the sunrise directly above the fog layer is a must-have shot at such conditions, so I'm afraid that I won't be able to capture the golden morning light. Luckily I'm above the fog soon again.
8 A.M. Punctual to the sunrise, I change the 70-200mm zoom lens to my 24mm TSE II lens by Canon. This is my favorite lens for "normal" landscape work. It lacks the nice sun star of (f.e.) the Nikon 14-24mm f/2.8, but I love the flexibility of the tilt and shift function. If I had to choose only one lens for a lonely island, this one would be it.
9 A.M. After sunrise I continue taking abstract "cloud forest" shots. These are outstanding conditions that I've never witnessed in such intensity before. With the sun rising higher, the light is getting harder and the fog falls back into the valleys. Time to leave the mountain top and so I'm walking down again.
At the contact zone between sunlight and fog I'm able to capture some fine foggy forest scenes. The deciduous forests down here weren't affected by the bark beetles. For forest photography I prefer the 24mm TSE II, too. The shift function is great to take shots with straight trees right on location — what you see is what you get. Not much perspective correction needed afterwards. I'm mainly shooting in live view mode to have a maximum of light control.
10 A.M. I'm done with this location. Time to get back to the car and drive to the next location. I discovered some dense fog layers at a distant area, and so I hope that the fog will last till I arrive there. Now my main photographic target is a little wooden sanctuary hidden in the forest of the Šumava, a Czech National Park district.
11 A.M. Start of the hike to my second location. The light is already hard and the sky is blue except for some fog around the hilltops where I want to take my photos, so I hurry up because it's a four kilometer hike again.
At the contact zone between fog and sunlight the conditions are great again, but I don't stop because I want to reach my main target before the fog starts to disappear.
12 A.M. I arrive just in time. The wooden chapel is still shrouded by fog but sunlight is already starting to break through, so I hurry up to capture the shots I have on my mind. Again, working with the Canon 24mm TSE II. This lens is a beast. 'Nuff said.
1 P.M. I'm done with location number two. A short hike to a rock formation doesn't bring any good pictures since the conditions under the full sun are quite bad now, so I decide to return to my car. I'll drive back to my "base camp" — a mountain cabin — to catch two hours of sleep.
4 P.M. Back on the track. For the evening I'm again visiting the mountainous landscape along the German-Czech border. Some rock towers provide great views towards the Alps, Bavaria in Germany and the Czech Šumava National Park. The conditions aren't as good as in the morning, but haze and mist combined with the blueish colour of the forested mountains provide some shooting opportunities.
The landscape seems to be very calm and peaceful. I like those moments… it's not always a spectacular sunrise what I'm looking for.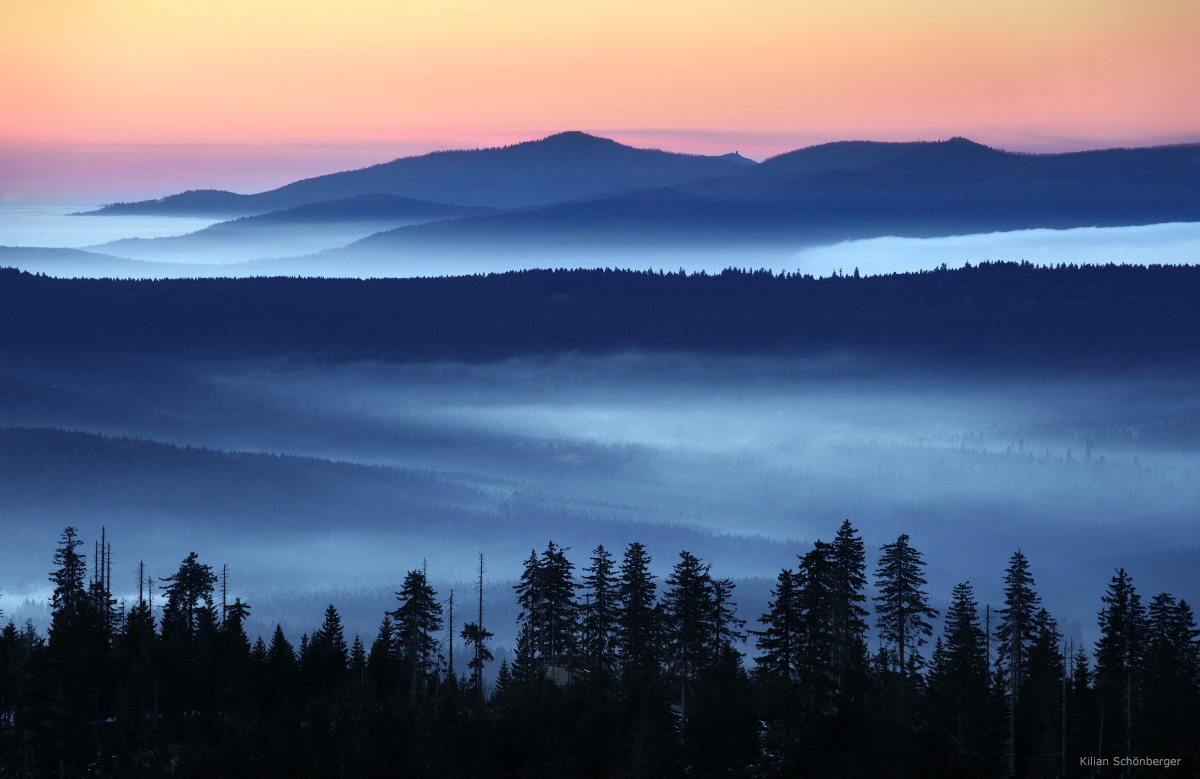 5 P.M. The sun is setting and I will stay some minutes longer up on top of the mountain to capture the fog that is rising again down in the valleys. A successful photo day ends.
I'm walking back to my car — reflecting the different moods and conditions I witnessed today. This area along the German-Czech border, not far from the densely populated areas around the cities of Prague and Munich, may not be the most spectacular seen on a global scale, but with the right conditions it's possible to capture great photos almost everywhere.
6 P.M. After a hot shower I'm enjoying the evening in the mountain cabin where I'm normally staying during my trips to this area. The ingel crackles and I'm quite exhausted but satisfied.
8 P.M. For dinner I'm having some Bavarian specialties like "Obadzda" (a Bavarian cheese spread) and Czech beer. I think it's important to learn about a certain landscape not only in a photographic way but also in a cultural way. So I'm always trying to test some local specialities and to learn something about the history of the places I'm visiting.
I'm also a big fan of old fairytales that are linked to locations where I'm taking my pictures. Sometimes I even have found new locations through reading those old stories about a certain area.
9 P.M. After a fast look at the RAW files I captured during this day, I'm excited about planing my tour for the next morning. So I'm making new plans with the help of some maps, books, and online resources. The weather forecast looks good again, too. I'm trying to go to bed soon since there won't be too much time left till the alarm clock goes off again.
10 P.M. Good Night!
---
We hope this extremely long day in Kilian's shoes gives you some idea of the work involved in capturing those stunning landscapes that you see day-in and day-out when you're browsing some of the top users on 500px.
It's not easy — and doubly so when you can't actually see some of the colors you're capturing — but that final shot is always worth it.
Below are a few more of Kilian's best-loved shots on 500px, but if you'd like to keep up with him as he takes more, be sure to follow his account, head over to his website, give his page a Like on Facebook, or check him out on Instagram.
Don't forget to check back in next week for another installment of A Day in the Life featuring another awesome 500px photographer.