In his previous article, commercial photographer Duncan Nicholls shared his pre-production experience and location scouting tips for his shoot with professional tennis player, Heather Watson. Today's focus is how to capture athletes in action and manage the energy on a commercial photo shoot.
Day 2: Shoot day
Meeting Heather
Camera Settings: 1/1000th second, f6.3, ISO 400. Lens: Canon EF f2.8 70-200mm @ 80mm
Including the TV crews, I'd estimate there were 40-50 people on set when Heather and her Agent and PR team arrived. Heather was very relaxed, but I feel it's important as the photographer to welcome the athlete and their team and make them feel at ease.
As soon as we started shooting, I showed Heather some of the images on my laptop, and she loved them. That gave her total confidence that the results would be amazing. Irrespective of someone's talent, fitness level, confidence or how attractive the world views them, I find most people are their own worst critic. Despite how irrational it might seem to everyone else, we all have our insecurities. As a people photographer, you must be aware of this.
Camera Settings: 1/2000th second, f5.6, ISO 800. Lens: Canon EF f2.8 70-200mm @200mm.
Authenticity and the Uniqueness of Every Athlete
Regardless of all your preparation, each athlete brings their own personality, energy, and unique way of moving their body. Some will love photo shoots others, not so much. You need to get an athlete's full buy-in so they give you everything. Whatever you're shooting, try to ensure that it's authentic to them and their craft. So if you're shooting a tennis serve, or even an exercise move, athletes will respond better if they are allowed to do it their way, and if it's a move they actually do themselves. They know their own body and kinetic sequences. But in a shoot situation, you are asking them to repeat the movement over and over again in a way that's authentic and also aesthetically the strongest. That can be hard for them to do, both from a mental and sometimes physical perspective.
Camera Settings: 1/1600th second, f5.6, ISO 400. Lens: Canon EF f2.8 70-200mm @95mm.
Remain conscious of your subject's mental and physical state. Understand when to keep shooting, when to push harder, and when to step back and take a break. In this instance, Heather was carrying an injury, so we scaled back the power and aggression in our original shot list. The right facial expression and emotion is crucial. If you're asking an athlete to perform a fast, explosive move, the facial expression should be strong, but not unflattering and showing over-exertion. It's a fine balance.
Camera Settings: 1/2500th second, f5.6, ISO 400. Lens: Sigma Art f1.4 50mm
Pro athletes will almost always have their agents, PR, etc. on set, so you have to manage that relationship too. The Athlete might be willing to go much further and for much longer than their management team would like. The more fun the athlete is having, and the more you acknowledge the importance of their agent and team, the more time you'll get and the better the shots will be. There are so many people on a set like this, and so many opinions and potential ego clashes, that while politely maintaining your position of authority, you must be aware of and respect all the dynamics and emotions at play.
On Set Create a Positive, Trusting Environment
As a professional photographer, it's your responsibility to create a positive environment on set. Trust others to be the experts that they are, and give them the platform to do their best work. Everyone has their own responsibilities. When you are photographing a famous athlete or celebrity, there can be extra tension on set. In a way, so much is always on the line—the client's financial investment, reputations, and careers. You have to deliver. I feel it's the photographer's responsibility to absorb the pressure for everyone and let them know that you've got it, so they can relax and deliver exceptional work.
Camera Settings: 1/2000th second, f5.6, ISO 800. Lens: Canon EF f2.8 70-200mm @200mm.
Lighting
The glorious sunshine I was hoping for materialised, so I then used the lights and reflectors as either subtle back clips or minimal front fill lights, enhancing the look I was going for. Each set up differed slightly, but more often than not I used a Profoto B1 head with an Octabox as the back / clip light. Sometimes I also had an open head B2 if I wanted that clip light to be harder. I used a B2 with a softbox on, and a sunbounce as fill lights. Keeping that front fill it set at 1.5 stops under. I didn't want it to be a hard key light.
Camera Settings: 1/2500th second, f5.6, ISO 800. Lens: Canon EF f2.8 70-200mm @115mm
Shoot Tethered
Sports shoots are all about making the athlete(s) and brand clothing look incredible. Watch the details, any bit of kit that could look neater, and the positioning of brand logos. It's so important to shoot tethered into Capture One (or if you prefer Lightroom) whenever it's possible to do so.
The art director, client and my digital operator are all seeing the images a second after I've shot them. We can all see what's working and what needs to be improved. When you're shooting sports, you're focusing on so many things at once. The perfect technique, the best angles to illustrate that technique or desired emotion, the facial expressions and emotions of the athlete, the clothing, the hair, overall composition, the perhaps changing ambient light, correct points of focus—all at 1/1000th's of a second. And often all with a moving target. So shooting tethered is so important.
The shoot was a huge success. We completed the shot list right on the 80 minute mark. My clients were very happy with the results and even commissioned additional usage. Creating this campaign was the most exhilarating rush. Being a photographer brings me so much joy, and moments like this just serve as inspiration to work even harder, so I get to experience them again and again.
Camera Settings: 1/2500th second, f5.6, ISO 400. Lens: Sigma Art f1.4 50mm
Reps, Reps, Reps…
I've been on thousands of shoots but continue to practice my craft all the time. It's so that in moments like this, we can all achieve amazing results. If you want to be a successful professional photographer and achieve your own goals, shoot as much personal work as you can. It's so much fun, and you'll always learn something new or hone your craft in some way. It's all invaluable.
Camera Settings: 1/2500th second, f5.6, ISO 800. Lens: Canon EF f2.8 70-200mm @200mm

Enjoy your photography—it's the most incredible gift, and the journey will blow your mind.
Conclusion
Create a happy, professional environment that allows everyone to enjoy creating their best work.
It's a team game. Absorb all the pressure. The overall atmosphere is your responsibility.
Be grateful, kind, calm and in control. Confident, but never arrogant. Strong opinions loosely held.
Every professional athlete moves their body in their own unique way.
Remain conscious of their mental and physical state throughout the shoot, and dial up or down the intensity accordingly.
Where possible, ensure the shots remain authentic to the athlete you are shooting and their sport.
The devil is in the detail. Make sure the athlete's facial expressions remain on point, clothing looks as good as possible, and brand logos are visible if required. Shooting tethered helps with this.
The more you practice, the more instinctive everything becomes and the faster you can react to issues that arise on a shoot. There is always scope to improve, so shoot personal projects as often as you can to sharpen your skills.
Remain laser-focused, and enjoy every second. The rush of delivering on a shoot like this is electric!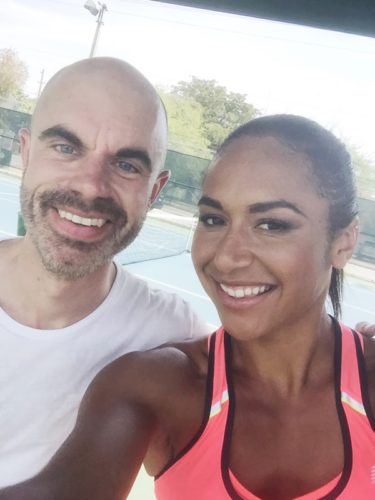 Duncan Nicholls is a commercial photographer based out of the UK. Head to his website to check out more of his sports photography.