Duncan Nicholls is a commercial photographer based in the UK. Today he shares his experience of working on an advertising campaign for New Balance with professional tennis player Heather Watson. This is the first of a two-part story. Read the second part of Nicholls' story where he discusses how to capture athletes in action and manage the energy on a commercial photo shoot.
Cutting straight to the chase… This is one of, if not the favorite, shoot of my career so far. There are so many pieces of advice I can pass on from it. I hope you enjoy the story, and that it inspires and helps you in some way.
The Brief:
To create a series of images of British tennis player Heather Watson, running digitally and in print for New Balance, and featured in Women's Health & Runner's World magazines. This was part of a wider campaign captured over 3 months.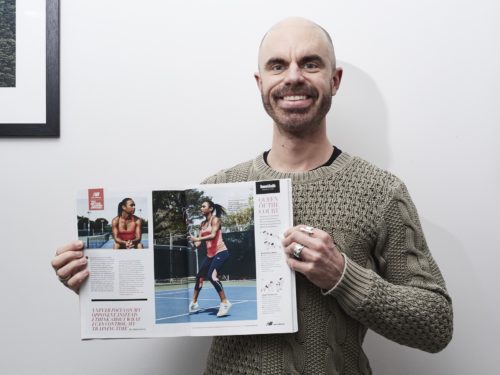 Pre-production, Visualisation, and the importance of Location Scouting.
Heather is based in Florida, so we traveled from London to Miami for the shoot. We would have just 1 hour and 20 minutes of shoot time with her, as she was also filming a New Balance TV advert before and after our time slot.
We arrived in Miami very late on the 16th March. The 17th was a location scouting (reccie day); the 18th, the shoot day.
As a professional photographer, you have to be ready to react and adapt at every second on set, and factor in some spontaneity on a job. But with zero time for hesitation on shoot day, our preparation had to be very thorough. I can't stress the importance of the pre-production process enough—especially when you have such limited time with a professional athlete. Especially when every second counts, you have to remain calm at every moment too.
Before flying to Miami, the Art Director and I had spoken in length about our shot list and compiled visual references and mood boards for each shot.
On the 17th, we visited the tennis court shoot location at the exact time of day we'd be shooting the following day. When you're working outside, this timing is incredibly useful. You can see exactly where the sun will be and what the light/shadows will look like at every minute that you'll be shooting. I also use the free Sun Surveyor Lite App, which gives you a 3D compass so you can see where the sun will be at every minute of the day, wherever you are in the world.
We walked through our shot list and captured test frames of each scenario. The Art Director, Ben, jumped in as the talent, practicing tennis serves and volleys with an imaginary racquet and ball. To say we were getting funny looks from players on the adjacent courts is an understatement. 🙂 Who were these English weirdos photographing an imaginary game of 1-player tennis?
Camera Settings: 1/1600th second, f5.6, ISO 400. Lens: Canon EF f2.8 70-200mm @95mm.
What You Learn From Location Scouting
Exactly where we would shoot each setup, and the logical and most efficient order to create each setup.
The position of the sun for each setup. Do we want Heather front, back, or side lit for each scenario? How and where would I position my Profoto flash lights? Looking at the background for each shoot. Is there anything distracting we can move?
Heather would be wearing two different outfits during the shoot—so where are the brand logos on those items? You have to make sure you're shooting from the correct side so logos are visible at the critical moments, like at the top of the serve.
This is a personal thing, but I also like to spend time visualizing how the shoot will pan out.
After the location scouting, it was back to the hotel for a production meeting with the teams from New Balance and the TV crew. The time that brands get with their sponsored famous athletes can be limited, which sometimes means that both Film & Stills are captured on the same day. Each team will have their own tight timeline, so it's important to work together as one collective unit to get the best results for your client.
Equipment: Why 1 is none, and 2 is one
Shooting in Miami would probably guarantee sunshine, but you can't assume that. My kit list included multiple location lights, so if need be I could mimic the Miami sunshine.
Here's the full list:
Cameras:
I now capture fast action on the Canon 1DX Mk 2. It has a great frames per second rate (14), and it also has a greater dynamic range, so even when ambient light is very contrasty, you are more likely to be able to recover more detail in the blacks and highlights.
Lenses:
Sigma Art f1.4 50mm
Sigma Art f1.4 85mm
Canon f2.8 24-70mm
Canon f2.8 70-200mm
Canon f4 24-105mm
Lighting (Profoto):
2 x Profoto B1
4 x B1 batteries
2 x Profoto B2
4 x B2 batteries
1 x Octabox
1 x Softbox
1 x Grid set
4 x Lighting stands
2 x Profoto triggers
2 x Sync cables
Sunbounce reflectors
Additional Gear:
2 x Macbook Pro's
3 x Tethered cables
3 x Lacie Rugged 1TB hard drives
Multiple SD, CF cards & readers
3 x Camera batteries
1 x Manfrotto tripod
1 x Seaport location laptop bag
1 x Hyperjuice location battery for Mac
Warm up gels, gaffer tape etc
You can't take unnecessary risks, so backups of everything is essential. "1 is none, and 2 is 1" is a good line to remember. Pretty much all of the equipment was taken with me from London in flight cases.
I chose to use the Profoto B1 & B2's in this instance for a couple of reasons. I was going to be combining ambient with flash, and didn't need hugely powerful packs, like the Profoto Pro B4's. The B1 & B2's are light and very quick to move around. They also have the High Speed Sync Function, so I can shoot at faster shutter speeds like 1/2000th second to freeze the action on some shots, and still have flash coming into the shot.
It's a Team Game.
Photography at this level is a team game. There's the talent, the client, styling, hair and makeup, art director, photographer, digital operator, lighting assistant(s), and retoucher. The final shots are the result of all our collective talent and hard work.
We didn't need a big photographic crew this time, just one Digital Operator to run Capture One during the shoot while I shot tethered into that, and one Assistant to quickly move the Lighting set around as we shifted between locations. I'll go into the importance of shooting tethered later on.
Conclusion:
Thorough pre-production and preparation is the key to consistently producing your very best work.
Whenever possible, visit the location for a reccie on a day prior to the main shoot. It gives you time to absorb everything in greater depth, and walk through every scenario.
Eliminate unnecessary risk—have at least 1 backup for every piece of equipment.
Create a happy, professional environment that allows everyone to enjoy creating their best work.

Tomorrow we will be publishing the second part of this story which focuses on the photo shoot Heather Watson on set in Miami. In the meantime, head to Duncan Nicholls' website to check out more of his sports photography.