Josh Anon is a creative powerhouse, plain and simple. A former Pixar cinematographer, former senior product manager at Lytro, and nature photographer with 20 years of experience under his belt, he's almost got too much experience to share.
Fortunately there's no such thing as too much wisdom, and so Josh joined us at our San Francisco office the other day for an hour-and-a-half long Twitter AMA (Ask Me Anything) to share some of that wisdom with the rest of us.
How does he stay inspired? What effect has his Pixar experience had on the way he shoots and sees the world? How many photos does he usually take, keep, share from a single trip? All of this and more came out during our AMA.
Scroll down to read 23 of our favorite Questions and Answers from the session, then click here to read all of them—plus a bunch of pro tips—for yourself!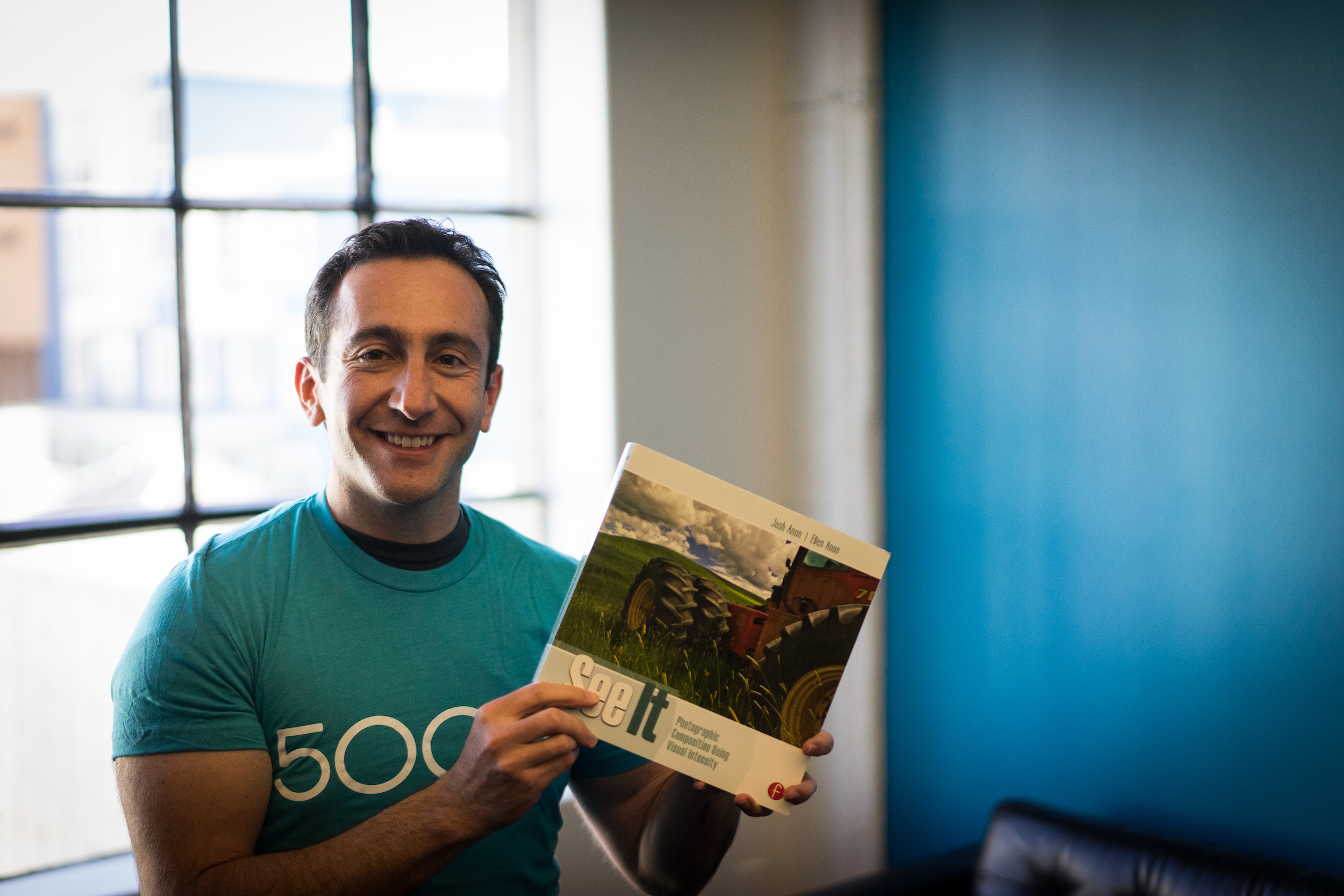 Q. What is the most waited for photo you have and how did you feel when you finally got it?
– Kristopher Blair (@kristopherbl1)
A. 6h lying in the cold south Atlantic/Antarctic ocean for this. & very happy 🙂
---
Q. I love your photographs! How did you get started in this career? #curious student
– Maecie R. (@mcieliv)
A. I picked up a camera, took 100 photos, threw out 100, took 100 more, kept 1, and went shooting again 🙂
Q. Do you think photos taken from modern smartphones can compete with those from DSLR, etc?
– Adam Fraser (@AdamF81)
A. Smartphones are improving, but if you look at 100%, there's still a huge difference.
---
Q. How do you market yourself in a way that makes you stand out?
– Bianca Russell (@beezyb40)
A. Honestly I'm not good at marketing. I just do the best work I can, try to be active online, and try to keep shooting! Plus nature's harder to market: it's gotten de-valued the past 10 years as more people with cams travel/get great shots.
---
Q. How much of photography is being at the right place at the right time, vs. actively trying to line up the perfect shoot?
– Erin Sumpmann (@e_sump)
A. It's a mix. Usually have pre-visualized shots & try to get them but also keep my eyes open. Watching for light/subjects helps me notice new scenes/things I didn't pre-visualize. Of course travel/nature's not studio work 🙂
Q. What advice would you give to someone who's trying to go beyond amateur work?
– Justin Boot (@Polymathically)
A. Look at people doing better & ask what you like/what they're doing/you're not doing. Go shoot more. Look at what you like/don't like about each shot & aim to do better next time. Very easy with digital to do this 🙂 Also, my composition book (by my mom & me) will absolutely help you become a better photog! … Oh, and follow the light, too. Great photo = awesome subject w/ great light.
---
Q. We all wanna know… what films and projects did you work on at @DisneyPixar?
– Klassy P. Goldberg (@klassy)
A. Intern on Finding Nemo, worked on everything until Monsters U. Amazing experience!
---
Q. Hi Josh! Can you show us your best shot ever taken? Why is it your favorite?
– Alexandre Poitras (@AlexPoitras)
A. Oh man that's like asking which is my favorite finger! I love the stuff I've put on 500px lately from the poles.
Q. Are there really rules of composition you follow, or do you just do what looks right to you?
– Let me be Frank (@syncros)
A. I think rules are dumb. I teach composition by understanding how our brain affects perception of images. Book explains it 🙂
---
Q. Do you have any personal favorite photographers of all time? And why are they your faves?
– Marie&Jason (@WholesomelySpun)
A. I think that's like asking for my favorite movie or book; many top favorites (see prev tweets)! Also like finding new inspiration. 500px is my fav source for that now (they're not paying me to say that!!)
---
Q. It seems like you've changed gears career-wise a bit. Do you have any advice for others changing careers?
– Caren Drysdale (@carenzo96)
A. Ish. I've always focused on art/tech intersection & done what's interesting. World's cross-functional now. Focus on what you want to do & figure out what you need to do to make it happen.
Q. How do you prepare for a shot so it's "perfect" without having to worry about photo editing?
– Marie&Jason (@WholesomelySpun)
A. I don't think that way. I do my best in-cam & know what I can do in post. Almost every shot gets tweaked.
---
Q. Where do you get your ideas for your work?
– Marie&Jason (@WholesomelySpun)
A. All over! Seeing what others are doing, pre-visualizing what I'd do differently, imagining what I want to do.
---
Q. What did you do to have made the Seal to align all penguins at the right moment (photo below)?
– Remy van Haarlem (@remy500px)
A. I make a good seal mating call. j/k. Total luck & patience. I was lying there for about an hour waiting for light/action.
Q. How do I get a perfect photo every time I click it and earn from what I enjoy?
– Mrityunjay Sinha (@Mritiunjai)
A. I throw away 9/10 of what I shoot 🙂 Ask yourself why you trash it/how to do better. […] my last trip, I took ~13k, kept ~3k, show 170, and love ~20.
---
Q. What were your best lessons learned from DisneyPixar and Lytro?
– Marie&Jason (@WholesomelySpun)
A. Check your ego. Teams > Individuals. Do your best & forget the rest. Product/market fit is priority #1.
---
Q. What was your most difficult photo shoot experience?
– Marie&Jason (@WholesomelySpun)
A. I spent $$$ for access & had 1 chance to get this shot (below). Super-stressful.
Q. I really love photography What camera is good for non professional use? And that is budget friendly since Im 17yo 🙂
– Tom (@Shifzu)
A. RX100 is great-cheap/small/gets you shooting. Mirrorless ILCs all offer good starting points. Even buy a used camera, just something to get you started. Then figure out what you need/how you're limited & buy the next gear.
---
Q. …How far did you go to take a picture (in terms of position/etc.)?
– Freddie (@Doc_Goose)
A. I'll go pretty far but not put myself at serious risk. Gear's insured. I can do many things very safely. I figure if I can still press the shutter, I'm probably OK to still shoot (have mentally wondered if I'm getting frostbite b4).
---
Q. Rare and amazing photos a photographer makes by going into rare positions, whats your most weird one?
– Remy van Haarlem (@remy500px)
A. Lying in the surf in South Georgia Island (promo pic) to get this shot was pretty wild…
Q. If you could photograph one rare event in nature's history, what would it be?
– Chris Duncan (@DuncanFoto)
A. Oh man, so many! Big bang would be pretty cool. Pics or it didn't happen, right? 🙂
---
Q. How do you think your work in animation with Pixar has influenced your photography?
– Ellen Desmarais (@EllenDes)
A. Made me think more about emotion/intent/dynamic nature of shots & let me practice w/ full control of virtual cam.
---
Q. Which photo changed your career and why?
– Freddie (@Doc_Goose)
A. The first image I sold (below) when I was 13, made me realize this is more than a hobby.
A huge thank you to Josh for taking the time to come in and answer everybody's questions! Our users really seemed to love the AMA and the great questions just kept on coming.
To see more from Josh, follow him on 500px, visit his website, or say hello on Twitter and Instagram. And if you want to learn composition the way Josh teaches it, don't forget to check out his book, too!
---
Loved the tips, stories, and just plain awesome insights Josh was able to offer through this AMA? Want more? Help us select the victim of our next Ask Me Anything! Drop your suggestion for our next AMA in the comments and we'll do our best to make it happen for you.