What better way to kick off the holiday season than a creativity-boosting photo challenge—or 12 of them? Meet the 12 Days of Questmas: 12 unique Quests designed for 500px photographers to test their skills and win exciting prizes from some of the world's top photography brands. Here's what you can expect from Questmas and how to enter. Grab your gear and get your eyes on a prize!
How can I get involved?
From December 1 to 12, we're inviting the 500px community to submit their photos to the 12 Days of Questmas challenges. Each Quest has a theme to get your inspiration flowing, and specific requirements to test your skill. To be eligible to win the grand prize for a Quest, all you need to do is submit a photo that meets the theme and requirements outlined in the brief. Members can submit as many photos to as many Quests as they'd like to during the 12 days.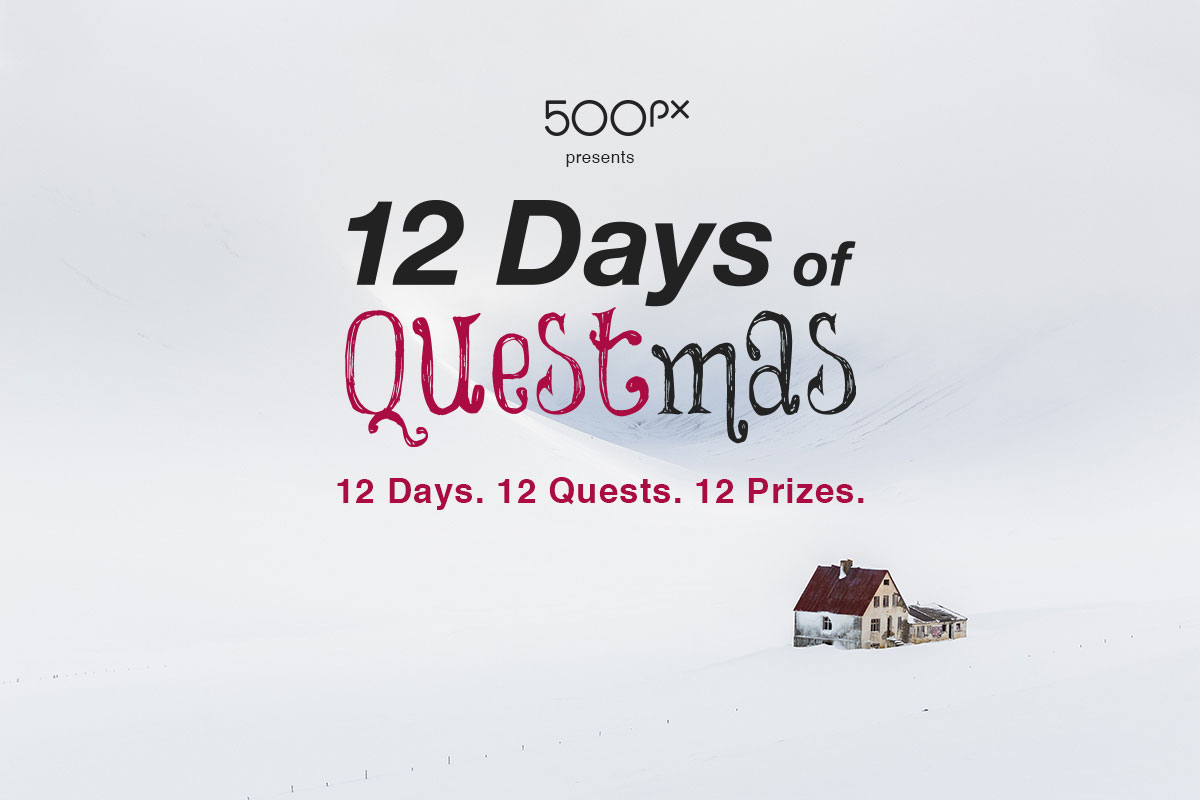 How are winners determined?
At the end of the 12 days, 500px's team of photo editors will review the submissions and select one lucky winner and 10 runners-up for each Quest.
What are the prizes?
We're not revealing that surprise just yet! One grand prize will be revealed daily throughout the 12 Days of Questmas. Be sure to check the Quests page daily to see which prize has been revealed. But for now, here's a sneak peek of some of the brands we're working with:
What are Quests?
New to Quests? No problem. Quests are creative photo challenges designed to help 500px photographers test their skills and get recognized for their work. Each Quest has a different theme inspired by current photography trends, a unique set of requirements, and an awesome prize.
To submit to a Quest, visit the Quests page, where you'll find all active Quests that are currently accepting submissions. If there's an active Quest that piques your interest, review the brief, the requirements, and the inspiration example images we've curated to give you and idea of what we're looking for—then get shooting and submit your photo!
Submitting to Licensing with Quests
The requirements for each Quest are different, but often you'll see that your photo "must be submitted to Licensing." We offer opportunities for photographers to license their photos and earn money through our exclusive distribution partners with 500px Licensing. But if you're unfamiliar with submitting your photos to Licensing, don't sweat it. Here's a complete guide to licensing your photos, including how to get started. Be sure to check out our resources about model releases, too, and take the guesswork out of when and how to use them.
Let us know what you think of the challenges in the comments—happy Questmas!
Main photo: Bogdan Dreava