Photography is a solo act—and a special one, that is. Professional photographers often specialize in one or two fields of photography and devote years to perfect their craft. But what if you try to change that? What if you put professionals of various fields together, through one journey, as one team?
You take four photographers: Alex Conu, an astrophotographer, Jari Peltomäki, a world-renowned bird & wildlife photographer, Anne Østerby, an architectural imaging master, and Carl Johan Johansson, a brilliant contemporary photo artist and drop them off in one of the most beautiful locations in the Nordics, the famous Lofoten Islands. Together, they will spend hours exploring one location after another. They will have to go beyond their comfort zones and rely on their intuition and insights from one another.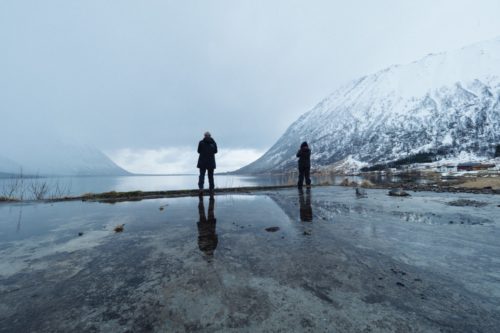 Behind the scenes of #WAYNRTH. Photo: Janne Amunét.
This is #WAYNRTH by Olympus. Four days with four incredible photographers, each with their unique specialty, sharing in knowledge and love for photography and putting the new flagship OM-D E-M1 Mark II through its paces. We sat down with the four photographers to find out more about their experience.
Q: How would you describe your personal style? How did you incorporate your personal style into this project?
Carl: My style is kind of graphic and bold. Often strong and contrasting colors built up by just a few elements. It was a challenge to incorporate my style with this wild landscape, especially when you're under pressure to produce in such a short window of time. But I looked for objects that stood out against the surroundings, strong colors, and symmetry.
Alex: I don't even know if I have a personal style. When it comes to astrophotography, I try to keep everything as close as possible to reality. I don't like strangely colored skies, very contrasty Milky Ways or composite images. I try to do most of the work in camera.
Anne: My style is simplistic and minimalistic and I mostly shoot modern architecture. There wasn't any modern architecture, but I think my love for simplicity and minimalism is incorporated in most of my shots. But also I tried to push myself to shoot more traditional landscapes.
Jari: I love to photograph birds and wildlife and there were many opportunities on this expedition—with elk (aka moose), orcas (aka killer whales), white-tailed eagles, etc.
The weather was very changeable on this expedition, and there were really heavy snowfalls and it was quite windy. I would have liked to stay longer in these severe conditions since extreme conditions mean extreme images.
Q: Do you have a favorite photo from your adventure?
Carl: Yes, I do. Before the trip, I had seen lots of footage from Norway that portrayed majestic fjords and mountains with calm water and beautiful reflections. I knew I wanted to see and shoot something similar, but due to windy and rainy weather, the reflections were absent. But on our way back to the hotel the final day, we drove through a fjord which was protected from the wind—the clouds were heavy and rested on top of the surrounding mountains, leaving just enough visibility for our eyes to understand what was hiding behind them. The water was crystal clear and had an intense glow from the yellow grass that was growing by the water's edge—and made a great contrast to the apocalyptic background. It was there where I finally got my highly coveted fjord shot.
Alex: Doing mainly astrophotography, you would expect me to have a night shot as a favorite. Well, the weather was not the best for night photography and my favorite shot was taken during daytime. It's not a single shot, but a series of shots. We were driving and, out of nowhere, there was this hill, covered with pristine snow, in the middle of a flat field. At the base of the hill, there were some colorful metallic containers (or whatever they were). For me, it was a fascinating and almost surreal scene. I think nowadays most landscape photographers just hunt iconic places and crazy sunsets, and scenes like these are often neglected even though they might be more meaningful than most "epic" sunsets or sunrises out there.
Anne: I think I have two favorite shots from the trip.
The first one is a shot of an old decaying house; I think it's probably an old barn. It looks like it would fall apart if you just blew on it, and it's placed in the most beautiful surroundings—and I think that in all other places in the world, there would be a mansion in the spot instead of an old barn.
The second one was the day we arrived at Lofoten. The sun was setting and it was cloudy, so instead of a sunset, everything turned blue. I'm not a big fan of extreme color, so a blue sunset is one of my favorite things. We were driving and this beach appeared. We made an impulsive stop and walked to this beautiful beach. I got a really simplistic puddle shot from the beach with the mountains in the background and a guy shooting. There's a calmness over the shot that I really like.
Jari: There were many good photography opportunities during this tour. I believe my favorite shot is the white-tailed eagles in sky in heavy snowfall. It is simple but graphic, and there is a slightly new approach in the image for me.
Q: What did you learn from working alongside photographers from other genres of photography?
Carl: This was a great opportunity to learn more about the technical aspect of photography—camera settings and such. I also learned that patience and faith is a must, especially in wildlife photography. I also got to understand how much time might be invested in a single shot.
Alex: Actually that's what I liked the most about the trip. I got the chance to meet some great people and to learn new stuff. I loved listening to their stories, and I tried stealing some tricks of the trade from all of them. Even though I've been doing professional photography for around 15 years, I'm always open to new things when it comes to photography, and I never stop learning. And when I'm in the company of such nice people, I try to steal as much as I can from them.
Anne: It was such an amazing experience, and I really learned a lot. When we went on the RIB boat to shoot whales and birds it was a big help that Jari could help with the settings. The same goes for how to shoot from a chopper or do night and astronomy photography. Sometimes it was just the little things—have you considered doing this?
Jari: I must admit that I was impressed by the energy of the young photographers on this expedition and how they got excited by the things that I would have never thought to photograph! It was very inspiring and it made me think about photography differently. I am sure this experience will show in my work in future!
Q: How did this project push you beyond your comfort level?
Carl: At home, I can choose to go out and shoot when the conditions are in my favor. When you're out on a once in a lifetime trip, you only get one chance. You have to be super concentrated and focused so it takes so much more energy than usual. You also get limited time in each spot. So you really have to sharpen your senses to find the image you want and defy rough weather on top of that. If I fail at capturing something at home, there's always next day. That isn't the case when you're on the road.
Alex: I was outside my comfort zone in the beginning of the trip, until I got used to the camera. I've never worked with the Olympus OM-D E-M1 Mark II before the trip, and I needed to get used to the controls and menus. But the camera is very easy to learn, and it only took me around one hour to make it feel like an extension of my arm.
Anne: I was way out of my comfort zone—I was probably the one where my style of photography was mostly a challenge. I love being challenged, so it was great experience. I've always looked at people who mostly do landscape and wondered how they did it. So I learned a lot watching the others and see how they did these shots.
Jari: I am not specialized in landscape images – so it was new to me to wait for a better light in some locations. However, it was a very useful experience and I believe I will put more effort to my landscapes in future.
Q: What's the best photography advice you wish you had received when you were a beginner?
Carl: That no matter how much you produce, you'll never be satisfied. You will want to keep pushing your limits and top yourself with every image.
If someone would have told me that I would have to deal with the above—and also that I'd have to accept that it might not be possible all the time—it would have been very helpful.
Alex: I started photography when film was king, so things were a bit more technical than today. With digital photography, it's a lot easier to take beautiful images without caring too much about your settings. In my opinion, the best piece of advice a beginner should get is to not think too much about the technical aspects of photography. Concentrate more on the story your photography tells than on perfect exposure. There are times when perfect exposure is actually boring.
Anne: I think the best advice is to just shoot, and find someone who also likes photography and share the pics and give constructive criticism. In Copenhagen I'm part of a group of great photographers and friends; we help each other with crop, editing, composition, and so on. I'm not sure I would be where I am today without them.
Jari: Invest in good lenses! Don't waste money by buying the cheap lenses, since you want to update them quickly. A good lens makes the image and keeps its value also. It makes a difference!
Learn more about the OM-D E-M1 Mark II.