In honor of Earth Day (April 22), we're shining the spotlight on the Four Elements: Wind, Water, Earth, and Fire! This month on ISO, you'll find stories about the best 500px photographs that capture these four elements in a groundbreaking way—and the crop of talented photographers behind the shot. You can follow all our Four Elements posts on social media with the hashtag #PlanetPX. This light-painting story featuring one of our top community photographers and friend Eric Paré — and written up by another equally talented community member Sean Gabriel McClelland — has all four exciting elements!
Sean Gabriel McClelland is an event and fine art photographer, educational technologist, and presentation coach. Originally from the mean streets of suburban Detroit, he now resides in San Francisco with his writer-illustrator fiancé, and their pet rats, Mouse and Mochi. You can find him on 500px or his website.
Light painting is one of the hottest trends in photography, and Eric Paré is leading the charge. His images harmoniously blend the art of portrait, landscape, night photography, and light painting with stunning effect. His technique, which he shares openly with his audience, is often copied, yet he always manages to stay ahead of the curve by continuing to innovate.
Based in Montréal, Paré travels the world, teaching and creating new work. Paré has a growing fan base of more than 60 thousand followers on multiple social media platforms, including over 10,000 followers and nearly 3 million views right here on 500px. Among his more recent innovations is a technique that incorporates a long, plastic tube, which he uses to create near-perfect circles of light behind his subject. In a matter of weeks after he shared his first images created with these tubes, copies from other photographers began to appear on the web.
In his most recent video release, he is seen at various locations around the world, building images with the tubes. Watch his new video below to join Paré and model Kim Henry on a mesmerizing journey to the world of light painting. Then, scroll down and read on for an exclusive interview with the master himself to get insights on his techniques and body of work.
You may be wondering, how does a former commercial photographer transition into the world of fine art, and not just survive, but thrive? What motivates him to consistently push and even redefine the envelope? Does this fun-loving French Canadian know something about the world that we don't? I was wondering the same thing, so I caught up with Paré (who is seemingly always in motion!), and asked him to let me peek behind the curtain of his creative process.
How or why did you choose light painting as your signature style of photographic expression?
ERIC PARE: It's all about being part of the picture itself: being in the frame, crafting the light, capturing unexpected things. There's a bit of magic of using that light-painting technique, and it stimulates me a lot to do it and to teach it. I get very happy when I see random folks tagging me on pictures on Instagram, using my exact style, because they got things from my learning group or tutorials.
In "Signs of Light," viewers get a behind-the-scenes view of your photographic techniques. You also share advice freely with your fans on social media. This inevitably leads to other photographers copying your work. Does this bother you, or perhaps, inspire you to innovate?
Over the last few months, I saw over a hundred pictures using this technique with the tubes or other tools I showed in the learning group. That really motivates me. The idea of pushing people into going outside to create art is one of the best things that ever happened in my life. Most of them tag me anyway, so it's a win-win!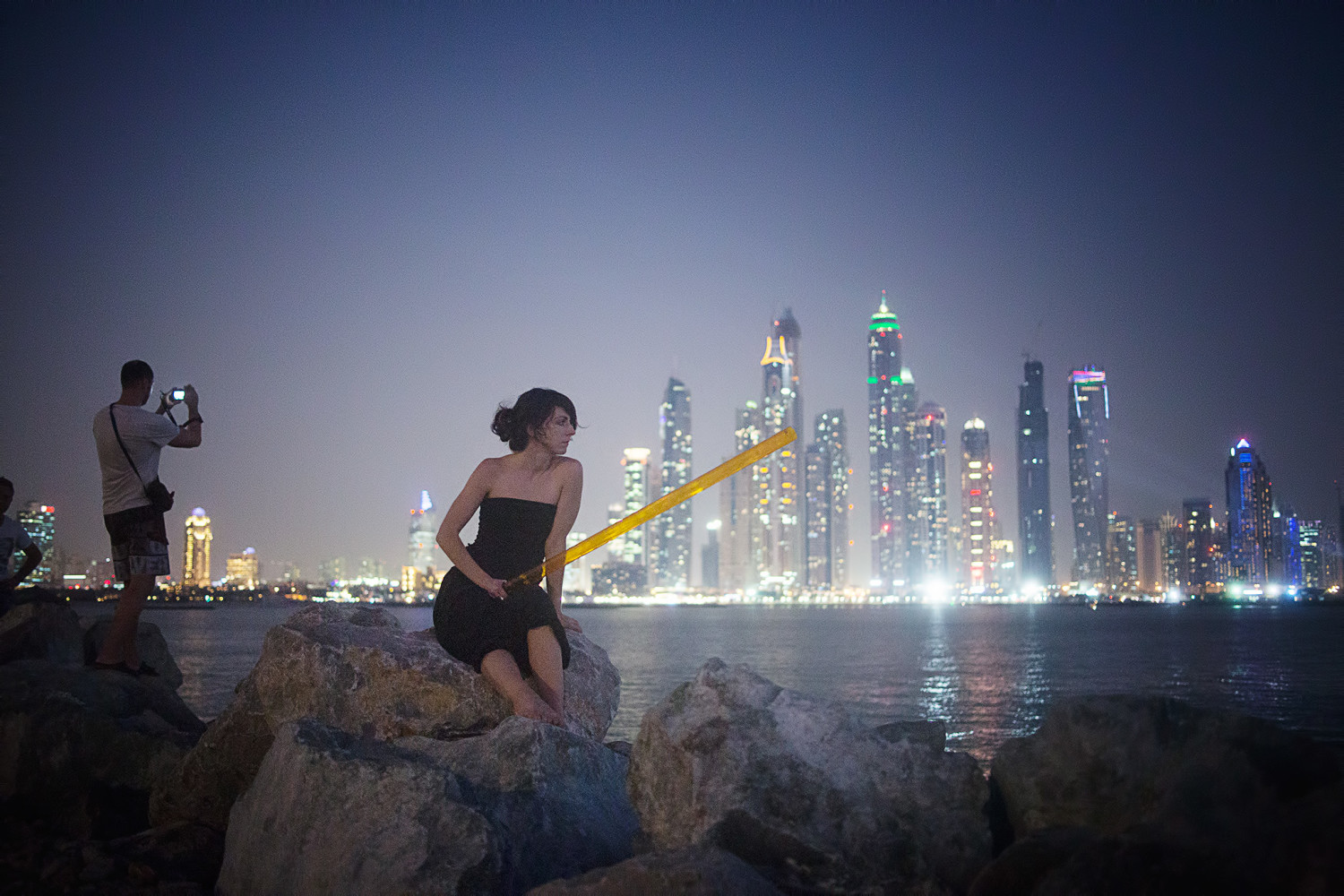 What inspires you to come up with new ideas in your work?
There is a story, there is a process. It is digital but also hand crafted. It is surreal, but really authentic in the process of the lighting itself. I am not trying to follow trends or copy other styles. I found something that I really like to do, and lucky me, it seems like a lot of people enjoy it.
If you had to pick one reason for your success as a photographer, what would that be?
These days have been mostly about collaborations. I learn a lot from others, and that brings many new tricks to the current technique I'm using. Or sometimes it's just mistakes. I got so many things by mistake, this is ridiculous!
We've all been there, Eric! The real question is, do we tell anyone when a great photo was an accident? We plead the fifth! But we agree, collaboration is very important.
Browse through some of Paré's most memorable shots through the years that he shared on 500px:
To see more of Paré's work, follow him on 500px.