Once a year, the community of photographers, educators, and enthusiasts come together in a remarkable showing of generosity that I personally consider to be the biggest, most exciting photography event of the year.
Today marks the start of the third annual Complete Photography Bundle—and this year, it's better than ever.
Last October over 22,000 photography enthusiasts joined together to save tens of millions on top photography education and have a huge impact on those in need! Over $250,000 was raised for charity, and this year the goal is to exceed $300,000 for those who need it most.
Some of the top names in photography like Jeremy Cowart, Joel Grimes, Trey Ratcliff, David duChemin, Zack Arias, and many more (including yours truly) have come together in one amazing deal—all for the benefit of those in need.

This year's Complete Photography Bundle includes:
70+ hours of video
700+ eBook pages
690 Textures, Overlays, Actions, and Presets
and normally retails for over $3,300
But from September 10th – 15th (until noon PST), everything is included for just $127. These are full version products, many of which retail for over $150 on their own—all in support of the life-changing organizations below:

Help-Portrait is a global movement of photographers, hairstylists, and makeup artists using their time, tools, and expertise to give back to those in need. Help-Portrait is about GIVING the pictures, not taking them. These portraits aren't for a portfolio, website, or sale. It's about giving people who otherwise couldn't afford photography a chance to capture a moment, a memory… and a whole lot more.
BOMA helps ultra-poor women start small businesses in their rural communities so they can pay for food, school fees, and medical care for their families. BOMA's Rural Entrepreneur Access Project (REAP) is an innovative two-year poverty graduation program that provides a cash grant (seed capital to launch a business), sustained training in business skills and savings, and hands-on local mentoring by BOMA Village Mentors to business groups of three women.
Camp Smile-A-Mile provides challenging, unforgettable recreational & educational experiences for young cancer patients and more. Camp Smile-A-Mile's mission is to provide year-round challenging, unforgettable recreational and educational experiences for young cancer patients, their families, as well as young adult survivors from Alabama at no cost. Our purpose is to provide these patients, families, and survivors with avenues for fellowship, to help them cope with their disease, and to prepare them for life after cancer.
Flashes of Hope raises funds to accelerate a cure for children's cancer while honoring the unique life and memories of every child fighting cancer. Founded and based in Cleveland, OH, Flashes of Hope operates chapters in 55 cities and this year will provide free portrait packages to half of the children diagnosed with cancer in the United States. In the last 4 years, we have raised 2 million dollars for children's cancer research. Flashes of Hope has one simple goal: to photograph every child with cancer until every child is cured.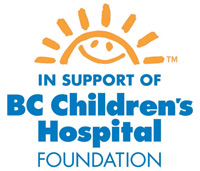 In addition to supporting the four charity organizations above, I'm going to go an extra step. For every Complete Photography Bundle sold through PhotographyBB (and also as a result of this post), I will be personally donating $10 per bundle to the BC Children's Hospital Foundation towards children's medical research.
The Complete Photography Bundle event runs from September 10th at noon PST through September 15th noon PST. I invite photography enthusiasts at every level of experience to be part of the largest photography bundle sale in the world and help us make a global impact for good!
You can grab your bundle here before it's gone and make a positive difference in the lives of those in need.