Red Bull Photography recently joined our community with a verified brand profile of their own. This partnership isn't just about amazing photography — it's also about amazing stories. Behind every shot on Red Bull Photography is a talented photographer, a wild story, and a few lessons learned. We'll be telling those stories every week here on 500px ISO and the Red Bull Photography website.
Whether you are a photographer or an athlete, sometimes it's good to go back to your roots, to get out in the landscape and perform with just the basics of your trade. This was the enviable position that photographer Graeme Murray and canoeists Mike Dawson and Joe Clarke all found themselves in when they decided to travel to the west coast of New Zealand's South Island for a white-water adventure with a difference.
The idea—dreamed up by Dawson and suggested to Red Bull by Murray—was to find the most idyllic stretch of rapids they could and turn it into a slalom course by stinging up competition-style gates. Not only would the adventure make a great photo opportunity, but it would also be a chance for some intense practice for Dawson and Clarke, both of whom were due to compete in the Rio later in the year.
After getting the right permissions from the New Zealand Department of Conservation, the trio set out for the Whataroa river. They were aiming for a stretch of water known as the Grand Finale, the river's last set of rapids before it eventually meets the Tasman sea. "We had to get helicoptered in there with everything we needed for the shoot—canoes, equipment, food and water," Murray recalls. "I couldn't take flash gear with me, and it wasn't really about producing big corporate-style advertising images. It was just going into the wilderness with some great guys who are just really stoked about their sport."
After spending most of the first day stringing up the slalom gates, the guys flew back out to their hotel to get a good night's rest before shooting. "Mike and Joe practiced slalom, and I kind of worked around them, shooting from different vantage points," Murray says. "I was dressed head-to-toe in wet-weather gear with the hood pulled up tight to protect me from sandflies—they bite as soon as they land on you, and they were relentless. It was a lot of fun going back to this basic way of shooting—just me and my camera and a few lenses. I'd not really done a recce apart from looking at the area on a map and seeing it as we flew in. I just had to kind of figure out what I was going to do when I got there."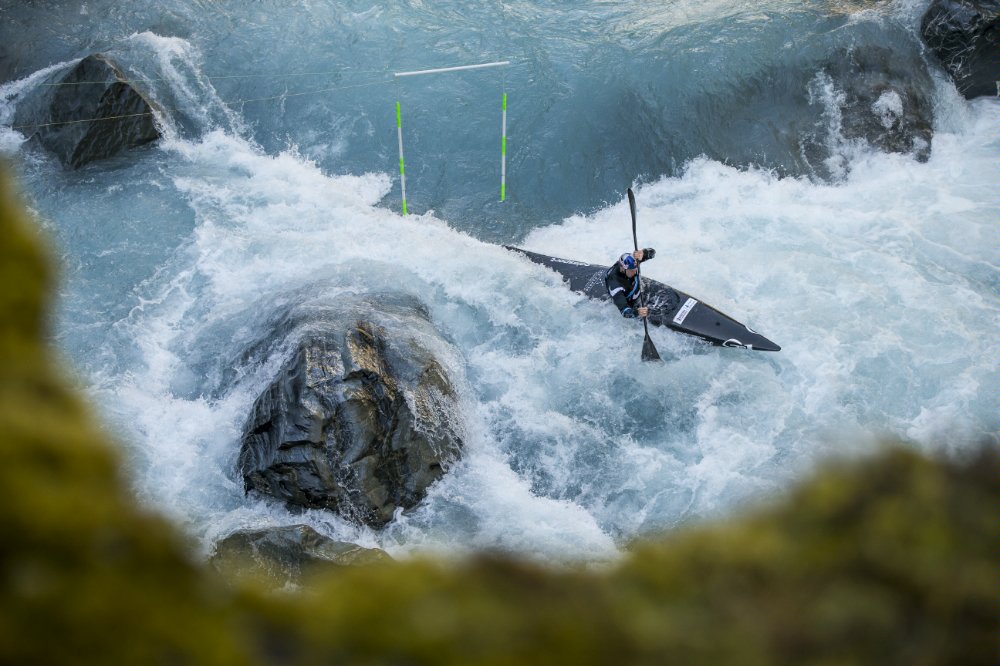 "This shot was taken from a rock above one the gates we'd strung up. It was tricky to get up to, but well worth it. I got some of the grass out-of-focus in the foreground to frame what was going on, and the light was just amazing. It was at the end of the day, and the sun was bouncing off this silver rock face and reflecting back into the gully. I remember seeing it and thinking, 'You gotta be kidding me! This is amazing!'"
Murray says that this picture reminds him of how much he enjoyed the Whataroa shoot, and also why he does what he does: "If I look back on 2016 then this is a standout shoot for me, for sure."
For Clarke and Dawson the trip was also highly rewarding. Not only did they help Murray bag a fantastic set of pictures, they also went on to perform superbly at the Rio games, with Clarke winning the gold medal of team GB and Dawson coming tenth overall for New Zealand. "The guys loved the pictures," Murray says. "I've known Mike for a while. He's a good mate. He's canoed in some pretty wild places before now, and wants me to go with him to Pakistan next. Sometimes, when you've been shooting on a project like this, you sit back at the end of the day and say to yourself 'Damn! My country is rad!' The experience of just getting out there and shooting something so incredible reminds me that I have best job in the world!"
To see more epic action and adventure photos, visit Red Bull Photography on 500px!