Lee Jeffries is one of the most popular names in all of street portraiture. Capturing powerful portraits of the homeless all around the world, his work is about more than just pictures: he uses his photography to build compassion for a massive swath of humanity we often, at best, overlook… at worst, ignore.
Through his accounts on places like 500px and Instagram, he has raised awareness and built a massive audience (32K+ on 500px and 80K+ on Instagram), which allows him to embark on massive campaigns to help raise money and provide aid. His latest such campaign is currently plastered all over Stockholm.
Partnering with the Salvation Army in Sweden, Lee spent time with and captured portraits of some of the homeless people the organization has helped in Stockholm, turning three of those portraits into a massive ad campaign and selling prints to raise money for the charity. It's been an incredibly moving experience for Lee, who shared the story behind the campaign with us over email earlier this week.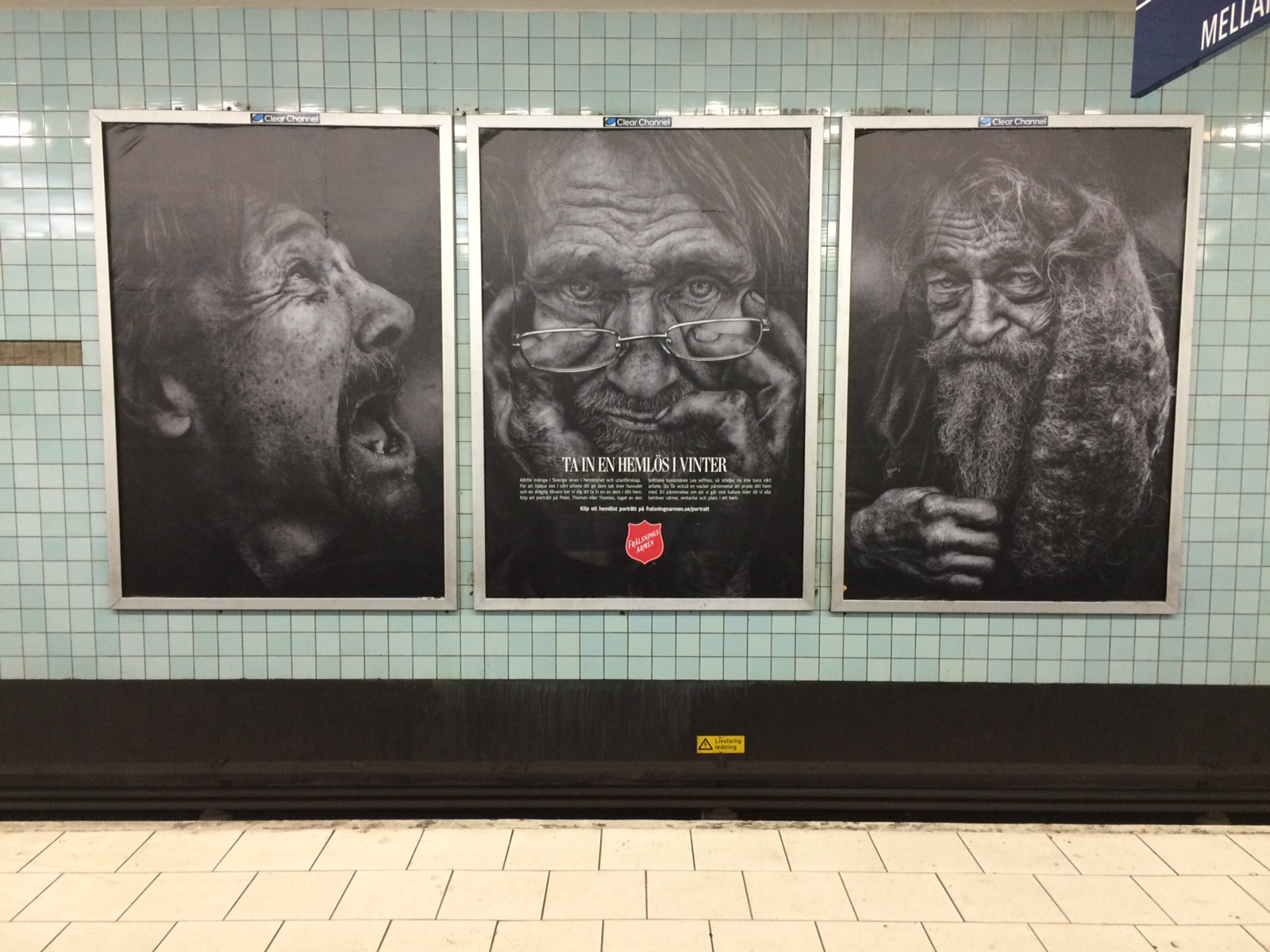 Compassion Through Photography: Helping Sweden's Homeless with the Salvation Army
by Lee Jeffries
I was contacted by the Salvation Army in a Sweden a couple of months ago. They were reaching out to me to see if I would be up for shooting a series of portraits of the homeless people they help in their missions in Stockholm. They stated that as "I was the best," they couldn't envisage using another photographer.
I agreed and travelled to Stockholm at the beginning of October. I spent 3 days there and spent significant amounts of time in a couple of their outreach centers in the city. I was left alone and basically "hung out" as any user of the facilities would do. I spent this time talking and connecting with the various people that dropped in… in much the same way as I do when I go and do a homeless project on the street.
The aim of the project was to shoot 3 separate portraits. These portraits were then to be sold as fine art prints by the Salvation Army with 100% of the revenue going direct to the charity.
In tears & incredibly proud.
The concept behind the campaign is "to bring a homeless person into your home." The Bible has a passage:
If your brother becomes poor and cannot maintain himself with you, you shall support him as though he were a stranger and a sojourner, and he shall live with you. Take no interest from him or profit, but fear your God, that your brother may live beside you.
What does this mean to me? Well, my images have always been about spirituality, emotion, and humanity. It seemed to me it was the perfect fit with an organization such as the Salvation Army with its long tradition of a religion. Notwithstanding that, the series of portraits I produced has afforded me the opportunity to make a huge difference to the lives of homeless people. I'm always trying to do as much as I possibly can for this global community.
The Salvation Army decided to run with three portraits and they are for sale here: http://shop.fralsningsarmen.se/gavoshop/portratt/?Hemlos
There is a huge ad campaign at the moment… magazines, newspapers and in the metro in Stockholm.
To help with this campaign and get a print of one of these powerful portraits for yourself (or as a gift for a friend) click here and know that 100% of the revenue is going direct to the charity. Lee will be eternally grateful, as will we.
Editor's Note: To order prints from anywhere in Europe, use this link. And if you're in the United States or Canada, email Lee at lee.jeffries@btinternet.com and he'll get you taken care of!
And if you want to keep up with Lee as he continues to travel the world helping the homeless, one portrait at a time, follow him on Instagram and, of course, 500px!