One of the greatest challenges photographers face when they first start shooting is discovering their own style. This process—totally invisible to onlookers—can and usually take years, despite what might look like instant success from the outside. And even then, the results are continuously refining, changing, and evolving. It took photographer André Josselin three years to master his style. He is one of those rare photographers who HAS developed a signature style. You will recognize his authentic work instantly.
We love André's work here at 500px—so much so that we used one of his photos for the 500px App intro tour. Whether it's an ultra-intimate portrait lit dramatically or a road trip photo that captures the pure joy of adventuring with friends—he's got an undeniable talent for capturing the kind of genuine, authentic moment that really speak to us. So we sat down with André to see if we could uncover what makes this photographer tick. Read on to pick up a few lessons from his experience behind the viewfinder.
Tell us about yourself and your journey into photography. When did you start shooting and how did it happen?
I started shooting in 2010. My Dad got a DSLR for christmas. But I was the one who actually took photos with it. I was really excited about the possibilities. It was the first time I got in touch with a camera like this. For me, these DSLRs were something for professional photographers, and they were totally out of my reach. 3 weeks later, I bought my first camera from the money I got for Christmas. It was a Canon Rebel T1i, or 500D. I got the 17-40mm kit lens, and I thought this must be the best in the world. I was really into it. I took the camera with me everywhere I went. After school I talked my classmates into walking through the city with me, and they allowed me to take pictures of them. That's basically how I started.
What drives your creativity?
The thing that motivates me is that I know I can capture moments forever. It sounds cheesy, but that's what it is. I love to create—it's actually fun to me. I really enjoy taking pictures. Music means a lot to me as well. It's a huge inspiration. The first thing I do in the morning is to turn up some of my playlists. I want my photos to be like songs. You see them, you feel them, and they're telling stories you can relate to. They have to translate a special, distinct vibe to the viewer. That's my goal. And that drives me everyday. Photography is a healing process. It is like this place where you go and find peace. As an artist, it's like you compensate all the stuff that surrounds you. Through my pictures and my words, I express all my heartbreak, my desires, my faults—everything. I take pictures because of my own longing for more. For remoteness. For things that are out of my reach. With my photography, I want to create something that stays forever. Something that survives. Something someone will find on their attic in 30 years.
Your photos have a distinct style. How long did it take you to discover and develop this style?
It took me three years. I always had an vague idea of what I wanted to create, and how my pictures should feel and look like, but it was a lot of shooting and practicing to get what I wanted. All the while, I wanted everything to look like a real situation. Nothing should look like it is staged, and overly retouched. And that's how it works. It's just me, the camera, and the subject, the situation, and the landscapes. Somewhere down the road, as an artist, you have to decide what you want to do. And I wanted to do everything just with natural light. And then it just clicks and you know what to do. I created my very own style. I developed it. It was a long process, and it is still an ongoing thing. It doesn't stop from here. With every shoot I try to get better. To develop something new. It's a huge compliment for me that people recognize my pictures without seeing my name above it.
You road trip shots on your 500px account are favorites in the community. Tell me how this trip came together.
Back in October 2014, inspired by a silly thought, I simply hit the road, having the camera always with me in my backpack, holding a bottle of beer in my hand and my girlfriend by my side. I was joined by people who think the same way I do. We traveled through France not knowing what to expect, what we would like to do or what the results may be. The outcome of this journey is—besides the many photos and unforgettable impressions—my aspiration for more: to see more, to experience more, to let more endless beaches and sea shores into my life. I love being in places in which I am currently not. It really makes me happy to be on the road. To see new things. I always wish I was a passenger on every airplane I see in the sky—the more miles I cover, the more borders I cross, the more self-satisfied I am.
The photos from that road trip ended up being the subject of your very first book "Us". What was it like creating a photo book? And why did you feel the need to do that in an increasingly digital world?
First of all, I think a photographer should publish his pictures. For me, the opportunity to create a book was a dream come true. The idea for a book was always there, but there has to be a concept behind it—it's not just putting pictures in a book and that's it. There has to be a topic. A story. I created this trilogy of road trips, and it was the perfect fit. It was the right time and I had the perfect photo story for it. The creating process was a lot of fun. I did everything with my friends. I feel very blessed to have all these talented people surrounding me. Sere Rivers created the illustrations after I explained my vision to her, and she did it to perfection. Paul Ripke played a huge role in this. He was always an inspiration, not just photo-wise, but human-wise. He motivated me to just do it. There are so many people who helped me. And I was very concerned that nobody would buy a book with my pictures in it but I wanted to do it nonetheless. In the end, the excitement and reaction for this project was overwhelming. My insatiable desire brought me here and forced me to create something that you can hold in your hands and can call your own. That's "Us". And it makes me really, really happy.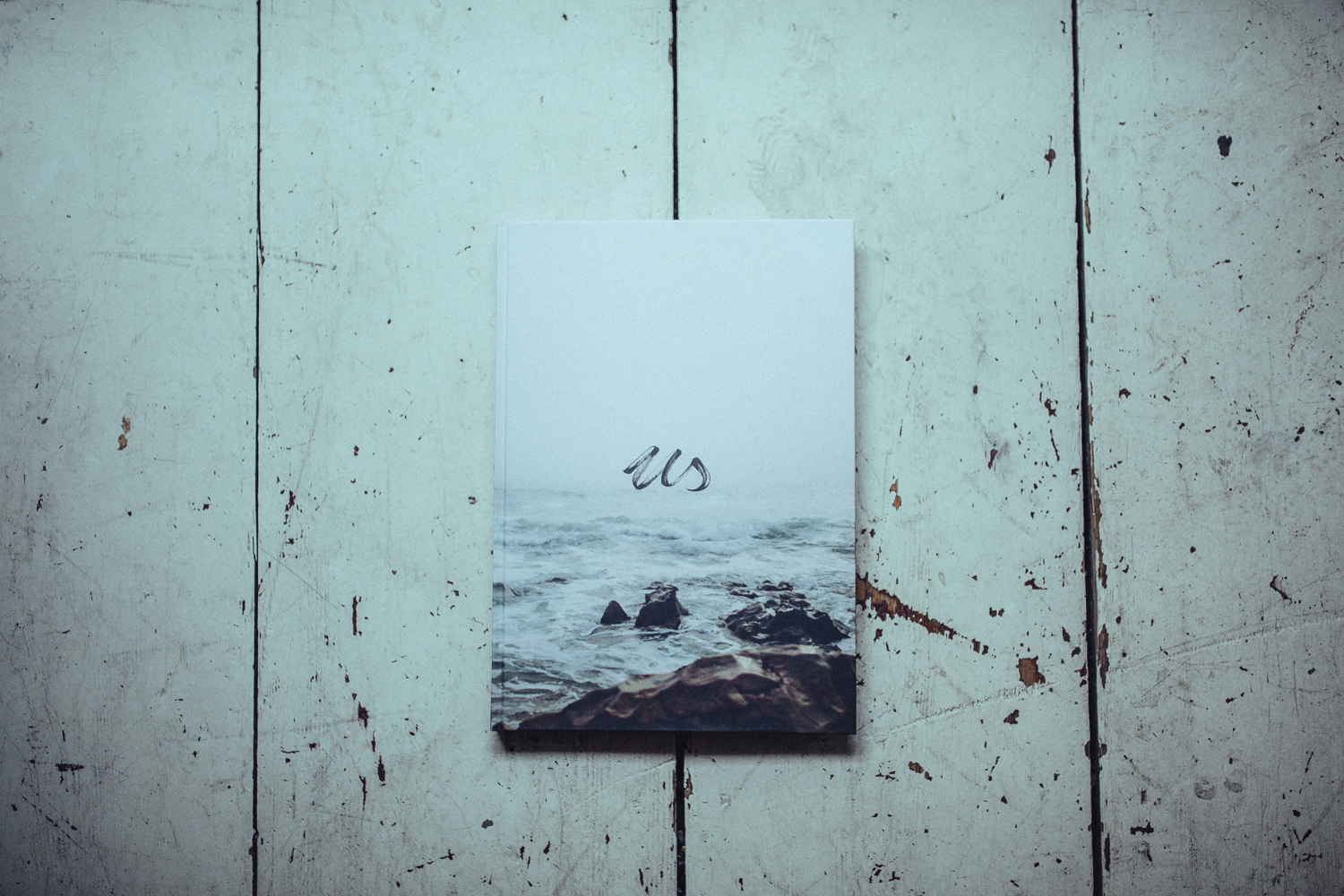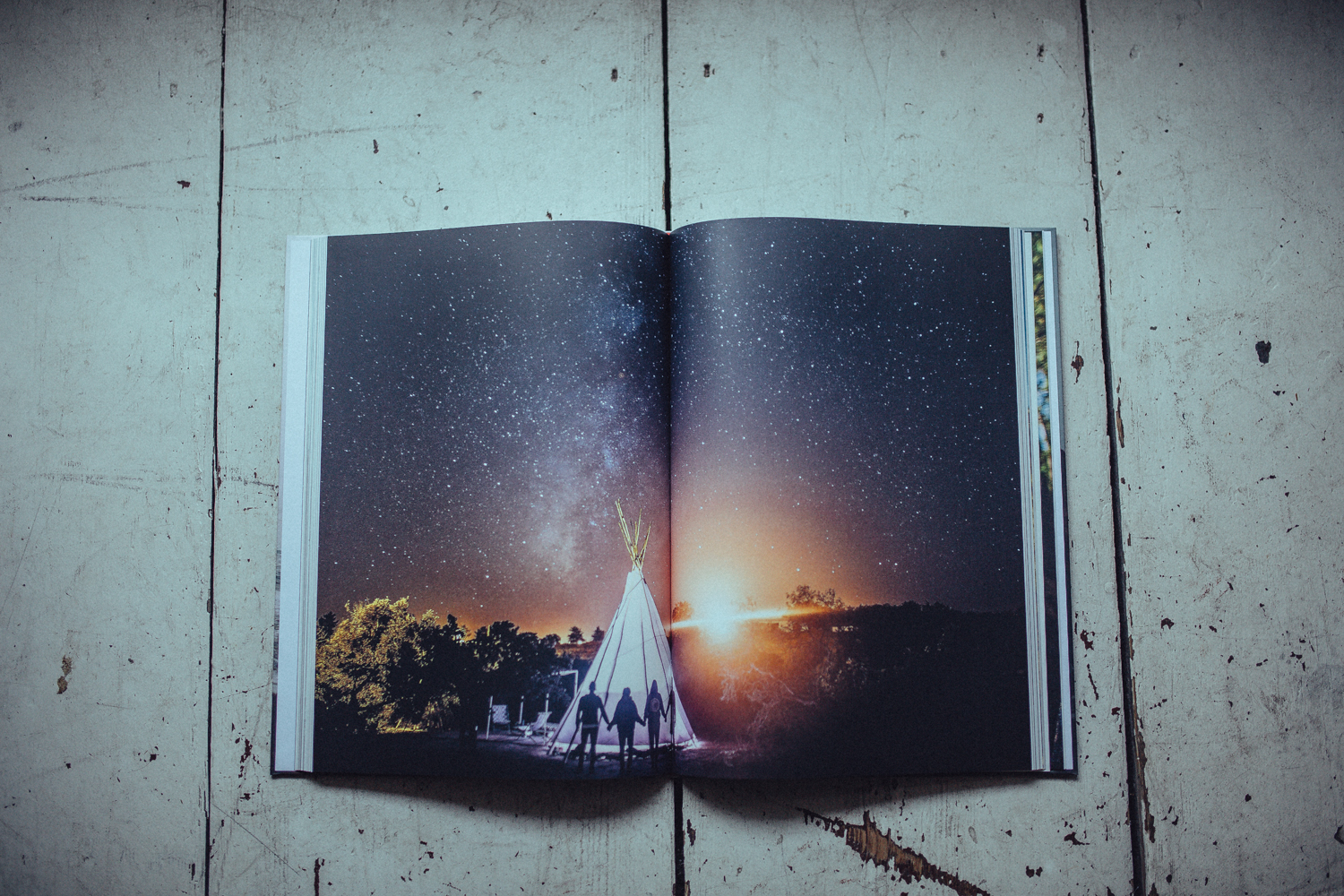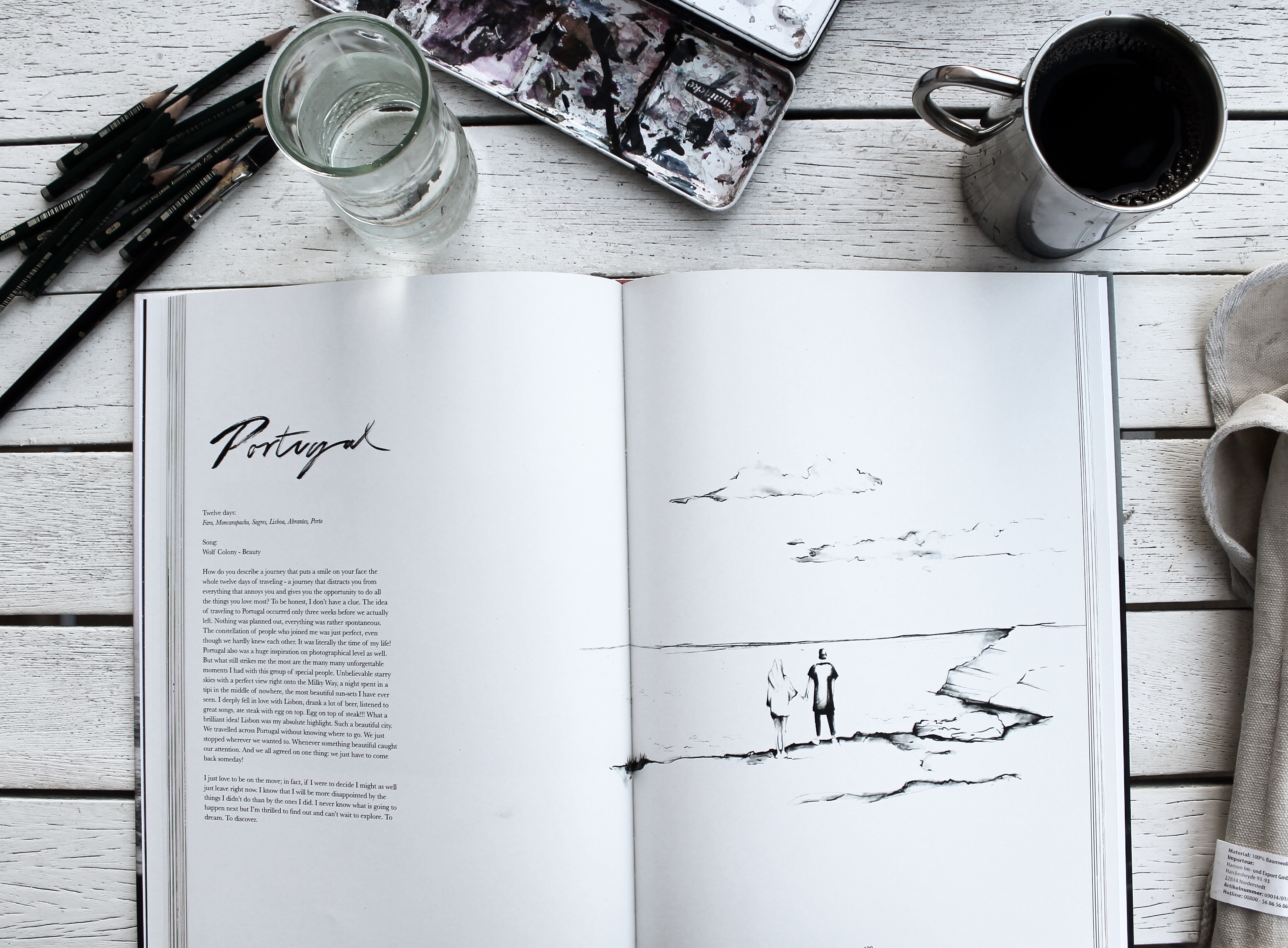 Getting to the gear, what do you shoot with most often? Many of your photos have a very filmic quality. Is it all digital, or do you shoot film?
I shoot with my 5D Mark II since the end of the 2011. I am not that tech-geek type of guy. I know that there are, technical-wise, better cameras out there. But I really have no interest in them. Maybe when the 5D Mark 4 comes out I will consider buying it. My actual camera will not live forever. The only camera I really would love to have is a Leica. It's just for the feeling, you know? This is what it is all about. I've had my camera for 4 years and never changed it. I love that she looks used, I love the memories. But Leica has this history. I had Paul's Leica M with me on my trip to Spain. It is really something else man, it is a whole other level of photography. Most of my shots are 35mm, I love the range you capture with this lens. But I have to admit that I fell in love with 24mm last September. All of my shots from Portugal are 24mm. I think I will concentrate more on this lens in the future. As for the film look, that's all post-processing. I only shoot digital.
Post-processing wise, how much is too much, and how much processing do you usually put into each of your images?
Years ago, for me it was all about sharpness. I wanted to have crystal clear pictures. The subject should look so sharp that you could touch it. And I don't mean HDR, I wanted it to look 3D. But I got away from this really fast. It all starts with the picture you choose to retouch. I think that's the first hurdle for the most photographers. I think I have a distinct feeling for the right picture and the right colors. Colors are the most important part for me. I really dislike pictures where you can see drastic skin-retouching. When it looks unrealistic, overly retouched, then it is too much for me. This destroys the feeling. But that's just my taste. I don't want to change the person in front of my camera, that's not my mindset. That's the reason why I don't want to make you skinnier or your skin brighter. Usually I am very fast in post. Of course there are exceptions for this rule, but for my lifestyle pictures I choose the photo, do the colors, grain, sharpening, little corrections, and finish. 10-20 minutes for one picture. I really don't see the sense in retouching something for hours.
Do you have a favorite picture and what is the story behind it?
I have this one picture that I always show people when I explain why I am a photographer. I took it last year in France. It shows an old man with a newborn cat in front of his house. It was the last day of our Trip and hours later we were headed back to Germany. We were out for a walk to a lake, and on our way back I saw this old house surrounded by cats. And there was this man. He looks like the grandpa of Shrek. We asked him if he can show us some of his cats, and he showed us the youngest one. He was so happy that we were interested in the cats and in what he is doing. His face screams happiness in this particular moment. And thats what I love. Moments. Emotions. That's what I am trying to translate through my pictures.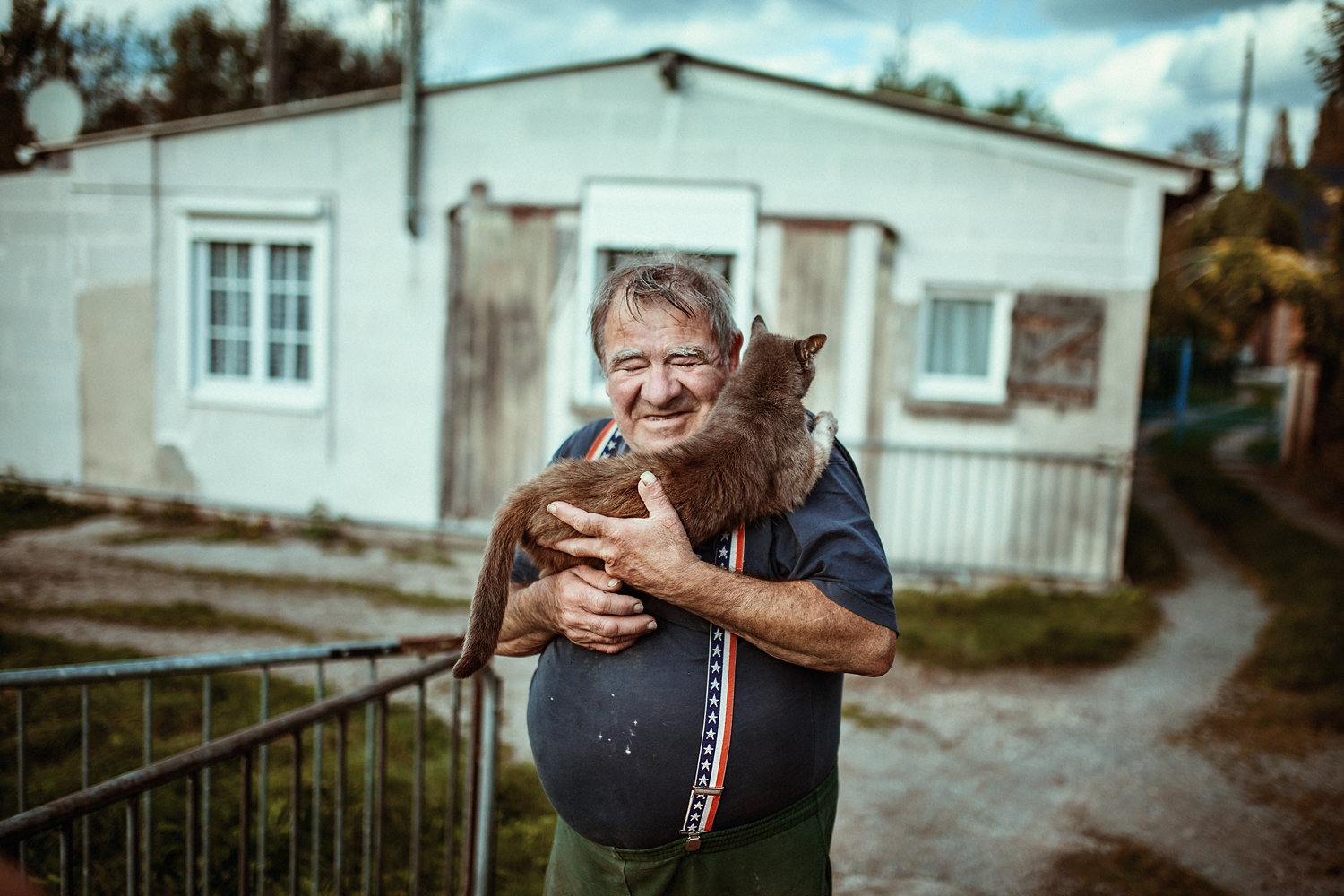 Any advice for newbies? And what was the most impactful advice you ever received?
Keep going; simple as that. Sometimes it's hard looking at what you created. When I look back at the stuff I did in 2012 or 2013… I really don't like it anymore. Sometimes I skip through old pictures and all I think is "WHY?!" It's nothing against the models or anything, it's just that my taste has changed. The way I take pictures and the way I post-process them has changed. You're constantly evolving and there are times in which you think that everything you do is shit. Maybe it is, but you need this feeling to get better. These are the moments that should motivate you the most. So my advice is to never step back. Try to create even when you're not happy with the outcome. You learn, you get better.
Finally, what's next for you? And where can ISO readers go to see more of your work and learn more about you?
I've got a lot of plans. I want to see Canada (Alberta-Area), South-Africa (Capetown), Iceland, North-America (LA), Dubai, and the Seychelles. I am driven to learn more about this world, to see more of all the beautiful landscapes and always have the people I love with me. I want to share this all with my friends. At the end of my life, there should be no "what ifs" Another thing: I want to have more celebrities in my portfolio. Since the very beginning, I've dreamt of capturing these familiar faces through my viewfinder. I imagine capturing photos of The Weeknd, Kanye West, or Daisy Ridley (I really love her) in my style. I really would love to see that. The list could go on and on and I really think the most of them will forever be a dream. But it is nice to have dreams and visions. Even if you can't fulfill them, you have fun trying. As for finding my work, I do daily updates on my Instagram and, of course, you can follow me on 500px as well. My website gives you a quick look at all the work I do.
We're incredibly grateful André took the time to answer our questions so thoroughly and share a bit of his acquired photographic wisdom with 500px ISO. If you have any questions for him, be sure to drop them in the comments down below; and don't forget to visit those links above to see more of his work.