There's nothing quite like a bird's eye view of the world from above. But imagine sharing this magical moment with your best friend in the world. This is exactly what Vancouver-based travel and lifestyle photographer Rishad Daroowala captured when he took to the skies with a helicopter pilot and his adorable, brave dog! There are very few images that can equally melt our hearts and leave us in awe, so when Rishad shared his photos with the 500px community, we immediately had to get the full scoop. Curious about this photogenic dog, flying over a stunning vista with his pilot Dad, and how this moment all came together? And just how safe was our four-legged friend? Read on for this exclusive story—it's time to get to the choppa!
"Mr. Bentley is an English Bulldog from Vancouver, Canada. He's four years old, and has his own Instagram page," Rishad tells us. "He is scared of just about everything…except food, car rides, and helicopter flights. His owner happens to be a pretty well-known helicopter pilot and YouTuber—Bradley Friesen."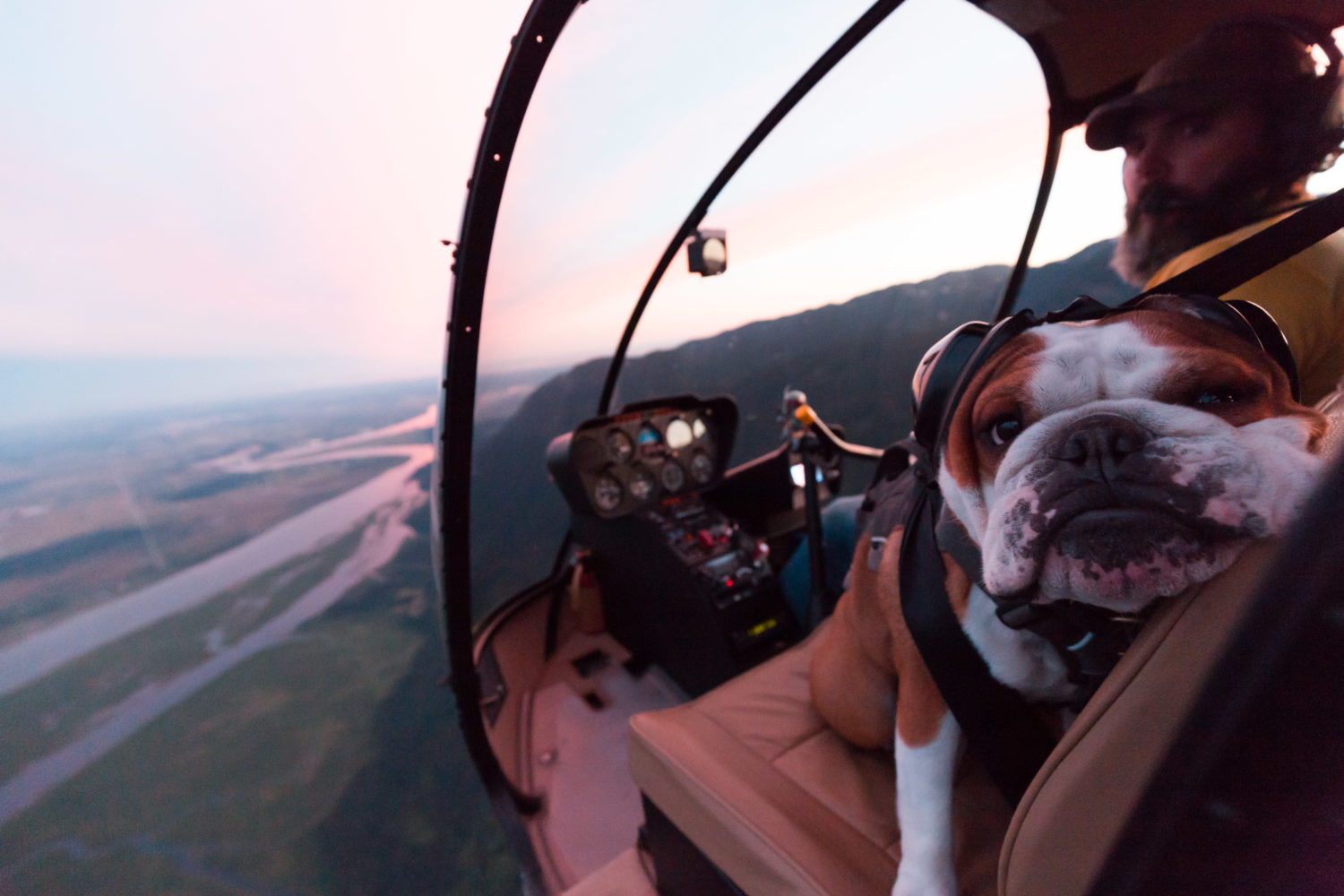 Rishad was working on a project, where he was looking to shoot some aerial pictures around British Columbia in Canada. "So I turned to Brad, an amazing chopper pilot and navigator of the skies. When Brad picked me up, he brought along our co-pilot for the afternoon, Mr. Bentley," He explains. "When we got to the hangar, I got booted to the backseat. Mr. Bentley sat up front, and I experienced my first helicopter ride with an English Bulldog. The experience was pretty surreal to say the least."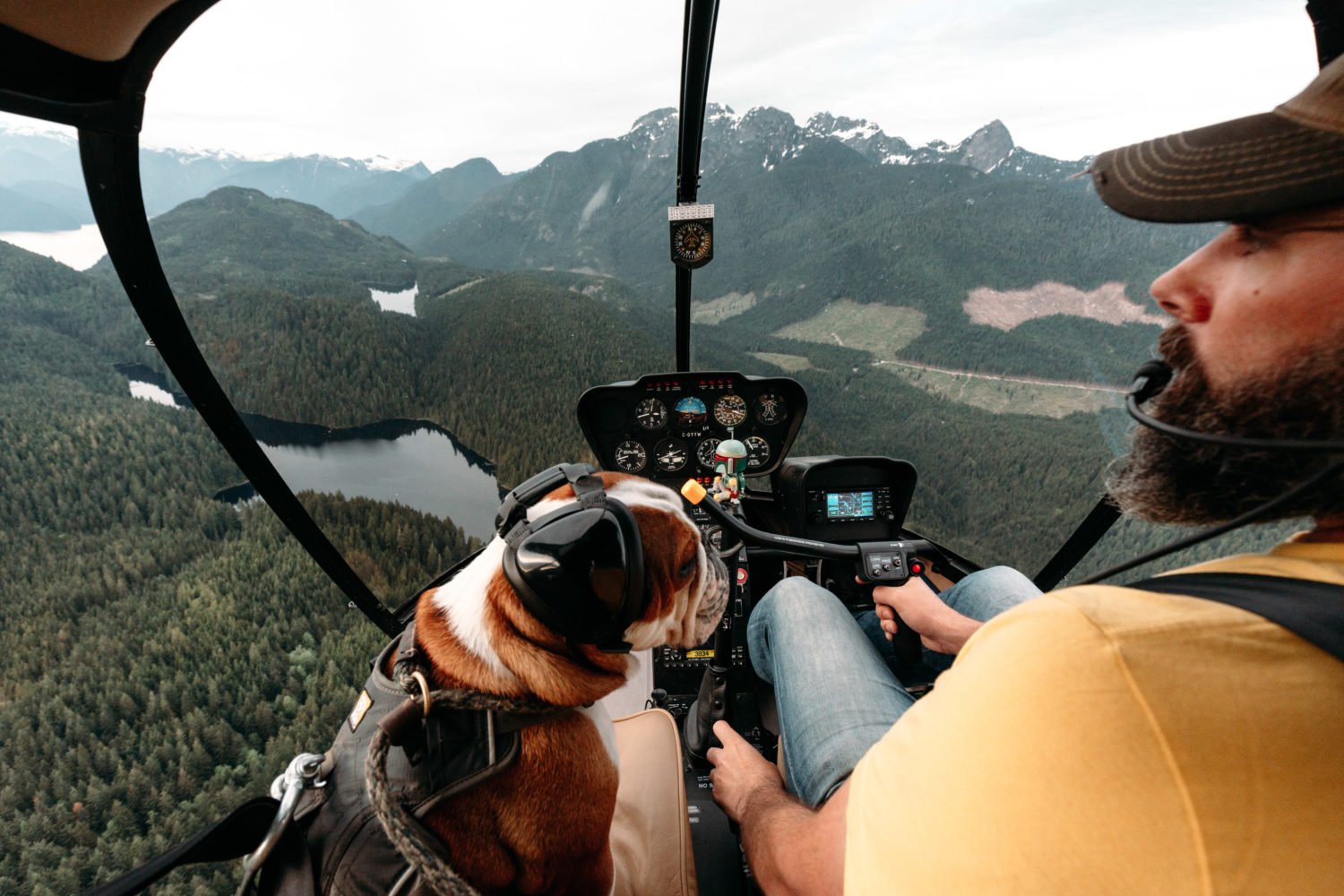 Cute overload aside, this wasn't easy to execute at first. "For the first few minutes, he wasn't looking out the window—he just kept staring at Brad," Rishad reveals. "But after getting comfortable, he seemed to be loving life, and helping Brad co-pilot the chopper."
"Even though this was his first time flying with the doors off, he was pretty brave about the whole situation. Braver than I've seen most humans!"
Brad Friesen sure knows how to select his flying companions! Most importantly, he knew how to take all the precautions for his brave canine co-pilot before taking flight. "Brad had Mr. Bentley strapped in pretty good with a special dog harness," Rishad assures us. "He had two backups to make sure his dog wouldn't fall from the sky."
Playing a supporting role to complete this dramatic shot is the breathtaking landscape they flew over.
This wonderful location really set the scene, and gave a dreamy vibe to Rishad's photos. "We were flying over Pitt Lake, Widgeon Lake," he shares. "Generally, it was around the Garibaldi Park area in British Columbia."
Now that this project is over for Rishad, what's next for him?
"Lately, I've been working on my Jeep, prepping for a rooftop camping excursion from Vancouver to Yosemite and Death Valley in California. Later this summer, I'll be heading north to Alaska and the Yukon. This is a drive I've been dreaming about for a couple of years now," he declares. "Later in the year, I'm planning a trip to India. I'm planning a special project down there in India, which I'll share details soon on my blog. I really want to switch up the landscape and the style of shooting I've been doing lately. I want to shoot more portraits, set in urban environments."
And with this, we wish Rishad the very best of luck—and a bon voyage—as he takes his photography to new heights with his next adventures!
To see more of his work, you can follow him on 500px or Instagram, or visit his blog.