Red Bull Photography recently joined our community with a verified brand profile of their own. This partnership isn't just about amazing photography — it's also about amazing stories. Behind every shot on Red Bull Photography is a talented photographer, a wild story, and a few lessons learned. We'll be telling those stories every week here on 500px ISO and the Red Bull Photography website.
The 500px Red Bull Photography Global Photo Walk is already in the books. Over 200 cities around the globe were a playground for the photo walks last September 17, 2016—with the most remote photo walk taking place in Antarctica! An impressive number of over 13,000 photographers registered for the Global Photo Walk making it the biggest event of its kind. The hosts were asked to organize a walk in their city accommodating this years theme: Action and Adventure. We saw biking, breakdance, freestyle soccer, light painting, parkour, skateboarding, wakeboarding, and even skydiving in the final images. But that was not all. Check out all the #ActionAdventure pictures posted on our Live Wall to see what some of the photographers captured with their cameras during that day.
All the photo walkers were given the chance to submit images to the 500px Red Bull Photography Global Photo Walk Mobile Photo Contest on Red Bull Illume.
And the winner is…
A jury of experts from 500px and Red Bull Photography had a hard time selecting the winning picture with much debate over the final 3 images. Photographer Robert Garo was finally selected for shooting the Best Mobile Photo. As a prize, he will receive a return trip for 2 to Chicago for the Red Bull Illume Winner Awards Ceremony on September 28, 2016. Congratulations, Robert!
Commendations also go out to the two runners-up for their pictures below — Elen Sargsyan and Shafiq Salehuddin. We all greatly appreciated the composition of this image, especially with the smoke perfectly surrounding the subject.
The second runner-up was also a tough decision, but made easier by the subject and his stunt. We all remarked on the angle and velocity of the subject, and the difficulty in capturing this moment with a mobile device.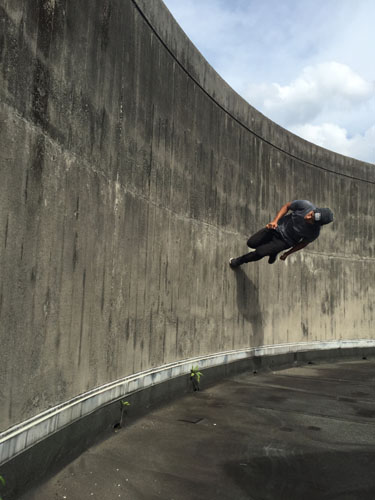 We are excited to have been part of this event, and what it did to spread the love of photography out to the world! Here's to 2017!
To see more epic photos, visit Red Bull Photography on 500px. And stay tuned for more winner and prize announcements for our Global Photo Walk Challenges…coming soon later this week!