By now, you've probably already heard of (and hopefully taken advantage of) our special first-time-ever promo with Adobe. For just a few more days, 500px users can get a year of Awesome membership and a year of the Adobe Creative Cloud Photography Plan at a steep 25% discount.
In US prices, that means you pay just 35 cents per month to get an Awesome membership on top of the standard $10/month it costs to get Photoshop CC, Lightroom CC, Lightroom Mobile and more.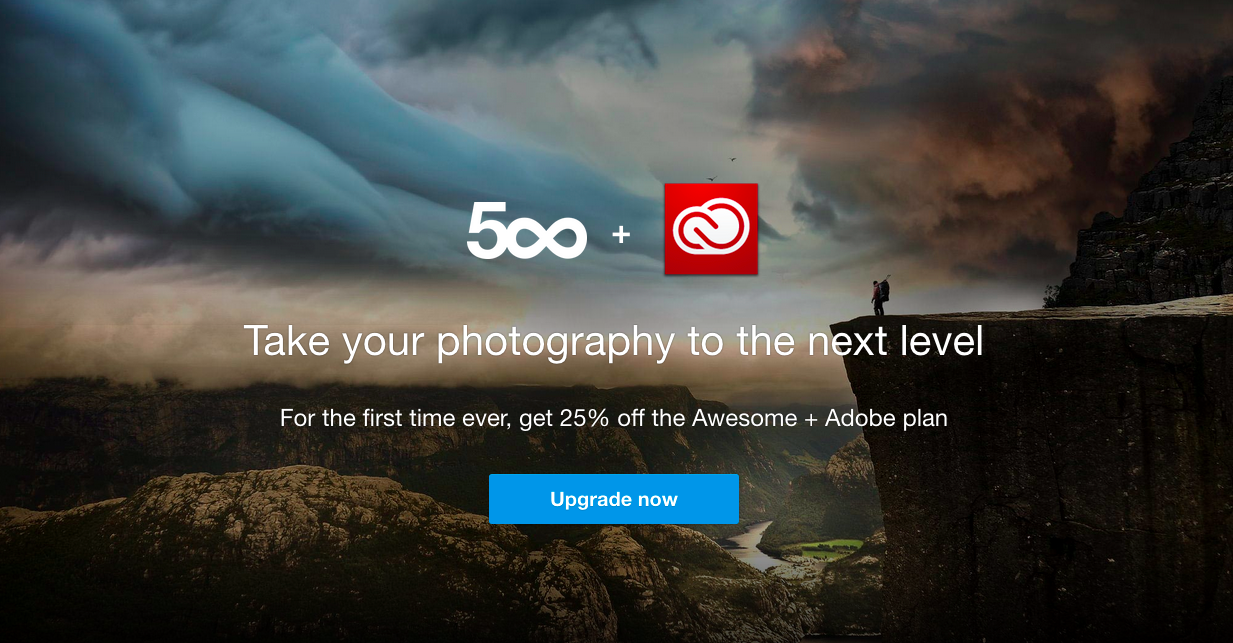 Obviously, we think it's a pretty awesome deal… but what do you think? That's the question we wanted to answer as we wind down this incredibly rare discount.
So we reached out to a few 500px users who took advantage of the deal this past month to ask them what THEY thought of Awesome + Adobe, and why they took advantage of the discount. First up, Tetyana Kovyrina.
500PX: Tell us a little bit about yourself and your journey into photography
TETYANA KOVYRINA: I moved to Toronto from Ukraine about 9 years ago and started playing with photography a few years layer. But only about 4 years ago I started getting serious about this hobby and that's when I started following a lot of inspiring photographers on 500px and experimenting with my works based on that inspiration.
A bit later I decided to create my own account to showcase my work. When 500px opened the Prime program, I was glad to join and started seeing some results pretty quickly.
What type of photography do you typically take? What would you like to be capturing?
TETYANA: There is no particular type of photography I could call my favourite. I try to experiment with different styles and types of shots: nature (we have a huge ravine next to our house and there is a lot of flowers and really cute animals there), macro, landscapes (I love to travel and take photos of the places I've been to).
And, of course, since about 9 months ago I've got a new primary subject: my lovely daughter Katerina 🙂
Can you tell us what role the Adobe CC Photography Plan plays in your workflow, or in helping you to achieve your goals as a photographer and take your images to the next level?
TETYANA: Taking a great shot for me is usually about 50% of the result. Another 50% are implemented with post-processing. And since Photoshop is my primary processing tool (I use some plugins like Google's Nik Collection), I was glad to see 500px implement the Awesome+Adobe bundle and quickly jumped at the opportunity.
Why did you decide to buy into the Awesome + Adobe bundle this month?
TETYANA: Even since 500px introduced Awesome accounts, I was thinking about getting one; but, as it often happens, couldn't justify the upgrade. So, I promised myself that I will upgrade as soon as I start making money on my photos. And then the Prime program started and I joined it right away.
As soon as the first payment cleared I went to upgrade to an Awesome account, but noticed the bundle offer (that was last year). I was happy to take the opportunity and get the great deal. When the deal appeared on the site this year, I happily used it to extend my subscription to both services.
We're so happy to have talented, dedicated photographers like Tetyana on 500px, and psyched she was willing to share her experience with the Awesome + Adobe bundle.
To snag your Awesome + Adobe membership at 25% off, head over to the discount page before the deal expires on Sunday! And stay tuned for another 500px user testimonial tomorrow.