It might seem like every day (more like, every minute) that our Flow feed on 500px is giving us more and more photographers to obsess over. One of them is Merlin Kakfa, who is fast becoming one of our favorite travel photographers in the community! Simply browse his work, and you'll instantly get waves of inspiration from his thoughtfully-composed photos, skillful use of leading lines, unique perspectives, unusual tones, and laid-back vibes—among all his other compelling techniques. The best part about his photos is where they take you, spanning the world's most exciting destinations—from the cityscapes of Taiwan to the landscapes of Iceland. It's about time we feature him, so we recently sat down to interview this Scotland-based German globetrotter. We couldn't be more ecstatic to get up close and personal with him, his wisdom, and the stories behind his most popular shots. Scroll down, read on, and get inspired!
The Story Behind the Shots

"Taipei was such a unique place. It completely caught me by surprise. My Taiwanese friend Ming brought me to this residential rooftop, which revealed a perfect view over the intersection below. The yellow taxis are iconic to Taipei, and they are seemingly everywhere. I set myself the challenge to capture this symbol right in the center of the crossing."

"Skogafoss is without a doubt one of the most photographed places in Iceland. So I set myself the challenge to capture it from a completely new perspective. Using a drone, I decided to up in the air to get a point of view from above, revealing the landscape behind the waterfall which I had never seen before."

"It was my first time in this city. We could not have chosen a colder day to explore it. With the feeling in my fingers almost gone, I just managed to press the shutter to capture this train in motion—framed by the reflecting housing fronts in the water around it."

"Lago Di Braies had long been on my bucket list of places to see, so it was only natural that Johannes Hoehn and I were excited to see this place during our recent trip to the Dolomites. Getting up at 4 a.m. to witness the sunrise at this incredible location proved to be the best decision. Contrary to the forecast, the conditions turned out to be fantastic, and we ended up having the lake all to ourselves!

"Roadtripping through Scotland remains one of my favorite things to do, especially when in good company. This particular photo was taken in January during a trip to the Isle of Skye, and it reminds me of all the great times we spent on the road."

"This travelator in the basement of a hotel in Singapore features an outstanding interior. There is a specific point of view, where you get the impression that this place is made up of two completely different images. What I love about it is the contrast between the warm, orange on the left and the blue, cold colors on the right—it's almost like the Traditional vs. the Modern."
Interview with Merlin Kafka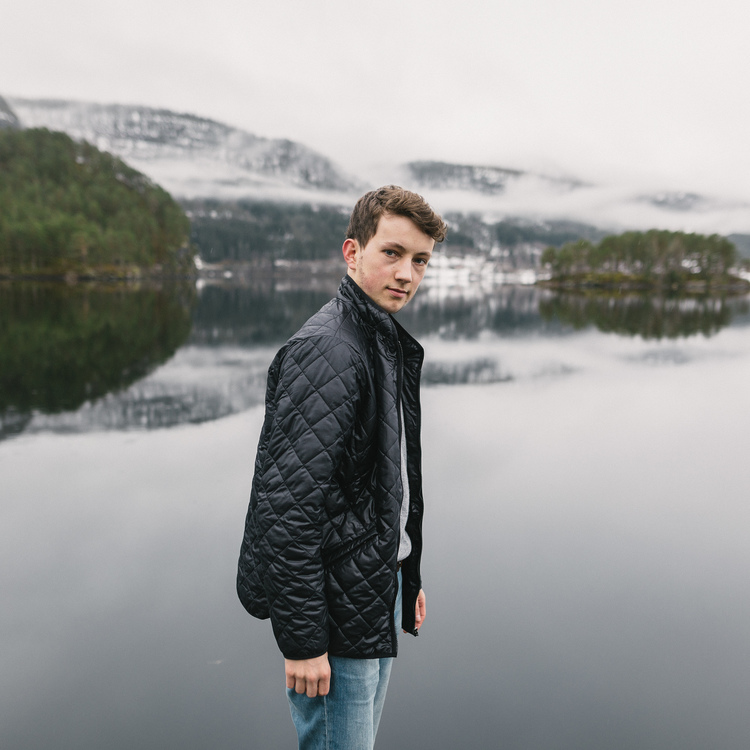 How did you get started with photography?
I think this is a story a lot of people can relate to. I got my start when I picked up my father's camera, and began to play around with the settings and different techniques. This was a while ago—my main goal was to document my travels in China. Since then, I have gotten more serious. I started to share my work through social media and other outlets. Having an audience on these platforms is something I am extremely grateful for, and I can only wish this same thing for everyone. Everyone is prone to facing creative blocks every now and then, and in those times, it's a great motivation to get out there and just shoot. One of my favorite things about photography is that it really puts past experiences into perspective. I can't help but get nostalgic looking through old photos. It's one of the best exercises to see your personal progress throughout time.
How would you describe your aesthetic and style?
I love to create images that express a sense of calmness and order. I shoot images that are not overloaded visually, and pleasing to the eye. Composition is the most important thing for me. I enjoy experimenting with clear leading lines, and center-point perspectives. Generally, I have noticed that my images tend to have a sense of darkness and melancholy to them. It's something that I don't actively try to achieve—it seems to come naturally.
What inspires you to go out and shoot pictures?
During the past years, I have been fortunate to meet a number of creative individuals. Seeing the work they put out on a daily basis is incredibly inspiring to me. It motivates me to keep creating. Generally, my favorite sources of inspiration are outside of photography. I think that can also be a good way to keep your work more original.
There's been a shift from cityscapes to landscapes lately in your photos. What would you say is the difference in shooting between the two genres?
The difference between shooting cityscape and landscape is something I have long thought about. I came to the conclusion there is not much difference regarding the approach to take the photo, at least for myself. Generally the process is quite different though. In cities, one has to get used to be surrounded by people, whereas in nature you are usually completely by yourself. This chaos and peace can be inspiring and daunting at the same time. I could not say which one I prefer. Ultimately, I am always looking out for new perspectives, interesting lines, and an isolated subject—this applies to both cityscapes and landscapes.
What are some of your favorite places to travel and shoot?
Looking back, there are number of memorable places—each of them are unique in their own way. Last year, I spent around two weeks in Japan, traveling from Osaka to Kyoto to Tokyo. Exploring this country was an eye-opening experience. It has remained my favorite place to shoot so far. The atmosphere, culture, and aesthetic is unlike anywhere else. The stark contrast between places such as Kyoto and Tokyo is simply incredible.
Recently, I also got the chance to visit Iceland for the first time. I quickly understood why this place is sought-after by many photographers. Driving through the black sands with nothing but the road in front of you, you can't help but feel like you're on a different planet. The photographic opportunities seem to be endless out there!
What challenges have you encountered with your work?
There are definitely a number of challenges, such as creative blocks, the constant pursuit to create original work, and balancing photography with other commitments. It's always great to take a step back and think about your work from a bigger picture, by looking through your archives from the past years for examples. It's one of the most motivating things to do. It always reminds me to keep shooting.
What's the best advice you've ever gotten?
I think the most important thing is to always keep shooting, even if you don't have an upcoming assignment or project. It is important to stay in the habit of shooting in order to keep refining your craft. One way that has worked great for me was to try out new things, and to keep experimenting. It's also important to really shoot what you like, and not just take a photo because there's currently a certain trend for it. It's an easy trap that I myself have fallen into, but ultimately it's far more rewarding!
To see more of Merlin Kafka's work, follow him on 500px. He is currently available to shoot worldwide projects, commissioned work or sponsoring. You can send him an email to get in touch, visit his website, or his Facebook page.