If you're going to take a photo of your badass 75-year-old retired Romanian Army Colonel grandpa, this is how you do it!
As part of his final project for University, London-based 500pxer Dragos Ionescu has been documenting his grandparents and occasionally staging different scenes with a cinematic, atmospheric look.
The goal is to both hone his portrait lighting skills—which are quickly improving—and learn to make the most of the extremely limited gear he has to work with.
The portrait above is his first to so-called "go viral" thanks to the Reddit r/pics community, who bestowed upon it nearly 4500 upvotes! That is some serious love from the Internet… so we decided to get the story and setup behind the shot for you.
The Setup
The setup behind the image is quite simple, partly because of the limited gear Dragos has to work with.
"I am still learning how to light and photograph people, so I like to get inspired and learn from different artists." he told us.
His main inspiration is Joey L, whose Explorer Portraits series inspired this particular photo, but since he didn't have Joey's resources he had to make due with a Godox AD-360 in an 80cm Octabox and a Yongnuo YN-560 III: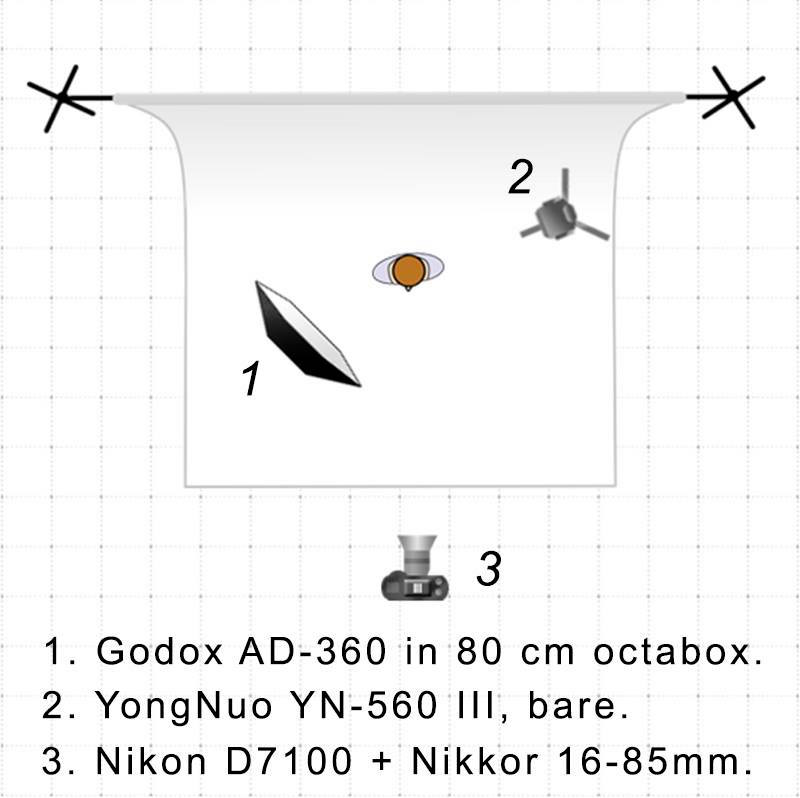 You can see the setup above, and here it is explained in writing by Dragos himself:
I shot the portrait in my bedroom using a Godox AD-360 in an 80cm octabox camera left, slightly above him and a bare YongNuo YN-560 III camera right behind him. The flashes were triggered with a Godox FT-16 and 2 Yongnuo RF-603.
The Post-Processing
The real magic in this photo is in the post-processing: adding the right ambiance to make grandpa Antoine seem as hardcore as he really is. Dragos breaks down the post-processing he applied to the image below:
I don't own a fog or a snow machine yet, so the fog and snow is added in post-processing. I masked my grandfather (Antonie is his name) in Photoshop, changed the background to a light blue, and added a 'Clouds' layer at low opacity to simulate fog/mist.

I then added three different snow textures at various opacities, one of them blurred using the Motion Blur option in order to create that 'blizzard' effect.

Next, I cleaned the skin a bit using Frequency Separation and did some Dodge & Burn in order to make the portrait stand out more.

Finally, last but not least, I added a Selective Colour adjustment to make the image look colder and more cinematic. I am honestly quite happy with the result given the 'blizzard' is faked due to lack of resources.
And happy he should be! There was quite a debate going on in the Reddit thread about how he got the effects before he jumped in and cleared it up. Here's a before and after Dragos send us:
The Subject
Of course, the main reason this photo took off is the subject portrayed in it. Still every bit as badass at 75 as he was 40 years earlier, Dragos' grandpa is an inspiration to men half his age.
[My grandpa] is 75 years old and he's still very capable and strong: he climbs trees, works the field at his summer home in the Romanian countryside, and basically does everything else as well as a young man. He's even more energetic than me at times."
A retired Romanian Army Colonel, Antoine retired after Dragos was born to spend time with his grandson.
"I was raised by a single mother, and he was the only male figure to me growing up," explains Dragos. "The Godox flash was a Christmas from him and my grandmother, so I think that in a way the portrait was a way to show him my gratitude and that I can make use of it properly."
Here's one last look at the portrait:
We hope you enjoyed both the portrait and the story behind it!
If you have any questions for Dragos, don't hesitate to drop him a line in the comments. And if you'd like to see more of his work, follow him on 500px, visit his website, or connect with him on Instagram, Facebook, or Twitter.